Privacy trees for small backyards – 6 of the best trees to screen out neighbors, but that won't outgrow a tiny plot
The best privacy trees for small backyards will help enable you to enjoy your summer in peace, without overgrowing your outdoor space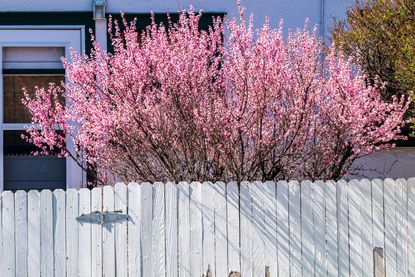 (Image credit: Alamy )
Alfresco dining season is upon us, but as we begin to spend more time in our backyards, it's inevitable that we'll become frustrated by neighbours disturbing our peace and start to think about how to get a little bit of privacy. And unfortunately, if you're in a tightly packed neighborhood with a small backyard, chances are you're going to be even more overlooked.
It can be difficult to find a solution that provides an adequate amount of privacy whilst not being a total eyesore. Tall fences and screens have their place, but they can alter the feel of a beautiful, organic garden into something altogether different. The best trees for privacy might just be a better solution, providing natural shade and seclusion whilst adding to the aesthetic of your space. There are many considerations to be made when choosing the right plant for your garden, it can all seem very complicated to the non-gardener, but there's even more to think about when you're landscaping a small space.
'A small space means that you need to achieve a privacy screen with the smallest footprint on the ground,' says the New-York based landscaper Jonathan Fargion. 'You want to avoid having a big tree canopy that will eventually cast shade into your small outdoor space.'
The 6 best privacy trees for small backyards
So how do you avoid choosing a tree that's going to outgrow your small backyard? With the help of the experts, we've curated a list of the top 6 privacy trees, suggested by the experts, to help you find your perfect match for screening a small space.
1. Fastigiata trees
In a small backyard, there are a couple of tricks to utilizing the space you have to create a privacy screen, but your main goal is to maximize screening coverage while occupying the least amount of ground space.
"Fastigiate" is the term to look out for with this one, it refers to the specific way a tree grows. 'Essentially it means that a tree grows in a vertical fashion, so all of its branches grow vertically and quite tight to the main trunk,' landscape designer Jonathan Fargion explains. 'They have a narrow upright habit, making them look like green columns, and in this sense, they provide privacy and don't use too much space on the ground.'
Within this category, there are plenty to choose from depending on your personal requirements. If you are looking for all-year-round privacy the Buxus sempervirens Fastigiata is a valid choice, as an evergreen tree it never loses its leaves. But if it's color you are after you can't get much better than the bright red leaves of a Liquidambar styraciflua Fastigiata.
2. Bamboo
Bamboo has got a bad rep when it comes to backyards. You often hear of people with big problems getting rid of it, because when it starts to spread it really doesn't stop. Although this is true, there are ways to control it and utilize its height to be a great privacy tree, which can also be grown in narrow, but dense columns to block out neighbours. Because it takes up little ground space and can grow over ten feet tall it provides a great option for small gardens.
'The most important thing to do with bamboo is provide a root barrier wherever they get planted otherwise they will start spreading uncontrollably via their root system,' Jonathan says.
'There are many different types with many different applications from height and light conditions,' he adds, making it an option for both bright and shady gardens.
3. Japanese maple
Japanese maple is one of the best trees for creating privacy in small backyards, suggests Zahid Adnanof The Plant Bible. And it is easy to see why. 'These trees have a beautiful shape and come in a variety of sizes, making them an excellent choice for small spaces,' Zahid explains. Their beautifully colored foliage provides a natural screen that creates the perfect amount of privacy without overwhelming the backyard or creating too much shade.
Tom Monson, founder of Monson Lawn and Landscape, agrees that the Japanese maple can be used to create something slightly more unique. 'These trees can provide an interesting and colorful backdrop and will require minimal pruning and maintenance,' he says. If a unique privacy tree is what you are looking for then this one's for you, and they're also one of the best trees to grow in pots privacy-wise.
4. Cypress trees
Cypress trees are evergreen, which are the most popular form of privacy tree to ensure year round screening. Because of their narrow physique, they provide a good option for small backyards, especially given the speed they grow and the little attention they require.
'They are a very fast-growing tree, so you won't have to wait long for them to provide the desired amount of privacy, and the advantage of using evergreens is that they will keep their foliage year-round and will require less pruning and maintenance,' Tom says. The trees can be planted in alternative ways to achieve your desired level of privacy, ranging from sparse to complete coverage depending on your desires. The versatility of this tree makes it a great all-rounder.
5. Redbud
'Smaller flowering trees can be planted in a line or staggered to create a beautiful flowering border or backdrop,' suggests landscape designer Tom Monson, whilst highlighting the Redbud as a personal favorite. This tree can be easily pruned to maintain its shape and size to your requirements.
If you are hesitant about privacy trees and are looking for something that blends into your borders a flowering tree might be what you're looking for. Unlike some of the other options this tree is semi-deciduous, meaning it may lose its leaves in winter, but also bloom with flowers just as you begin to spend more time outside. 'This tree is known for its beautiful, pink blooms in the spring,' says Zahid, 'and it has a manageable size that will not take over the space.' Not only will it provide a beautiful view but also subtle privacy screen in the warmer months, and it's one of the best trees for front yards if you're after both privacy and curb appeal.
6. Weeping Cherry
If you're into a unique and sculptural garden style then look no further than the weeping cherry. This tree provides the most gorgeous flowers come spring that provides dappled shade and privacy.
Tom Monson advises us that flowering trees that provide seasonal privacy can be a good alternative for smaller backyards as they don't overwhelm the space with large dense foliage. 'These trees can provide an interesting and colorful backdrop and will require minimal pruning for a low maintenance garden,' he adds
There are so many options when it comes to privacy trees, these are just a handful of our top picks to explore. We hope that you find one that suits your garden needs so you can get out and enjoy the wonderful spring weather in peace and privacy.
Amy is currently studying for an MA in Magazine Journalism at City, University of London, with experience writing for Women's lifestyle publications across arts, culture, and beauty. She has a particular love for the minimalist aesthetic mixed with mid-century furniture, especially combining unique vintage finds with more modern pieces. Her previous work in luxury jewellery has given her a keen eye for beautiful things and clever design, that plays into her love of interior design. As a result, Amy will often be heard justifying homeware purchases as 'an investment', wise words to live by.