'You'll feel exhausted by the end of the day' – bad home office Feng Shui explained
Curb exhaustion and boost productivity by paying attention to these negative Feng Shui practices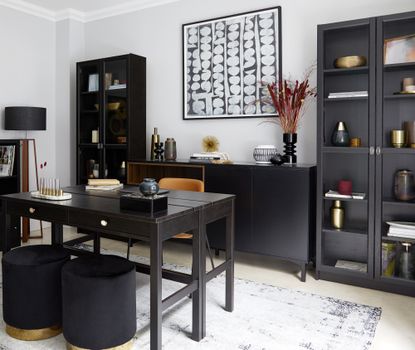 (Image credit: Studio Enass)
The Livingetc Newsletter
For style leaders and design lovers.
Thank you for signing up to LivingEtc. You will receive a verification email shortly.
There was a problem. Please refresh the page and try again.
Our professional lives have shifted meaning working from home is the new normal (for many of us, at least). In order to feed your mind and boost your productivity it's vital that you have a designated space to work in, but fail to take heed of Feng Shui principles in your home office and you could pay the price.
The ancient Chinese art of Feng Shui is snubbed by some, but others strongly believe that giving a little bit of thought to your furniture placement can go a long way - and in a situation where productivity is on the line, we're not taking any chances. Failure to adhere to the practices could not only jeopardize the standard of your work, but leave you feeling drained and exhausted by the end of the day (and by that, we mean more so than already).
'By embracing Feng Shui, you don't just organize furniture; you create a sanctuary that nurtures creativity, productivity, and a sense of well-being,' explains Jennifer Kropf of Healthy, Happy, Impactful. 'With the right furniture placement, your home office becomes more than a workspace - it becomes an environment that inspires and energizes you.'
Sound appealing? Here are the Feng Shui mistakes to avoid falling victim to in your WFH setup if you want the most productive day's work possible.
Feng Shui mistakes you're making in your home office
The home office is a place that's easily overlooked, but one of the most important when it comes to Feng Shui. Inviting the right energy into your room by paying attention to the configurations of your furniture can do wonders for your psyche meaning better work, a happier boss, and a happier version of you. Here's what you need to know.
1. Positioning a desk so it faces the wall or window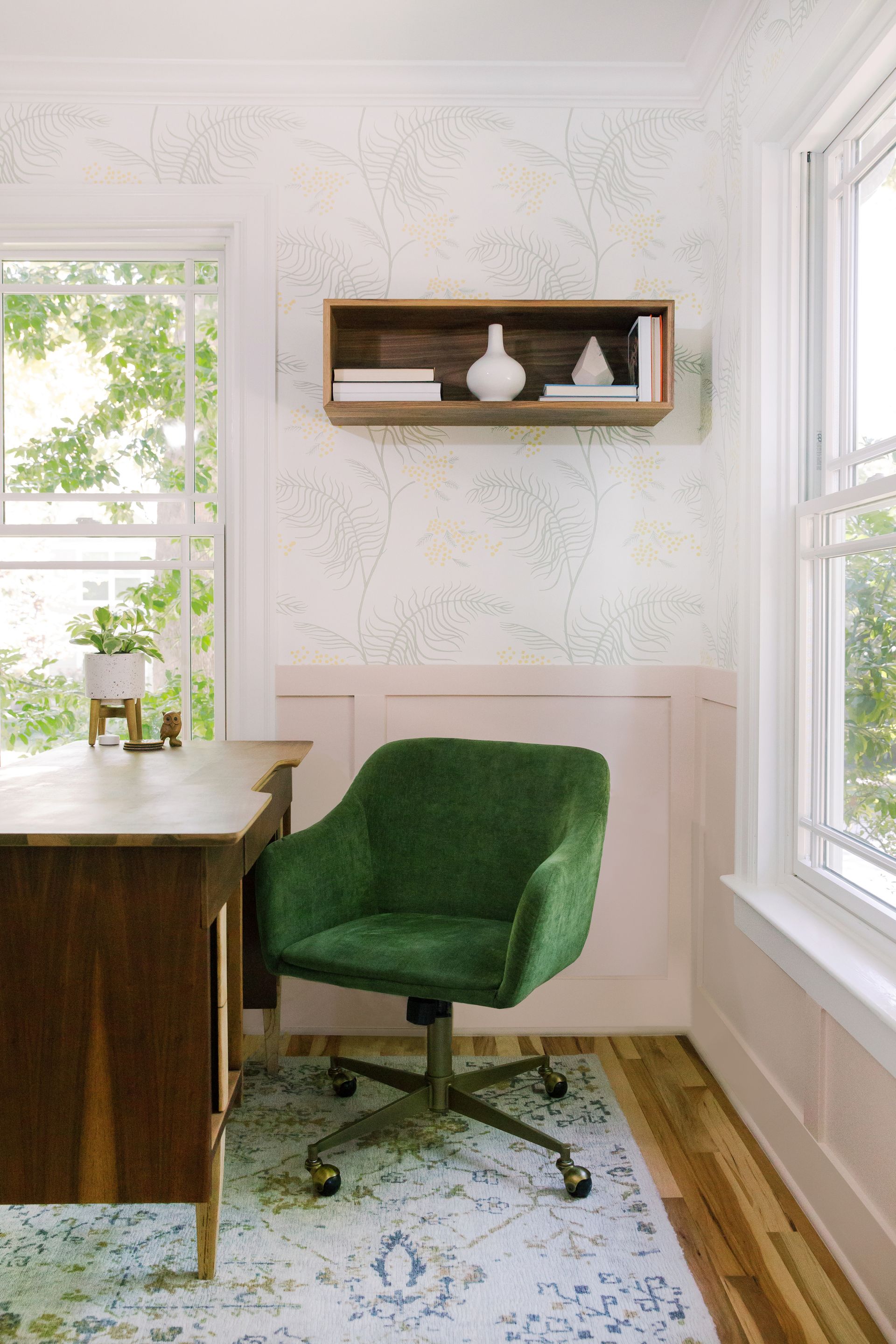 If you're limited to a small home office, positioning your desk so it faces the wall might help to maximize your floor space, but it won't do your productivity any favors. 'It's like staring at a blank canvas day in and day out,' explains Jennifer Kropf, blogger at Happy Healthy Impactful. 'A wall in front of you creates a psychological barrier, limiting creativity, and shutting off the energy flow. In Feng Shui terms, it's as if you've locked yourself out of your own room.'
You might think placing your desk next to a window with a view outside will help inspire you more than a blank wall, but that's out of the question in Feng Shui, too. Not only is it likely to cause distractions, but it means that your qi (or energy) is constantly flowing out of the room so that your productivity will slip away, leaving you feeling exhausted by the end of the day. 'Instead, position yourself so you are looking out into the room,' suggest Laili Kafi Gonzalez, Feng Shui expert at The Meazured Life.
2. Positioning your desk so that your back's to the wall or door
If you shouldn't face a wall or window, you might naturally position your desk so that your chair is up against a wall instead, but when it comes to home office Feng Shui, that's also a no-go zone. Instead, you should position your desk in the middle of the room (think a Presidential-style desk). While there will technically always be a wall behind you, you should make sure there's plenty of room between your desk and the walls to allow energy to flow freely around the room.
'Additionally, you should avoid placing your desk with your back to the door,' adds Laili. 'Position your chair and desk so that you can always see the entrance to the room instead.' This is referred to as the commanding position. It allows you to see the entrance to the room from a safety point of view, giving you more command over the space, but it's also related to the flow of qi. Doors are associated with opportunities and fresh ideas, and sitting away from the line of this positive energy could jeopardize your work.
3. Not inviting enough light into the space
According to Feng Shui, if you want to work effectively from home, you should ensure there's plenty of natural light in your space. Not only does it help to keep you energized and help with your natural circadian rhythm, but it's considered a dynamic force in Feng Shui, meaning it's important to channel it into a home office.
'Inadequate natural light can affect your mood and energy levels,' says Ryan Carrigan of Move Budhha. 'If possible, position your desk near a window to allow natural light to flow into your workspace. If this isn't possible, replicate the idea of natural light with a lamp.' Besides being used for practical reasons, lamps also represent fire energy in Feng Shui, making them a key component in achieving balance and harmony within a space.
4. Failing to stay on top of clutter
'This isn't specifically Feng Shui related, but energetically it's also important to declutter,' says Laili. 'Keep the desk organized by removing old paperwork and items belonging to old projects or jobs.'
Investing some time in good desk organization can do wonders for your productivity, allowing you to a job done faster when you know where everything is. It will help the flow of qi within a space, too. As Jennifer explains: 'Clutter represents stagnant energy, like a river blocked by debris. By keeping an organized workspace, you're not just tidying up; you're allowing the positive energy to flow freely.'
5. Choosing the wrong art work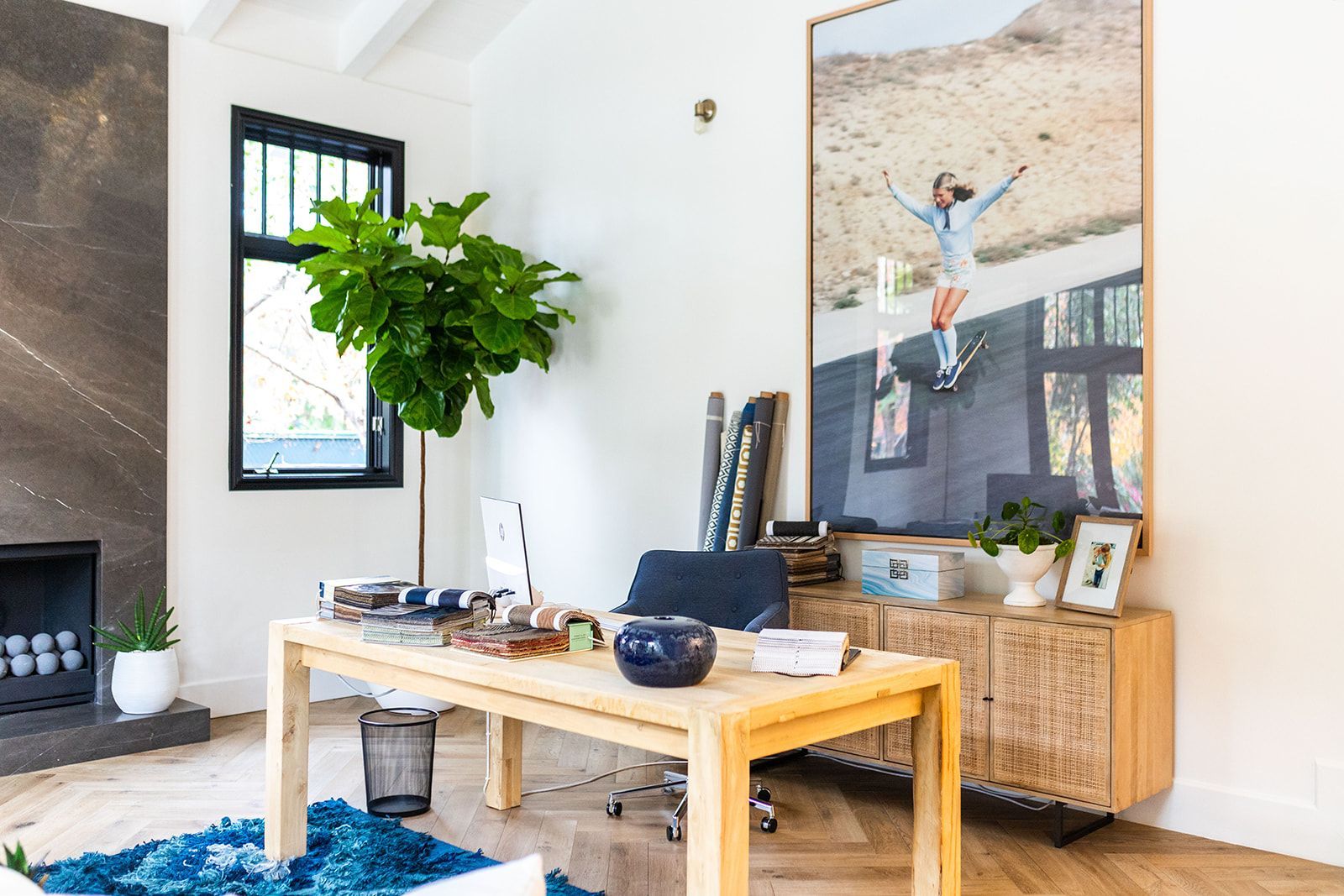 Although you shouldn't allow it to become a distraction, decorating a home office is really important. While you might be tempted to incorporate serene seascapes or calming waterfall depictions to calm you while you work, however, Feng Shui experts warn against having too much of the water element within a space as it's believed to wash away positivity.
Instead, choose depictions that have strong, stable symbols such as a mountain. Hanging strong images like this in front of your desk is thought to bring good luck, and although paintings of water might not be the best wall art, the colors blue, black, and white are said to bring the most positive dynamics to your work, so keep an eye out for these shades.
6. Choosing sharp or spikey plants
Last but not least, introducing greenery through plants can have plenty of benefits to your home office. Not only does the color green have a calming effect that's been proven to boost productivity, but incorporating desk plants can help clean the air within your space.
That being said, you should steer clear of any plants with sharp-tipped leaves or spikes, such as cacti. This is because the angular shape can be destructive to the smooth energy flow. 'For those that like to have a small plant on their desk, choose leafy upward-growing plants with smooth leaves and stems,' says Laili.
For style leaders and design lovers.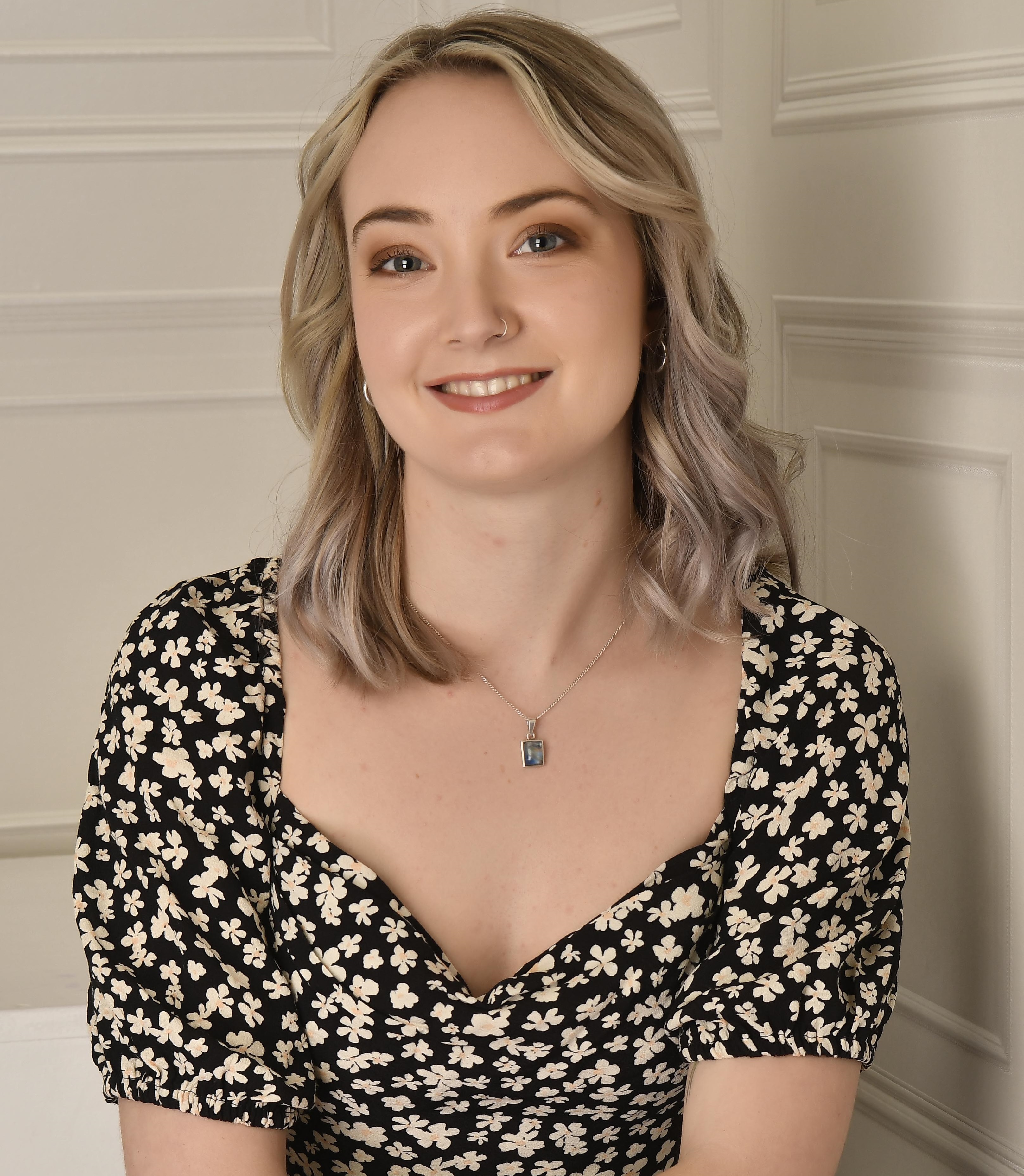 Lilith Hudson is the News Editor at Livingetc, and an expert at decoding trends and reporting on them as they happen. Writing news, features, and explainers for our digital platform, she's the go-to person for all the latest micro-trends, interior hacks, and color inspiration you need in your home. Lilith discovered a love for lifestyle journalism during her BA in English and Philosophy at the University of Nottingham where she spent more time writing for her student magazine than she did studying. After graduating, she decided to take things a step further and now holds an MA in Magazine Journalism from City, University of London, with previous experience at the Saturday Times Magazine, Evening Standard, DJ Mag, and The Simple Things Magazine. At weekends you'll find her renovating a tiny one-up, one-down annex next to her Dad's holiday cottage in the Derbyshire dales where she applies all the latest design ideas she's picked up through the week.