Are pot filler faucets worth it? A definitive verdict on whether you should put your kitchen budget towards one
An essential modern convenience or a total indulgence? We asked kitchen designers for their definitive verdict on pot filler faucets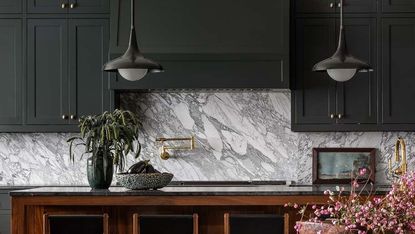 (Image credit: Haris Kenjar. Studio cresit Heidi Caillier Design)
The Livingetc Newsletter
For style leaders and design lovers.
Thank you for signing up to LivingEtc. You will receive a verification email shortly.
There was a problem. Please refresh the page and try again.
Pot filler faucets aren't a new invention, however, they've become a staple in many modern kitchens, billed as the ultimate convenience. This one-arm, single-temperature faucet, also known as a kettle faucet or pasta arm, is usually installed right above the stove and means you don't have to carry heavy pans of water across the kitchen when it comes time to use the stove.
Of course, there's some significant cost involved in integrating a pot filler tap into your kitchen - especially if there wasn't one there before. So, is it really worth your time allocating budget to a pot filler tap when remodelling your modern kitchen?
We asked kitchen designers to outline their advantages and disadvantages, what makes them unique, and their verdict on whether they're a worthwhile inclusion, so you can decide for yourself if pot filler faucets are worth installing in your kitchen.
What are pot filler faucets?
A pot filler faucet is separate from the traditional kitchen sink faucet. It is installed near or above a stovetop or range. The tap extends on a long, jointed arm, and is used to fill pots with water directly over the stove. Once the work is done, the long metal arm can be tucked out of the way.
The fixture is designed such that it doesn't take up much space but makes a big practical and visual impact. In kitchen design, it's become somewhat of a status symbol - a sign that every detail has been well-considered in a remodel.
While some may consider it a luxury, many experts do believe that this is a good investment, as it adds a dose of style to the kitchen with the bonus of functionality and convenience.
What is their significance in modern kitchens?
'We love using pot fillers in our kitchens as they add beauty and function,' says Ariel Bleich, interior designer and founder of Ariel Bleich Design. 'Our clients love how these can be a focal point for the cooking zone and highlight materiality in the space. In a busy kitchen, it's also nice to have a second place to fill up pots in case the sink area is already occupied.'
This special faucet spells convenience. 'As wall-mounted faucets that extend to fill tall pots with water and then fold back to the wall when not in use, pot fillers allow the sink to remain open for doing dishes and food prep and eliminate heavy trips back and forth from the sink to the stove laden with water,' says Mindy O'Connor, principal of Melinda Kelson O'Connor Architecture & Interiors.
What type of kitchens are ideal for pot filler faucets?
'Pot fillers make the most sense in larger working kitchens, especially ones where there are often multiple chefs cooking, or where the layout places the sink farther away from the range top,' says Mindy.
From a modern farmhouse kitchen, industrial kitchen to even a simple apartment kitchen, this faucet can work in any style of space. The faucet can be installed as either a wall mount or a deck mount, depending on whether there is access to plumbing either in the wall behind the stove or adjacent to it.
They might not be quite as necessary in a small kitchen, but in reality, they don't take up space that's used for anything else. After all, they're a fixture on your kitchen backsplash which is largely left otherwise unoccupied in every style and size of space.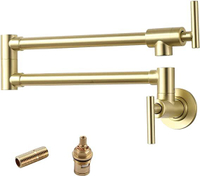 Wall-mounted pot filler, Amazon
Choose this pot filler to add to your kitchen to make the space super practical and design-friendly. This leak-free design has a 26-inch dual-jointed swing spout.
What styles of pot filler faucets are available?
Pot fillers add a touch of timeless sophistication and luxury. These are available at various price points and in different styles, lengths, finishes, and installation options. Kitchen faucet trends range from polished chrome and oil-rubbed bronze to aged brass and brushed nickel.
When choosing a pot filler faucet, you'll have to decide on what kind of arm to pick, as the number of burners you would like the faucet to reach will inform whether to get a single-jointed arm or a double-jointed arm.
The other factor to keep in mind is the height at which you need to install it. The last thing you want is to drill through a beautiful backsplash only to realize the pot filler isn't in the right spot. This can be determined by considering whether you want the pot filler to be centered on the stove or off-center, either on the left or right side. Place a cooking pot under the stove, and then position the pot filler on the wall to see at what height it needs to be mounted.
Are there any disadvantages to these faucets?
When deciding on how to choose kitchen faucet, with regards to a pot filler, do consider the drawbacks, too.
One of the things that make this faucet a non-essential is that it is not standard in all homes, and comes with a special cost, especially when you need to direct a water supply behind the range. These can be a significant investment, with pot filler faucets starting from around $150 (up to $1,000+ for high end designs), and installation is sure to come in at anywhere from $300+. You may also need a plumbing permit to run a new water line, which can be an additional cost. In cases of a small kitchen or one that is being built on a tight budget, it might be a splurge you'd consider skipping.
Since this faucet is installed directly above the stove, it does take a lot of wear, with food splatters, oil, and sauce stains. This means the pot filler will need regular cleaning to keep it pristine.
So are pot filler faucets worthwhile?
When it comes to both good looks and practicality, a pot filler faucet is definitely a good addition to your kitchen, and it may even increase the re-sale value of your home. However, if you're working to a budget, it's one of the first expenses you can cull if your project is running over on costs.
For style leaders and design lovers.
Aditi Sharma Maheshwari is an architecture and design journalist with over 10 years of experience. She's worked at some of the leading media houses in India such as Elle Decor, Houzz and Architectural Digest (Condé Nast). Till recently, she was a freelance writer for publications such as Architectural Digest US, House Beautiful, Stir World, Beautiful Homes India among others. In her spare time, she volunteers at animal shelters and other rescue organizations.