The 3 secrets to all-white rooms that feel anything but flat – including designer Leanne Ford's go-to warm white paint
Is your all-white room looking bland, boring and just a bit 'vanilla'? Designers weigh in on how to nail this clean and classic trend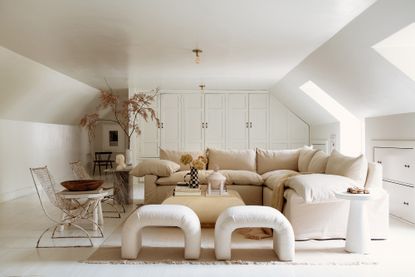 (Image credit: Interior design by Leanne Ford, Photography by Erin Kelly, and styling by Hilary Robertson )
The Livingetc Newsletter
For style leaders and design lovers.
Thank you for signing up to LivingEtc. You will receive a verification email shortly.
There was a problem. Please refresh the page and try again.
Sometimes, when it comes to interior design choices, less is most definitely more. And, when done correctly, the best all-white rooms prove that point.
No matter the aesthetic you're going for — be it a coastal, bohemian or super modern and minimalist — these totally tonal spaces have a calming, naturalistic and serene feel to them. It's why many choose to tick off the trend in their bedroom or create a white living room.
But while we love a beautifully designed monochrome space as much (if not more) than the next person — drenching your room with just one color can be hard. White has the power to brighten and freshen up any four walls, however it can make your space feel a bit.. well, blank. So how do you create an interesting and inviting all-white space that looks visually appealing? According to designers, there are a few secrets to keep in mind to stop your rooms from feeling flat.
Here's how to ace a perfectly curated all-white space.
Becks is an experienced homes and lifestyle journalist. We tasked her with uncovering the secret to all-white rooms, and she asked designers who embrace white spaces as their signature style, including Leanne Ford.
1. Choose your white paint wisely
If you've ever Googled 'white paint' you'll know that there are literally thousands of white hues to choose from. And it's for good reason: the best white paint for one wall might not necessarily be the best for another.
So how do you choose? 'Depending on the position of your room, it is recommended to go with warm white or cold white,' Tania Estevez from The White Interior Design Studio explains. 'If the room is south facing, you can go for cold whites (blue undertones) to neutralize the yellow tones that create the sunlight. If your room is north facing, then it is possible that you want a warm paint color (cream undertones) to avoid the room looking too bluish. It is a way to find balance.'
While interior designer Leanne Ford, who's an expert in all-white color schemes, recommends asking yourself 'what feeling you want for the space' and then choosing your shade of white from there.
Ford says, 'For example, I like to use my go-to warm white, Crisp Linen by BEHR Paint, when I want the space to have an earthy/vintage feeling. When I want a space with a more clean and more modern feeling, use a true white, like Ultra Pure White. It's the same thing when choosing the sheen for the paint. Ask yourself who is this space for and what feeling do I want it to have. If the space is for kids I love to use a high sheen paint because it cleans up much easier than a matte finish.'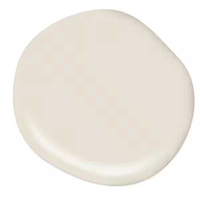 2. Vary your white tones for a tonal look
Once you've chosen your wall color, now comes the fun part — choosing the soft furnishings to help accessorize your space.
According to Sheena Murphy, founder of small design studio nune the trick with white is to vary your tones.
Murphy says, 'People think of white and they imagine a bright decorator's white you might see when a rental apartment is handed over. But, whites, off-whites, ivories and creams are all a variation on a theme, and getting the right mix of tones in a space is crucial to a room not feeling flat and boring.
'When working with such a restrained palette, we love combining chunky fabrics, linen curtains, high-low pile rugs, natural stone, and limewash paint or tadelakt walls for a sumptuous, cozy vibe that's full of life despite the lack of color,' Murphy adds.
But as Jonas Bjerre-Poulsen, founding partner of Norm Architects warns, 'It is however important that the colors complement each other and play on the same hues. If whites that are yellowish, bluish or reddish are put together, it can create disharmony.'
3. Take on texture (and lots of it)
'The secret to an all-white room is texture,' Estevez says. 'Combine different textures in this room to make it more interesting and cozy. Matt surfaces, fabrics, rough materials… the contrast in textures is key.'
So what textures work well in total white spaces?
'Any texture can work nicely in an all-white room,' Estevez says. 'In our studio, we love natural materials and cozy living rooms, so for us is really important to use wooden elements and rough materials instead of shiny and polished ones. This roughness feels more natural and it creates a really warm and cozy environment that works perfectly well in all-white rooms.'
For style leaders and design lovers.
Becks is a freelance lifestyle writer who works across a number of Future's titles. This includes Real Homes, Top Ten Reviews, Tom's Guide, TechRadar and more. She started her career in print journalism at a local newspaper more than 8 years ago and has since then worked across digital and social media for food, fashion and fitness titles, along with home interior magazines. Her own interior style? She's big on creating mindful spaces in every corner of her home. If it doesn't spark joy or happiness, it has no place here. When she's not writing, she's reading and when she's not reading, she's writing.