Trending: Grandmillennial style
Stuffy? More like stuff of childhood dreams...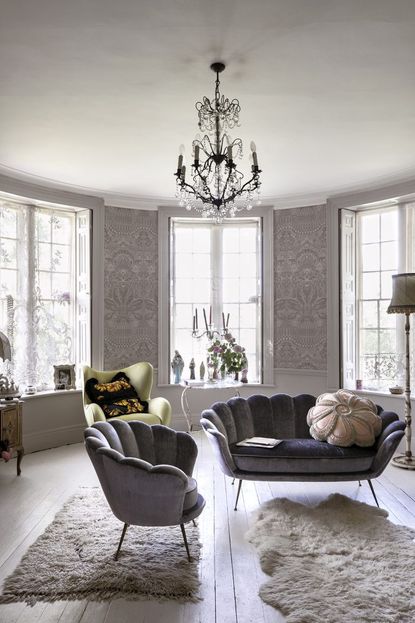 The rise in 'Grandmillennial' style is bringing granny chic back into our homes.
Come again? Well, if you've never met a chintz you didn't like then you're probably already a grandmillennial and proud, but for those with a taste for modern interiors, we bet you've already adopted some of this growing trend without even realising it.
The dated, granny-chic style has been slowly creeping back into our homes, and we kinda dig it.
Read Also: What's hot: all the interior trends for 2021 (opens in new tab)
Over the last year we've seen more foxed mirrors (opens in new tab), more tassels and fringing (opens in new tab) – including the return of tasseled lamps (opens in new tab) –more wild floral (opens in new tab) prints, more scalloped furniture (opens in new tab) and mid century modern (opens in new tab) pieces, and the SS20 collections are awash with wicker, cane and rattan furniture (opens in new tab).
In fact, people are even turning to needle point (opens in new tab) – and even Taylor Swift and Julia Roberts have picked up the needlepoint hobby (opens in new tab).
So what's it all about? Grandmillennial style is essentially about modern-day design co-existing with retro elements. It's about incorporating hand-me-downs and inherited pieces, alongside second-hand vintage pieces and reclaimed furniture and making them look at home in a modern interior. Millennials are incorporating dated, previously faux-pas items in their modern homes and giving a fresh take on a look they've known all their lives.
Read Also:Spanish bathrooms and four more Global Interior Trends To Look Out For In 2020 (opens in new tab)
Perhaps it's because the heavy florals, the chintz and kitschy decor feels nostalgic and reminds us of the warmth and comfort we felt in our grandparent's homes. It's a look that really evokes that feeling of 'home'.
Read Also:A FIRST LOOK AT H&M HOME SS20 (opens in new tab)
It's an approachable style, rooted in warmth, with worn-out upholstery and extra ruffles. And for stressed-out young professionals, your grandparent's old armchair might represents a much-needed respite.
This appreciation for the old is very welcome in this day and age, where a more sustainable approach to how we live is top priority, and there's something to be said about finding pleasure with vintage, second-hand pieces.
Your grandparents probably inherited their furniture from their grandparents. And when things are handed down it's not just more sustainable, but there's an element of storytelling too.
Read Also:Heal's reveals the most sustainable pieces from its SS20 collection (opens in new tab)
Pieces that trigger memories or stories are more interesting than those you buy in a shop. They can also show guests your personality and family history, and tell a story about what you collect or where you've travelled.
It's for these reasons perhaps that Grandmillennials are honouring the Wedgwood pieces, floral prints, antique furniture, scallop-edged French linen, and bricks of French-milled lavender soap.
Read Also:We predict that this Moroccan-inspired seating from Habitat will be big in 2020 (opens in new tab)
Think of them as new traditionalists; someone who has an appreciation for the past, and who realises the staying power of good, well-edited design while putting their own fresh spin on it to make it feel updated and unique.
Previously considered to be "stuffy" or "outdated", drapery, skirts on beds and furniture, slipcovers, Laura Ashley prints, ruffles, chintzy upholstery, palm patterned wallpaper, block-printed table linen, needlepoint cushion covers, blue and white chinoiserie, handed down chinaware, tasseled lampshades, wicker chairs, and antique furniture are officially back in fashion.
The best way to bring this look home? A good old rummage through your grandma's attic or garage.
Lotte is the Digital Editor for Livingetc, and has been with the website since its launch. She has a background in online journalism and writing for SEO, with previous editor roles at Good Living, Good Housekeeping, Country & Townhouse, and BBC Good Food among others, as well as her own successful interiors blog. When she's not busy writing or tracking analytics, she's doing up houses, two of which have features in interior design magazines. She's just finished doing up her house in Wimbledon, and is eyeing up Bath for her next project.