Ok Autumn's here, but that doesn't mean you have to stop enjoying some time outside. With more of us still having to work and socialise at home, we need to continue making the most of every inch of our homes – and that includes our gardens, patio's and balconies too. What's more, who wants to lose the mind-boosting, health benefits of snatching a few alfresco minutes each day either? Not us. So, whether you're on the hunt for a daybed to cocoon on, a couple of statement seats that are as smart as they are comfy or some clever multi-tasking pieces, we've the lowdown on all the latest modern outdoor furniture that's waiting for you.
All-in-one design
Blurring boundaries between fixtures and foliage is a strong new trend and perfect for making the most of smaller outdoor spaces. Screening with climbers plus built-in seating that includes planters and raised beds too all create a smart, cohesive look.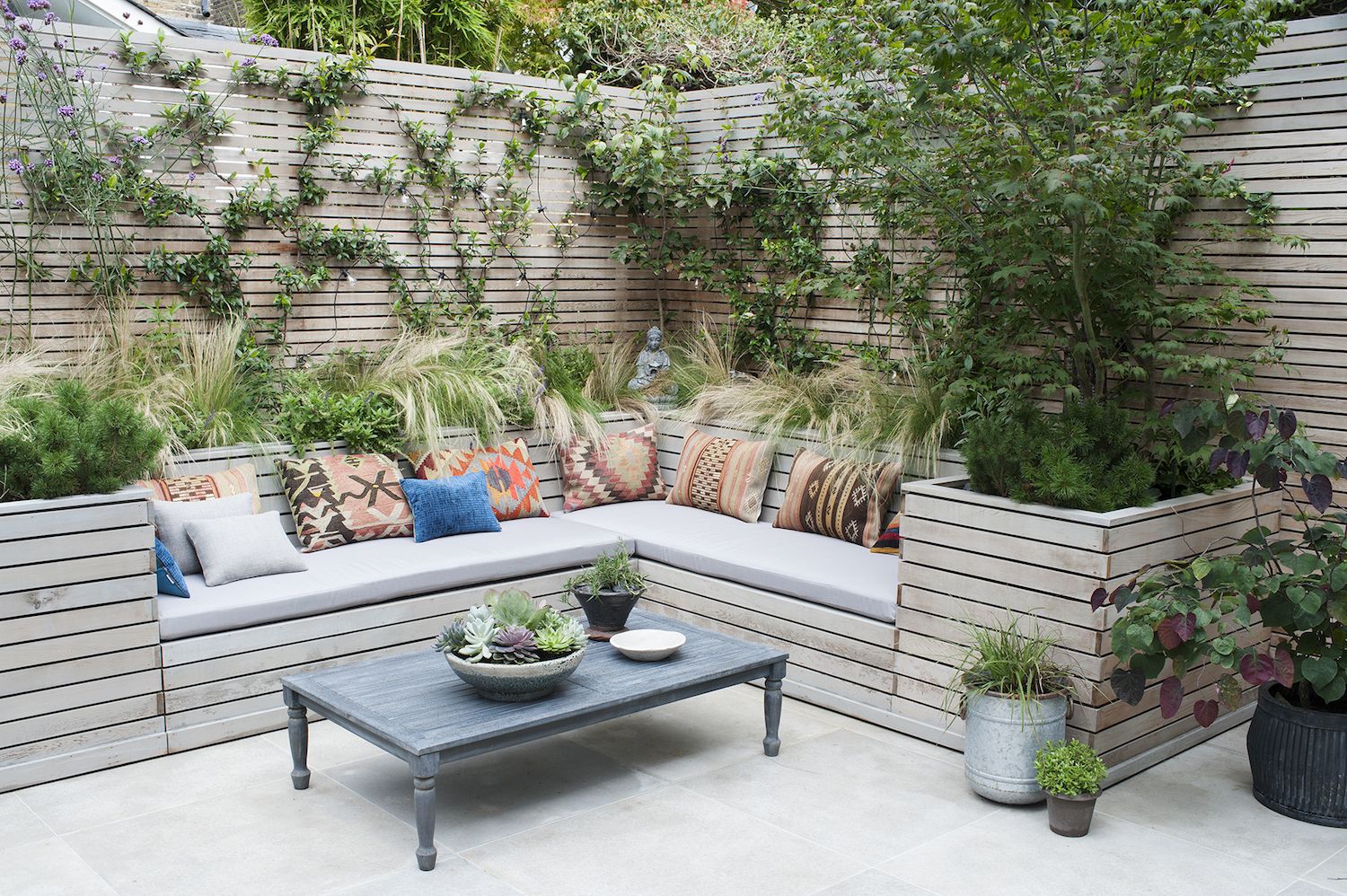 See Also:50 Stylish Garden Patio Ideas
Standout seating
A sculpture, practical seating or both? Just a couple of well-chosen pieces of furniture can bring a lushly planted courtyard to life. Look for shapes and colours that echo the colour of flowers or foliage.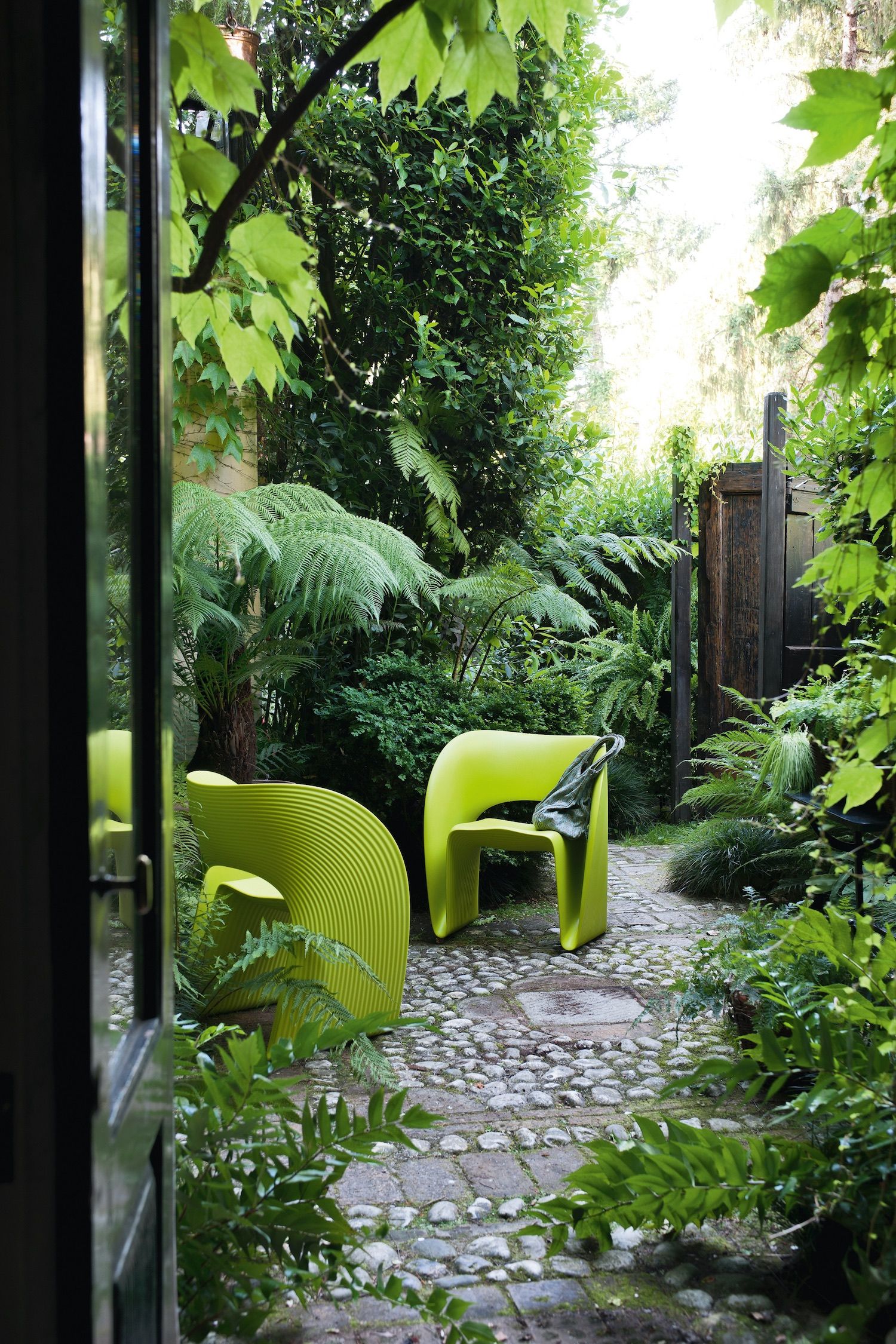 See Also:Chic & Stylish Ideas For Small Gardens
Mixed materials
A bold contrast of materials and finishes is certainly one of the most exciting new trends in furniture design. From quirky lounge sets that mix pale timber and inflatable PVC to expansive dining tables that showcase powder-coated steel and natural Acacia the overall effect is truly striking.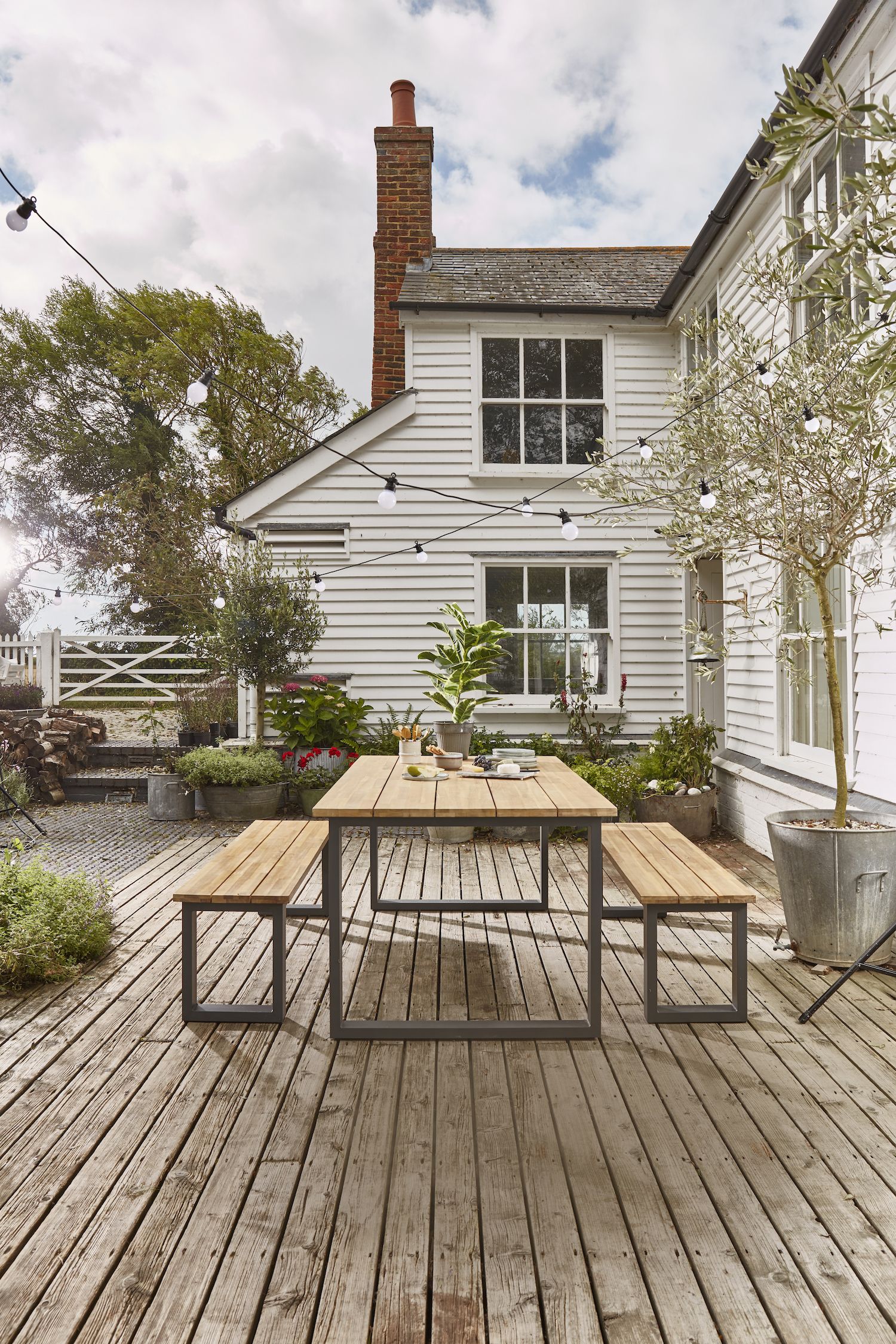 See Also:The Stylish Outdoor Furniture & Accessories We're Currently Coveting
Casual concrete
Let the materials and form do all the talking, by going for a simple and sculptural dining set. A pared back combo of concrete stools and a slab style table sit beautifully alongside weathered timber shingles and decking.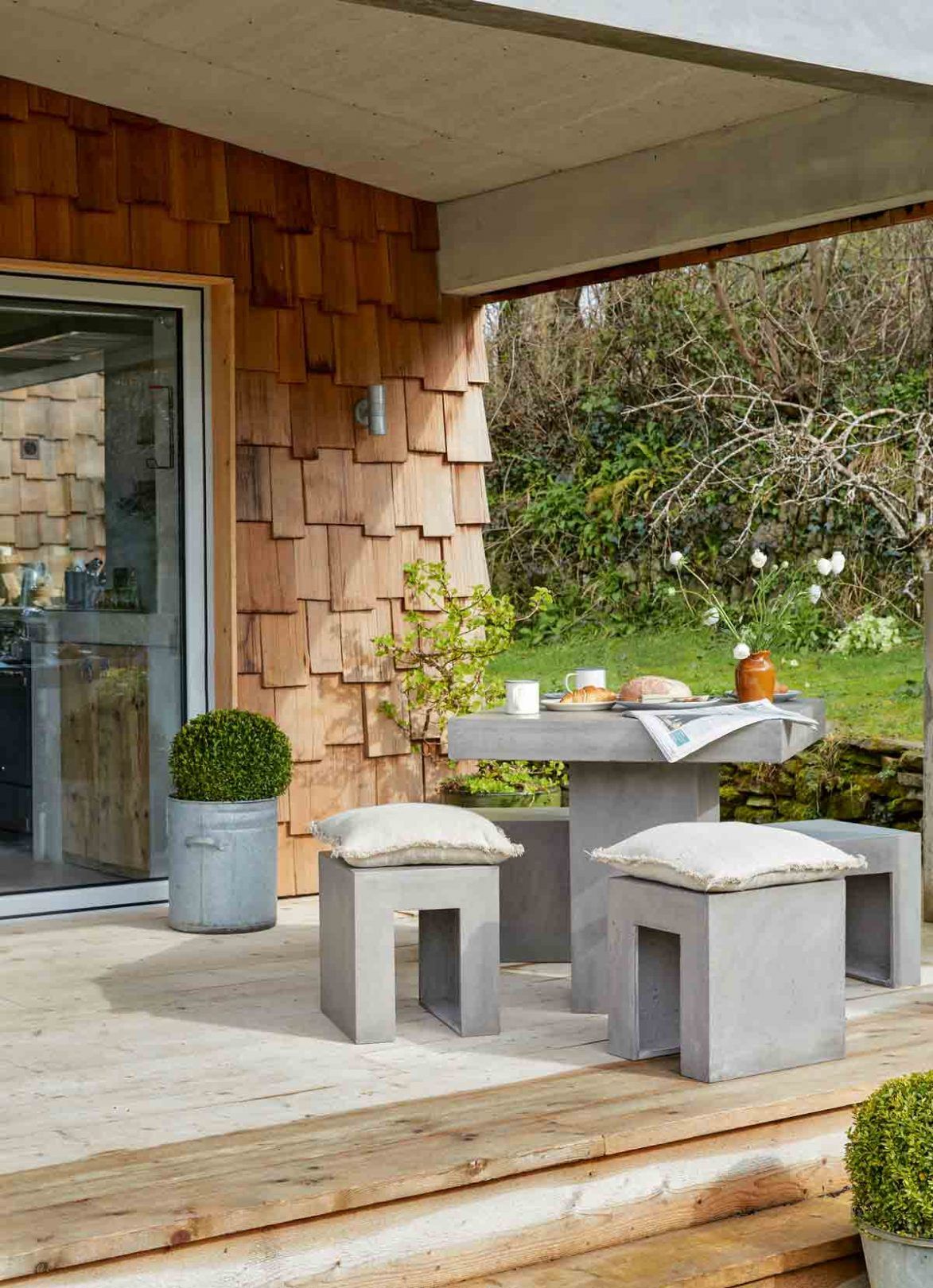 See Also:Stylishly clever garden decking ideas
Simple design
There's a definite move towards stark simplicity in many of today's urban gardens. Neat, no frills, bench style seating created from beautifully weathered timber boards is the perfect showcase for geometrically pattern cushions and boldly coloured, painted wall.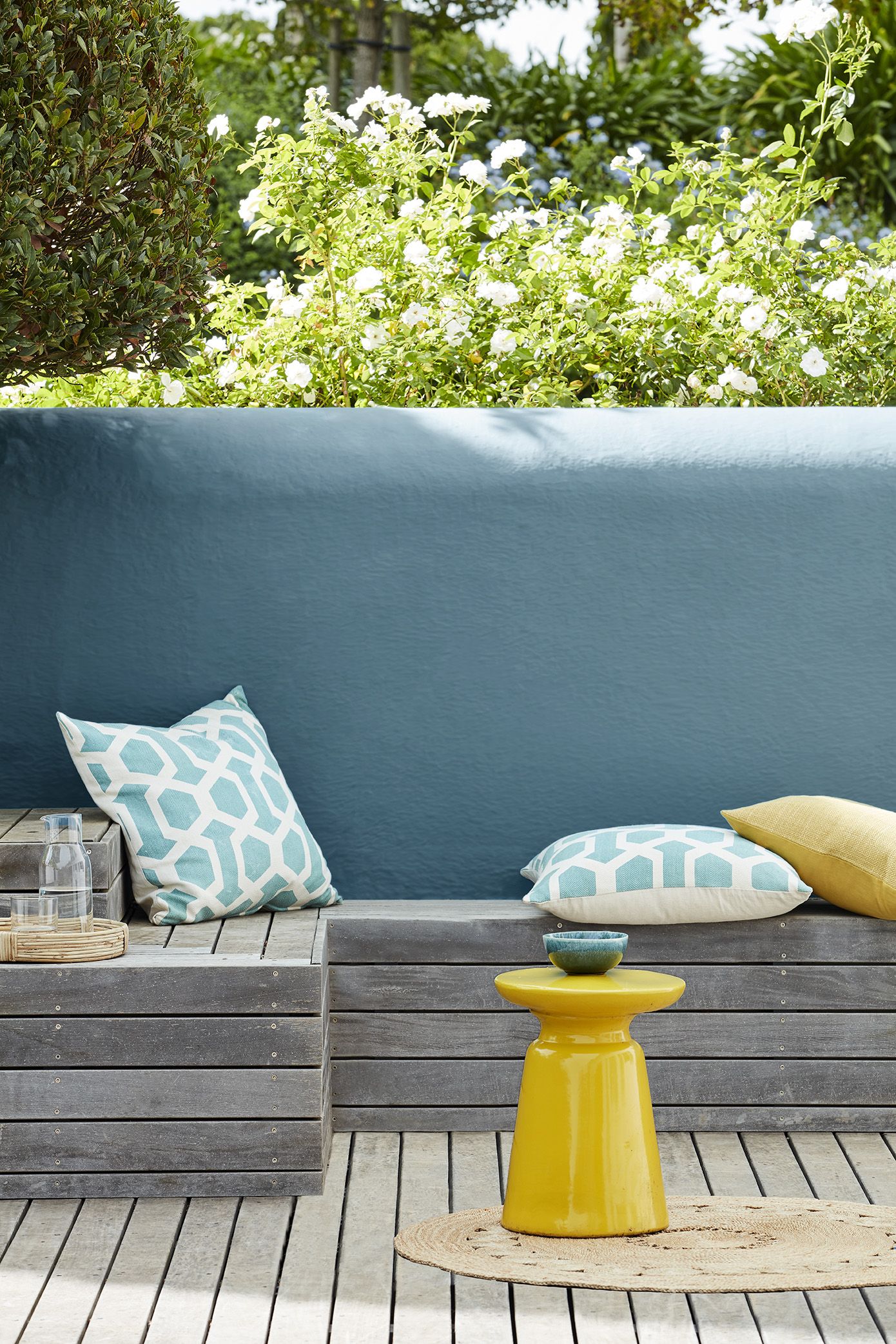 See Also:Balcony Ideas To Make The Most Of A Small Balcony
Fire tables
A cosy heat source, handy place to perch drinks and nibbles and a true garden centrepiece – fire tables are here to stay. Find a circular, square or rectangular design to suit your seating area and choose from eco-friendly and smokeless Bioethanol or Propane, either bottled or piped.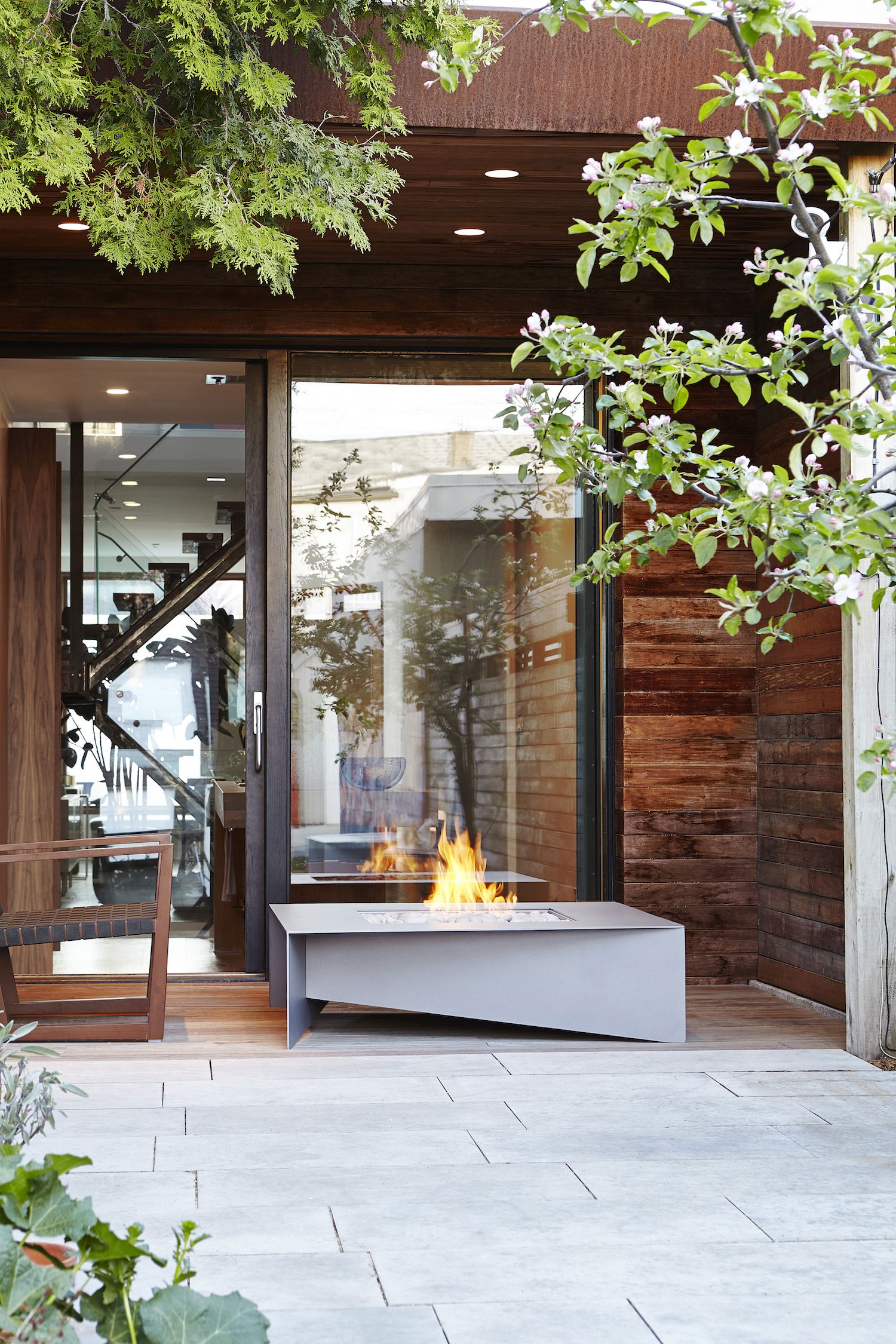 See Also:How To Install An Outdoor Kitchen – Expert Tips For A Stylish New Cooking Space
Portable pieces
Follow your mood, and the sun, by choosing portable pieces. Footstools, pouffes, low level tables and even side tables with carry handles can be easily moved from balcony to garden; inside or out.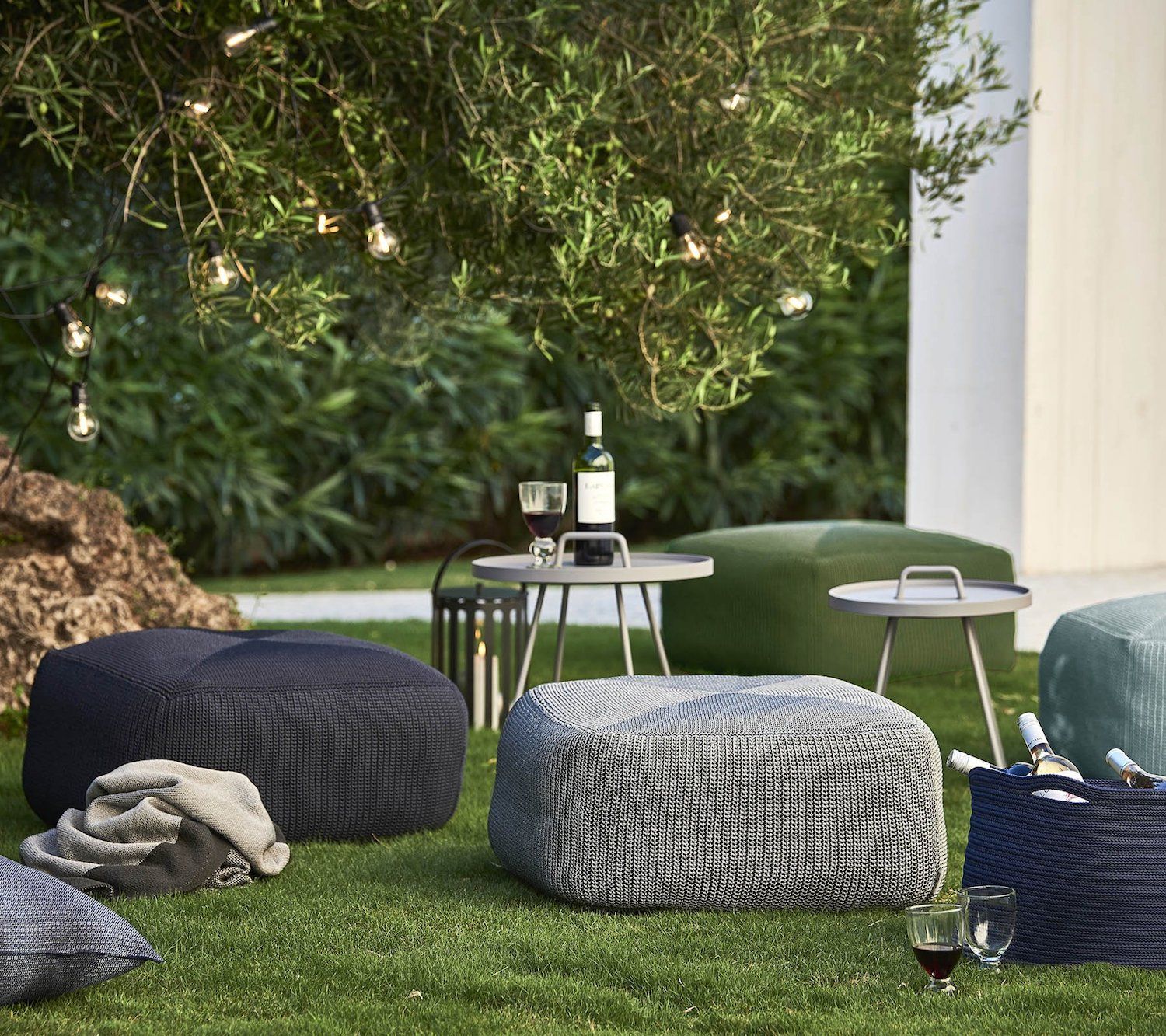 See Also:Cool Ways To Bring The Outdoors In
Handy side tables
Supremely practical and the perfect perch for extra lighting and guests drinks too, alfresco side tables are great for 'filling in' those awkward gaps between seating to create the perfect outdoor lounging set up.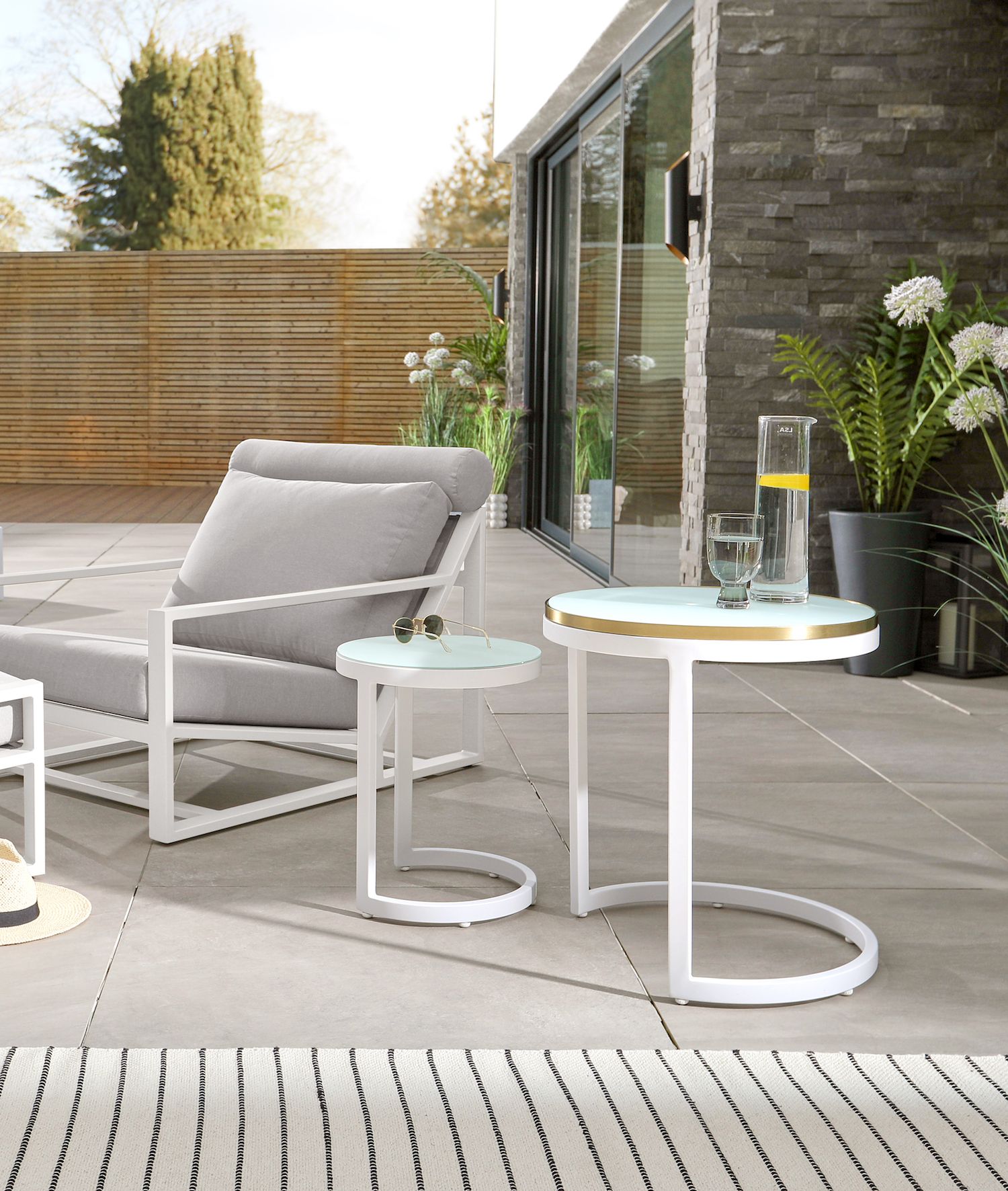 See Also:Cool Urban Outdoor Living Spaces: Garden, Patio And Roof Terrace Inspiration
Supersized coffee table
Moving the living room outside has to be THE biggest design shift this year and nothing conjures says this more than an expansive coffee table. Stand it on an outdoor rug and pull seating round for an instant, cosy vibe.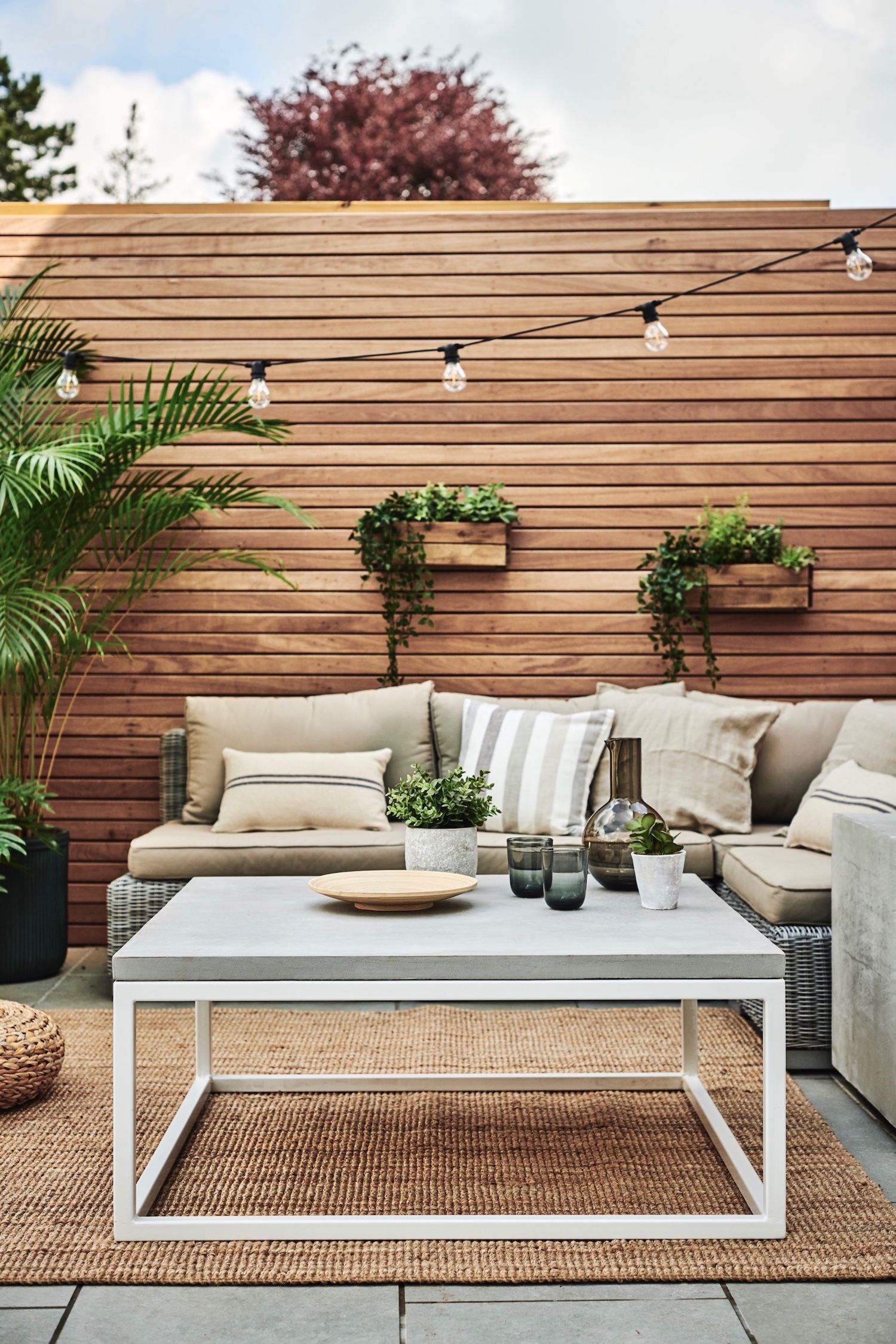 See Also:Explore a light, airy home centred around a gorgeous courtyard garden
Easy care resin
Lightweight and stunning, multi-use pieces are a brilliant way of getting more from a high-end design. Look for durable pieces in seamless polypropelene and mix and match colours to suit each space.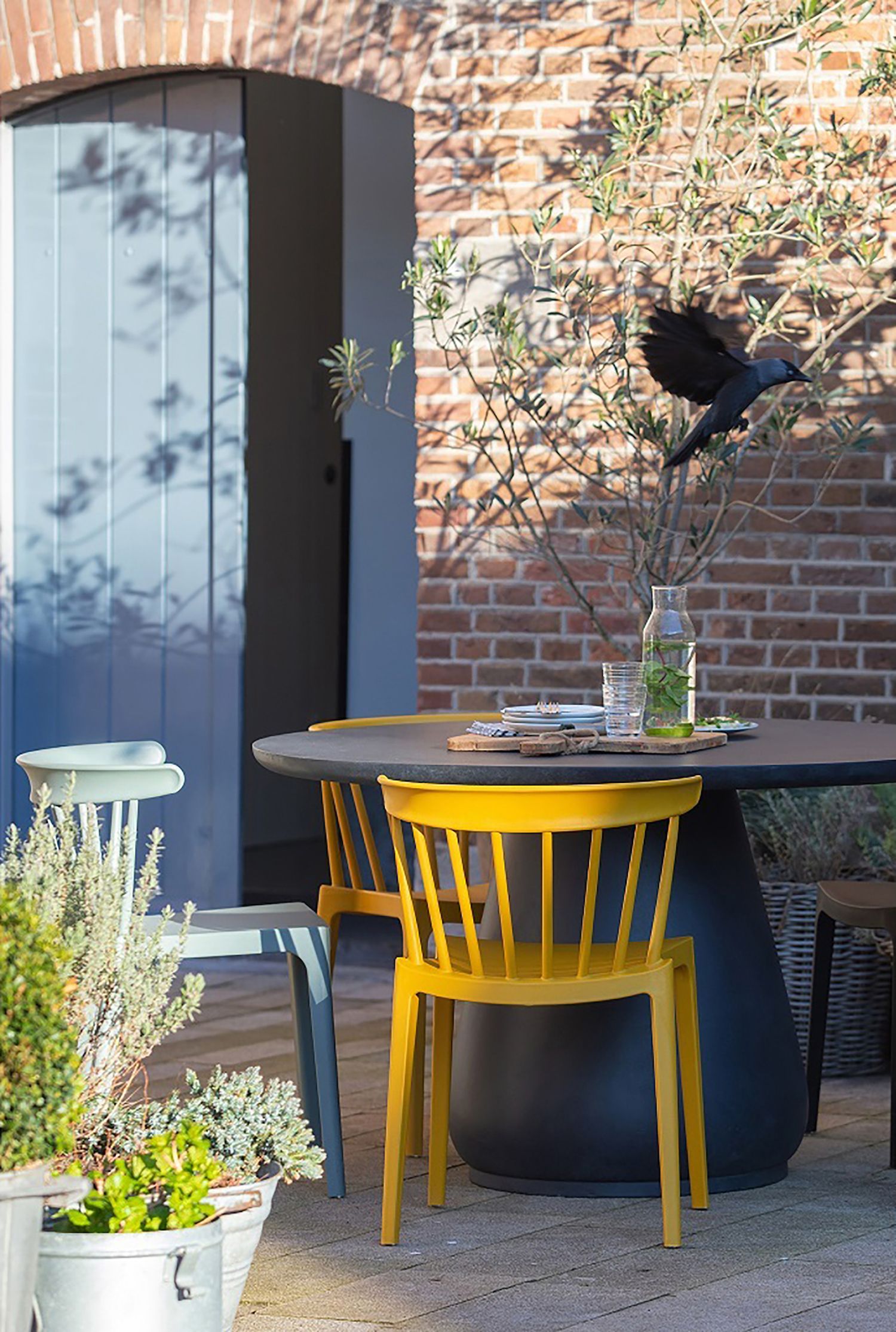 Surprising colours
A dash of unexpected colour is a sure-fire way to pep up any space – inside or out. Highlight ornate and traditional pieces with a distinctly contemporary paint shade. Max the impact with a muted backdrop and mono accessories.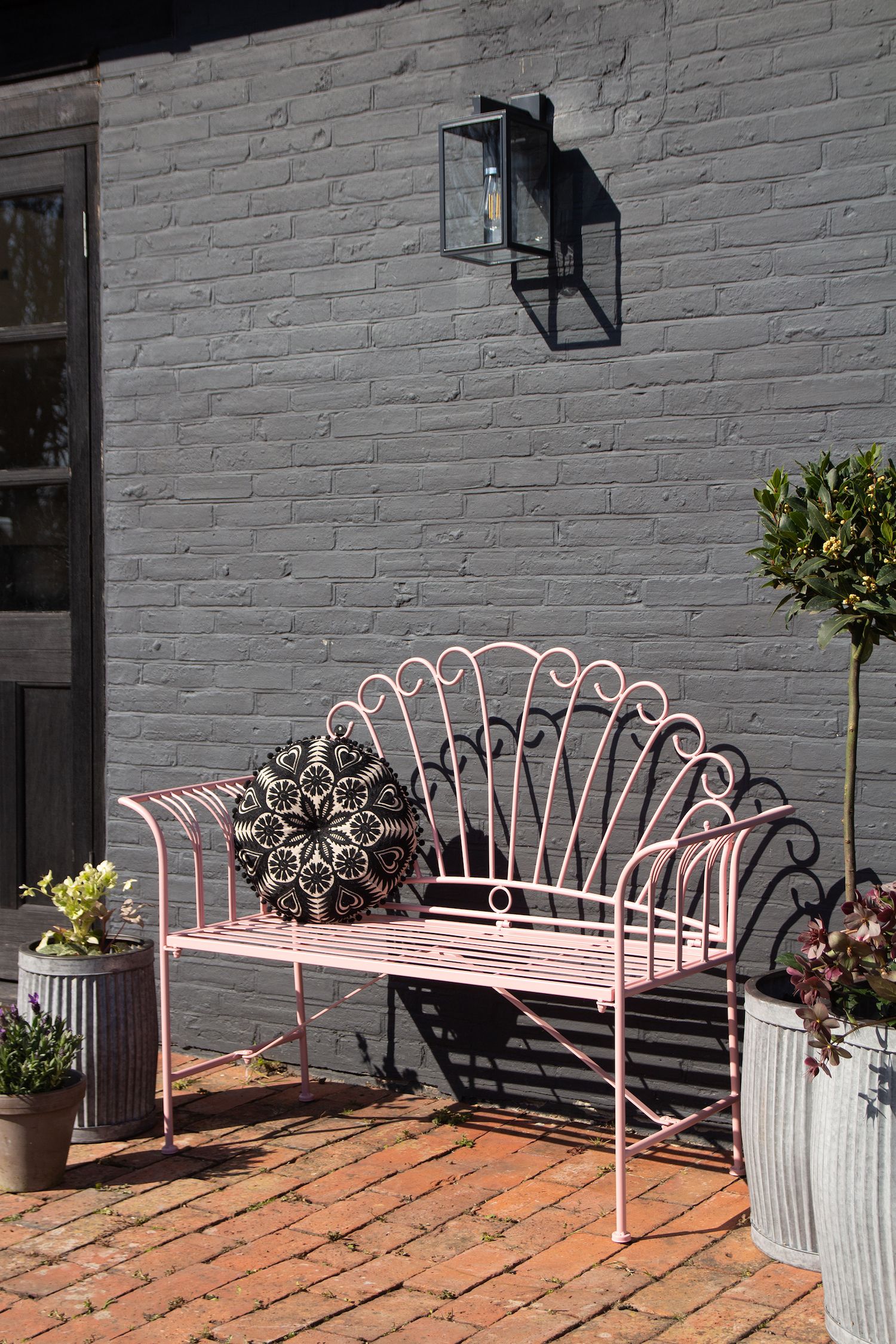 Linear furniture
Take inspiration from your surroundings and use it to inspire your furniture choice. Echo the fine lines of narrow timber deckboards, with sinuous steel strip furniture and a statement, stripy vase.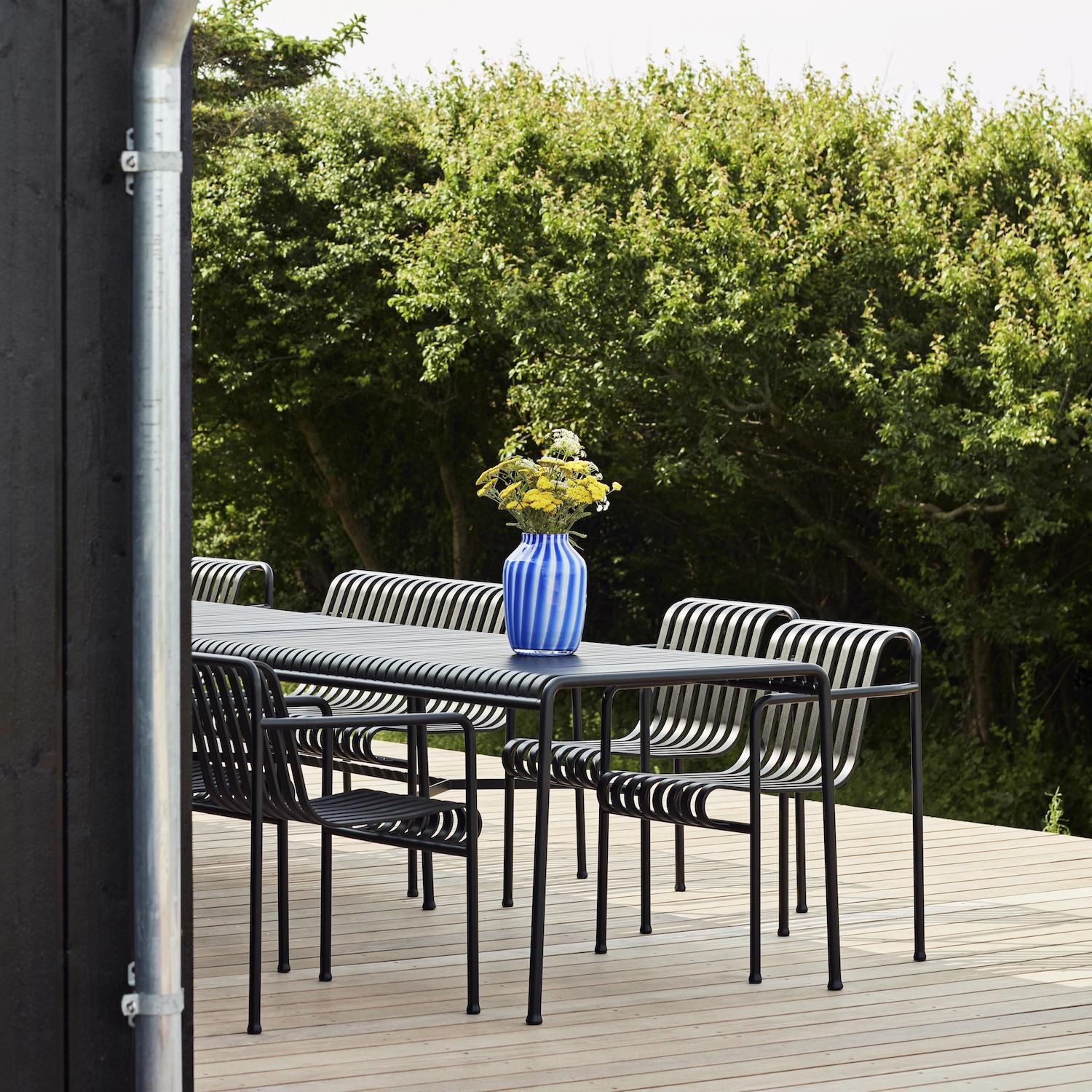 Swing chair
Cocoon yourself in comfort and escape from the world in a blissful hanging chair. Swap bulky 1960's numbers and look for finely woven designs that gently filter the light. Pile up with velvet cushions, a faux fur rug and sway gently in the breeze.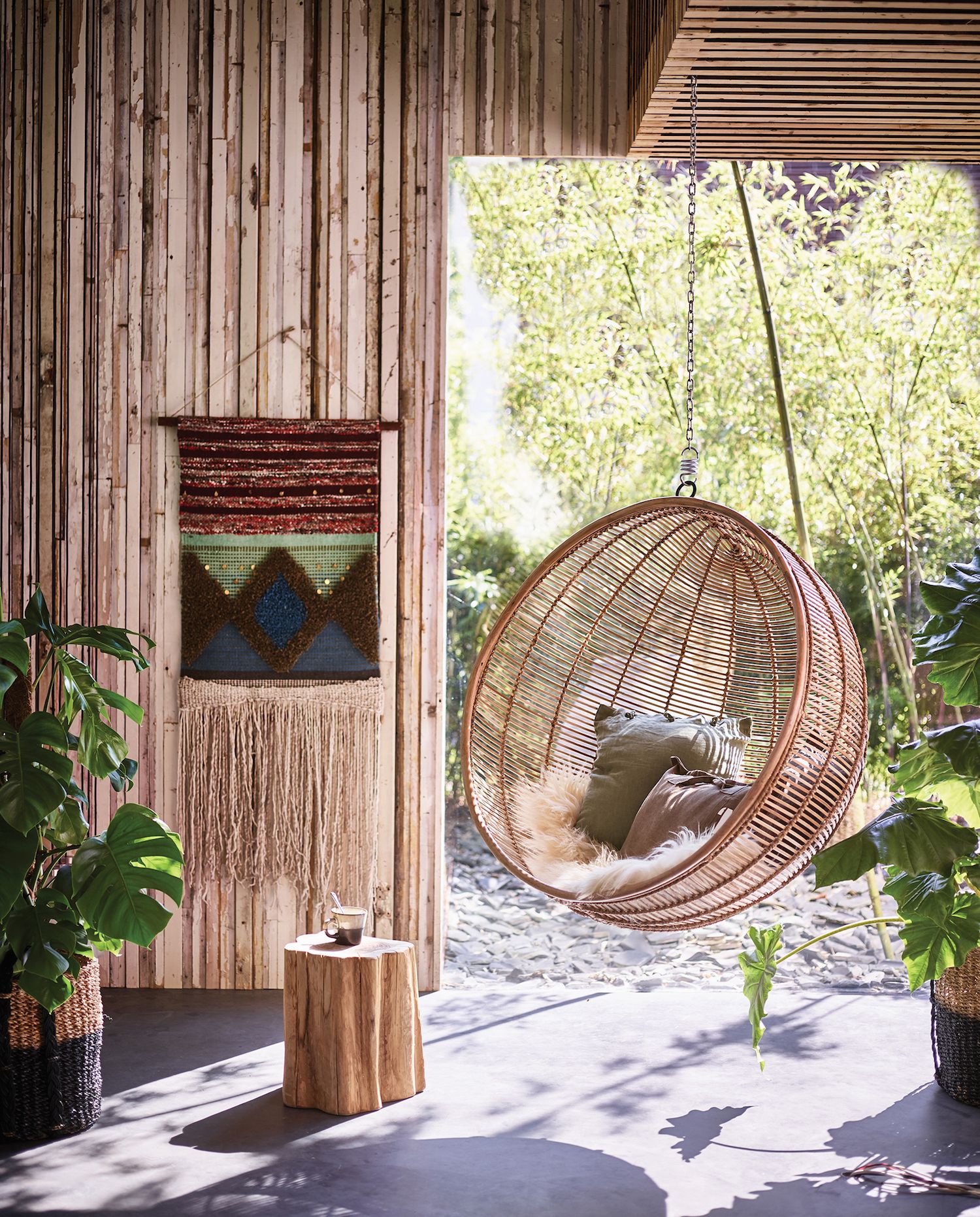 See Also:THE COX & COX HANGING TIPI TO SEEK OUT THIS SUMMER
New look rattan
Ditch close-weave modules, the latest rattan designs are all about the light and airy interlacing patterns and clean, sweeping outlines. Ramp up the impact and opt for a bold finish in graphite or coco.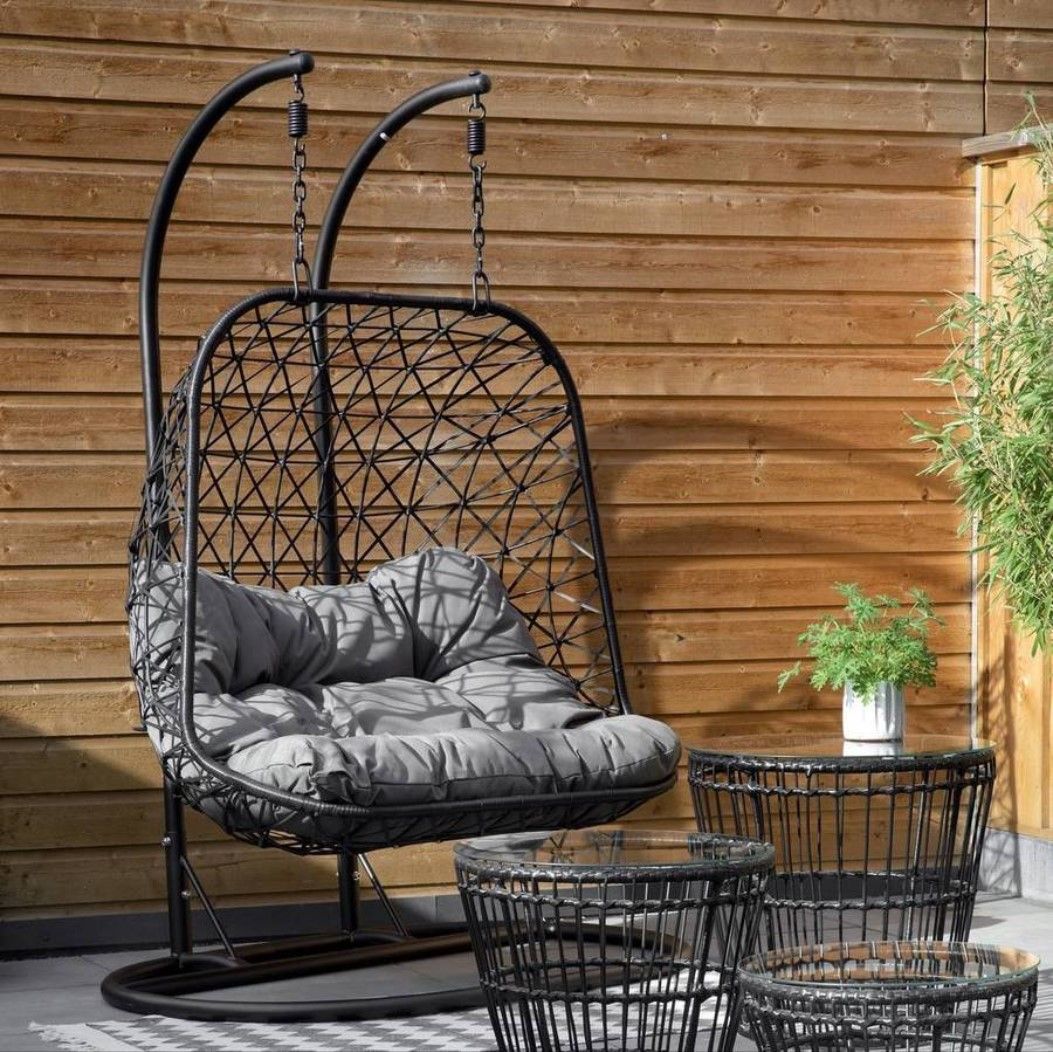 Fitted banquette
Kick back in style with smart and space efficient, built-in seating. Upholstered in a bold coral stripe, all-weather fabric, this sunken rest area also features concealed storage, an outdoor fire and doubles as a retaining wall for the surrounding planting.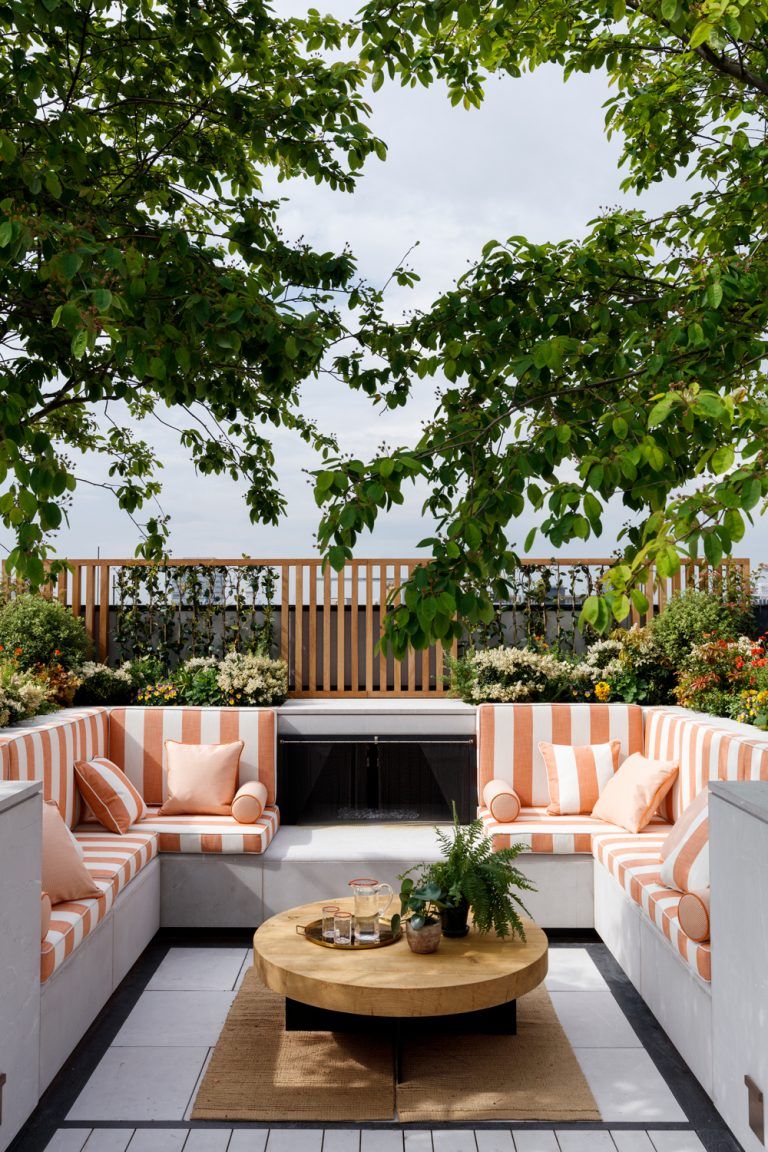 All-weather lounging
High luxe and sculptural – the fine lines and enveloping shapes of indoor sofas have finally moved outdoors and on to the patio. Thanks to clever advances in weatherproof fabrics these fully upholstered styles can easily cope with all the elements to create a cosy, alfresco spot you won't want to leave.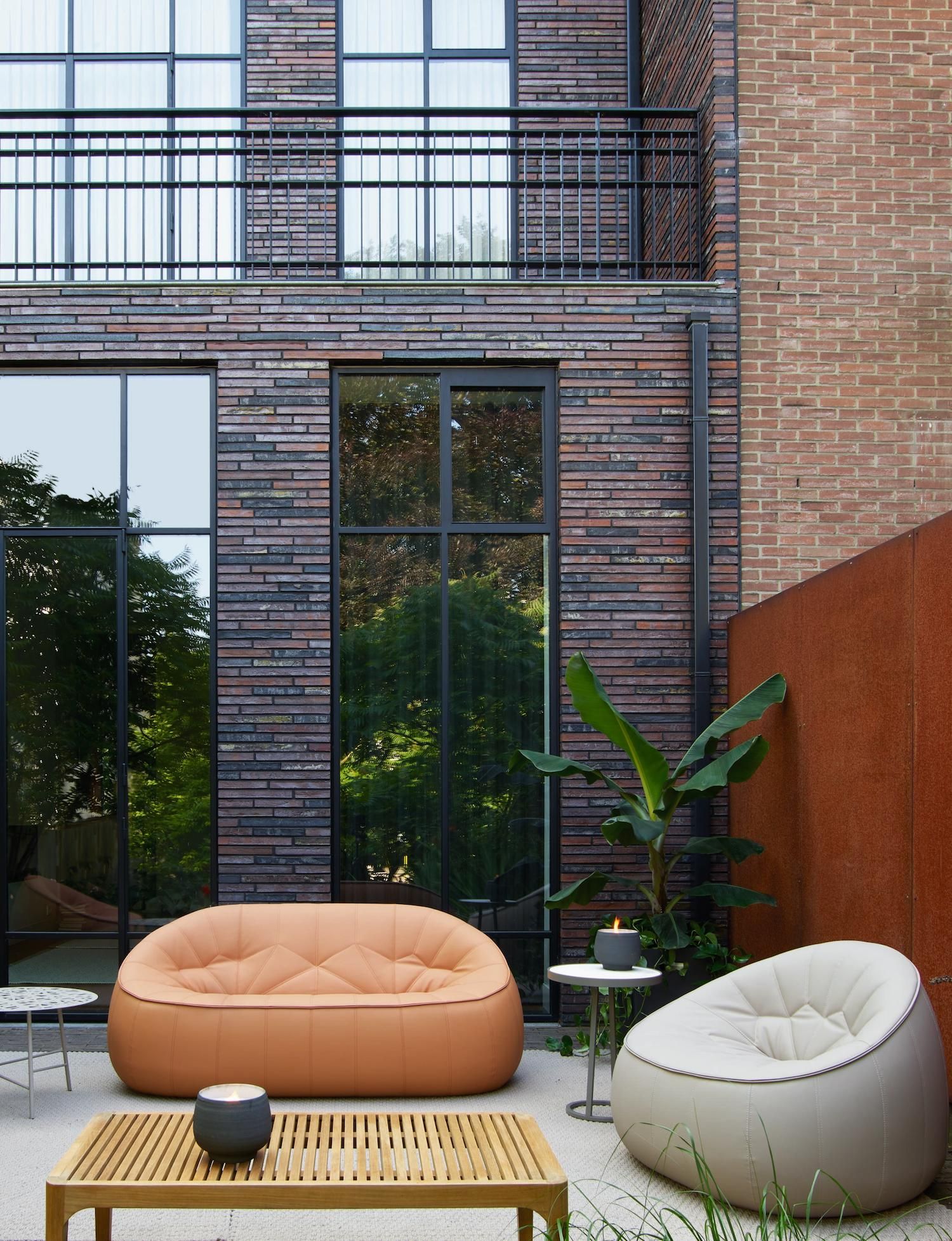 Decadent daybed
Perch, doze or just chill in luxury – day beds are fast becoming a fixture in the sharpest gardens. Although for fine days only, indulge in a little escapism and go for an elegant frame with a fringed canopy and plenty of plush cushions. Not just for daytime either – they strike a sultry note for evenings too.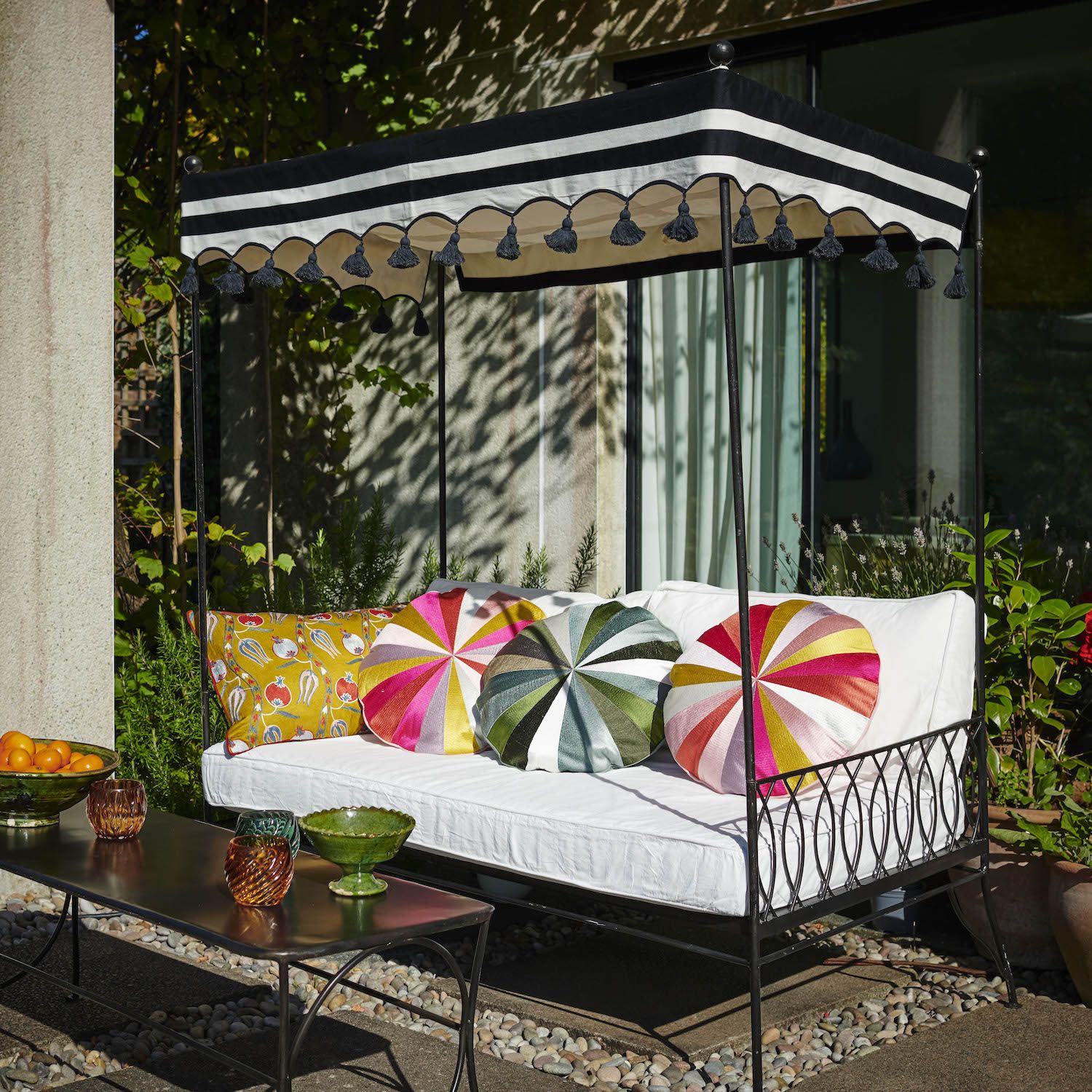 Q&A
What type of modern outdoor furniture is most durable?
Concrete, polypropylene and resin pieces all cope well with being left outside while synthetic rattan and softwood pieces are best stored somewhere dry or covered in situ when not in use. Timber furniture will naturally 'silver' or weather with age which is part of their charm, but you can slow this process with wood preservatives.
How to maintain garden furniture?
A simple wipe over with hot, soapy water and a lint-free cloth is enough to remove dirt from most types of furniture but there are a few other tricks to try. Metal and teak garden furniture can be cleaned using a pressure washer on a low setting, while a non-foaming solution is essential for all-weather rattan to avoid a build-up of dirt.
What is the best treatment for wood furniture?
Unless you want a beautifully weathered surface, all outdoor timber will benefit from a regular coat of wood preservative. Natural oils such as Teak, Danish or Tung oil will repel rain or moisture while a Garden Furniture Wood Stain will colour the timber and protect it too.
Can you keep rattan furniture outside?
Natural rattan is definitely not wet-weather friendly, so always move furniture inside on rainy days. Faux or synthetic rattan made from High Density Polypropylene (HDPE) is a much more durable option and with a regular brush or hose down can be kept free of muck and dirt.
Where can I find quality outdoor furniture?
Outdoor design specialists and high-end furniture retailers have a huge knowledge base and can advise on the most durable materials and finishes as well as the latest looks. Many high-street and mass market retailers tend to stock seasonal lines only, from Early spring to late Summer in the UK - so although they are likely to have a limited choice during Winter they are great for snapping up end-of-season bargains.