Kitchen island pendant lighting ideas – 10 chic styles to illuminate an island
Whether you want to make a statement, or after a practical solution, these kitchen island pendant lighting ideas are sure to inspire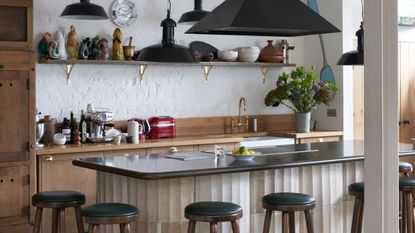 (Image credit: James Merrell)
Kitchen island pendant lighting ideas are one of the most important design decisions you can make when adding an island. Sure people notice the color, notice the shape, the more design-savvy amongst your friends may even notice the beautiful dramatically veined marble slab you so carefully chose as your countertop. But actually, unless your island is light well they may not give your gorgeous focal point a second glance. Because pendant lighting is what's going to really ensure that this wondrous, multi-functional aspect of your kitchen, is the focal point of your home, not to mention works effectively.
'We do more than just cook and eat in our kitchen, it is one of the most frequently used spaces in our homes. And as we spend more and more time indoors, the kitchen has become a space to gather, socialize, do homework and other family activities.' says Robbie Llewellyn, co-founder, Bert Frank. 'What we call task lighting should be your primary focus in the kitchen, with carefully considered placement of lighting over kitchen islands to illuminate workspace. Whether you are starting a sourdough or baking that banana bread, your kitchen lighting should create a bright, warm and inviting environment.'
And as pendants are the most popular of all kitchen island lighting ideas, there are what seem like endless designs to choose from. And don't get us wrong, that's no bad thing, but with choosing a style, a correct size, the right number of lights, making sure it's hung in the right place and at the right level, what appears to be a simple job, can be a bit of a minefield. So to help you make all the right decisions, we've rounded up all our favorite ideas and plenty of expert tips.
10 stylish kitchen island pendant lighting ideas
1. Plan in your kitchen island lighting from the start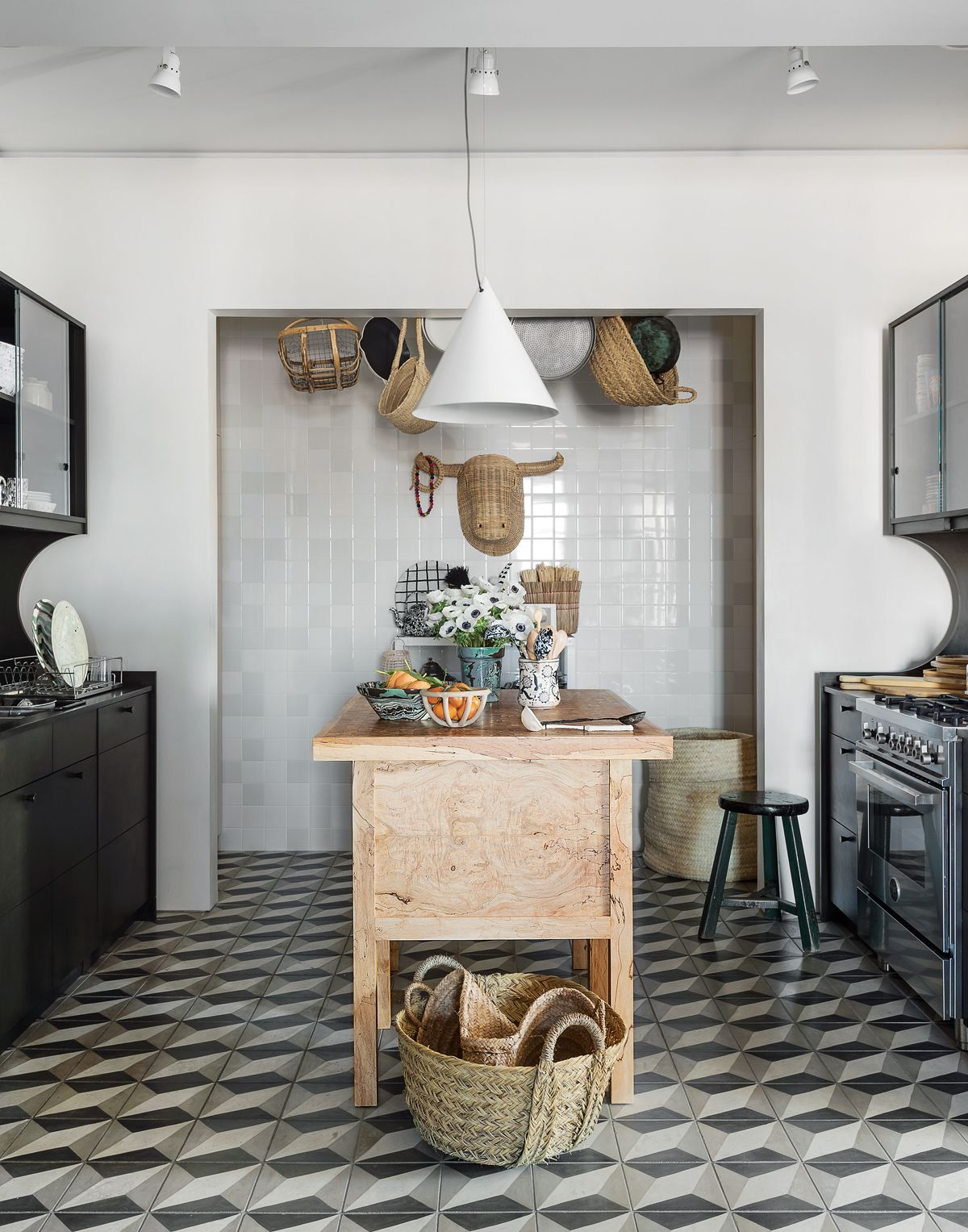 Lighting, in most rooms, is often an afterthought, something the add-in at the final stage. But we are of the belief that lighting should be planned in a room at the really early stages as it's so key to a room functioning and feeling right. And this is so true of kitchen islands, if you plan to add pendants above your island factor them in when you are making all the big decisions on size and shape, and layout.
'If you've opted to have an island in the middle of your kitchen, you'll know that it's quite possibly the most important area of your whole house - the kitchen island has evolved into the central hub around which daily life operates.' explains Rohan Blacker, founder of Pooky.
'Make sure that lighting is part of the plan from the very start as retrospective planning can sometimes lead to compromise. If you want beautiful designer pendants hanging over your island, or more functional LED lights built into recesses of cabinets, these options all need to be considered so you can make sure the installation is feasible, as well as light levels balanced right from the outset.'
'The lighting design can also affect your decisions on kitchen units. For example, if you have a strong directed light over a countertop you might want to choose a non-reflective material for its surface to avoid glare.' advises Rohan.
See lots of really key design elements will be affected by the lighting you choose, so even you aren't 100% sold on a style, have a clear idea of how many pendants you want, where they will hang, and at what height they will be.
2. Get your sizing spot on
As well as positioning, you need to consider sizing. Of course, you want your kitchen island pendants to make a statement but above all else, they need to be practical. A kitchen island is potentially one of the hardest working pieces in your home, and the lighting needs to be functional. In order for your kitchen lighting to work you need to consider the best size for your space.
As Tom Rutt, founder of TR Studio says, 'Kitchen island lighting needs to serve two purposes and be both functional as a task light as well as being decorative and lighting over a kitchen island, in particular, is a great opportunity to make a decorative statement. When choosing a light, consider the length and width of the kitchen island to ensure that the lighting you choose washes illumination across the entire surface, you want to avoid shadowy spots. A long tube lamp or track system is a great option to consider over the more common practise of hanging multiple pendant lights in a row and can feel much more contemporary.'
What you want to avoid with your kitchen island pendants is very clear pools of light, that almost spotlight the surface and don't illuminate the whole area. So when looking at sizes, consider this. If you don't want smaller designs that are going to have that spotlight effect just make sure you include enough. And likewise, if you want a big standout pendant ensure it's not going to off-balance the size of the island.
3. Create a real focal point with your pendant lighting
So we've established that kitchen island pendant lighting needs to be practical, but that doesn't mean it can't be a beautiful focal point of your space too.
As Jo Plismy, founder of Gong says, 'My advice is to not be afraid to go big and bold with your kitchen pendant lighting. Large pendant lights make an impressive statement above a dining table or kitchen island. Contrary to popular belief, oversized lights look fabulous in smaller rooms, as well as in larger spaces. I often advise my clients to see their lighting choices as pieces of art. Bold designs, tactile textiles, and sculptural shapes will provide interest over an island unit, even when the light is turned off.'
And the ornate chandelier used in this chic all white kitchen certainly brings boldness and shape to the space. Plus it brings in a different texture to a room that is made up of a lot of clean lines and sleek surfaces. Do note, however, this chandelier is also paired with more practical task lighting too, something to definitely consider if you are opting for form over function, always add in a second light source. Here smaller pendants have been used but spotlights can work well too if you want your statement light to be the only pendant in the room.
4. Hang lighting in odd numbers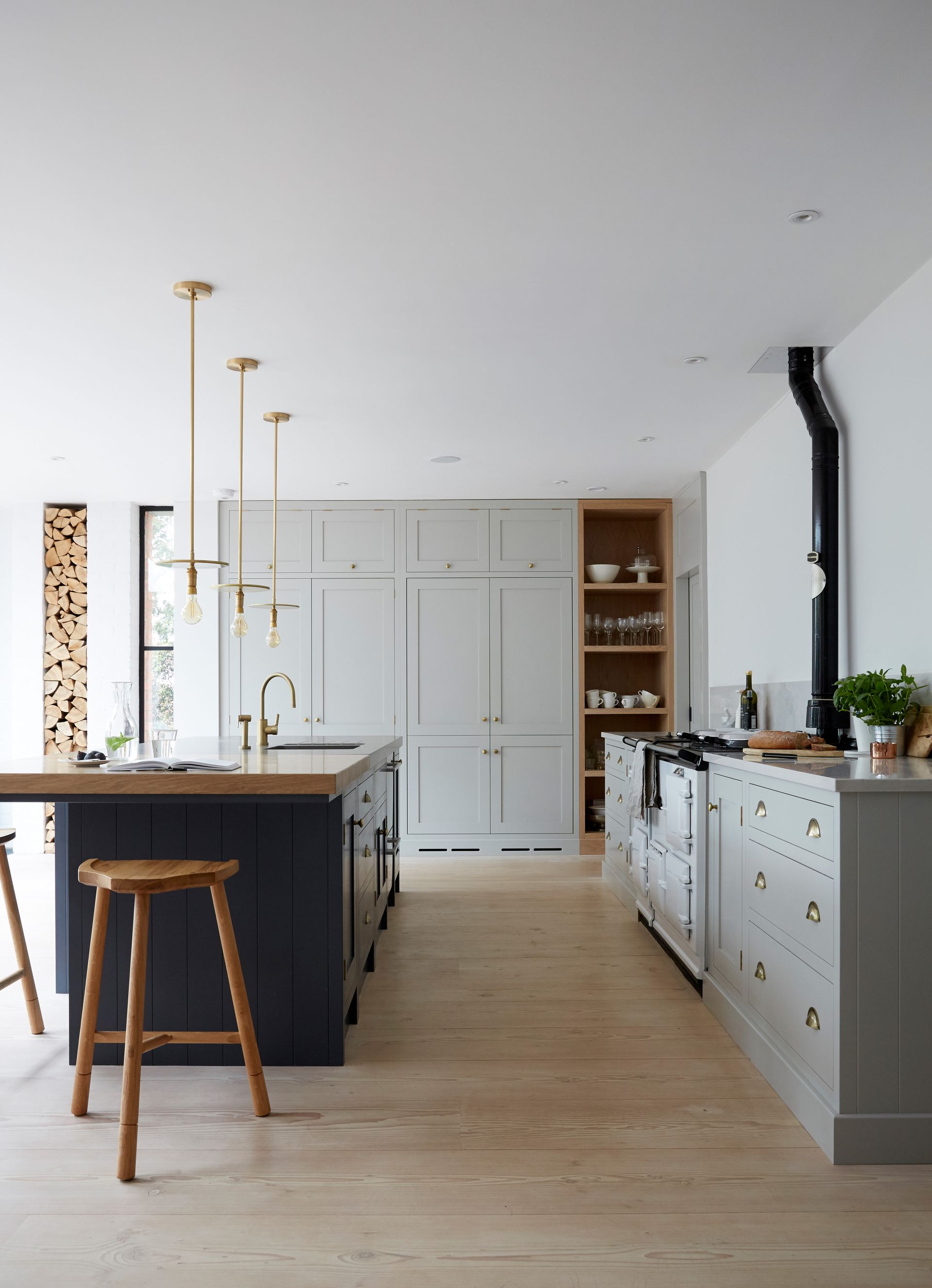 The rule of three is the oldest trick in the interior design book, and it actually has science to back up why odd numbers always work best in interiors. It's something to do with the brain taking longer to register odd numbers and it's not a sequence like groups of even numbers and therefore you will spend longer taking in something made up of odd numbers over even. Essentially odd numbers are more interesting to look at and have more intrigue.
So use that rule with your kitchen island pendant lighting. As Peter Legg, lead designer, där lighting, says 'Odd numbers create a balanced look over an island which is why you'll often see bar pendants coming in three and five bulb designs. Chandeliers and draped cluster designs will act as a visual curtain and add a lavish touch. Alternatively, opt for an understated finish with clear or caged arrangements.'
How satisfying does the set of three pendant lights look hanging at the perfect height in this grey kitchen? So simple and yet the rule of three is clearly at work here because we are instantly drawn to the lighting above all else in this space.
5. But symmetry can be satisfying with island pendants
That being said, symmetry can be equally satisfying to the eye, and hanging just
two pendants above an island is such a classic look. 'Another way to even out the appearance is to choose a pair of oversized pendants that stretch across the space.' adds Peter Legg.
And it's practical too if you pick the right designs, you want to make sure the two pendants flood the whole island (and room) with light rather than create two very clear pools with shadow in between. Avoid anything that's going to add downlight, like heavy shades, and instead, opt for something like the beautiful globe pendants used in this kitchen. Ditching the shades and going for glass will ensure the light is dispersed across the whole island.
6. Go oversized but keep it simple
If you are blessed with a large kitchen island, a large kitchen, or tall ceilings, you are going to want to go big with your pendant lights. Of course, there will be exceptions but in general, if you have a larger kitchen island with seating, you don't want a couple of small pendants floating above, you want to create a balance.
However, you also don't want your large lighting to add visual bulk to the room and break up the space at eye level. So be inspired by this modern farmhouse kitchen and pick a design that's big enough to match the size of your island but is simple enough so it won't be the only thing you notice in the kitchen – glass or lantern styles work best.
7. Layer island pendant lighting with other sources
This is so key to creating a kitchen lighting scheme that works – no matter how big or how bright your pendant lighting you need to layer it with other lighting sources. This will prevent that pooling of light we have talked so much about, not only giving you a nice even overall glow when you need it, but also supplying tasking lighting for areas like the cooking space and worktops elsewhere in your kitchen layout.
'When it comes to kitchen island lighting, decorative pendants are very popular as people want to make a statement and feature, but it's important to be careful not to create shadows over the cooking and prep area.' explains Piero De Marchis, Director, Detail Lighting. 'To make sure this doesn't happen, we would normally advocate decorating lighting 'filled-in' and supplemented with focused spotlights to eliminate any shadows or dark spots. By opting for this combination, you will then have a 'cooking mode' where all the lights are on and then a more relaxed mode when you can turn off the spotlights and dim your decorative lights.'
8. Match kitchen island pendants for a cohesive scheme
And since your island pendant lighting is therefore potentially not going to be the only lighting in your kitchen, consider how it will look with the lighting used around the rest of the room. Do want a cohesive look like the one above or would you rather mix and match your lighting? The one thing we will say is try and have some link with the lighting throughout the space, whether that be they are the same shade, same shape, or same size.
And if you are using pendants elsewhere consider how that will look when you take in the whole room. It's likely that your island pendants will be lower than the ones used elsewhere, as can be seen here, but just make sure nothing is really offsetting and the 'lines' around the room still work. See here how the pendants above the island hang at the same height as the shelving, and the smaller pendants hang above the line of the cabinets. Small things, but you'll notice if they are wrong.
9. Blend styles with your choice of island pendant
Pendant lights can be a really easy way to introduce a style into a kitchen and create a really characterful mix. For example, you may really like the rustic aesthetic, but can't part with your classic Shaker units, so just bring in an element of rustic with say a couple of rattan or seagrass pendants. Super simple but effective.
See how in this quite traditional dark blue kitchen, the fisherman-style lights give an industrial edge that really works, especially as they are in a matching steely blue so there's still that cohesiveness and formality.
10. Go for something that adds character
If perfectly uniform pendants aren't quite your style, something quirky and unexpected can totally work over a kitchen island. Vintage holophane lights have been grouped together over this kitchen island, adding different shapes and levels of lighting which really effectively light up the whole room.
Spider light like this where lots of different pendants hang from the same central fixture work so great with islands because you can be really flexible with where and at what height you want your lighting.
How do I choose a pendant light for a kitchen island?
The best way to approach choosing pendant lighting for an island is to first decide on a size, then you can focus on styles you are after. The size is the most important aspect as it's what's going to make your island functional.
'An island performs a whole range of roles in the kitchen. It might be where you cook, wash up, and prepare food, and it can also be where you dine or socialise. The right lighting is therefore crucial, and – most importantly – it should be able to adapt to any and all of those functions.' explains Charlie Smallbone, founder of Ledbury Studio.
'Pendant lighting always looks good above an island and, while adding a decorative touch, it also provides effective task lighting. For cooking and food prep, the lights need to be bright so you can work safely. But if you also want to dine at the island, ensure the lights have dimmer switches, so you can take it down to ambient lighting. Just remember, whether it's one statement light or a row of several, an odd number of pendants is more pleasing to the eye than an even number.'
'More discreet solutions include recessed ceiling lights, but you may also benefit from directional spotlights, to provide focused task lighting on the island. In addition, if you choose a ceiling extractor above the hob, it will have integrated lights (operated via a remote control) that will illuminate your hob while you're cooking. If the extractor is built into a bulkhead, you can recess lights into that too.'
'In most kitchens, you're likely to have a combination of the above to ensure you can have different layers of light at different times of the day.'
How big should pendant lights be over a kitchen island?
There's no hard and fast rule here but judge the size of your pendants based on the size of your island. And you'll want to consider how many pendants you want to hang as this is will also dictate the size of each too. As a rule of thumb you want to leave around two feet between each of your pendants and around 36 inches between the bottom of the pendant and the island countertop, so using these rough measurements can be a good guide when choosing a size and style.
The Livingetc newsletter is your shortcut to the now and the next in home design. Subscribe today to receive a stunning free 200-page book of the best homes from around the world.
Hebe is the Digital Editor of Livingetc; she has a background in lifestyle and interior journalism and a passion for renovating small spaces. You'll usually find her attempting DIY, whether it's spray painting her whole kitchen, don't try that at home, or ever changing the wallpaper in her hallway. Livingetc has been such a huge inspiration and has influenced Hebe's style since she moved into her first rental and finally had a small amount of control over the decor and now loves being able to help others make decisions when decorating their own homes. Last year she moved from renting to owning her first teeny tiny Edwardian flat in London with her whippet Willow (who yes she chose to match her interiors...) and is already on the lookout for her next project.