Google Nest Hub (2nd Gen) review: emphasize sleep and wellness in your smart home hub
In addition to being able to serve as the hub to your smart home, make calls and watch videos, the core differentiator of the Google Nest Hub (2nd generation) is the introduction of sleep sensing.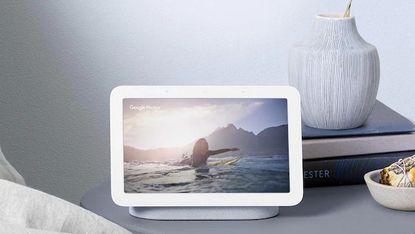 (Image credit: Google)
We incorporated the Google Nest Hub (2nd Gen) with Soli Sensor into our sleep routine, which provides detailed insights into your sleep quality. You may find yourself wanting another in the kitchen to take advantage of the full suite of functions from smart home control to entertainment.
Reasons to buy
+

Features sleep tracking tech with an emphasis on wellness

+

Excellent visual display

+

A home hub for all your smart home products

+

A treasure trove of content
Reasons to avoid
-

No camera for video calls

-

Might attribute co-sleeper's movements to you

-

Sleep tracking will cost extra after 2022
As a sleep editor, I'm often toying with all things sleep. So when Google reached out to me about their Google Nest Hub (2nd Gen) display and speaker with built-in sleep tracking, I had to try this smart sleep gadget that uses motion sensors as opposed to having to be bothered to actually wear something, plus the robust functionalities of a smart speaker to streamline your routine.
Of course, if you're looking to automate your bedroom into a smart home space, the best smart speaker is one of the first places to start, and at first glance, the Google Nest Hub (2nd Gen) is made for your bedroom, but also your kitchen... or your home office, or wherever you find yourself wanting a Google Assistant with a display.
Now, let me get into my casual experience with smart home speakers. I'm guilty of using my existing Alexa Echo Dot as my personal weather woman and DJ, and well, nothing else. At one point, I did incorporate a smart plug to help control a floor lamp across the room, but that was many apartments ago, and that little smart plug has literally taken to the abyss. Sometimes, she alerts me of my Amazon deliveries, but for the most part, she takes up a tiny corner of my nightstand, where I honestly find myself teetering a tissue box on top.
Then, I purchased an Amazon Echo Show 5 on mega-sale during Black Friday for my kitchen, with the anticipation of connecting it to a Ring Video Doorbell, and having an easy assistant for converting measurements, keeping time, and also playing tunes. But, the 5.5" display of the Echo Show 5 was just too small to really get into the details or its full functionalities, let alone even think about video chatting or watching videos.
So, that brings me back to my first interaction with the Google Nest Hub, where I've taken it through the paces to give you a full picture of all the things this smart speaker can accomplish, and how it quite quickly became a fixture on my nightstand.
Google Nest Hub (2nd Gen): specs
Screen: 7" (1024 x 600)
Speaker: Full-range speaker with 1.7 in (43.5 mm) driver
Microphones: 3
Dimensions: 7"W x 4.7"H x 2.7"D
Wireless: No
Orientation: Landscape
Color: Chalk, Charcoal, Sand, Mist
RRP: List Price: $99.99 / £89.99
Google Nest Hub (2nd Gen): design
The Google Nest Hub The Speaker consists of a display screen and speaker system. The enclosure is made from 54% recycled plastic. It will stay plugged in at all times to work.
Display
The 7" touchscreen display is perfectly sizeable to watch video clips, Youtube, or full-length Netflix episodes if that's what you'd prefer. I found the visuals vibrant and crisp, with no lag. When on standby, the screen can cycle through a slideshow of your own photos from Google Photo or default to a slideshow of curated images such as landscapes, paintings, and abstract photos.
The display utilizes what it calls Ambient EQ, which uses a sensor to adjust to ambient room light, so it's not too bright or too dim. It detects and matches over 16 million combinations of light and color to blend in. At night, once you shut off the light, you can set the display to completely darken. You can also turn off the Ambient EQ setting.
Audio Quality
The device uses a full-range speaker with a 1.7 in (43.5 mm) driver, and has three built-in far-field microphones. I think the sound is good, but it didn't blow me away. The device also learns who it is talking to, to personalize results to that person, and the microphone had no issue picking up my queries from across the room.
I immediately noticed a difference in bass between my existing Amazon Echo and the new Google Hub. The sound does not quite fill the space of my room like my Echo had the ability to. It's definitely suitable for personal use but not powerful enough to serve as the primary speaker for a party or large gathering.
The sound volume can be adjusted with a button in the rear, the Google Home app, or through voice commands.
Privacy
The one thing that Google Nest Hub does not have is a built-in camera, for privacy reasons. Seeing that this is a device designed with the intent of being added to your bedroom, it doesn't leave any room for any privacy breaches of the video recording sort. The mic can also very easily be turned at any time by a switch behind the machine, and it can not be turned off or on remotely. A small orange indicator light appears if the mic is off.
The Sleep Sensing feature does utilize the microphone, but any information collected at night is never shared with Googled, or used for ad personalization. If you do not want cough or snore tracking, it can also very easily be turned off.
If you do require video functionality, you'll want the Google Hub Max, with a built-in camera, larger display, and has a beefed-up sound system too, but you do lose the sleep sensing technology.
Google Nest Hub (2nd Gen): setting it up
The Google Nest Hub comes in a sturdy, appropriately sized box. The display is wrapped in protective plastic but stays in place with recyclable cardboard inserts.
Accompanying papers are minimal with a brief warranty and registration guide and a slip about privacy, as well a notecard on how to get started. It is as simple as plugging in, though you will want to make sure you have the Google Home App on your phone. Once in the app, you will select set up a new device, and it automatically detects the new device. The app is one of the easiest places to get into the back end of settings and data history.
A quick start tour gives an introduction about where to find apps, settings, go back, and more, and takes mere minutes. The Sleep Sensing, however, is not automatically set up and requires that you create permissions for motion sensing and must be activated via the Home app on your phone.
Once you opt-in to Sleep Sensing in the Google Home app, it uses what it calls Soli to detect movement and breathing without a camera or having to wear. It knows when you go to bed, when you wake up and how long and well you've slept. But before you can begin, you have to calibrate the machine, which is essential to get accurate sleep results.
Calibrating was not hard, I had to lie down and keep my pet off the bed for a few minutes, but you have to place care that nothing is in the way of the hub and you, like a water bottle. It should also be angled toward you, and not straight on, and if it's moved, well, you'll need to recalibrate.
By the time I went to sleep, there was nothing I needed to do to start tracking my sleep, I just shut off the light and went to bed. In the morning, I was able to get a detailed look at my sleep report.
Google Nest Hub (2nd Gen): features
Sleep Sensing
Ok, I got into a bit on the Sleep Sensing above, but now I'll discuss how it looks and what it tracks. The unique Soli Sensor is a miniature radar sensor developed by Google that can detect your motion patterns and breathing, and works in conjunction with sound, light, and temperature sensors to understand the many factors that can impact your sleep.
In the morning, the Hub provides an in-depth dashboard with details and insights about your sleep and sleep quality, as well as advice and personalized suggestions like waking up at a consistent time or exercising earlier in the day to sleep better. Unfortunately, Google will only be offering Sleep Sensing for free until the end of 2022, as they have plans to incorporate the technology with their Fitbit and Fitbit Premium experiences (currently $9.99 per month or $79.99 per year). Sleep Sensing can also only track one person's sleep, but Google maintains that you can add a second device if you wish to track another person.
Google Assistant
Use Google Nest Hub to set reminders, asks questions, control your compatible smart devices, monitor home security, leave notes for family members, get the latest in news, listen to music, or whatever you'd like to use this smart speaker for.
Quick Gestures
As opposed to commanding with your voice or reaching for the touchscreen, the Quick Gesture option uses Motion Sense to detect hand movement and can play or pause a song or video, snooze an alarm, and stop a timer. It's convenient if you're close by, and just quickly want to stop an alarm without having to go through commands.
Wellness
Adding on to this emphasis on wellbeing is attention to wellness features, such as a Sunrise Alarm, which reduces your need to have a wake-up light too, and access to Calm app meditations.
Entertainment
Connect your Spotify, Hulu, Disney+, Netflix, and other subscriptions to listen and watch directly on the Google Nest Hub, or get engaged with the news with video clips. I'll be sticking to watching long-form shows on my TV, but for short videos and keeping up with the news, I felt very engaged. My favorite revelation was being able to turn my Roku on straight to Hulu, with just my voice... no more need to search for the remote.
Google Photo Livestream
The gorgeous display can rotate through photos from your Google Photos account. You can even select the people (or subjects) it shows.
Recipes
When I asked my Nest Hub to show me a recipe, it automatically put it in an easy to view and follow, even if it was from a third-party site like Delish or Food Network. And if I wasn't going to make the recipe right that moment, it was incredibly easy to file away into recipes I want to save to try later or cook again. Now I need a Nest Hub for my kitchen and my bedroom.
Should you buy the Google Nest Hub (2nd Gen)?
After about of month of use, the Google Nest Hub has knocked my Echo off the nightstand. Have I converted to the Google side? Well, for one, it has been nice not being asked to purchase anything... Though, it has taken time to get used to saying the mouthful that is "Hey Google."
The Google Nest Hub is a sleek addition to my bedroom or kitchen. The speaker and visual displays are well-made, and the content opportunities feel endless: from prompts to watch videos, listen to music and podcasts, play games, set reminders, lists, to-dos, routines, make restaurant reservations... and shall I go on.
The Sleep Sensing is a unique addition I haven't seen in other smart speakers, and I like that I don't have to do anything to activate it each night. I'm not too keen on knowing that this key selling point, the Sleep Sensing, will only stay free through the end of the year. I believe Google is offering it now as an incentive, but I hope they will reconsider leaving this valuable tool as part of the basic purchase of the Nest Hub.
I also want to point out, my skepticism about the true accuracy of these sleep trackers. I've been testing a bunch of sleep trackers from wearables to phone apps, and even a smart base, with some nights overlapping with each other. Each one seems to offer slightly different results as to how much time I spent in REM to whether I actually do snore.
Because of these overarching findings, I can't say whether the sleep sensing offered a precise data point that I trust on how long I spent in exactly each sleep cycle. Taking all these results with a grain of salt, I use the results to look at the big picture view: Was I restless? Did light, sound, or my breathing cause me to wake up?
I'm really quite please with how easy the Google Nest Hub is to use, and the visual display only amplifies the experience. The $99.99 / £89.99 price tag is right inline with similar products, and if you're looking to control your home with Google Assistant, well this is our pick.
If you require a camera, you'll likely want to look elsewhere, but be prepared to shell out more. While I've used the later model Echo Show 5, which is also in the under $100 margin, I found my user experience with the Nest Hub far superior.
Meanwhile, the Amazon Echo Show 8 and Amazon Echo Show 10 will have supped-up specs that contribute to the higher price tag. If you find yourself captive to team Google, the Nest Max, which is comparable in price to the Show 10, has the highest-end features with a 10" display and better speakers but does not have the Sleep Sensor. And if you're really just after a basic speaker, you can do no wrong with the wallet-friendly Google Home Mini as well.
About this review, and the reviewer
Jaclyn is the Sleep Ecommerce Editor for LivingEtc. She works across a variety of sites, including Real Homes and Homes & Gardens, to help you sleep better with high-quality sleep products.
Jaclyn was sent the speaker by Google and has been allowed to keep it, meaning she can keep this review updated with her thoughts as she continues to use it to expand her smart home and explore its seemingly endless uses (restaurant reservations, anyone?), or just keep up with the weather and watch YouTube.
The Livingetc newsletter is your shortcut to the now and the next in home design. Subscribe today to receive a stunning free 200-page book of the best homes from around the world.
Jaclyn is an eCommerce editor at Future Home Interest, and scouts out the best of the best for buying guides to help you fill your home with housewares you will love. She joined the team in January 2021. She has previously worked with sites like Apartment Therapy, The Kitchn, The Spruce, The Spruce Eats, and MyDomaine, but got her start in trade magazines, which fueled her excitement for innovation in the home category, seeing the newest launches, and interior design.