What is replacing bouclé? I'm obsessed with it - but even more obsessed with the design trend that's coming next
Bouclé has taken the interior design world by storm, but it's evolving into something new, say designers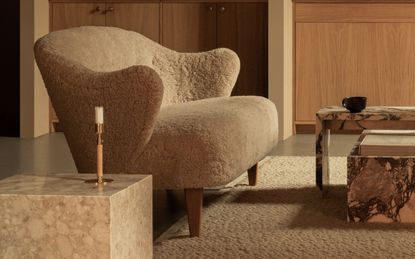 (Image credit: Audo Ingeborg Lounge Chair and Sofa in Sheepskin Moonlight at somedaydesigns.co.uk)
The Livingetc Newsletter
For style leaders and design lovers.
Thank you for signing up to LivingEtc. You will receive a verification email shortly.
There was a problem. Please refresh the page and try again.
Bouclé has been dominating in the world of interiors for some time now, but watch this space, we're noticing it evolving into something different.
Taken from the French word meaning 'curled', bouclé is made from wool fiber that has been tightly looped. It's nothing new, and first came onto the scene in the mid-century, when architect, Florence Knoll asked designer Eero Saarinen to fashion her a chair that she could 'really curl up in'. It ushered in the creation of the Womb Chair in tight, looped rings of wool, and quickly became a pinnacle of mid-century design.
Over half a century later, and a growing interest in mid-century furniture coupled with an international pandemic created the perfect storm for bouclé to resurface in 2019. Like Florence, we were all desperate for something to 'really curl up in'.
'Sofa sales in bouclé fabrics have seen an increase in recent years, from contemporary to heritage models, mostly due to the trend for pale natural covers,' explains Asa Hirst, director of Ligne Roset. 'Taking its cue from a nature-inspired 70s aesthetic, white or neutral bouclé began its stratospheric takeover several years ago, and is now unstoppable, aided by its success on Instagram.'
What's more, designers have found the material paired perfectly with curved shapes, another trend that is showing no sign of stopping, manifesting in rounded edged sofas and shapely accent chairs.
Fast forward to today and bouclé hasn't gone anywhere. Rarely do interior design trends have such staying power, and bouclé has proved that it's here to stay. But we've noticed it's evolving into something else. To get to the bottom of what's next for bouclé, I speak to the textile experts and designers.
What is replacing bouclé?
Bouclé is a key material used in the minimaluxe movement, and beloved by Italian design houses. But I'm seeing bouclé evolving into something with a high pile and longer loops of wool. The movement isn't being totally wiped out, but bouclé-mania has paved the way for something fleecier, fluffier and shaggier.
'I'd say that what we're seeing is a shift in texture to a more exaggerated direction with larger loops or strong texture,' says Tania Chau, director of interior design at New Zealand-based Alda Ly Architecture.
'With bouclé being one of our bestsellers for upholstery items, our new 'wool' bouclé which has a larger loop pile and our fluffier sheepskin fabric are emerging as strong contenders,' agrees Emily Mayne of someday designs.
Why is this change happening?
So why is it taking over? 'We've always experimented with highly textured qualities, bouclé being one of them, but with a desire for unique, varied textures for style and comfort, it has encouraged others to embrace more textures in their home,' adds Jordan Mould of Kirkby Design.
'They create immediate warmth and coziness, especially on accent pieces and are the perfect fabric pairing on shapely furniture with curvilinear forms,' adds Emily.
Designer Kelly Hoppen agrees: 'The ultra shaggy look has gained popularity because it adds an element of coziness and warmth to spaces. It tells us that people are increasingly seeking comfort and a tactile experience in their homes, aiming to create inviting and relaxing environments.'
What materials will deliver this ultra-shaggy look?
As well as a wool bouclé with a larger loop, I've spotted a more fleecy aesthetic coming to the fore. 'Aesthetically the two don't look drastically different, however bouclé creates a firm, highly textured cloth, whereas fleece is traditionally from a sheep's coat and creates a much softer, deeper pile,' explains Jordan.
'We have created Fleece Recycled, adapting the long-standing fashion trend, and creating an interiors version that is knitted from 75 percent recycled wool and 25 percent recycled polyester fibers, and although not produced from traditional sheepskin, still has that fluffy fleece appearance.
'Bouclé is a timeless quality, and will never go out of style, however we feel that our Fleece Recycled is the natural next step, sharing many of the same appealing characteristics of bouclé but with an even softer edge. We think it will become a popular choice.'
It's also dependant on seasons. During the height of summer, we might not be wanting to curl up into a high pile chair, but the winter months are when we expect this trend to really take hold. 'Perhaps in winter, using high-quality mohair will also become more on-trend as its luxurious feel truly stands the test of time,' says Jenna Choate-James of Interior Fox.
'I think mohair might be the new (luxe) bouclé,' agrees Lauren Sullivan of Well x Design. 'A soft, natural fiber with great durability, it adds the perfect amount of texture and sheen to any space from sofas to headboards, pillows, and more.'
What colors might we be seeing in bouclé 2.0?
In terms of color trend predictions for this shaggy look, designers are moving away from the classic off-white or cream bouclé upholstery.
'Bouclé hasn't always been just about the white and cream,' says Tania. 'It was actually quite popular in the mid-century in saturated solids. As far as colors, besides white/cream/grey, we're starting to see more colors inspired by nature, both greens and blues and also earthy colors like terracotta and mustard.'
How to get the look at home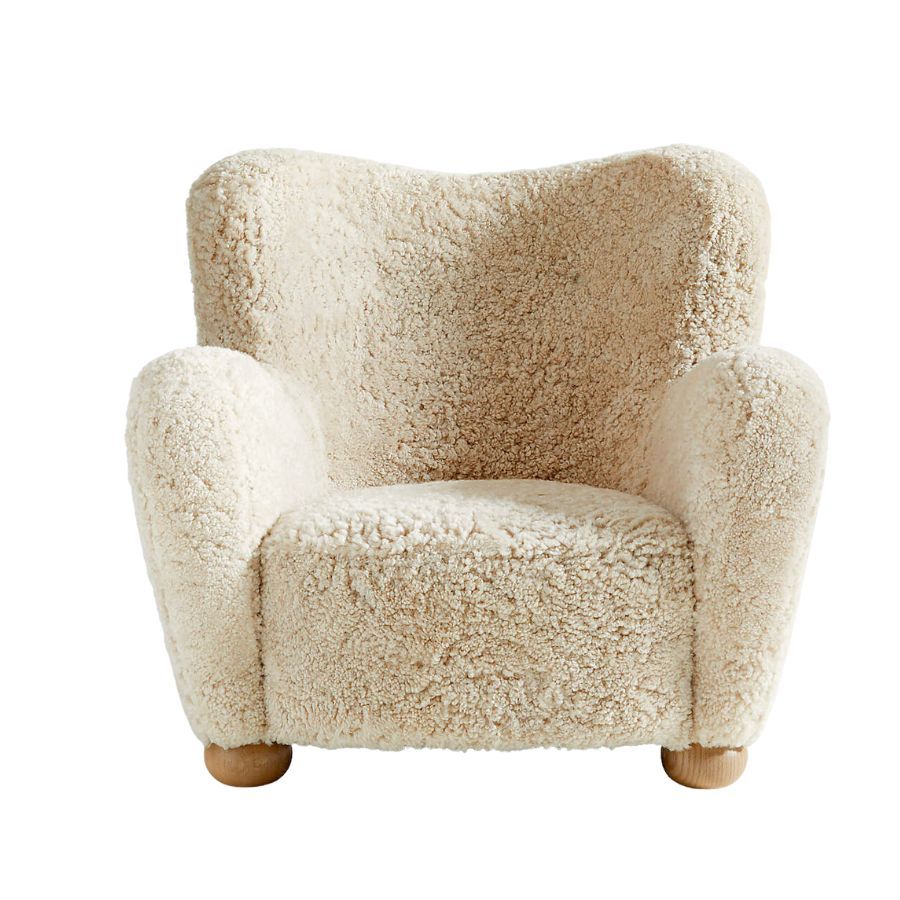 1. Le Tuco shearling chair
Material: Shearling
Price: $2,699
Indulgent shearling upholstery wraps around the frame of this chair which makes sitting down feel like a big, warm hug. It's sophisticated yet fun and will help you create a cozy living room.
Material: Shearling
Price: $1,099
Made from faux shearling, this high pile chair is a beautiful addition. The contrasting, chunky parawood frame makes for an aesthetic mix of materials, giving it a minimaluxe feel.
Material: Fleece
Price: $349
For a different finish, try the fleecy look with this simple design from Urban outfitters. Its pillowed cushions float on a metal wire base and it could make an elegant reading chair for a small bedroom.
For style leaders and design lovers.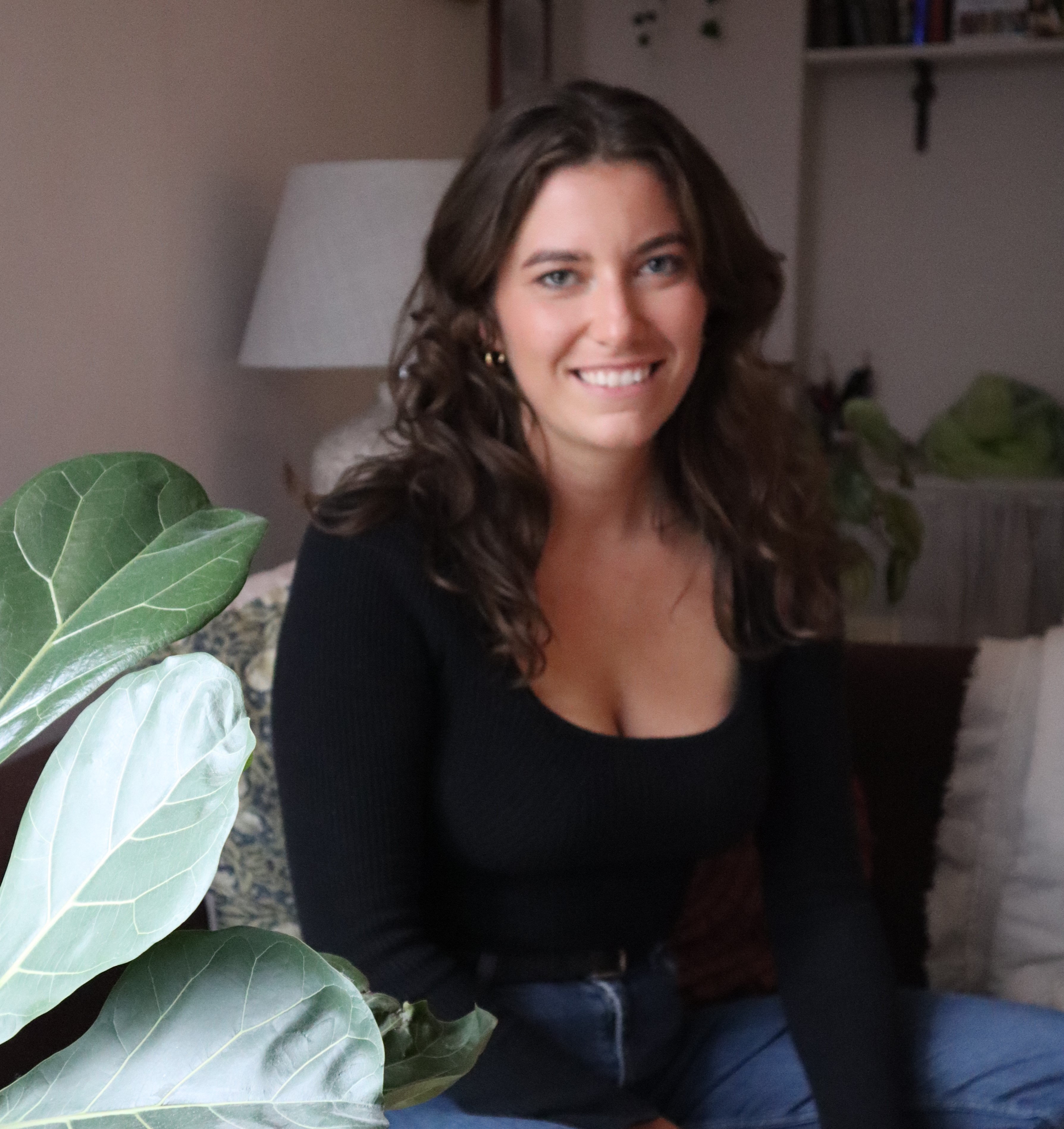 Livingetc content editor and design expert
Oonagh is a content editor at Livingetc.com. Previously, she worked on a London property title, producing long-read interiors features, style pages and conducting interviews with a range of famous faces from the UK interiors scene, from Kit Kemp to Robert Kime. In doing so, she has developed a keen interest in London's historical architecture and the city's distinct tastemakers paving the way in the world of interiors.