What are "invisible" cooktops? The big kitchen trend that minimalists will love
Sleek, functional and barely-there, invisible cooktops are the trend that will change the way you cook or even design the kitchen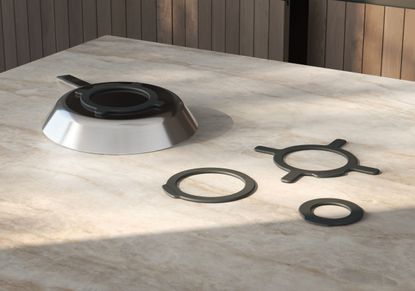 (Image credit: Gaggenau )
When it comes to luxury kitchen design, there's a movement towards spaces that look less kitchen-like, especially in open-plan homes. They're still obviously kitchens, but just sleeker, more minimalist and the 'nuts and bolts' elements that you require to cook are hidden away.
We've seen "invisible kitchens" - a kitchen trend which sees these cooking elements fade into the background, often hidden behind doors - but more and more people are opting for "invisible cooktops", too.
But is it just a passing trend, a short-lived wonder or does it point to a shift in modern kitchen design? To answer these questions and more, we reached out to experts.
What are invisible cooktops?
An "invisible cooktop" refers to a type of appliance where there's no base to your cooktop – the burners are integrated directly into, and come straight out of, your kitchen countertop. Traditionally, your burners would sit on top of a large base, either black or stainless steel, which takes up a big block of your countertop.
With an invisible cooktop, your gas burners and controls are floating on your countertop, allowing for a more minimalist, streamlined space, and for your countertop stone to take center stage.
Alongside gas burner systems, there are also invisible induction countertops, which appear to have no cooking surface at all, until you need to know where to place your pans. These are the true invisible cooktops.
Where can I get one?
Invisible cooktops are generally sold and installed by specialists. Pitt Cooking is one of the leaders in the USA, but other brands such as Novy have integrated burner systems.
Italian kitchen brand Infinity has had an invisible induction cooktop for a little while, but luxury appliance brand Gaggenau has just released its own offering, which brings this super minimalist choice to a wider market.
Gaggenau's Essential Induction cooktop is designed to integrate exclusively with Dekton stone countertops. The front-mounted design has a smart center light within the cooking zone and shows the user where to place the cookware, warns of residual heat and vanishes when not in use, transforming the cooktop island into a versatile area suitable for preparation, serving, dining, working, and socializing.
What are the advantages of an invisible cooktop?
An invisible cooktop can revolutionize the kitchen landscape. 'It's about eliminating the boundaries between preparation and living,' says Sven Baacke, head of design at Gaggenau. 'It offers the ultimate freedom in kitchen planning, which is a revolutionary concept for designers and planners.'
'In small kitchens in particular, invisible induction cooktops allow you to extend your work area over the cooktop when you're not cooking, as it only heats metal pots without heating the surface itself,' says Jane Lockhart, founder of Jane Lockhart Design. 'Induction cooktops also boil water in 90 seconds, perfect for quick meals when on the go.'
These wonderfully integrate into the countertop, and maintain its look and feel. These allow the kitchen to look seamless, clean, neat, and modern.
How do invisible cooktops make more space on the counter?
This high-tech, smart addition is especially ideal for a small kitchen layout where the space can easily and quickly look cluttered. The need is always to have a design that merges with the rest of the space.
'The invisible cooktops clear up visual 'clutter' of appliances - which is particularly appealing as kitchens become more part of the general living space,' says Denise Hall Montgomery, founder of DHM Architecture. 'When not in use, the invisible cooktop turns into a clean surface with little hint of a utilitarian function, like an appliance. Its seamless integration into an island or countertop makes it easier to clean (i.e. no edges or gaps to get filled with crumbs).'
Weiman Cooktop and Stove Top Cleaner
Form: Liquid
Price: $18
Consider this liquid to remove splattered food, dirt, oily residue & watermarks. Buff with a paper towel to shine.
Is this trend here to stay?
Does this kitchen countertop trend have a long life? Or is it going to be just 'of the moment' and soon forgotten?
'Yes, it's a huge trend that I believe will continue to grow because it saves energy, is much safer than gas or electric in the traditional burner style, and allows for a clean-looking cooktop,' says Jane.
'The interest of many clients is in moving away from fossil fuel required for a gas appliance, as well as the restriction some municipalities are putting on gas hookups in new construction,' says Denise. 'The invisible cooktops are a terrific option for minimalist interiors as well as kitchens with a design language that is not only utilitarian.'
The Livingetc newsletter is your shortcut to the now and the next in home design. Subscribe today to receive a stunning free 200-page book of the best homes from around the world.
Aditi Sharma Maheshwari is an architecture and design journalist with over 10 years of experience. She's worked at some of the leading media houses in India such as Elle Decor, Houzz and Architectural Digest (Condé Nast). Till recently, she was a freelance writer for publications such as Architectural Digest US, House Beautiful, Stir World, Beautiful Homes India among others. In her spare time, she volunteers at animal shelters and other rescue organizations.