5 flowers to order now to guarantee a beautiful backyard next year – no need to nurture these fuss-free varieties
Add these super-easy summer flowering bulbs to your cart now to plant by fall and enjoy next year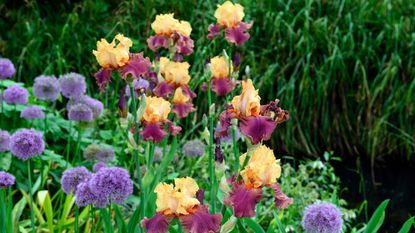 (Image credit: RM Floral/Alamy Stock Photo)
The Livingetc Newsletter
For style leaders and design lovers.
Thank you for signing up to LivingEtc. You will receive a verification email shortly.
There was a problem. Please refresh the page and try again.
Bulbs that are planted as the season fades into fall and come into bloom next summer often get overlooked at this time of year. We get sidetracked with what's going on in the garden right now, as well as loading up our trolley with the likes of flamboyant tulip bulbs for a big spring show next year.
But if you want to add a little drama to your backyard as well as long-lasting blooms, planting summer bulbs now is a great option. Simply push them in the soil and forget about them, till up they pop next year giving you a pleasant surprise.
Find out the top 5 choices selected by our experts, then start browsing. These fall-planted bulbs can be ordered now for delivery exactly when you need to plant them. They are widely available in garden centers and online, with many suppliers shipping your bulbs based on the correct planting time for your area. How easy is that?
1. Alliums
'To bring a touch of drama and architectural interest to your planting, consider alliums,' says Sarah Gill, experienced landscaper and garden expert at Hypedome. 'These unique flowering bulbs producing tall, spherical flower heads in a range of sizes and colors. From the striking 'Purple Sensation' to the eye-catching fireworks of 'Globemaster,' alliums will certainly make a statement in your garden.'
These hardy bulbs are planted in fall, either in borders or are ideal for container gardening. So now is the time to start thinking about how to use them as part of your planting design for next year. While mostly purple and mauve, they also come in pink and white. They look particularly magical woven in amongst ornamental grasses.
With their height and spherical shape, alliums will make a striking punctuation mark in your flower beds or containers next year, so it's well worth finding a bare patch of soil or potting up a container to squeeze in a few of these beauteous bulbs now.
2. Bearded irises
We're big fans of ruffled bearded irises right now, loving the range of flamboyant paintbox colors they come in. Some of our favorite shades for flower beds include hot orange, maroon, copper and dark inky purple, but they come in gorgeous pastels too if that's more your preference. They also come in splashed and speckled colorways.
'Bearded iris rhizomes should be planted slightly out of the soil, away from other plants, so that the sun can bake them,' says plant expert Jenny Rose Carey, former professor in Horticulture and Landscape Architecture at Temple University, Philadelphia. 'The large flowers have a prominent 'beard' of stamens in the middle of the lower petals, and can feature ruffled petal edges and cool patterns. Bearded iris can be strongly fragrant too.'
Rhizomes should be planted from August to October, 1 foot apart, making sure not to overcrowd them. These tall statement blooms looks best planted in drifts, but if space is an issue bearded irises grow really well in pots too as long as you plant them in free-draining soil, spacing them 8 inches apart, and don't overwater them.
3. Ranunculus
What's not to love about planting up a mass of colorful ranunculus? They come in jewel-bright colors, with their satiny petals crunched into tight rosettes. A key feature in current flower trends, they're also known as Persian buttercups, they're easy to grow and you will get multiple flowers from just one plant. They make great cut flowers too.
'Ranunculus are, hands-down, my favorite flower of all time,' says Jenny Marks, who runs the Trade Marks Flower Farm in the Finger Lakes Region of New York State. 'When learning to grow a new flower, consider their native environment. Ranunculus come from the Mediterranean and therefore like to grow over a long time in the cool winter, then become dormant during dry summers. They begin to grow again in the fall when the rains come. The better you understand this and try to imitate this environment, they more success you will have.'
While often sold as a spring-blooming bulb, they are in fact a corm, and it's a good idea to pre-soak them before planting. 'Ranunculus do best when planted in the fall in zones 6 and above, maybe even 5 and above,' says Jenny. 'If you are in zone 5 or below, they will most likely do best planted in early spring.'
If you're a city gardener with limited space the good news is that ranunculus thrive in containers too. Plant up from September to December in free draining compost with a slow-release granular fertiliser. Place corms with the root cluster downwards, about 4 inches apart, and cover with compost.
4. Turk's Cap lilies
There are many different types of lilies to choose from but early blooming Turk's Cap lilies are easy to grow and this tough specimen blooms in abundance. The graceful recurved petals are like butterflies. Also known as martagon lilies, each stem produces a dozen or more blooms in shades of pink, yellow, red or orange.
'Lilies are treasured summer plants, grown for their theatrical open-faced trumpet shapes, or for their swept-back petals that curl and touch their stems, depending on the variety,' says Jenny Rose Carey.
Plant bulbs in early fall. Dig a hole that's approximately five inches deep. Plant the bulbs in groups of five and leave 6 inches between each set of bulbs. Lilies like their heads in the sun but their feet in shade, so add a good mulch to keep the soil cool.
Turk's cap lilies also grow well in a container, but remember they can grow up to 6 feet so ensure the pot is large enough to support the plant, plus you'll probably need to stake it.
5. Byzantine gladiolus
These show-stopping flowers have come onto our radar in a big way lately to become a firm favorite. With their ethereal pink and magenta blossoms (each stem holds up to 20 flowers) and slender foliage, these stunning perennials are another one to plant now for summer blooms next year.
Unlike their big and showy cousins, the more common hybrid variety, the dainty Byzantine version of gladiola is hardy, which means the bulbs can be planted from September to December for flowering in May and June.
'The rich pink and magenta blooms in late spring slip through and between other plants,' says Jenny Rose Carey. 'It's slender compared to the hybrid gladioli, so the little flashes of brightness are just perfect. It will multiply where it's happy.' This means they are an excellent choice for naturalising, multiplying year after year to give you a larger display.
How do you look after summer bulbs?
Caring for summer bulbs once you've planted them is easy. First check how your chosen bulb works with the hardiness zone you live in, and if there is any particular advice or recommendations for your area. Ask your supplier if in doubt.
Then all you have to do is keep an eye on your bulbs, watering and feeding them as instructed during the growing season, and watering them daily in hot weather. It's also a good idea to mulch your bulbs to keep the soil moist.
Whether you choose one or all of our bulb recommendations, you won't regret it next year when you're rewarded with a summer of beautiful blooms.
For style leaders and design lovers.
Lifestyle journalist Sarah Wilson has been writing about gardens since 2015. She's written for Gardeningetc.com, Livingetc, Homes & Gardens, Easy Gardens and Modern Gardens magazines. Her first job on glossy magazines was at Elle, during which time a visit to the legendary La Colombe d'Or in St-Paul-de-Vence led to an interest in all things gardening. Later as lifestyle editor at Country Homes & Interiors magazine the real pull was the run of captivating country gardens that were featured. Having studied introductory garden and landscape design as well as a course in floristry she is currently putting the skills learned to good use in her own garden where the dream is establishing a cutting garden.