Pink and green - still one of our favorite color combos
Pink and green started with Nigella, and continues to be a dreamy aesthetic. Here's how to work it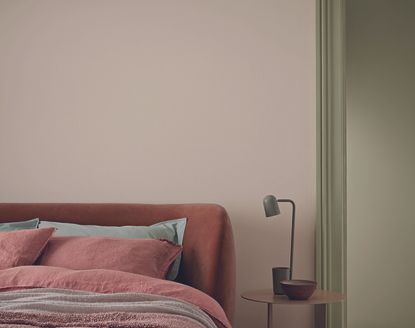 (Image credit: Crown Paints)
Remember when Nigella introduced the world to the pink and green color combo back in 2015? She had just released her cookbook, Simply Nigella, full of blush rose pinks and creamy pistachio and sage greens. It was, she said, her favorite pairing.
It's a palette that evolves and endures today. People remain fearful and doubtful of what a post-Covid-19 world might mean for issues close to their hearts: their family, their health, their jobs, their finances. More than any other group, these people are searching for happiness and are finding it through color. They seek a place of sanctuary and see their home and their family as a safe space. Which is why these soothing shades and the best green paints seem so right for now.
Step forward, the new Cocoon range of paints, seen above, from Crown. "Cocoon is about simple beauty – no embellishment, no frills, it focusses on rounded sculptural shapes and sensuous curves to create a calm and a quiet haven," says Judy Smith, Crown Colour Consultant. "Shapes are organic, materials are enveloping and comforting, colours are natural with an underlying warmth that harmonise and tone."
It's pink that is the over arching trend, relying on green as more of an accent, and if green isn't your thing then how about pops of white?
This time around, pink and green is not as much about pastels, but about gray tones that give the colors a grown up edge. "There is a real sense of refinement about the pinks and greens we're seeing come through this year," says Livingetc's editor Pip McCormac. "By choosing the ones that have gray pigments, they're both calming but also sophisticated. I'd pair them with furniture in an off-white boucle and flashes of natural wood."
Shining a spotlight on the now and the next in home design and decor, Livingetc is the UK's best selling high end and contemporary home design magazine. As a brand, Livingetc showcases the world's very best homes, breaks and makes the trends, and has access to leading international designers for insight and ideas. It was first published in 1998, and is currently edited by Pip Rich.