Yes, these luxury loungewear ideas spark big joy this April
Luxury loungewear suggestions that are so stylish they'll make every week a happy one.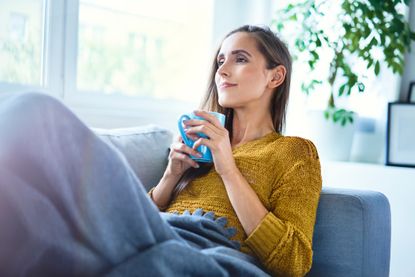 (Image credit: Getty Images)
The Livingetc Newsletter
For style leaders and design lovers.
Thank you for signing up to LivingEtc. You will receive a verification email shortly.
There was a problem. Please refresh the page and try again.
A year into this worldwide pandemic, I've found myself on the hunt for one thing and one thing only: luxury loungewear. This heightened version of loungewear is the only thing that has added a bit of excitement back into my life — and wardrobe – and made my life feel not so much like 'Groundhogs Day,' or at least that's what I think.
However, as exceptional as luxury loungewear can (and will be), before slipping into your brand-new ensemble — and way before finalizing your online purchase — every single piece needs to check one designated box.
Among that list?
First and foremost: any pant, top, or jumpsuit needs to align with the current season. Now, granted, in a perfect world, any item up for consideration would be sustainable or eco-friendly and as comfortable as the best mattress, but that's not what I'm talking about here.
Here, this composition needs to evoke emotion. It needs to spark joy — make you feel something, and the foolproof way of achieving that?
Identifying an article of clothing (or a handful of pieces) that are bright, bold, and oh-so-uplifting.
The time has come to go big or go home (color-wise, of course), and we're here to help.
Whether you're lounging outside on the best garden furniture or sitting in yet another Zoom call, these nine luxury loungewear suggestions will uplift your mood day-in-and-day-out.
1. Start small with an off-white
For those who are not exactly sure where to start color-wise, let us suggest the safest shade of them all: off-white. Off-white is white's more stylish sister, and is to the warmer months, what black is to the colder seasons: versatile, suitable, and always-in-style.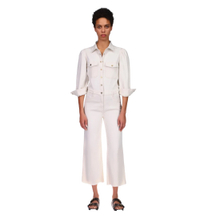 Freja-Wide Leg Jumpsuit, Better by DL for $279, at DL1961
Let's start by saying this Freja utility-inspired jumpsuit with a straight leg, voluminous sleeves, and a center front button closure does it all.
Available in the 'Ecru' shade, this natural-colored denim made without using harmful abrasives or dyes utilizes botanic Tencel to lend an ultra-soft hand feels and certified cotton, so you look good and feel good wearing it. In short? It's the sustainable, stylish piece you'll love wearing on your sofa.
2. Brighten up your day with a gorgeous golden-yellow hue
Sure, sure, off-white is sensational, but we're confident your loungewear will get even better if you go a bit brighter. Enhance your look and your mood by opting for a golden-yellow choice that's both subtle and sophisticated. After all, it is the Pantone color of the year!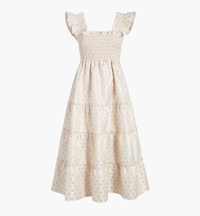 The Ellie Nap Dress for $225, at Hill House Home
Spring into style à la this gorgeous golden jacquard dress! Suitable for work or play (or both!), the particular fabric adds a little bit of shine and sophistication, while the comfortable design is proper for lounging. Factor in the dainty detailed print throughout and consider this the most luxurious loungewear to date.
3. Taste the rainbow with this sweet sweater
If selecting just one shade seems a bit daunting, why not go for all of them? A rainbow-inspired piece will instantly lift your mood and make your day brighter than ever before.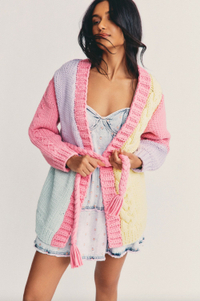 Horatio Oversized Cardigan for $675, at LoveShackFancy
This oversized, duster-style sweater is a perfect layering piece for cooler days. Huddle up in this cozy weighted color-blocked cotton knit when the temperatures dip or throw it on to elevate your Zoom calls; either way, it's sure to sizzle.
4. Lighten up your look with the help of lavender
If you're looking for a pared-down look that still looks (and feels) luxurious, we highly suggest lavender. The unofficial shade of spring looks lovely on everyone and will give your WFH-look a complete revamp.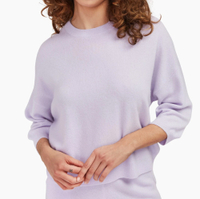 Three-Quarter-Sleeve Sweatshirt for $135, at Naadam
We are particularly keen on this 3/4 sweater for a handful of reasons, with the first and foremost being its lavish lavender shade. Made from 100% Mongolian cashmere, this crew neckline, fitted cuff sleeves, and ultra-flattering hem will keep our looks cute and cozy and perfectly on-trend with the sustainable season.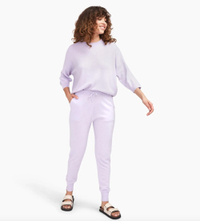 Cashmere Sweatpants for $175, at Naadam
Take your lavender look to new heights courtesy of these luxurious, medium-weight cashmere, ultra-comfortable joggers. This pair features a drawstring high waist, woven from elastic yarn (no bunching here!) and ribbed ankle cuffs that are pure perfection.
5. Stay trendy in terracotta
Another shade to spring into style with is terracotta. Previously used to infuse our homes with a natural-based alternative from tan or brown, this 'middleman' shade (if you will) bridges the gap between neutral and trendy.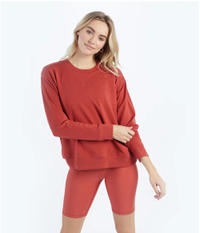 The Softest French Terry Relaxed Crew for $65, at Summersalt
Imagine your best, worn-in t-shirt had a love child with a cozy blanket. Enter: this next-level terry crew shirt made with eco-friendly TENCEL.
6. Opt to be bright and bold in blue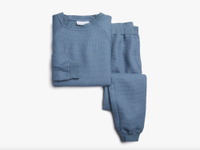 Men's Waffle Set for $149, at Parachute
Perhaps one of the best parts about a men's set is the versatility. Take this sustainable set for example: for females, it's an oversized look that screams "I woke up this fabulous," while men shine in understated sophistication. Either way, it's the ultimate win-win.
7. Sway towards this swoon-worthy set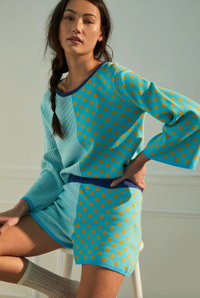 Sierra Lounge Set for $148, at Anthropologie
Sweetly adorned with colorful contrast motifs, this lounge set puts a whimsical twist on your at-home routine. Factor in the four fabulous renditions up for grabs? It's impossible to narrow it down to just one.
8. Stay pretty in pink
Versatility is the key when you're shopping for new loungewear, and while black or navy might speak to you at first, we highly recommend this pink number that will leave everyone blushing.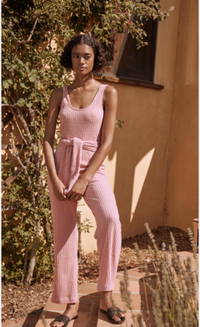 Molly Jumpsuit for $209, at Saylor
The Molly Jumpsuit is hands-down the most comfortable easiest jumpsuit you'll wear all year long. Featuring a tie at the waist, tank-style top, and available in a pretty pink hue, it's impossible not to wear this luxury loungewear on repeat.
9. Remain ravishing in red
Naturally, we've saved the best for last: red. While red may be a bit daunting at first, it's exceptional for anyone looking to stay out in a crowd or simply lift spirits while gardening in the backyard.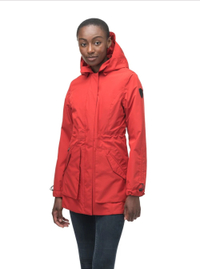 Terra Ladies Thigh Length Jacket for $650, at Nobis
The one silver lining I've found throughout the pandemic? It is that we've broadened our horizons on what constitutes 'luxury loungewear.'
Previously, the term was exclusively reserved for sweatpants and hoodies, however now? Now, we can consider pieces such as this jacket that's available in a ravishing red shade.
Equally as versatile and even more comfortable, the adjustable waist and waterproof shell make it suitable for every activity: from lounging outside during your lunch hour to your daily gardening responsibilities.
Still, want more? Check out additional luxury loungewear suggestions below:
For style leaders and design lovers.
Brittany Romano is Future's U.S. Shopping Editor, residing on the Upper East Side in New York City. From her start as a freelance fashion market assistant at Marie Claire to building a highly profitable commerce vertical at Us Weekly and AMI brands, Brittany has produced award-winning content covering everything from celebrity beauty hacks to must-have items from online sales. She is a graduate of New England College. When she isn't writing, you can spot her on Fifth Avenue lusting over the yet-another Chanel bag, making a stylish statement on her velvet couch (in the most luxurious sleepwear), or at a Boston Bruins game, in her signature So Kate Louboutins.
Follow her on Instagram at @ItsBrittanyRomano