London Design Festival 2021 - what not to miss during LDF
London is abuzz with creativity and design this autumn, thanks to a jam-packed roster of events and design launches taking place during the London Design Festival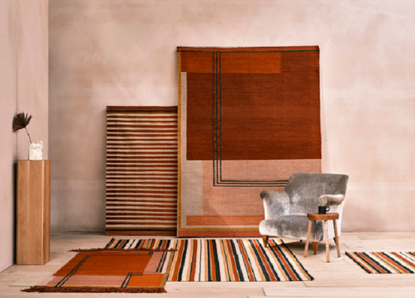 (Image credit: Pinch X Sussy Cazalet Rug Collection)
The Livingetc Newsletter
For style leaders and design lovers.
Thank you for signing up to LivingEtc. You will receive a verification email shortly.
There was a problem. Please refresh the page and try again.
London Design Festival, 18-26 September, is back and the capital is filled with events and launches. There is much excitement in the interiors community to get out and see the best in modern interior design for the first time in a long time, but much of what is on is open to the public, too. Here's what not to miss.
NEW TRENDS
The Installation - The Magical Value of Shapes, Damian Poulain at The Conran Shop
Sir Terence Conran (1932-2020) founded The Conran Shop in 1974. It remains - consistently - a focus of acclaim within the design world. This year, forming part of the Brompton Design District, The Conran Shop will unveil a unique window display at the front of its iconic South West London showroom, Michelin House. This collaborative project sees The Conran Shop team up with Paris-based artist Damian Poulain, who responds to invitations engaging with design, architecture, and the built and natural environments. Here, Damian has taken over the vast window areas of The Conran Shop and created an interactive display of colourful 'block' 3D shapes, with various new products interjecting. Look out for some of our favourite pieces - exclusive to The Conran Shop - which will be available to view as part of the display, including: The Cross Leg Collection of chairs by Magnus Long, and the Exclusive PP225 Flag Halyard Chair in Oliveand Agnello by Hans J Wegner for PP mobler, amongst others.
Running throughout LDF, The Magical Value of Shapes at The Conran Shop, Michelin House, 81 Fulham Road, SW3 6RD.
The Floor Story - The Designers Taking To The Floor
A Rum Fellow founders Caroline Lindsell and Dylan O'Shea spent much of lockdown soaking up nature around them. Long walks through the forests inspired their latest collection of rugs, named 'Lodrillo', which are said to explore light and shadow in layers of textured forms and colour. The three designs that make up the collection; Komorebi, Yuvari, and Ladrillo, offer handcrafted and traditional making married with a contemporary and colourful design.
Event details: Lodrillo Collection, by appointment during LDF at A Rum Fellow showroom, The Chocolate Factory, call 0208 245 6779 to book an appointment. Arumfellow.com
Pinch X Sussy Cazalet
Pinch is collaborating with Sussy Cazalet. A chance coffee meeting turned into a meeting of minds for both Pinch and Sussy Cazalet. Pinch, who have showrooms on Pimlico Road in South West London, have been considering adding a series of tactile rugs to their spaces, and Sussy has been an admirer of the Pinch brand for some time. Sussy wanted to make sure the new tactile additions mirrored the calm and inspiring atmosphere that the Pinch showrooms embody, drawing inspiration from other sources too such as artist Mark Rothko and Barragan's bold architecture. Launching this September during LDF, pop down to Pimlico Road to take a closer look.
Event details: Pinch X Sussy Cazalet, launching September, Pinch Showroom, 200 Ebury Street, SW1W 8UN. Pinchdesign.com
The New Trend - Focus 2021
The 1970s are back, baby! So say the interior brands taking part in Focus 2021 (18th - 26th September). However, apparently, it's less hippie-pastiche and flower power and more about spinning your own interpretation of the era's disco-glam design aesthetic. Think Halston for inspiration; high-shine surfaces, opaque and metallic lighting, vivid colorways, and a strong presence of linear prints and geometrics - this is your toolkit for getting the look right. If it feels debonair and utterly Studio 54, then you're on the right track. Shimmy into the showroom of Collier Webb who has unleashed the Moon Table Lamp, a sophisticated and sleek light source that captures the groovy mood of the collections on show at Focus this Autumn. Italian design house Porada is set to showcase the stylish Leaf Side Table series - with their sleek walnut and marble finish - and there are a plethora of new 1970's-inspired fabrics to choose from too, including Itami Decorative Weaves & Embroidery from Romo and Ritournelle by Casamance. Grab your heels kids, it's time to boogie.
Available to view at Porada, First Floor South Dome Design Centre Chelsea Harbour, SW10 0XE. Porada.it.
Available to view at Collier Webb, Second Floor South Dome Design Centre Chelsea Harbour, SW10 0XE. Collierwebb.com.
Available to view at Romo, 112, Chelsea Harbour Design Centre, 201 Chelsea Harbour Dr, London SW10 0XE. Romo.com.
Available to view at Casamance, Unit 214 Design Centre Chelsea Harbour, SW10 0XE. Casamance.com
The Furniture Movement - Fred Rigby, Mario Marenco, and Kelly Wearstler
There's a distinctly new wave of furniture design coming through from makers; bold, chunky, and curvy shapes are key to this fun furniture trend offering that's new to the furniture design scene. Inspired by the 'undulating landscapes' of Dorset where he was born, designer Fred Rigby, founder of London-based Fred Rigby Studio (whose work will be on show throughout LDF at Fred Rigby Studio, Unit 2B Leswin Place, N16 7NJ), is one of the vibrant designers to debut a curvy collection this autumn, naming it 'Everyday Collection'. With versatility, functionality, and play, all at the design core, designer Fred Rigby has honed in on natural materials and organic forms for this lively new offering. Other designers launching similarly bold and playful work include Matthew Hilton with the Balzac Armchair, and Mario Marenco with the glamorous Marenco Sofa. This new movement isn't just on UK shores either. Hit up the West Coast of America and you'll find Kelly Wearstler's new Transcendence range - a variety of collaborative design pieces Wearstler has worked on - mirrors a very similar aesthetic. The movement summed up? It's like a mix between highly stylized art deco furniture and the millennial blow-up bubble chair (remember those?). Well, quite simply, we rather love this fast-emerging genre of furniture!
Displayed throughout LDF, Fred Rigby, available to view at Fred Rigby Studio, Unit 2B Leswin Place, N16 7NJ. Fredrigbystudio.com.
Displayed throughout LDF, Matthew Hilton, on show at SCP. Scp.co.uk
GO & SEE
The exhibition - Tactile Baltics
Shining a spotlight on creativity from three Baltic countries; Estonia, Latvia, and Lithuania, the Tactile Baltics exhibition forms part of East London's Shoreditch Design Triangle during this year's London Design Festival. A breath of fresh air after we have been stuck indoors for the best part of a year, Tactile Baltcis encourages the sensed whilst walking around the exhibition. This is a collaboration between Tactile Baltics and Adorno, a website that allows you to buy directly from a pool of international designers and makers. The exhibition (which will run from 18th September - 3rd October as part of Shoreditch Design Triangle, at the Dray Walk Gallery) spotlights eighteen contemporary design projects from Baltic designers and makers. On display; tableware, jewellery, lighting, furniture, and conceptual design pieces form the collective. The exhibition has been curated to blazon the natural materials and landscapes of the three Baltic countries. Tactility, as the name of the exhibition would suggest, is the ultimate focus here. Visitors will 'feel the environment around them, as they trace a path through the exhibition,' say the exhibition curators.
Event details: Tactile Baltics, 18th September - 3rd October, discover more at tactilebaltics.com and attend in-person at Dray Walk Gallery, E1 6QL. Tactilebaltics.com
Design after disaster - Design Japan - SCP & Ishinomaki Laboratory, and Japan House
Japanese-inspired design, both historical and current, is to straddle the east and west districts of the city this autumn. As part of Shoreditch Design Triangle in East London, SCP has collaborated on a special collection of work with Ishinomaki Laboratory, a company founded by Keiji Ashizawa just after The Great Eastern Japan Earthquake and tsunami, with a sole mission to equip people with accessible DIY-style furniture and the means to rebuild their home environments. Working with East London-based furniture company SCP a group of UK-based designers have been given the brief to create an item of furniture 'bigger than a stool'. See the outcome at the SCP showroom, on show during LDF.
Event details: Ishinomaki Lab Project, running throughout LDF, SCP, 135-139 Curtain Road, EC2A 3BX. Scp.co.uk
The Rising Stars - Heal's Discovers
Celebrating the work of five talented makers, Heal's will showcase a range of five designers' ideas and products that span the crafts. Ceramics, woodcraft, and glass are just a few of the materials that these rising stars have worked in. Lea Randebrock (recycled glass vases), Kieran Letts (steam-bent furniture maker), Print Sisters (re-worked and revived vintage artwork), Amechi (West African-inspired home decor), and Annabel Cucuz (hand-sculpted ceramics). Running from the 18th - 26th September and launching as part of the Heal's Exhibition, Heal's Discovers is available to view throughout LDF both in-store and online.
Event details: Heal's Discovers, 18th - 26th September, online at heal's.com and in-store at 196 Tottenham Court Road, W1T 7LQ.
The show- Design London
It's been 27 years since 100% Design pounced onto the design scene as the dedicated design trade show. 2021 is the start of a new era, and the newly named Design London moves out of its usual Central London location to swish premises south of the river called Magazine London, in Greenwich. What's on? Well, we'd recommend looking into the talks programme which is curated by Katie Richardson and headlined by Yinka Ilori, who has also designed the speakers stage which has been described as 'a kaleidoscopic tunnel of colour'. Key confirmed exhibitors are Ethimo, Fritz Hansen, Artemide, Buster & Punch, and Empty State. The show will also house a Danish pavilion curated by the embassy to showcase 14 different Danish brands.
Event details: Design London, 22nd - 25th September, Magazine London, Greenwich Peninsula. Designlondon.co.uk
THE CREATIVE STARS
The Experiment - Tom Dixon
Any excuse to don a white lab coat and pair of - designer, of course - safety goggles gets us excited. For this year's LDF celebration, design powerhouse Tom Dixon says he's 'digging deeper' into the make-up of what makes truly great interior design. With Dixon's Design Research Studio (his in-house interior design service) at the core of his business, Dixon plans to team up with a creative melting pot of musicians, statisticians, university professors, and AI specialists. This select group of experts is brought together to work out the true importance and meaning of acoustics, luminosity, and colour to interiors. We're pretty sure this experimental will be one of the most stylish inquests yet, carried out under an expectantly chic metaphorical microscope too.
The Designer - Lee Broom
With his new Penthouse Collection, Lee Broom brings a chic range of furniture and accessories to the fore for London Design Festival. The collection, as the name might infer, was designed for Lee Broom's recent New York penthouse in Tribeca, completed in Spring 2021. The White Street Sofa - up there with the most elegant of contemporary sofas we have ever seen - is just one of pieces that will be on display at Lee Broom's newly revamped Rivington Street showroom in London's East End. Beset your eyes upon the entire collection consisting of the Tribeca Tables, Musico Table and Chairs, and the Fulcrum Candle Sticks. Broom's new candle collection, which has been three years in the making, will also make a debut appearance. Set within either a Gold or Gunmetal detailed holder, we're already fans.
Event details: Lee Broom, 20th - 24th September, 95 Rivington Street, EC2A 3AY.
The Artisans - 'A Portrait of Place' from The New Craftsmen
Earlier in the year, The New Craftsmen invited six of its makers to the historical Holkham Hall in North Norfolk. The purpose behind the biennial residency is to examine how craft can tell a story of a place. Over five days, the makers were inspired by Hokham's cast of characters and experts, both past and present; its decorative upstairs; paired-back downstairs; the outhouses; surrounding 25,000 acres of land; its values and progressive outlook. Indeed Holkham, which is renowned for its wealth of interior decoration, craft traditions, and material palette, formed the perfect backdrop to the artists residencies, and offered inspiration in spades. The furniture, lighting and artworks which the makers are now producing are all works created as a direct result of the Holkham Hall experience. 'A Portrait of Place' will be on display throughout LDF at The New Craftsmen showroom in Mayfair, 34 N Row, W1K 6DG.
Event details: A Portrait of Place, from 18th September The New Craftsmen, Mayfair, W1K 6DG.
MUST-SEE
The best - lighting design
Reviving our desires for the longer and lighter days, we're cheered to see a sparkling line-up of new and contemporary lighting design hitting the design scene. Keeping the darker evening's well and truly at bay this autumn, are:
1.Bocci 100
The 100 is inspired by a study of how soap bubbles behave when they are grouped together - the result is cloud-like poppets of beautiful illuminated glass. Available in two colourways: charcoal and white, and as either a table light or a pendant. We say, soak it up! Soak up the new design during LDF.
2. Moooi Gravity Chandelier
Designed with flexible 'arms' by British design Paul Cocksedge, this is a chic and shapeful fluorescent creations leading - or should we say, lighting - the way. It's a contemporary reinterpretation of a chandelier, offering versatility slim-line elegance. See the chandelier on display at the Mooi showroom, 23 Great Titchfield Street, throughout LDF.
3.Cliff Dome Pendant
This super chic and contemporary single pendant is the creation of Montreal-based design team Lambert et Fils. Forming part of a buoyant display of new design items launching at Aram Store during LDF, the new pendant light is a handsome new addition making its debut during LDF. Pop down to Aram Store, 110 Drury Lane, to view.
4.Dove Chandelier
Julian Chichester has announced a smorgasbord of beautiful new furniture and lighting additions to their lust-worthy selection of interiors goodies. Top of our want list is this stunning Dove Chandelier. Bridging a classic 6-arm prong approach with a contemporary aesthetic twist (we love the shimmering, beaten golden inserts). Head down to their showroom on the Ground Floor, Design Centre Chelsea Harbour. A pre-warning though, you might be thrown into a state of interiors rapture. Everything is just to die for.
The New District - Park Royal
LDF welcomes a brand new district for 2021, with a host of talent to boot. Why NW10? Well, it might have something to do with the acres of repurposed warehouses and studios, thriving workspaces that are now teaming with creative talent and tenacity. NW10 is the postcode to be if you're an up-and-coming creative. Throughout LDF discover a host of leathercraft, jewellery, fashion, art, and film, whilst the creative community throw open their doors to welcome visitors in. The Park Royal Design District highlights? Check out Bill Amberg Studio who has collaborated on a range of beautiful leather hides with prominent designers, such as Yinka Ilori, Bethan Gray and Kesewa Aboah, to name just a few, and then delve into Blast Studio who have studied the concept of merging technology with living organisms in a show called 'Neo Nature'. The icing on the cake might just be getting to visit the former Rolls Royce car manufacturing warehouse, which is now home to a hive of designers and artists displaying their work during LDF. There's not that many parks, and we're highly doubtful you'll spot a Royal, but the NW10 postcode is the hip newcomer to the LDF family.
Event details: Park Royal Design District, Friday 24th - Sunday 26th September, Park Royal, NW10. Parkroyaldesigndistrict.com
The Collaboration - Technicolour by Peter Saville for Kvadrat
Peter Saville, who is possibly most renowned for his work designing record sleeves, amongst other design-led items, has worked with house Kvadrat for a new collection - launching during LDF - called Technicolour. Curtains, rugs, and upholstery textiles form the body of this collection, all of which have been inspired by shepherd's markings on a flock of sheep. Honing in on locally sourced material, the upholstery wool has been made using 100% English wool. Pop down to the Kvadrat showroom in Clerkenwell to see a special installation marking the launch of Technicolour collection. Saville has reinterpreted a sheep pen, and we bet it will be chic.
Event details: Technicolour by Peter Saville for Kvadrat, 18-26th September, Kvadrat, 10 Sheperdess Walk, N1 7LB.
The Design Piece - Jasper Morrison Creates The Isolounge
One of the stand-out products to launch this autumn is the Isolounge Chair by Jasper Morrison, for Isokon Plus. Simplicity is beauty, and we think this is going to prove a big hit with design aficionados around the world. However,it's not just a pretty chair, and on closer inspection this seemingly simple design pushes the technical performance of plywood to new and unexplored territories. Plywood is known for being strong thanks to its multiple layers. With time and testing, Morrison has worked alongside Isokon Plus to push the materials boundaries by increasing the layers of wood in some places, and reducing them in others - increasing the flexibility without compromising strength. 'Plywood was a very technical material. What we've done is take the very simple basis of an idea and executed it as purely as possible. It's a celebration of the technology of plywood, showing the material is still cutting edge - there are not many materials you could do this with to achieve a practical result', says Morrison.
Event details: On display throughout LDF at Isokon Plus showroom, Offley Works, 1 Pickle Mews, SW9 0FJ.
For style leaders and design lovers.
Rory Alastair Robertson has a long-standing history working across the interiors industry. Raised in Morningside, Edinburgh, Rory grew up surrounded by classically grand Scottish Georgian and Victorian architecture.
His first appreciation for interior decoration sparked when his mother hired scaffolding and decorated their three-storey Victorian staircase in Farrow & Ball Picture Gallery Red, by herself. She then painstakingly gold leafed the drawing room - by hand - over a base coat of Sudbury Yellow. This was the era of Jocasta Innes and Kenneth Turner, when paint techniques and maximalist style were the decorating raison d'être.
With this inherited gene of creativity, Rory went on to study Interior Architecture at the University of Edinburgh, and later, Theatre Set Design and Architectural Illustration at The Rhode Island School of Design on America's East Coast.
Rory's foray with the editorial world started a decade ago at Livingetc magazine, a title which he regularly contributes to today. Specialising with a deep-seated appreciation for historical homes and interiors, Rory often travels far and wide to be inspired by unique properties with a fascinating history.
If he's not uncovering an unusual National Trust property in the UK, then he's seeking out a Neo-Classical clifftop villa in Capri or a Palazzo in Florence.
Based in London's Shoreditch, working as a Senior Interiors Editor and Consultant, Rory's portfolio of work is a creative melting pot of residential and commercial interior design projects and a plethora of editorial writing work. Rory is also Guest Interiors Lecturer at the prestigious KLC School of Interior Design in Chelsea, London. His most cosseted possession is a ramshackle Citroen Deux Chevaux, which he has reupholstered in Pierre Frey yellow and turquoise silk fabric.
Discover more at roryrobertson.co.uk and @rory_stylist.