5 kitchen colors going out of style for 2024 – plus the 5 shades designers are replacing them with
Want to design a kitchen that has longevity? These are the outdated colors to avoid and what to go for instead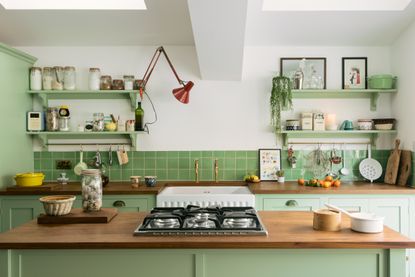 (Image credit: deVOL)
The Livingetc Newsletter
For style leaders and design lovers.
Thank you for signing up to LivingEtc. You will receive a verification email shortly.
There was a problem. Please refresh the page and try again.
When it comes to kitchens, the color trends are ever-changing. One season it's uber chic to have a pale sage kitchen, the next it's plaster pink. This is why we always say never be too trend-led when choosing your kitchen colors, in fact never be too trend-led with any decor decisions in your home. Go with what you love and feels right for your space and style.
That being said, interior design trends can be great jumping-off points for helping you choose the right shade for your space. So we spoke with designers and color experts to get their impression of kitchen color trends – what's on the out and what's here to stay – so you can be gently guided by these outdated shades and classic hues.
1. Forest green is out - sage is (always) in
For a long time, the go-to shade for a green kitchen was forest green. For the last five years we have seen countless deep green dramatic kitchens, and while they are very tempting when paired with a marble countertop and gold hardware, the look is just a bit...done. We used to think it was risky to paint your kitchen in dark green because it would feel too out-there, too bold, and yet, as with so many of these 'brave' interior design decisions, quite the opposite has happened, a forest green kitchen is just a bit blah.
The obvious green that's replacing it is sage green. Sage green kitchens are dreamy spaces, so pale and muted they are almost neutral and so calming. And if you balance it will a dose of deep charcoal as seen in this kitchen, they can pack a punch too.
'Kitchen colors that will always be on trend no matter what is a green, a sage green more specifically. You can't go wrong with sage green in a kitchen. It promotes a healthy, balanced mindset, it connects you to the outdoors,' explains Tash Bradley, director of interior design and color psychologist, at Lick Home. But Tash also notes that 'apply' green shades are becoming more and more popular. Something we have seen too – more vivid and fresher than sage, this fresher take on a green kitchen is one to watch.
2. Brown is out - crisp white is in
Wood is a color, right? We certainly think so and wooden kitchens are quickly overtaking painted cabinets in the world of kitchen trends. Kitchen colors come and go, but natural textures and colors will forever be on trend. And they pair so easily with any color too, so if you did want to go two-tone as seen in this kitchen design by Ryan Street Architects, you could pick any shade on the color wheel.
A light, soft neutral is ideal as it gives all that warm wood a real lift and does prevent that sauna-like feel you could risk with an all-wooden kitchen. 'These kitchen walls are painted in Pale Oak by Benjamin Moore, which is a soft, light taupe with warm undertones and the upper cabinets are painted in Oxford White by Benjamin Moore, which is a crisp, bright white,' explains Jennifer Sissom, lead interior designer at the studio. 'When paired with stained warm white oak lower cabinets, the subtle contrast between these paint colors adds depth and interest to the kitchen without creating overwhelming visual differences. The white colors help to highlight the wood's natural beauty and grain, while the wood adds warmth and texture to the predominantly white kitchen, avoiding a sterile look.'
3. Grey is out - greige is in
Grey kitchens have reigned supreme for long enough, and although we never like to totally shun a color, we are happy to see the back of the drab, neither here nor there, mid-grey that was the go-to kitchen color for what felt like decades.
Of course, grey will never disappear completely. It is a classic neutral, but the far more chic way to do grey is to either go super dark with it and go for a rich charcoal or go down the more beigey, grey root – far warmer and more livable.
'It's all down to preference so I never like to say a color is not on trend, but no one wants a grey-on-grey kitchen anymore. More specifically, no one wants a light to mid-tone grey. I'm not sure why this shade has been so popular for so long because it's such a cold color and really doesn't give you a lot.' says Tash. 'But that being said dark grey is a classic color that is always on trend, really rich charcoal grey with brass accents always looks very cool.'
Designer Anca Enica agrees that 'The popularity for grey kitchens has really weakened in recent months. The warmer hues of beige and brown, as well as oaty tones are swerving into its place as the new neutral, soft, gentle, and suitable for all styles.' Is greige on trend? Yes, definitely.
4. Cool white is out - warm white is in
Are you surprised white kitchens are on the out? White is totally classic, but what seems to be the color no designer recommends is pure white. Despite being such a popular shade, pure brilliant white very rarely works in any space, unless you get a ton of natural light and don't mind the slightly stark look. Much like grey, white will always be around and in style in some form or another, and right now that's warmer whites – far more inviting and liveable and a kitchen color that's always going to be chic.
'Clinical kitchens are on the out, so that means all white kitchens. Instead, look to more earthier, warmer undertoned whites. Creams and beiges even, which are timeless. They work with so many different styles and are always going to look good. Basically, all of the earthy tones just don't date and will always be stylish,' says Tash.
'I think the days of the all-white kitchen are coming to an end,' agrees designer Katie Winnington. 'Warmer tones and wood finishes are making a huge comeback. While white will always remain classic, it's just not giving in the way it has been in the past.'
This creamy white kitchen was designed by Peter Dunham, he explains, 'Benjamin Moore's Simply White is my go-to paint for an off-white kitchen, it's neither grey, yellow, nor blue, which is how whites often skew. It's a true neutral white that looks good in pretty much every light condition as well as in a formal or more casual setting.'
5. Navy blue is out - light blue is in
The love for navy blue kitchens seemed like it was never going to end, but with a shift towards designing kitchens that feel more like living rooms – softer, gentler, more livable – these deep bold colors are quickly going out of style. And we find that they can be quite difficult spaces to style since navy blue is always going to really dominate a room, and it doesn't really lend itself to being paired with any other color.
'A color that I am surprisingly seeing less and less of in a kitchen is navy,' says Tash. 'It's not outdated but it's just not as chic as it once was and people aren't gravitating towards it as much.'
'In our opinion, the deeper bolder tones are falling out of style - deep navy blues, reds and greens in particular,' agrees Trish Lynn, principal designer at Colette Interiors. 'We think neutral foundations will forever be classics. Whites, darks, earthy neutrals – greige, clay, putty, stone, etc., and warm woods. Paired with authentic stone, makes for a timeless kitchen.'
Bethany Adams of Bethany Adams Interiors also notes her clients are abandoning navy blue, 'I love a navy kitchen, but lately, my clients are leaning towards lighter hues – blue and soft greens especially.' A lighter blue, something muted, almost a pastel but not quite, is the way to do a blue kitchen if you want to design a space that is always going to feel fresh and chic.
The takeaway? If you want to choose a kitchen color that has longevity and is always on trend, opt for those warm, toasty neutrals – beige, creams, soft whites. It might sound a bit safe, but we always say safe is usually a good thing when choosing a kitchen color that will last. Besides these colors are the perfect backdrop for bringing in character and texture and personality, so don't think beige ever means boring.
For style leaders and design lovers.
Hebe is the Digital Editor of Livingetc; she has a background in lifestyle and interior journalism and a passion for renovating small spaces. You'll usually find her attempting DIY, whether it's spray painting her whole kitchen, don't try that at home, or ever changing the wallpaper in her hallway. Livingetc has been such a huge inspiration and has influenced Hebe's style since she moved into her first rental and finally had a small amount of control over the decor and now loves being able to help others make decisions when decorating their own homes. Last year she moved from renting to owning her first teeny tiny Edwardian flat in London with her whippet Willow (who yes she chose to match her interiors...) and is already on the lookout for her next project.