The IKEA sale is on, and Livingetc's editor has handpicked the best hidden gems
The IKEA sale is full of brilliant bargains, and our editor Pip Rich has selected the ten smartest pieces for your home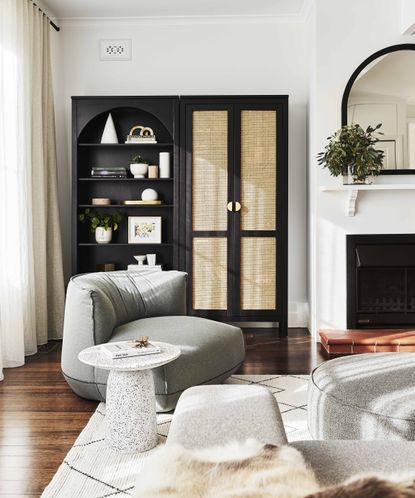 (Image credit: Nicole Rosenberg / @liberty.interiors)
The IKEA sale is a confusing place to shop. Its full of plastic tubs that you're meant to need in your life, and assorted bathmats that, well, didn't even attract consumers at their full price of $5.
Which is why we asked our editor Pip Rich to select the ten IKEA sale pieces that are the diamonds in the rough, the gems in crown, the treasure in the trash. Some of these might need you to draw on your best IKEA hacks knowledge, others will fit seamlessly into your home.
The 10 best IKEA sale buys
1. GROERYD bar/utility cart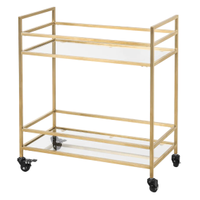 (opens in new tab)
GROERYD bar/utility cart | Was $159, now $129, Ikea (opens in new tab)
Ideal for wheeling in and out of your kitchen as a hostess trolley for plates or a barcart for drinks, this gleaming, gold-edged, space-saving storage solution is much smarter than its price tag suggests. Load it with spirits, and the party starts here.
2. ODGER CHAIR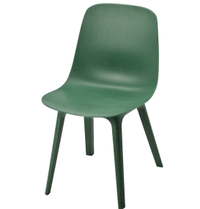 (opens in new tab)
ODGER chair | Was $89, now $75, IKEA (opens in new tab)
The ODGER chair comes in four colors - green, dark blue, anthracite (that's black), and beige. They're all lightweight, all fit perfectly with something more upscale like a walnut wood dining table, and all currently on sale.
3. HEMNES CABINET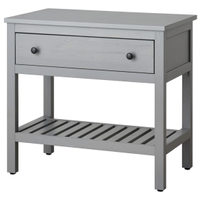 (opens in new tab)
HEMNES cabinet | Was $219, now $179, IKEA (opens in new tab)
This is where any knowledge of IKEA storage hacks (opens in new tab) will come in handy as the image at the top of the page was created using a piece from the IKEA Hemnes family. So you may look at this reasonably priced grey cabinet which would work happily as a bit of extra kitchen countertop or in a bathroom or hall, and you can imagine its full potential.
4. ISBARK TABLE LAMP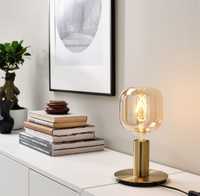 (opens in new tab)
ISBARK table lamp | Was £10, now £6, IKEA (opens in new tab)
A simple brass candlestick style lamp, this piece is so much more elegant than its price tag might have you believe. Line up on a mantlepiece or dining room sideboard for instant mood lighting.
5. FOSKAN BATH TOWEL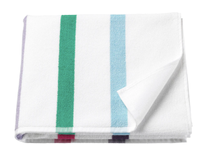 (opens in new tab)
FOSKAN bath towel | Was £8, now £5, IKEA (opens in new tab)
This just says casual tennis chic to me. Jugs of iced tea, sweatbands, a lazy summer afternoon with the aesthetic of Call Me By Your Name. Stack them in your clubhouse if you're in the 1%, or drape around your neck beguilingly en route to the beach if you're everyone else.
6. ANGABODA MIRROR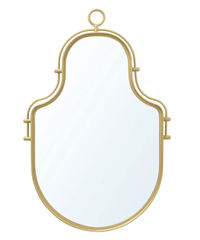 (opens in new tab)
ANGABODA mirror | Was £13, now £8, IKEA (opens in new tab)
I genuinely think this mirror has a touch of the Beata Heuman about it. It's quirky and grand and unusual and I think that, if hung with the right accessories in a room full of prints and personality, you could easily carry it off as a treasured find.
7. PORJUS MOBILE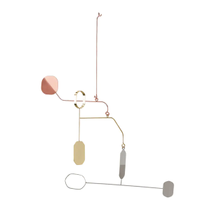 (opens in new tab)
PORJUS mobile | Was £9, now £5, IKEA (opens in new tab)
Our columnist Linda Boronkay is known for picking a mobile as part of her edit in her monthly round up for the print edition of Livingetc. Hers are always sculptural, smart, and the sort of unexpected piece that adds a lot of flair to a a room. Just like this one. Except it's only a fiver.
8. ENHET SWIVEL SHELF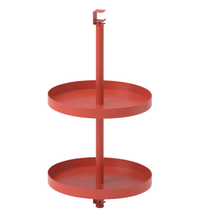 (opens in new tab)
ENHET swivel shelf | Was £7.50, now £5, IKEA (opens in new tab)
Ah, but this is the smartest - and most affordable - bathroom storage idea (opens in new tab) I've seen in a long time.Clipping onto existing shelving, it means that you don't have to rummage for your toiletries and can just spin them around as your regime requires. A Lazy Susan for your soaps.
9. KARISMATISK CUSHION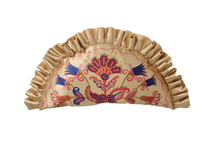 (opens in new tab)
Karismatisk cushion | Was £25, now £19, IKEA (opens in new tab)
Ok, so you have to allow to me go rogue at least once in this edit, and stray from my heartland Scandi/mid-century vibe. As I said when I highlighted the screen from the same collection in my round of up of the best IKEA products (opens in new tab), this is here because it's fun and, being just a cushion, scattered in any living room, could - once again - feel a little Beata-ish, I think.
10. SYMFONISK TABLE LAMP WITH WIFI SPEAKER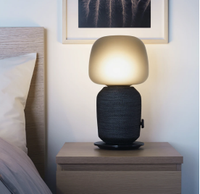 (opens in new tab)
SYMFONISK table lamp with wifi speaker | Was £150, now £125
We've been looking at uses for wifi (opens in new tab) that aren't just checking your emails lately, and it seems that IKEA beat us to it. This nifty lamp has an integrated SONOS speaker which means you can stream music, podcasts or radio directly from it. Yes, it's that point in the January sales (opens in new tab) when you start finding things you never knew you needed and, well, this fits that bill perfectly.
The editor of Livingetc, Pip Rich (formerly Pip McCormac) is a lifestyle journalis