Can you use a gas grill in winter? Yes - if you know these vital tips from the experts
Grilling outdoors during winter isn't on most people's radar, but it is possible. These barbecue experts explain what you need to know first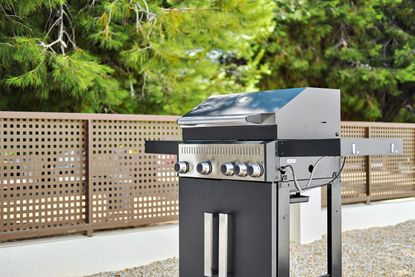 (Image credit: Alamy)
The Livingetc Newsletter
For style leaders and design lovers.
Thank you for signing up to LivingEtc. You will receive a verification email shortly.
There was a problem. Please refresh the page and try again.
For most of us, January is the last month of the year that you'd consider heading outside for some alfresco dining. Chilly, bleak, and often rainy, we don't tend to think of it as perfect barbecuing weather, but can you still actually use a gas grill in winter?
Admittedly, you might think I'm crazy to even consider such a question, but hardcore pitmasters don't let something as pitiful as the weather get in their way. Come rain or shine, nothing comes between them and their barbecue. That said, there surely comes a point where the temperature drops so low that it's no longer safe - or practically possible - to use even the best gas grills outside, right? I spoke with some experts to find out.
Lilith is an expert at following news and trends across the world of interior design. She's committed to sharing articles that help readers make the best shopping choices in their homes and backyards through sharing practical guides for all their barbecuing needs. For this piece, she asked experts whether it's actually possible to use a gas grill in winter
Can you use a gas grill in winter?
For the hardcore among you, the short answer is yes, it's certainly possible to use a gas grill in winter. (And since it's often the best time to buy a gas grill, then you'll probably be keen to fire it up straight away.) That said, there are a few things you ought to be aware of first.
'Gas grills may not perform as well in extremely cold temperatures and wind can also be a problem,' explains Daniel P Craig, chef and founder of Kitchen Deets. 'It's best to gas grill during the milder days of winter and ensure that the grill is protected from the elements.'
If the temperature drops below freezing you'll definitely find it more difficult to cook on a grill, and you may find that any oils you're cooking with could start to solidify if they're exposed to the elements. 'You also won't be able to use a propane gas grill if the temperature outside is below minus 44 degrees Fahrenheit,' explains outdoor cooking blogger Millie Pham. This is because propane gas reverts to liquid form at this temperature.
Will it affect cooking times?
Since you're using a grill to cook, the main question you might have when it comes to using one during winter is whether or not your cooking times will be affected.
As you might have guessed, if the temperature outside is low it will not only take longer to cook your food but to pre-heat your grill too. 'This is because the cold air around the grill can affect the temperature inside the grill,' explains Jakob Miller, founder and barbecue expert at Barbecue Pals. 'However, with proper preheating and temperature control, the cooking time can be adjusted accordingly.'
To help speed up cooking times and maintain a consistent temperature, Daniel suggests preheating the grill for a longer period of time and keeping the lid closed as much as possible. If you're building an outdoor kitchen, it's a good idea to factor in shelter from the wind to make it easier to cook during these lower temperatures.
Does the type of fuel make a difference?
Most gas grills run on propane or natural gas. While both can be used during winter, you'll have varying degrees of success when cooking outdoors depending on which you use.
'Propane grills are more portable and can be used outside, but they may not be as efficient in cold weather,' Jakob explains. 'Natural gas grills are typically more efficient, but they need to be connected to a natural gas line and can only be used in a covered area.'
'If you use a propane grill, you'll also need to ensure the tank doesn't get too cold as cold propane can vaporize poorly, which can cause the flame to go out,' Daniel adds. It's a good idea to have plenty of spare propane tanks on hand for your outdoor bbq if you plan to cook in the cold.
3 tips for grilling during winter
1. Invest in an insulated cover
To make it easier to cook outside during winter, Jakob recommends investing in a good-quality insulated cover to keep the grill warm and protect it from the elements. Most barbecue models will have a compatible insulator, and they can speed up your cooking time by 25%. You can also get jackets to fit your propane tank, too.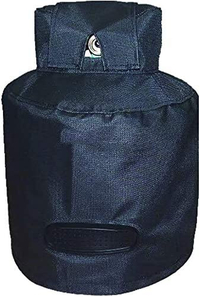 This 20lb propane tank cover, available from Amazon, is made of weather-resistant and waterproof 600D Oxford fabric and PVC cover and fits all universal gas cylinders. It protects your propane tank from wind and cold as well as high temperatures too making it ideal for use all year round.
2. Use wind shields to protect the flame from wind
During high winds, you might find that your flame goes out while you're cooking. 'Wind can also take away warmth from the grill and make it harder for smoke to blow out of flames, affecting cooking negatively,' adds Millie. To avoid this from happening, Jakob suggest using windshields. Again, these will have to be made to be compatible with your grill though, so always check before buying.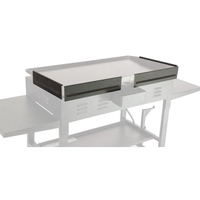 Blackstone 28" Griddle Wind Guards, Walmart
Strong winds can decrease the temperature or extinguish the flames while you're cooking up an alfresco feast, but the Blackstone wind guards from Walmart help to deflect these annoying effects. Simply hook the guards over the edge of the griddle top and use as normal.
3. Use a grill thermometer to help monitor the temperature
To make sure meat is cooked thoroughly a grill thermometer is important, especially in colder temperatures. Cooking times will take longer during cold weather but it's hard to estimate just how much longer you'll need to keep your food on the grill. That's why a thermometer is recommended since you can easily check if your food is safe to eat.
And if this is your first time using your kit you need to know how to season a grill for the first time.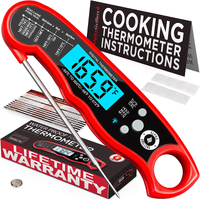 Alpha Grillers Thermometer, Amazon
This instant-read thermometer from Amazon features a temperature probe with highly accurate technology that gives readings in just 2-3 seconds. It's water-resistant making it safe for use in the rain and the digital indicator makes it easy to read, even in the dark.
For style leaders and design lovers.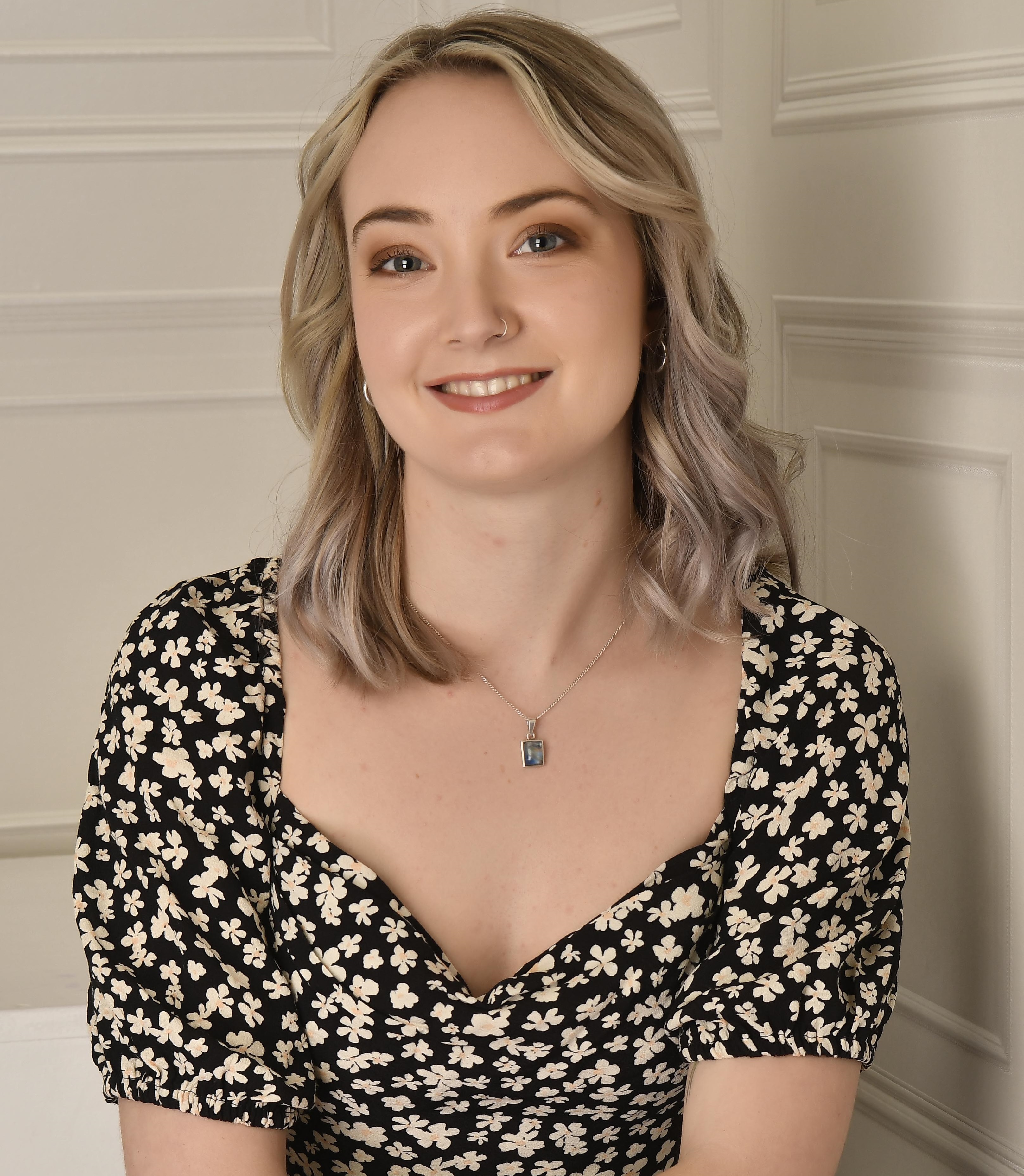 Lilith Hudson is the Staff Writer on Livingetc, and an expert at decoding trends and reporting on them as they happen. Writing news, features, and explainers for our digital platform, she's the go-to person for all the latest micro-trends, interior hacks, and color inspiration you need in your home. Lilith discovered a love for lifestyle journalism during her BA in English and Philosophy at the University of Nottingham where she spent more time writing for her student magazine than she did studying. After graduating, she decided to take things a step further and now holds an MA in Magazine Journalism from City, University of London, with previous experience at the Saturday Times Magazine, Evening Standard, DJ Mag, and The Simple Things Magazine. At weekends you'll find her renovating a tiny one-up, one-down annex next to her Dad's holiday cottage in the Derbyshire dales where she applies all the latest design ideas she's picked up through the week.