Natural gas grill vs propane: is there any difference between the two types of gas grill?
Wondering whether you should choose a natural gas grill over propane? We look at the differences in cost, convenience, and more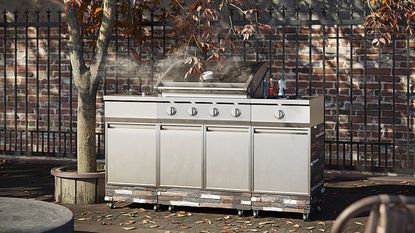 (Image credit: TYTUS)
It'll be grilling season in no time and if you have yet to invest in your own outdoor kitchen appliance, then you may be wondering how to differentiate between the many, many options available. Perhaps you've decided that a gas grill is the right choice for you, only to discover that there's more than one kind.
Natural gas and propane grills differ in a few different ways, and you should be swotted up on those distinctions before making a decision.
We have ranked the very best gas grills, so you can head over to that guide if you're having trouble choosing the right one for you. Otherwise, read on to learn the difference between natural gas and propane and which one - if either - is superior.
Natural gas grills: how do they work?
Natural gas is the same fuel used to heat our homes, and so you can use the existing supply to heat your grill. As the same suggests, it's a naturally occurring mix of methane, carbon dioxide, hydrogen, and helium.
Natural gas is considered much more convenient than propane as you don't need to worry about sourcing the gas yourself, but you will need a professional to hook things up to start with. It's also cheaper to run, and there won't be any canisters to dispose of every so often.
Propane gas grills: how do they work?
Propane is a liquid gas that can be purchased in canisters than need to be attached to your grill to fuel it. Unlike natural gas, which requires close proximity to a mainline in the home, propane can be transported and is thus ideal for the best portable gas grills taken on camping trips or otherwise.
Of course, it's also better if you have a large backyard and want freedom over where you place your grill.
Natural gas grill vs propane: Cost
As you might expect, the rising price of pretty much everything will impact how much both natural gas and propane grills cost to run. While the former will depend on fluctuating gas prices more generally, propane gas represents an additional cost. For reference, a case of six propane canisters costs around $50 on Amazon at the time of writing.
According to Santa Energy, propane costs around three times as much as natural gas, so it is more expensive of time. Then again, natural gas grills require professional setup, whereas the user can install propane grills.
There doesn't seem to be a significant difference in cost between propane and gas grills themselves, so it would depend on which model you went for.
Natural gas grill vs propane: Convenience
We have covered the issue of convenience somewhat already, with propane and natural gas being supplied for cooking in very different ways.
In the long term, we would say that natural gas grills are more convenient in that, once they have been hooked up, you won't need to worry about your supply running out. Of course, there is more expense and work involved in getting to that point, with a professional needing to be called (and paid) before you can get going.
On the other side of things, propane grills can be set up by anyone with a little experience, but gas canisters must be bought separately and replaced whenever you're running low. This will be more of a problem if you're an avid griller than if your use is limited to the once-a-year family cookout.
Placement of your grill can be easier with a propane model, as you're not limited by the connection to your home's gas supply. Those with a large outdoor space may want to opt for propane so that they have more freedom to move their grill around.
Natural gas grill vs propane: Our verdict
The question of whether a propane or natural gas grill is better might feel like digging in the weeds when compared to something like gas vs. charcoal grills. Still, it can mean the difference between having a good experience with your grill and letting your expensive new appliance gather dust in the corner of the yard because you found it too much trouble to use.
It's important to note that whether you choose propane or natural gas, your food will remain as tasty. The results won't differ much at all, even though propane does burn slightly hotter than natural gas. The difference in their environmental impact is also very slight. You can read our rundown if you're wondering about the eco-friendliness of gas grills more generally.
So the natural gas grill vs. propane debate comes down to convenience and additional costs, and the bottom line is that natural gas grills require more upfront costs, but propane will set you back more over time. Propane also offers more freedom in terms of placement and portability.
Smart Homes Ecommerce Editor
Caroline is the smart home ecommerce editor for Livingetc, covering everything tech for the home, from smart speakers to air purifiers and everything in between. She is passionate about the role that technology and smart devices can play in daily life, enhancing the home without sacrificing personal style and carefully chosen interiors. In her spare time, she can be found tinkering with bulbs, soundbars, and video doorbells in an effort to automate every part of her small home. Previously, she lent her expertise to the likes of Expert Reviews, IT Pro, Coach, The Week, and more.