The 5 biggest mistakes people make when designing a kitchen…and how to avoid them
The experts weigh in on how to avoid those classic kitchen design mistakes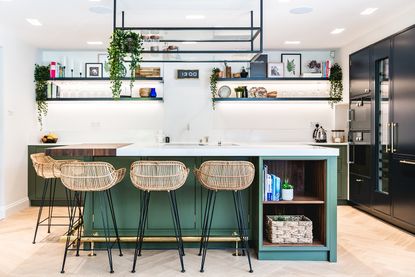 (Image credit: DayTrue)
The Livingetc Newsletter
For style leaders and design lovers.
Thank you for signing up to LivingEtc. You will receive a verification email shortly.
There was a problem. Please refresh the page and try again.
Installing a new kitchen is probably the most money you will spend on your house, so it's essential to get it right. It's also that overused term, the hub of the home, so modern kitchen ideas need to work for everyone using it and be a practical and well-designed place to be in. One of the first things to do is find a good fitter, you don't want to spend a fortune on a new kitchen and then find that things don't work as they should. Try and get a recommendation if possible, it will save time and possible difficulties later on. Do your homework by visiting showrooms and collecting images of kitchens and ideas you like and don't rush into anything without thinking it through carefully – will it work in the space available? Have you considered all the options? Here's our list of the most common mistakes people make, and out expert guide to avoiding them.
Mistake No. 1 – Choosing poor quality materials
"Never skimp on materials – always buy good quality, solid kitchen cabinets that will stand the test of time" says Architect and Designer, Harvey Langston Jones. Choose a durable countertop – as it will be in constant use. Many people make the mistake of narrowing their choice of surface based solely on whether it scratches or will mark. There is no material which over time and use is indestructible." Explains Harvey. "Spend a good chunk of your budget on quality appliances, especially if you are a keen cook, research the types of functionality available so you can make informed choices. And don't overlook cabinet hinges, a kitchen will quickly look care-worn if the doors aren't aligned properly.
Mistake No 2 - Not using a professional installer
"Make sure your kitchen is installed professionally," says Hayley Robson Creative Director of Day True. "The installation of a kitchen can be an expensive part of the overall cost but it certainly does make a difference to its longevity," Hayley adds. "I have seen expensive kitchens fitted badly, which has an impact on the overall effect; equally an inexpensive kitchen fitted really well can last much longer. It's an important area not to scrimp on and will have an impact in the long run. Also think practically about your design and don't base it on how things have always been done. Who spends all their time washing up now that most kitchens have dishwashers?"

Mistake No. 3 – Not using a professional kitchen designer
"People think they know what they want from their kitchen and may have done their homework, but always seek the help of a professional," says Hayley Robson, Creative Director of Day True. "Most people buy a new kitchen once or twice in their lifetime, whereas kitchen designers create hundreds of kitchens over time so they will have come up against most problems and dealt with them, which means they can help you to make the right decisions by imparting their years of knowledge and expertise," Hayley explains "Things like knowing how to design and install a kitchen island are a joy to have help with Spatial planning is the key to achieving a functional kitchen that also looks great, the more space you can maximise with the design, the better it will function and improve your life. Thinking about how you use your kitchen is key."

Mistake No. 4 - Not planning the lighting
"The correct kitchen lighting is crucial and the right or wrong lighting can have a huge impact" says Will Earl, Design Director of J. Adams & Co. "Remember to create a lighting scheme which considers the layout of the space, the ceiling height and the wall/cabinet colour as these can all have a big effect on how much light you need," Will adds. "Task lighting should be your primary focus in the kitchen, concentrating on surfaces and cooking areas to illuminate the workspace, whilst clusters or statement pendant lighting with dimmers over kitchen islands and dining tables can create an intimate feeling and provide extra lighting options at different times of day. Extra things to consider include an extractor with an integrated light and under cabinet lighting which can be a great tool to cast a warm low-level light, especially at night time."
Mistake No. 5 Too little storage space
"When it comes to storage, think about how you use your kitchen" says interior designer Zachary Pulman. "Do you want a pantry? Large pan drawers? Is there a separate dining room for tableware and linen? Make sure to maximise the functionality by using a combination of cupboards, drawers, pull-out racks and flexible shelves," he adds. "Consider a breakfast station that can be closed when not in use. Narrow spaces could be used to store trays. And avoid glass cabinets if you aren't going to keep them tidy at all times." To add personality, think about open storage such as shelves for cookbooks and plants, hanging shelving above the island or pull-out baskets to store vegetables.
For style leaders and design lovers.
Alison Davidson is well-respected British interiors journalist, who has been the Homes Editor of Woman and Home magazine, and the Interiors Editor for House Beautiful. She regularly contributes to Livingetc, and many other titles, and often writes about kitchens, extensions, and decor ideas. She is the go-to for information about green energy, sustainable home improvement and eco design ideas.