How to design and install a kitchen island - experts share their tips
This handy guide on how to design and install a kitchen island includes everything you need to know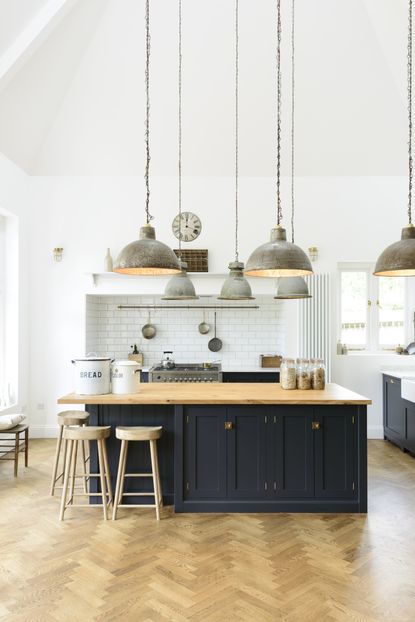 The Livingetc Newsletter
For style leaders and design lovers.
Thank you for signing up to LivingEtc. You will receive a verification email shortly.
There was a problem. Please refresh the page and try again.
Knowing how to design and install a kitchen island is key when thinking about the big refurb. Modern kitchen islands are at the top of the kitchen wish list for many homeowners, especially those with open-plan rooms. What began as a handy space for food prep has evolved into the heart of the kitchen and the ultimate piece of multifunctional furniture for the modern home.
If you're wondering how you can best incorporate an island within your kitchen, we'll guide you through how to plan, design and install the perfect island.
Choosing the perfect size kitchen island
People's first questions are often what they should put on their kitchen island and how big does it need to be. However an island's dimensions are determined more by the requirement for space around it than the requirement for space on the island itself.
"When planning a kitchen layout, access space of a respectable 900mm to a generous 1300mm should be considered around the island," advises Richard Atkins, design director of DesignSpace London. If it's too near to other kitchen cabinets, the room will feel cramped, but too large and the kitchen will be tiresome to use – people will need to pivot and then step to reach the worktop opposite. Remember to allow space for pulling out chairs and accessing storage and appliances. Hobs and dishwashers will need the most circulation space around them, to allow for safe operation away from potential burns and trip hazards.
Small kitchen island designs
Opinions are divided on minimum and maximum island sizes but they should always look in proportion to the space they're in, neither being dwarfed nor dominated by it. As a guide, one set of standard base cabinets will be around 600mm deep so back-to-back units will be around 1200mm. If you're adding a breakfast bar, allow an overhang of 250-400mm for leg room. "Visually, an island needs to take its scale from the rest of the kitchen," says Richard Moore, design director at Martin Moore. "A peninsula island is a good alternative for smaller spaces. They can be less space-hungry than a freestanding island, but still offer the same capacity for storage and multi-tasking. It can also be a very effective room divider."
Large kitchen island designs
"For larger islands, if you want granite or stone tops in one piece, then the maximum feasible is 3 metres long without visible joins, due to the slab sizes available," Moore continues. If you're using composite or concrete worktops, you can go larger. Remember that if an island is too big, it will be laborious to walk around, might be difficult to lean over to clean the top, and you may have trouble getting its worktop into the kitchen in one piece! You may be best to opt for a dual island layout instead, especially if you've chosen a cool kitchen flooring idea, which you'll want to show off.
Choosing a kitchen island shape
Once you have an approximate size in mind you'll need to think about the island's design and functions. Many things affect these including the size and shape of your room, location of services, traffic flow through doorways and access routes across the room. Rectangular shapes and variations of that are the most popular, perhaps with curved ends or add-ons for a breakfast bar or seating area. L-shapes and T-shapes can work well too.
Positioning a hob in a kitchen island
There's a lot to consider when it comes to which functions will suit your island. If you're incorporating a hob, you'll need to include worktop clearance of at least 350-400mm around it for comfortable use, and to think about the ducting, especially if you have a skylight or want to install pendants above. "If a hob is to be placed within the island then extraction and ducting need to be considered carefully," advises Melissa Klink, head of design at Harvey Jones. "Downdraft or ceiling-mounted extractors are effective but they come at a higher cost to a typical wall-mounted extractor, and downdraft ducting requires additional attention, especially if you are opting for underfloor heating. As with all kitchen layouts, ensure your design is well planned out prior to any building work proceeding so that services can be considered at an early stage."
Incorporating an eating area on a kitchen island
For island seating, you might choose a raised breakfast bar, table-height surface or even a coffee table. For bar stools, allow a minimum width of 600mm for every user, and around 150mm between each one – although these measurements should accommodate personal preferences and the style of bar stool you choose. Helen Parker, creative director at deVOL says, "Seating is really popular around an island; this can be created by simply extending your worktop to allow a few stools to slide underneath or it can be incorporated into the structure of the island, making it more permanent and integrated." Where possible position stools on two sides of an island so guests can chat easily, and allow enough overhang for bar stools to tuck neatly out of the way when not in use.
Storage solutions for kitchen islands
Storage should play a supporting role to the island's other functions – for example, if the island has a hob then drawers below could hold spices, pans and cooking utensils. If the island hosts the main washing-up sink, then it's handy to site the dishwasher and waste bins there too, as well as a spot to to store unsightly dishcloths and detergents out of view. Objects stored within the rear of the island will be less accessible so use this for ancillary storage and choose sliding doors if space is tight.
Other ideas for your kitchen island
You might choose to incorporate a baking section with a lowered worktop for kneading and rolling, which also makes a child-friendly choice. For prep space you could integrate a butcher's block in the worktop or a prep sink with a steaming hot tap. Other handy additions include a wine fridge, pop-up sockets, USB ports, fridge drawers, bookshelves and filter taps. Do remember that often less is more, and this is particularly true with island designs, as Helen Parker of DeVOL advises, "We are always keen to keep the design of our islands simple and try not to cram too much into this one all-encompassing piece of furniture."
Creating a stylish kitchen island design
When it comes to aesthetics, since islands are a natural focal point of a kitchen, they make the perfect spot to use a standout colour or worktop that is different yet complementary to the rest of the space. You could use your island worktop material on the splash back in the rest of the kitchen to unite the scheme. You might also use the rear surface of the island to soften the 'kitcheny' appearance with a more decorative finish to the rest of the cabinetry. Finally, accentuate your island's design with a statement pendant (or few) above – preferably set on a dimmer – and consider placing LED strips below the worktop or cabinets to create an ambient glow when you're relaxing with a glass of wine after all the day's kitchen clear-up is done.
How to plan, design and install a kitchen island – your questions answered
Does a kitchen island have to be attached to the floor?
No – a table, sideboard, prep bench or butcher's block can all serve as an island yet can be moved or wheeled out of the way when needed. They can be great for additional surface, storage and seating but you won't be able to incorporate sinks or appliances if they're not a permanent fixture.
How are kitchen islands anchored?
With screws through L-brackets into the floor or slot the island cabinets so they nest over wooden framing screwed into the floor.
How do you design a kitchen island?
First look at which shape of island your room might accommodate, taking into consideration the size, layout and architecture of the kitchen, location of services and traffic flows. Then decide which elements you would ideally accommodate on the island, whether these fit comfortably on it and whether this can work within the kitchen design with regards to services, an efficient working triangle and flow around the space. Keep refining your design until you have one that works practically and aesthetically.
What key things does a kitchen island need?
Room to circulate easily around it, comfortable space on the island for each of its functions, a robust preparation surface and adequate extraction to contain steam and odours if you're siting the hob there.
How big does a kitchen island need to be? What is a good size?
Room size determines the scale of the island, and while avoiding a cramped look at all costs, go as large as will comfortably fit the room – allowing enough space to move around it and use the room safely and freely. As for specifics, Richard Atkins, design director at DesignSpace London advises, "Ideally, islands should be at least 1500mm long by 950mm wide to allow for the hob or sink to be centralised on one side."
What can a kitchen island be made out of?
Cabinetry tends to be made of stainless steel, timber or a composite board. You could extend the worktop down the sides of the island or clad the front in a material of choice, such as tiles, terrazzo, sheet metal, feature glass, reclaimed boards, natural stone or composites that look like marble, cement, semi-precious gems and more.
For style leaders and design lovers.