What furniture does a minimalist need? Designers explain how to perfect this calming look
Form and function take center stage in a minimalist home if you only decorate with what furniture a minimalist really needs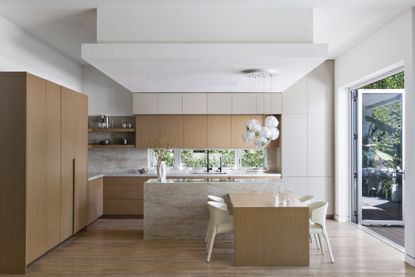 (Image credit: Victoria Holly Interiors)
When selecting furniture for a minimalist home, quality of construction, materials, function and form are the top ingredients to look for.
An uncluttered, soothing, calm space is at the core of minimalism in interior design, where everything in the room has purpose.
Architecturally, the space will feature lots of natural light and often be an open-plan layout.
Once you have decluttered your space, it's time pare back your furniture to the bare essentials that provide just the right blend of practicality and comfortability.
'Creating a minimalist home doesn't have to be achieved overnight,' says Joshua Smith, Principal and Founder of Joshua Smith Inc. 'Think of it as more of a process! I know maximalism is having its moment, but my philosophy is that we are constantly being bombarded with incoming noise and distractions, so we need a place to retreat and relax.
'While I cannot change the technology-centric, fast-paced world we live in, I can control my home and nurture a sanctuary where minimalism creates an environment that soothes the senses and gives the mind a visual rest.'
He continues: 'An obvious step towards minimalism is to clear out the clutter. It's time to let go of things you no longer need or want. A good rule of thumb when accessorizing a minimalist space is that if something enters, another must leave. This can help create balance in the space and avoid things suddenly feeling cramped over time.
'Always leave space for everything to breathe energetically. Don't be afraid of empty walls! If you do choose to hang art, go for simple pieces. Stick to an earth tone palette can help the art stay minimal, relaxing, and assist in injecting gentle color into the room.'
Minimalist furniture essentials
'Minimalism does not necessarily mean you have to have the least amount of "stuff" possible,' explains Joshua.
'In many cases, it's more about owning items with intentionality and ridding yourself of clutter for a space that is visually easy on the eyes and evokes a sense of calm.'
He adds: 'When it comes to furniture in a minimalistic home, definitely keep the pieces that you need for a space to still be functional and provide you with the level of comfort for your way of living.'
These are the furniture essentials Joshua suggests for each room.
Entryway
Your entryway will set the tone for the rest of the home, so an uncluttered space with dual-purpose furniture is always a good idea.
'Leaving negative space for the eyes to rest means the mind can rest as well, which is why I love what I call double-duty furnishings and accessories,' says Joshua.
'These are pieces such as ottomans or benches with inner storage and clunky baskets or wicker chests with lids for a touch of texture while concealing the clutter.
'A dresser instead of a console in a foyer provides drawers to stow away keys, phones, or whatever else you may need on your way out the door.'
If you have a small entryway, hooks on the walls, a small console or a space-saving wall-mounted unit is all you will need.
Living room
'A living room may consist of merely a sofa and coffee table for some people, while others may require a few extra seating options and side tables for frequent hosting,' says Joshua Smith.
Dual-purpose furniture, like a coffee table with storage, will help to keep create a calm, clutter-free space, which is a core principle of minimalism.
Any decorative elements should be balanced and sparing. Joshua says: 'Trays on coffee tables or dressers add a decorative element and a splash of style while also corralling the items we need in daily life for a cleaner, pared-back look.'
Dining room
You can really keep things simple, pared-back and clutter free for serene dining room that still functions perfectly as it should for hosting or for family dinners.
Joshua Smith says: 'A simple table and chairs can often suffice in a dining room, as these are the core items needed for the function of the space.'
Bedroom
The bed is the hero of any bedroom, and is an obvious necessity. It's also a good idea to have a chest of drawers for storage, a bespoke wardrobe solution if possible, and nightstands, which not only serve as a spot to put your morning coffee but can also work as extra storage too.
'You want your bedroom to be free of distraction, so aim to have only the bed, bedside tables, and a sleek dresser if you need additional storage,' says Joshua Smith.
'Feel free to add additional seating for a reading nook if you have the space and the intention of using it. Don't incorporate it in the space just for the sake of having it. Only keep what you need to make the room comfortable and functional to you.'
Kitchen
The key to a minimalist kitchen is keeping the countertops free from clutter. This means storing away any condiments, appliances, and spice jars in the kitchen cupboards.
A kitchen often has ample storage space so can be easier to maintain a clutter-free look, which is all the more important modern small kitchens. A couple of decorative pots, perhaps including a functional ceramic utensil holder, are all you need for a little life.
When it comes to furniture, a kitchen island with a seating side will need bar stools and, if the space is open plan and serving as a kitchen diner, you will need a good quality dining table and chairs, simple in form yet high-end in craftsmanship. Something that will stand the test of time and function as a go-to piece in a multi-purpose hub that's often used for everything from entertaining and family meals to homework club, and a work desk.
How to style a minimalist home
A minimalist home is about creating a calm, clutter-free space in which the focus is on form and functionality. But it doesn't need to feel stark.
'Less is more with minimalist style, but it is easy to lose the design aspects and produce a vibe that's too cold and bare feeling,' says Ginger Curtis, CEO and Founder of Urbanology Designs.
'Balance and warmth are crucial to delivering the elevated beauty of minimalism. A common mistake is underestimating the scale of your furniture and decor. Don't let the desire for negative space leave you with chairs and a sofa that are way too small for a large room. Items too small or large will break the cohesive flow and feel that are vital to achieving this aesthetic.'
She continues: 'Another mistake is going too monochromatic, whether with furniture or accessories. This style needs the right layers of warmth and color balance. Select pieces with varying textures, mix metals, and warm color tones will lead to an inviting, well-balanced minimalist space. Minimalism is not creating a space that feels empty; designing with it means playing with it until it feels right.
'Start with your coffee table, and arrange it in a way that doesn't feel bare or cluttered but rather beautiful, minimal, and balanced.'
The minimalist decor essentials
The Livingetc newsletter is your shortcut to the now and the next in home design. Subscribe today to receive a stunning free 200-page book of the best homes from around the world.
Ruth Doherty is a lifestyle journalist based in London. An experienced freelance digital writer and editor, she is known for covering everything from travel and interiors to fashion and beauty. She regularly contributes to Livingetc, Ideal Home and Homes & Gardens, as well as titles like Prima and Red. Outside of work, her biggest loves are endless cups of tea, almond croissants, shopping for clothes she doesn't need, and booking holidays she does.