6 ways to make your bathroom look more expensive without having to splash the cash
Design experts reveal how you can elevate your bathroom for a high-end aesthetic without the hefty price tag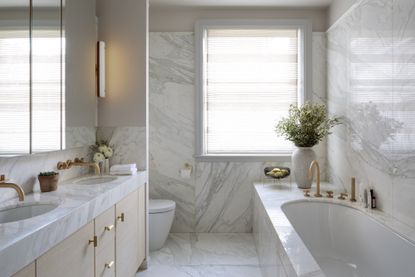 (Image credit: Kitesgrove)
The joy of interior design is knowing what areas you need to splash the cash on, and on which you can turn off the ever-dripping money faucet. And if that was too spurious a metaphor for you then let's just say that there are plenty of ways to ensure your bathroom looks a million dollars without having spent even a fraction of that sum.
'Modern bathrooms can feel difficult to update,' says Livingetc's editor Pip Rich. 'You're not going to be replacing the tub every year, of course. But there are tiny tweaks you can make which don't have to cost very much and suddenly give you the feel of being in a luxury space. A freestanding towel rail, for example, just resonates high end hotel, and makes everything around it feel more expensive.'
And so from knowing how to organize a bathroom like a pro to selecting the right artwork and fixtures we've tapped a host of experts to reveal how you can create a luxe look on a smaller budget.
6 ways to make your bathroom look more expensive - expert tips for an upscale refresh
1. Update the bathroom fixtures
Replacing tired or outdated bathroom fixtures is an easy way to give the overall aesthetic an instant lift.
'Many people overlook fixtures that have been in place for a long time and think 'Why change it?',' say Jen and Mar, co-founders of the design studio Interior Fox. 'But one of the easiest ways to transform a bathroom is by changing outdated lighting and mirrors. I can't tell you what a dramatic difference something that simple can make.'
And Barrie Cutchie, Design Director at BC Designs, agrees, suggesting that you can save on ceramics as long as your brassware looks good
He says: 'When it comes to bathroom ideas, a few carefully selected pieces of brassware can make all the difference. If budgets are tight, choosing to update brassware or to go for more expensive brassware compared to your ceramics can provide a more luxury and high-end finish to your bathroom.'
The best bathroom mirrors
2. Add an unexpected element
A surprise element doesn't have to mean an expensive element; and it can be the factor that transforms your bathroom from mediocre to marvelous.
Jen and Mar say: 'A new paint color is one of the easiest ways to change the space -but think outside the box, like painting the ceiling a new shade or doing a dado wall.'
This small addition to the space won't cost you a lot but lends a design-led feature that elevates the room.
3. Introduce art into your bathroom
Artwork shouldn't just be saved for living room ideas. Adding art to unexpected places, like the bathroom, gives an instant design-forward feel to the space.
'Introducing art in a bathroom is a simple way of elevating the space by adding character,' says Clara Ewart, Head of Design at Kitesgrove.
'There are many affordable ways to source artwork that don't require an infinite budget; from visiting antique fairs and graduate art shows to purchasing prints from both up-and-coming and established galleries. We recommend choosing a piece of art that you really love, as it will ultimately transform the space with a personal touch.'
A gallery wall also makes a big impact with little outlay. If you purchase affordable black frames from somewhere like IKEA, you can elevate your bathroom with prints that add color, character, or both.
Black and white prints, as seen above in the bathroom by Kitesgrove, lend a chic appeal with a designer-worthy aesthetic that doesn't involve spending a fortune.
BATHROOM GALLERY WALL ESSENTIALS
4. Invest in new bathroom products - and think about how you display them
Bathroom decluttering is never about getting rid of everything, and even minimalist bathrooms like to have a few key pieces on display. Investing in aesthetically-pleasing new bathroom products, like towels and hand soap, will make the space feel more high-end. But think about how you display and store them, too.
'One of the cheapest ways to update your bathroom and make it look expensive is to invest in new towels. And, just as important is how you store and show them off,' sats BC Designs' Barrie Cutchie.
'There is no point spending money on lovely new towels to have them in a cupboard. Instead, think about investing in a freestanding rail and using it as a statement piece that adds a new element to your bathroom.'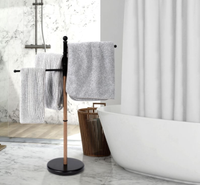 Juvale free-standing towel rail, Target
At just under $35 this freestanding towel rail creates the experience of being in a high-end hotel. Having a freshly-pressed towel on display, ready to step into from the tub, really does make your bathroom feel expensive.
Using pretty baskets to store your products keeps everything looking tidy and is an easy and affordable way to give your bathroom a spa-like feel.
Another way to give your bathroom a high-end aesthetic is to decant your products into pretty glass jars. And don't forget to keep your products tonal, like the brown bottles above, for a hotel-smart finish.
5. Hang wallpaper in a small bathroom
If you're looking for chic small bathroom ideas on a budget, utilizing wallpaper is a great start.
Not only will this create a high-end aesthetic, it will also add character and an illusion of space to the room.
'Small spaces such as bathrooms or washrooms, and especially those without any natural light, do not have to be painted bright white to make them feel 'bigger',' says Simon Temprell, Interior Design Manager at Neptune.
'White paint merely makes the room feel boring and forgettable. Embrace the limited space and lack of light by introducing a bold printed wallpaper that will lend character and personality to your room.'
He adds: 'Don't be afraid of larger-scale designs or bright colors, especially if the walls are half-tiled or wood-clad, and paint the ceiling a color that appears in the wallpaper design.'
For bathrooms with low ceilings, you might like to use a vertical stripe to add a sense of height - as well as a timeless decor style.
6. Work a bathroom chandelier for a chic flourish
Infuse your bathroom with an extra level of decadence and sophistication by installing a bathroom chandelier.
Whether you opt for an ornate brass choice, as seen in the bold bathroom by HAM Interiors above, or a clean-lined oversized pendant, statement lighting will work to add impact to the space.
Megan Matharu from lighting brand Visual Comfort says: 'Bold lighting choices can add a layer of luxury and sophistication, turning today's bathroom into a modern sanctuary.
'Whether you're thinking of updates to the powder room or embarking on a master bath renovation, bathroom lighting ideas effortlessly serve up some serious style.'
And you don't have to slash the cash to do it. Rummage around in antique shops or head to eBay to find a piece that you can upcycle. A good can of metallic spray paint will turn a tired chandelier into a covetable piece.
The Livingetc newsletter is your shortcut to the now and the next in home design. Subscribe today to receive a stunning free 200-page book of the best homes from around the world.
Ruth Doherty is a lifestyle journalist based in London. An experienced freelance digital writer and editor, she is known for covering everything from travel and interiors to fashion and beauty. She regularly contributes to Livingetc, Ideal Home and Homes & Gardens, as well as titles like Prima and Red. Outside of work, her biggest loves are endless cups of tea, almond croissants, shopping for clothes she doesn't need, and booking holidays she does.