These are the 8 things designers agree a family bathroom always needs – how many do you have?
Things to include in a family bathroom that will make this space work so much better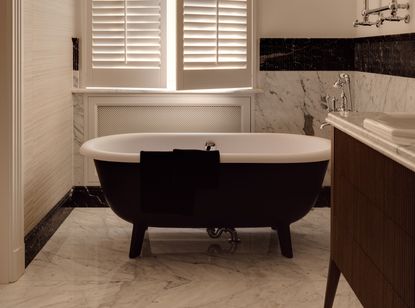 (Image credit: Oni Studio. Design: JT GRUPA)
The family bathroom isn't exactly the most relaxing space in the home. Typically characterized by a clattering of brightly colored plastic toys and associated with the stress of dreaded bathtime, these spaces so easily become cluttered and unruly. But if your family bathroom has spun out of control, you're not alone. To reintroduce a bit of serenity and harmony to the space, take a step back and reconsider your bathroom design.
'When designing a family bathroom, it's essential to create a space that is functional, comfortable, and accommodating for all family members,' says Houston-based interior designer, Nina Magon.
The best modern bathrooms for families ideally require these eight things to function seamlessly, according to the designers. How many do you have?


1. Making sure there is enough room
Try and eke out as much room from the space you have. Family bathtime is a busy time of the day, but even in the smallest of family bathrooms, you can create more space so that there is room for more than one person in the space at one time. 'Crucially when designing a space for three kids under six, we made sure there was enough room for drying, bathing and sitting so that everyone can get ready for bed in without being crowded out,' says Paul Cooksey of Northern Edge Studio, who designed the above family bathroom.
Try and create a designated space for your patient child to sit while the other finishes getting bathed. Even a stool in the corner can work to fill this space.
A floating bathroom vanity is also a great addition that creates more airiness in the room. While a floating the vanity gets vanity means losing precious storage, a little foot room under the vanity can go a long way, helping you tuck your feet under and fit more people as they come in and out.
2. Organized storage
Bathtime toys are also something that end up building up to a point where your bathroom can end up resembling a playroom. So keep things organized, ordered, and put away so that when it's your time to come and use the space, you're not trying to shower without standing on a rubber duck.
'Organize a bathroom by incorporating plenty of storage options to keep the bathroom organized and clutter-free,' says Nina Magon. 'Consider under-sink cabinets, wall-mounted shelves, or built-in storage niches. This will help each family member have their own space for toiletries and keep the bathroom tidy.'
Within the drawers, go for bathroom drawer organizers to give everything its designated home, meaning you don't end up with a drawer stashed with half-empty shampoo bottles, taking up more precious space.
Working the walls is also a great idea, get shelving up wherever you can, even a bit of wall paneling can provide a neat shelf for you to put bits and pieces during bathtime.
3. Perfect lighting for all the family
Lighting is important in all types of bathroom, from the powder room to the ensuite, but in a family space, the importance of lighting so often gets overlooked. 'But bathroom lighting plays a vital role in setting the mood and enhancing the functionality of the space,' says Charu Gandhi, founder and director of global interior design firm, Elicyon.
We recommend a layered lighting approach for a family bathroom. You want ambient lighting such as recessed ceiling lights or even a statement chandelier for when you come to use your bathroom as a space to relax. But you need to include a mix of ambient, task, and accent lighting to cater to various activities like showering, makeup application, bathing children or reading.
'We love to add lighting under the vanity unit,' recommends Charu. 'It's always best in strip format, with a diffuser for an even glow, particularly key if you have a polished marble floor that can reflect lighting back.'
Ensure the lighting is on an automatic or motion-censored setting, so it comes on at night, creating a soft wash of light when either you or your children pop to the loo in the night.
'Warm is the optimum word, as this isn't task lighting, so the color temperature doesn't need to be cool. Very specific but oh so helpful,' adds Charu.
'Don't forget the dimmer switches, they can help create a more relaxing ambiance as well,' adds Nina.
4. Easy-to-clean materials
You might have your eye on those beautiful zellige tiles or pair of unlacquered brass faucets, but in reality, a family bathroom needs to be a low-maintenance bathroom and easy to clean, so select your materials with care.
'Choosing materials that are easy to clean and maintain is so important,' says Nina. 'This is particularly important in a family bathroom as it's likely to see more wear and tear. Porcelain tiles, solid surface countertops, and semi-gloss paint are good choices.'
Think about colors that show up stains too. 'There are colors and finishes that are harder to keep clean so I'd avoid black sinks and faucets if you live with someone who doesn't clean up after they have brushed their teeth,' says Gillian Gillies of Gillian Gillies Interiors.
Another consideration is grout lines, a commonplace element of bathroom design. Consider grout lines that are stain-resistant and easy to clean, keep them maintained with a once-a-month scrub, and if you know you won't be able to keep on top of your cleaning, go for a dark-colored grouting to hide that dirt.
5. Neutral palettes
If your bathroom is more of a kid's bathroom and less of a family space, don't be tempted to cater to your child's tastes. Remember that they will grow and change, so that playful scheme might look cute now, but when your child enters their teenage years, they might not be so enamored with a childish design.
'It's a good idea to choose a neutral color scheme or a theme that appeals to all family members, ensuring that the bathroom remains timeless and adaptable to changing tastes,' says Nina.
6. Thoughtfully selected basins
If you are in the initial stages of planning your family bathroom, go big with your sink so you can accommodate more people brushing their teeth at once.
You also want to allow for plenty of space around the bathroom sink. Doubling up on basins isn't really a viable option for all given space and budget, but a trough-like basin with two taps is a practical option that minimizes splashes.
At the very least, invest in some steps to help your child reach the basin. There is no point picking a basin design that is lower-down and easy-to-reach for kids, but steps are a great addition so they can reach the vanity. They look cute and can be recycled or taken to charity once your child outgrows them.
Think about the faucets too. 'Another important design element in family bathrooms is accessible fittings; ergonomic products which offer ease of use whether aged nine or 99,' says Stefan Gesing, CEO of bathroom specialists, Dornbracht AG & Co. 'Smooth controls and simple mechanisms will ensure a space that is easy and comfortable for the whole family to use.'
7. In-built design
Consider opting for a large vanity sink unit, you will be surprised how much you can store away, allowing you to keep surfaces clean and tidy.
A built-in bathtub is also a great addition to the family bathroom. They tend to be a little more sunken and low profile, so you can easily bathe little ones.
If you do go for a sunken design, consider building a step to give you that extra space to perch and balance during bathtime, and help little ones get out of the bath with ease. It's also a stylish addition that can look beautiful even long after your children have grown up.
8. Family-friendly flooring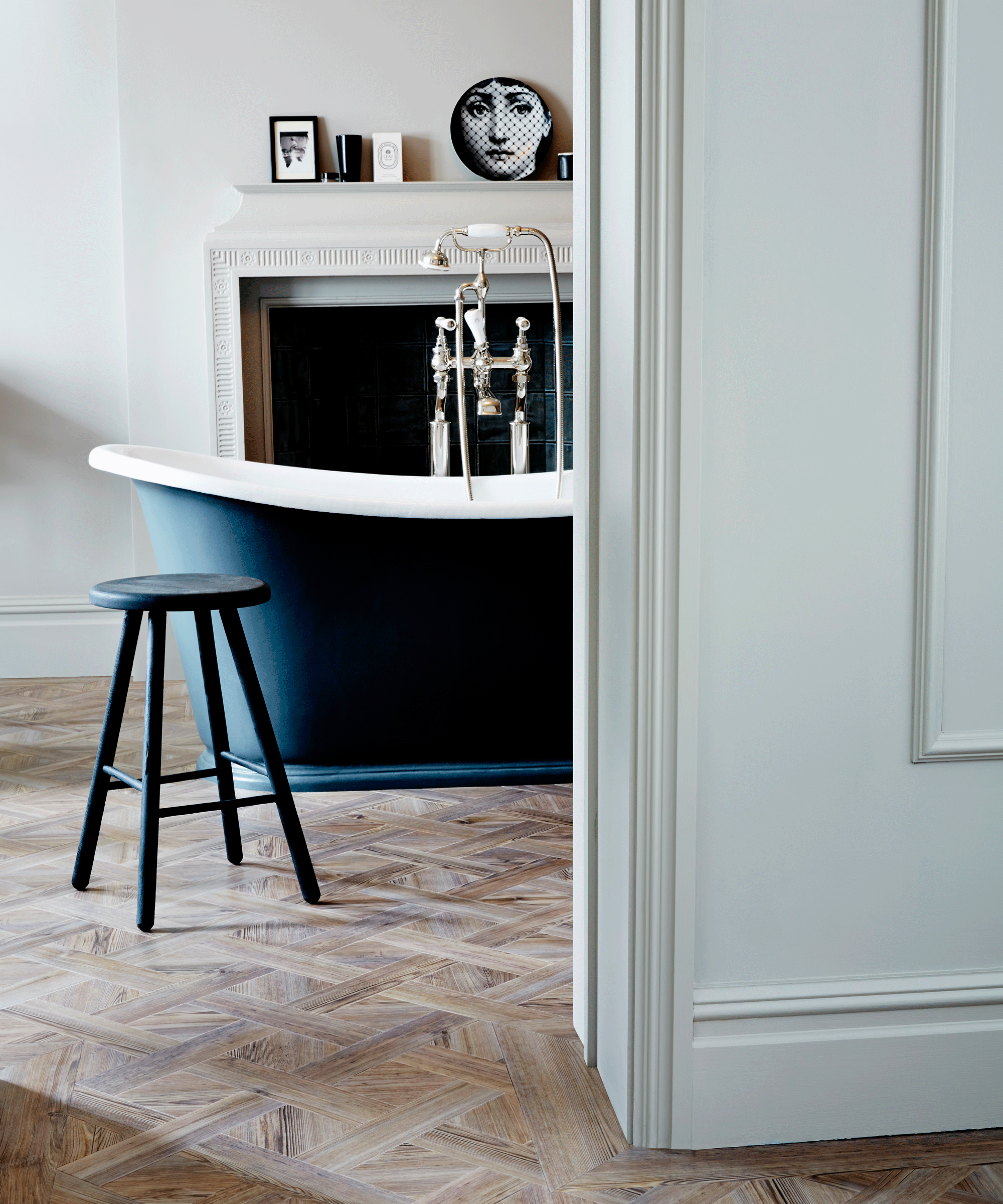 Finally, think about bathroom flooring that works for the space. Family bathrooms are the perfect place to try out vinyl flooring as they are long-lasting and crucially, easy to clean. Vinyl has developed so much that it comes in a variety of designs.
The likes of wood aren't really viable as a flooring option in a family bathroom (splashes mean even the most protected wood flooring will end up warping or becoming damaged), but with vinyl, you can pick a style that mimics wood perfectly. Wood vinyl tiles are the best way to create a realistic effect.
Try and avoid those super hard flooring options like concrete or terrazzo. Bathrooms are slippy spaces, so minimize any nasty accidents in the family bathroom with something that will create a little less impact.
The Livingetc newsletter is your shortcut to the now and the next in home design. Subscribe today to receive a stunning free 200-page book of the best homes from around the world.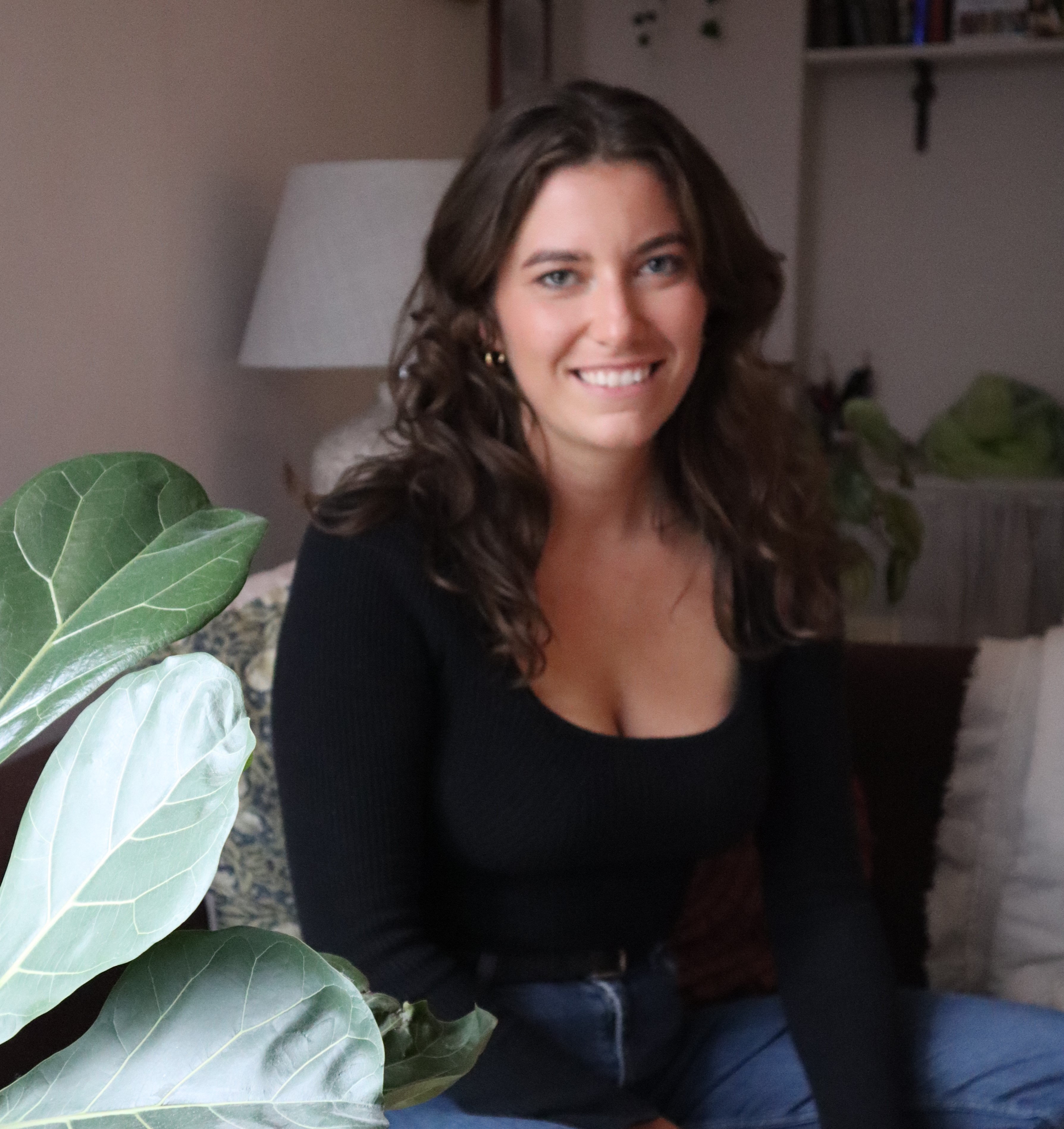 Livingetc content editor and design expert
Oonagh is a content editor at Livingetc.com and an expert at spotting the interior trends that are making waves in the design world. Writing a mix of everything and everything from home tours to news, long-form features to design idea pieces on the website, as well as frequently featured in the monthly print magazine, she's the go-to for design advice in the home. Previously, she worked on a London property title, producing long-read interiors features, style pages and conducting interviews with a range of famous faces from the UK interiors scene, from Kit Kemp to Robert Kime. In doing so, she has developed a keen interest in London's historical architecture and the city's distinct tastemakers paving the way in the world of interiors.