'Cook dinner feeling soothed' - the 8 most calming colors for a small kitchen
From classic calming greens to unexpected moodier shades, these are the colors to go for if you want a serene small kitchen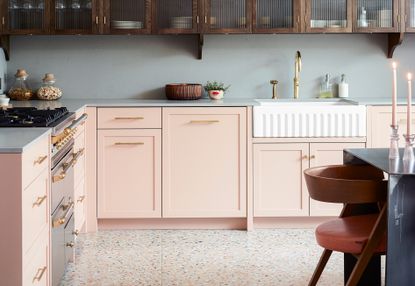 (Image credit: Future)
The Livingetc Newsletter
For style leaders and design lovers.
Thank you for signing up to LivingEtc. You will receive a verification email shortly.
There was a problem. Please refresh the page and try again.
Kitchens are busy spaces, and we ask them to wear a lot of hats. Cooking spaces, working spaces, socializing spaces. It's easy for them to become hectic and in a way it's nice to have a busy well used kitchen, they are known as the heart of the home after all. However, even if they are slightly chaotic rooms, it's nice to mask that under a calming veil, so your kitchen at least gives the impression of being chill.
And this is especially important in a small kitchen when space is tight. So what's the simplest way to create a calming kitchen? What do you always notice even through all the tasks you throw at a modern kitchen? The color.
The color of your kitchen sets the mood more so than the style, the size or the layout. So we spoke to designers who have created beautiful, serene spaces and asked what are the best calming colors for a small kitchen.
1. Teal green
Let's kick off with the most tried and tested calming kitchen colors: greens and blues. And this gloriously colorful galley kitchen combines them both. Teal is such an underrated color, we don't see enough teal in interiors. It might appear quite a bold shade, but in the right amounts, in the right space, with the right style, it can be super chic, and of course incredibly serene.
We love the slightly retro feel it has in this kitchen paired with all that quirky colorful glassware. And it doesn't overwhelm the space at all because using shelving as opposed to wall cabinets keeps the room open as there are not too many solid blocks of color.
'For this kitchen we chose warm off-white walls (OW9 by Adam Bray for Papers & Paints) with one of my favorite colors for the cabinets – Apsley House Railings by Papers and Paints. I love it so much that we've used it as inspiration for the color of our company logo!' says designer Kate Guinness. 'Greens and blues are very calming colors and work well for small kitchen joinery. Pairing this with a warm neutral for the walls (off-white or plaster pink) can work really well.'
2. Sky blue
Another classic calming color scheme for a small kitchen, sky blue. A super easy color to work into a kitchen and it's always on trend. It can be adapted to suit any style too, from modern farmhouse kitchen to a super trendy retro kitchen as seen here.
'We chose a refreshing shade of blue by Farrow and Ball for our client's Hamptons beach house,' explains co-founder of White Arrow, Keren Richter. 'Throughout the home's interiors, we wanted to casually reference sunshine, water, and some of the natural materials of the beach — pebble flooring and hand-troweled plaster walls in a bathroom, lemon yellow tiles in a bathroom, soft natural fibers elsewhere. The kitchen was inspired by 1930s Bauhaus colorways, and we love how the "hazy" blue mixes with our client's punchy dishware and the natural white oak cabinetry interiors and custom hardware.'
3. Olive green
If you are a neutral lover, but want to dabble in the world of colorful kitchens, olive green is the perfect shade for a calm small kitchen. It's basically a neutral, and we are always seeing it used as one. Pair it with white, creams, beige, and pale woods and what you get is a kitchen that feels ever so slightly braver and, let's face it, more interesting than an all-neutral kitchen. It's the ideal color for adding a bit of interest to a smaller kitchen, say in a backsplash or a floor tile, without it dominating the space. You could cook dinner here each night feeling very soothed.
'This kitchen we did is in a really special architect-designed home from the 1970's. Because of the existing architecture, we wanted a nod to the 70s while still being able to modernize the space for a young family so we drew on calming greens with yellow undertones that were popular in that era. We went with a deep olive green tile and painted the island Ball Green by Farrow & Ball,' explains Chelsey Cox, co-founder of Chinotto House.
As for colors that go with olive green, wood is a safe bet. 'No matter what colors you are using, there is no better compliment than natural wood tones to bring a calming warmth to a space. We love natural wood cabinetry and millwork and layer color through backsplash, paint, lighting, etc.' she adds.
4. Warm wood
Okay, not technically a color but a shade we couldn't ignore. An all wooden kitchen works perfectly to create a calming small space, plus, you get all those lovely natural textures and mix of shades.
'For this small kitchen project, we worked with Crina Architecture on balancing a practical kitchen with maintaining the overall calm contemporary design of the luxuriously urban space. The glass's textured aesthetic versus entirely smooth adds a new dynamic and enhances the space's natural light, whilst honoring a New York sensibility alongside the soothing wood features and soft hues which sit beautifully against the decorative Patagonia stone,' says designer Tala Fustok.
5. Sunny yellows
Finally moving away from the greens and blues to the sunniest shade – yellow. Of course, in its pale buttery forms yellow can be a very calming color for a small kitchen. And we have seen some lovely examples of muted yellow kitchens that really make you want to commit to yellow kitchen cabinets. But it is a risk, and as with any color trend, it may date. So we would like to make a case for going for a slightly bolder, more vivid yellow and bringing it into your small kitchen in the form of tile. In fact, we are going to get really specific and say bringing it into your small kitchen in the form of Zelige tiles.
Yellow in its more primary shades is a bold color, yes, but as this kitchen designer by Colombe proves, it can be a really calming, joyful shade too. And the texture and the varying tones of the Zeilige tile helps to tone down the color too, giving it more depth and softening the shade. And the wooden cabinets and subtle pink terrazzo surfaces bring out the warmth in the yellow.
'In this project, we got guidelines that the interior should be young, vivid, and energetic,' explains the studio's founder Marta Chrapka. 'The client's favorite color is pink, hence the use of it on the terrazzo floor and countertop. They also wanted a strong, joyful patch of color and so the choice fell on yellow Zelige tiles. The kitchen was initially supposed to be all pink, monochromatic, but on visualizations, it turned out that the effect was too cold and we replaced the pink fronts with wooden ones. A chestnut-colored stove was matched to it.'
6. Pale pink
Pink is a classic calming color and is perfect for when you want a little something more than a neutral, but not too heavy a dose of color. 'Gentle pinks always promote a calming atmosphere,' says Patrick O'Donnell of Farrow & Ball. 'Dusky pink cabinets will create a gentle tranquillity that feels delicate, yet not too pretty, and will provide just enough warmth to compensate for any awkwardly lit areas. Pair with a nuanced white, which is ideal for taking over the ceiling if it is low, as you will be less aware of where the wall stops and the ceiling begins.'
In this pink kitchen, designed by Studio Duggan, the contrasting dark wood cabinets eliminate any of the sweetness of the pink, so it feels warm and calming but still stylish and modern. 'Edward Bulmer's infamous Jonquil was chosen for the kitchen cabinetry which alongside stained oak wall units really warms up what is otherwise a cooler color palette,' explains Tiffany Duggan. 'The bespoke Terrazzo floor was designed with specs of all the colors in the space to bring the room together and the walls are in 'Amsterdam' lime wash paint by Bauwerk – the softness of which balances the harsher elements such as the Terrazzo and concrete worktops.'
7. Warm white
White is of course a go-to in a small kitchen. Its 'space expanding' and 'light enhancing' abilities have earned it a spot as the best color for a tiny space. But an all white kitchen can feel cold rather than calming. It's a space that's already filled with so many clean lines and hard surfaces, white can just add to the potentially clinical feel.
So instead, we suggest choosing a warm white, beige or a not-so-yellow cream even, as a calming color for a small kitchen. You get the brightness and the freshness of white but a more pinkish, creamy white will feel more welcoming.
'This kitchen was designed for a modest, modernist tenement house where all the woodwork was originally white. And we kept this white in the kitchen. However, in order to warm up the character, we decided on broken whites with warmer shades. More powdery tones. This makes the kitchen more welcoming and blends in better with the stone countertop,' explains Marta.
8. Charcoal grey
When you think of calming colors for a small kitchen, black doesn't exactly come to mind. However, we all know by now that deeper shades can work in smaller spaces and they can make them feel calmer too.
Firstly, you need the right shade. Avoid pure, hard blacks and instead opt for soft charcoal greys, that feel dramatic but have a depth to them that prevents them from being harsh. And pick the right surface too. We love how in this deVOL kitchen you can see the graining of the wood beneath, again making the dark shade much softer. And finally, you need to pair it with the right colors, and in a small kitchen, we would opt for warm neutral and wooden tones.
'Dark cabinetry with a gently nuanced off-white for some light relief on your walls and woodwork will result in a truly soothing space. Paint units in deep shade and team with creamy white, to create a calm and cohesive scheme with just the right amount of dramatic statement but most importantly, never overwhelms!' suggests Patrick O'Donnell.
For style leaders and design lovers.
Hebe is the Digital Editor of Livingetc; she has a background in lifestyle and interior journalism and a passion for renovating small spaces. You'll usually find her attempting DIY, whether it's spray painting her whole kitchen, don't try that at home, or ever changing the wallpaper in her hallway. Livingetc has been such a huge inspiration and has influenced Hebe's style since she moved into her first rental and finally had a small amount of control over the decor and now loves being able to help others make decisions when decorating their own homes. Last year she moved from renting to owning her first teeny tiny Edwardian flat in London with her whippet Willow (who yes she chose to match her interiors...) and is already on the lookout for her next project.