LED lighting is probably the best way to illuminate a bathroom – and these 10 spaces prove it
Choose LED bathroom lighting ideas to highlight your space's best features, while also creating a flattering glow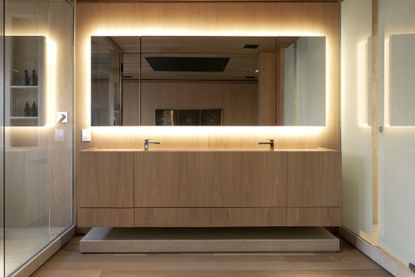 (Image credit: WF Arquitetos)
The Livingetc Newsletter
For style leaders and design lovers.
Thank you for signing up to LivingEtc. You will receive a verification email shortly.
There was a problem. Please refresh the page and try again.
LED bathroom lighting is not only a great way to create the perfect even illumination for your space, but it looks good and you're spoilt for choice when it comes to design options. This versatile, indirect lighting feature covers a range of fixtures that tcast everything from soft and warm to crisp and cool illumination, and can be used in a way that lets you play around with unique lighting schemes. From LED tapes, panels, and cans to spots and strips, you can easily use these for uplighting, downlighting, accent lighting, and more.
Not only are these lights highly functional, but also can be decorative, and help enhance the best features of the washroom. We asked top designers to help us understand ways to use LEDs effectively in bathroom lighting ideas. Here are some of the best ideas you could work with.
Aditi is an experienced homes writer and editor. She has written hundreds of articles for various international titles helping readers make the best home design choices, and spends her days interviewing interiors industry experts to bring the latest ideas to her readers. For this piece she spoke to the world's best designers to find out how to use LED lights effectively in the bathroom.
10 LED bathroom lighting ideas to try
1. Make the vanity the focal point with LED strips
Have a unique bathroom vanity and want to give it the starring role in your space's design scheme? Install LED lights behind the mirror, the cabinet, and under it, to give the entire unit a lovely, warm glow.
'The LED strip lights were used in the bathroom's ceiling and furnishing, fixed in the wood board,' says Beatriz Fujinaka, founder of WF Arquitetos. 'In this way we cannot see them, but only their effect. The idea was avoiding elements that cut the wood ceiling.'
These are best done by a professional while installing your bathroom, ensuring your LED lighting is on your lighting circuit for easy use, but for a DIY version, you can create this idea by using an LED tape. These are flexible circuit boards with attached LED chips that can be cut to size and are available in different levels of brightness. The strips have a self-adhesive backing, making them easy to install anywhere.
2. Use recessed lighting behind the mirror for flattering light
Another great way to add a soft, diffused glow is by adding an LED strip behind the bathroom mirror. What's interesting is that strip lights are moisture-resistant, which makes them a great choice for lighting a bathroom vanity that receives a lot of water, oil, or hand wash splashes.
LEDs are especially useful behind the vanity or mirror as they cast an even light, reducing or eliminating shadows on the face, helpful when shaving or applying makeup.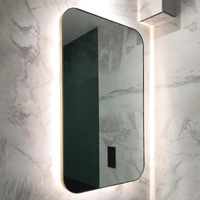 Quadris backlit mirror from 1st Dibs
This contemporary backlit rectangular mirror with round edges and a solid brushed brass frame is the ideal candidate for a moody bathroom interior.
3. Or install LEDS on mirrors for boosted functionality
While LED strips easily fit above or below a mirror or medicine cabinet, they can be integrated into a mirror to project directly onto the face.
What's also great about LEDs is that these can transition as night lights, to help avoid any accidents and falls. You can keep the bathroom mirror lighting switched off through the night without the harsh glare creeping into your room.
'This mirror was custom designed and fabricated to 'float' in front of a glass wall, allowing the bath to feel part of the natural surroundings,' says Nils Finne, founder of FINNE Architects. 'The steel frame contains two integral LED lighting strips on either side of the mirror.'
4. Create light from above with recessed LEDs
'LED spots are a great solution for the bathroom because they are functional and minimalistic,' say Alexander Ivasiv and Yuliya Tkachenko, founder of ater.architects who created this modern bathroom where LED lights have been recessed to create the effect of daylight creeping in from above. 'It is especially important to have comfortable lighting in the bathtub, which LED spots can provide. They dim well so that you can create a soft relaxing light for your bath. Or on the contrary, make the light as bright as possible for cleaning or makeup. Also, these lights do not attract unnecessary attention by blending in with the ceiling, which adds to the relaxed atmosphere.'
If you're so inclined, you could also embrace bathroom color by specifying color-changing LED tapes, helping you set the mood in the bathroom for different times of day. These can also transition from white to warm amber, much like the sunlight does as it cycles from day to evening, so you can have a different light for waking up in the morning to winding down for the night.
5. Highlight an architectural feature with recessed lights
LEDs can elevate an architectural feature or a decor element, and are especially useful as small bathroom lighting, adding much-needed drama to the space. These wonderfully frame an architectural element and bring it to life.
Most LED fixtures allow you to control the intensity of light, from dimming to changing the temperature of the light. This gives you the option of creating soft light during the day, and a bright, statement-making light at night.
'To highlight the woods wallpaper along with the wall arch, a shadow gap was created between the wallpaper and the cedar cladding,' says Caroline Shortt, director at Barc Architects. 'We added recessed LED strip light to create an ethereal, illuminated effect.'
6. Bring the materiality into focus with wall washing lights
When LED lights are hidden high above the ceiling, the light from above and the side cascade across the surface to change how we see and understand that surface. Every variation in texture and joint line on the surface is highlighted dramatically. We get a sense of how the wall was built and it gives structure to the spaces.
Use this technique to highlight your bathroom wall panels, tiles, or textural paint.
The beauty of these lights is that they can be tucked behind false ceilings or walls, letting you see the ambient glow but not its high-tech source, so these can suit traditional, farmhouse, or cottage-style homes as well.
7. Use an LED strip to give depth to a small bathroom
A great way to make a small bathroom feel larger with boosted dimensions is by highlighting its length or width, whichever is larger.
You can do so with LED strips that can run across the length or breadth of the space. If you have a long, narrow room, this is especially helpful. These throw a nice, soft glow across the room, making it feel relaxing, calm, and a breeze to spend time in.
Plus, as opposed to large fixtures like a bathroom chandelier or pendant that can overwhelm a small space, an LED strip will add subtle dimension and style to the place, plus look timeless.
'The reason for this choice of light was the fact that it was the most appropriate fitting for this space,' says Ferhan Azman, founder of Azman Architects. 'We would never propose a recessed or surface mounted fitting on a sloping soffit/ceiling.'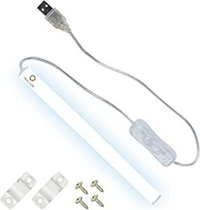 This low-profile light bar is the ideal energy-efficient lighting solution for under cabinet lights, bathroom walls, or ceilings.
8. Use LED lighting to illuminate shower niches
When people light their bathroom, they often overlook the importance of having good lighting in the shower. A great way to use LEDs is by highlighting the smallest nooks and alcoves in the space, adding functionality with a sparkle of style.
Consider adding strips or spots inside shower niches, to bring your best toiletries into focus. These lights can also act as wonderful accent lighting, especially if you have statement shower tiles that deserve some love and attention. Plus, by illuminating a frequently-used space, you don't need to switch on all the lights in the room while in use.
9. Use recessed lights to create a zen mood
LED lighting can be configured to suit different lighting wavelengths, intensities, and temperatures, allowing you to control the type of light it throws into an interior. By doing so, you can conjure different moods using this type of fixture.
'We chose these LEDs along the stairs because we needed dimmable lights to help create a very intimate and warm atmosphere around the bathtub,' says Lucía Soto, co-founder of Comite de Proyectos. 'With the soft and subtle illumination, we were able to design a room that allowed the dweller to feel zen and connect with himself in total relaxation.'
Remember, to create the most tranquil mood, choose warm lighting over cold, as layering warmer light is a more natural way to brighten your living space that easily transitions into night.
10. Give the bathroom a decorative touch with large spotlights
Backlit sconces are a wonderful choice for bathroom wall lighting because not only do they cast illumination in the space, brightening it up without making it look harsh, but also double as wall decor.
In fact, for these specific types of more decorative spots, instead of positioning them in the ceiling in a central grid, use them as accent or art features around the room.
Where should I put LED lights in my bathroom?
LEDs are ideal for indirect lighting, as they highlight subtle features, corners, nooks, or decoratives in the room while throwing a soft glow around. The most attractive and functional place to use LEDs is behind the bathroom mirrors. Not only will it act as a functional element but will also give the feature a decorative touch.
Another frequently used place for LED strips is around the perimeter of the bathroom or on the lower perimeter of the bathroom. This is especially useful in small bathroom layouts as the LEDs will give the room depth and dimension. It will also help you perform various tasks no matter the time of the day.
For style leaders and design lovers.
Aditi Sharma Maheshwari is an architecture and design journalist with over 10 years of experience. She's worked at some of the leading media houses in India such as Elle Decor, Houzz and Architectural Digest (Condé Nast). Till recently, she was a freelance writer for publications such as Architectural Digest US, House Beautiful, Stir World, Beautiful Homes India among others. In her spare time, she volunteers at animal shelters and other rescue organizations.