7 clever tricks designers use to conceal unsightly kitchen trash cans - 'they'll be an eyesore no more'
Hide your trash can with one of these clever tricks kitchen designers swear by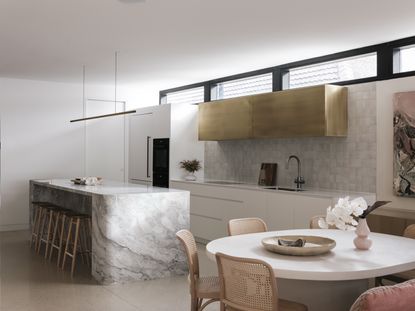 (Image credit: Tom Ferguson. Design: SJS Interior Design)
Let's face it, your kitchen trash can isn't the most glamorous of items, but neither does it have to be an eyesore. There are a range of styles you can get that will adhere to the wider aesthetic of the room, but no matter how beautiful this essential piece of furniture is, there really isn't any getting away from its unsightly function.
The best approach to dealing with this problem is to hide your trash can altogether, concealing the item behind doors or disguising it totally. With a little creativity and some strategic planning, you can effectively hide it while keeping it easily accessible for daily use. Here are five of my favorite ways to hide a trash can in your modern kitchen.
1. Conceal your kitchen trash can behind a cabinet door
A kitchen island is one of the optimal places to hide your kitchen trash can. Typically coming up to waist height, there is a lot of space that you can devote to concealing kitchen waste. A kitchen island is also prime for cabinet integration. 'This is always my first choice,' says New York-based interior designer Kristina LoMonaco. 'If you're in the process of planning your kitchen layout, consider integrating your trash can within your cabinetry. This discreet setup involves concealing the trash can behind a cabinet door or drawer.'
This design by blogger, stylist, and designer Emily Henderson is the perfect solution, with a T-bar kitchen handle that makes it easy to pull open. 'I spend so much time hanging out at this island (there are bar stools on the other side where people perch all day) mindlessly tidying anything that ends up in the sink as I chit-chat with guests,' explains Emily. 'So I love how visually simple it is with the hidden dishwasher and the trash bin compartment (instead of having a trash can against the island, hiding the special beautiful ebony-stained wood).
'We had trash bin and recycling compartments built-in with a side section to hold all the bags. There was enough room to put up a hook for a small brush and dustpan too.'
2. Go under the sink
In my own home, I have hidden my food waste trash can under the kitchen sink. It used to sit above the sink and on the window ledge, but this meant the waste was on full display and somewhat disrupting the view into the backyard. Placing it under the sink has opened up this window ledge space for a few plants instead, and means my waste bin is out of sight, out of mind.
What's more, under the sink is a convenient location - ideal for dishwasher access and making logical sense, reflecting the way I move around the kitchen and interact with the space.
It's also a part of the kitchen that gets underused, with pipes and plumbing meaning it's not a suitable place for food storage. It often means items like cleaning sprays and spare sponges get stowed away here, but it's also prime for your trash can.
Just be aware that the trash can here might have to be a bit of a smaller style - but if you get savvy with your recycling, you might find your food waste massively decreases. Win-win!
3. Disguise your bin altogether
Get creative with your trash can disguises and create or buy a decorative cover. 'If you're not amid a renovation or prefer not to make permanent changes to your kitchen, you can invest in a decorative option to cover existing trash can,' says Kristina.
'One kitchen trend I love is opting for a large woven basket with lid. It is a decorative yet stylish way to hide the unsightly fixture.'
'Not all utilitarian objects in your home need to feel like one,' agrees Genevieve Ghaleb. 'Disguising your trash in an elegant vase rich in color and pattern (think chinoiserie umbrella stand!) takes it from eye sore to kitchen décor!'
4. Add a mini curtain cover
Cafe curtains have taken off in a big way over the course of 2023. No longer are they only used as a smart window treatment, beautifully diffusing light as it enters the room, but they are also used to hide white goods and areas of a utility room or kitchen that are more on the unsightly side.
It brings a traditional, slightly farmhouse feel to your kitchen, but swap the material for something simple like plain neutral linen, and it can feel more minimalist. Basically, it's a super adaptable look and can be flexible to the aesthetic of your kitchen.
I love the look and they are super easy to DIY too. You just need a rod and two brackets to hook cleverly between two cabinets. Slide the curtain through the rod socket. Draw your curtains to conceal your trash can and enjoy the softness and texture it brings to the space.
5. Opt for a tilt trash can
Think about incorporating your trash can into your kitchen cabinet with a tilt that allows you to seamlessly pull your trash can out with ease.
This style works perfectly in a Shaker-style kitchen, and these sorts of disguises are typically made from wood, giving a rustic feel to your kitchen. They are super easy to use and work with your trash can stuck with adhesive to the door of the cabinet, meaning easy access.
6. Or try a garbage flap
For a minimalist kitchen, a garbage flap could also be a great solution to your waste bin woes. Although more synonymous with coffee shops, these cutouts in your counter can be used in a residential setting too.
This means you don't have to pull out the bin, merely access it through a hole in the counter. In this example by Tiffany Tcheng, a lifestyle photographer, DIY-er, and owner of the blog Abbott Abode, the flap is used to access a laundry chute, but the flap also works just as well with trash cans in the kitchen, keeping your trash out of sight and tucked away.
When picking your chute, match the hardware with the wider metals in your kitchen or the kitchen palette for a cohesive look.
7. Pick a stylish design
Ultimately, one of the best ways to hide your trash can is to make a virtue of a necessity. Ok, it's not necessarily concealing your bin, but rather embracing your trash can with a stylish design that almost hides in plain sight. By going for this look, the design dominates and almost forcing you to forget about the function.
'Freestanding stainless bins are a great idea,' says Kristina. 'While it may not be my first choice, freestanding stainless-steel bins with lids can work well to conceal your trash can. Though they have a more industrial kitchen aesthetic, they can be a practical solution for kitchens with a modern or minimalist style.'
The Livingetc newsletter is your shortcut to the now and the next in home design. Subscribe today to receive a stunning free 200-page book of the best homes from around the world.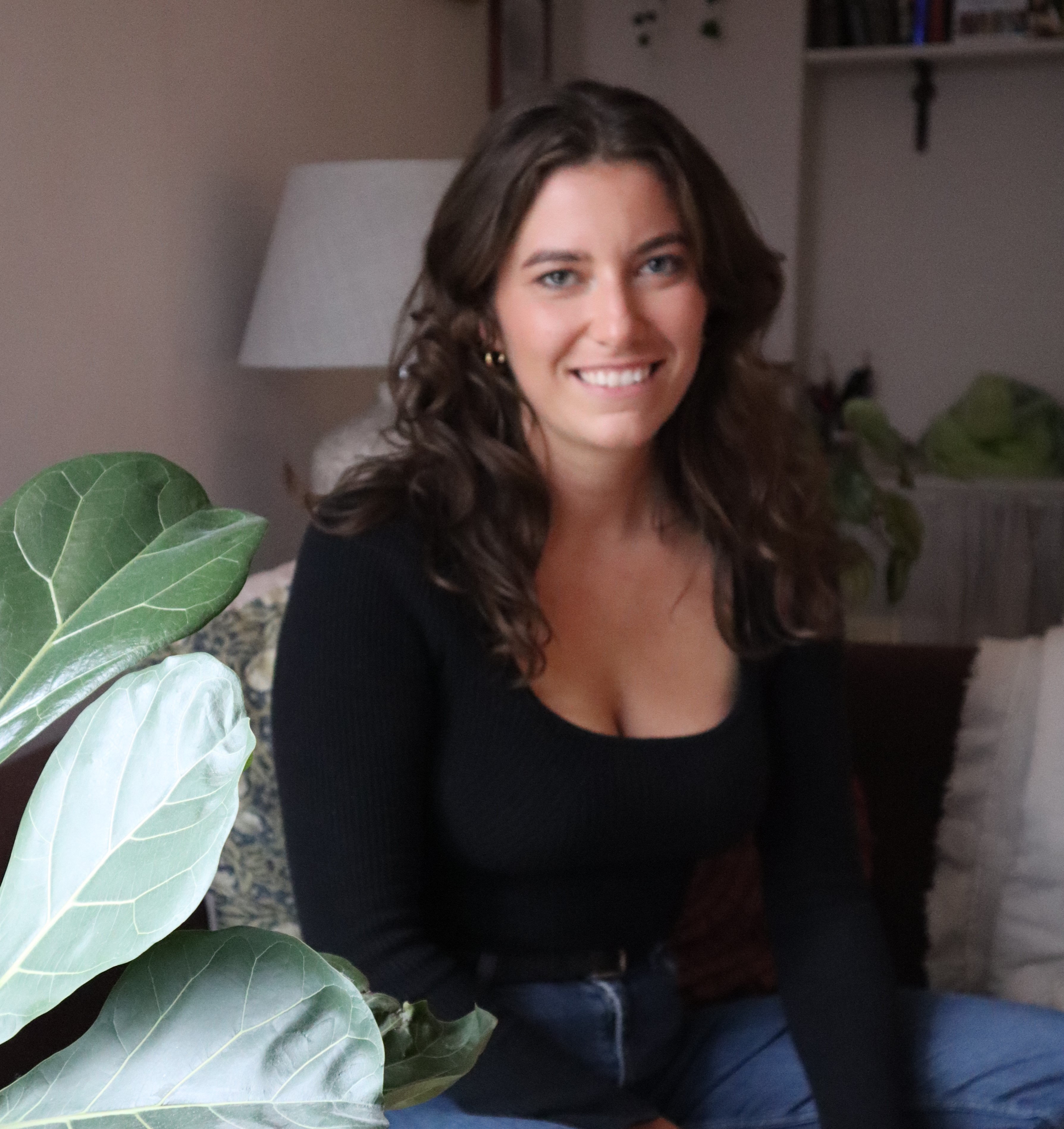 Livingetc content editor and design expert
Oonagh is a content editor at Livingetc.com and an expert at spotting the interior trends that are making waves in the design world. Writing a mix of everything and everything from home tours to news, long-form features to design idea pieces on the website, as well as frequently featured in the monthly print magazine, she's the go-to for design advice in the home. Previously, she worked on a London property title, producing long-read interiors features, style pages and conducting interviews with a range of famous faces from the UK interiors scene, from Kit Kemp to Robert Kime. In doing so, she has developed a keen interest in London's historical architecture and the city's distinct tastemakers paving the way in the world of interiors.