'It'll only take 10 minutes' - 6 kitchen tricks that people who are great at hosting do before guests come over
Designers and experts reveal their quick and easy ways to make your cooking and entertaining space an warm and inviting place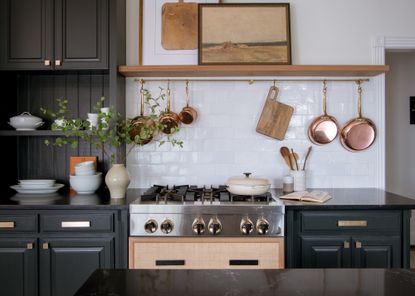 (Image credit: Urbanology Designs/Matti Gresham)
We've all had those times when friends or family say they're popping in - and you're not quite ready to receive guests. Or, you might simply have a busy lifestyle and are keen to find quick and easy ways to give your kitchen a spruce up. Either way, there's plenty of 10 minute tricks to make your kitchen feel more welcoming that are designer-approved and effective.
When it comes to modern kitchen ideas that feel cozy, it's often all about ambiance and the decorative details. We tapped the experts to reveal their secrets to a welcoming space below.
From plants and flowers to a reorganizing your open shelving, there are a number of tricks to make your kitchen feel more welcoming that can be done in 10 minutes or less.
1. Have a quick declutter
'Decluttering kitchen countertops is the secret to transforming your kitchen into an inviting and welcoming space,' says Michelle Urban, Founder, The Organized House. 'It's a very simple task that you can do in 10 minutes or less, and it will yield big results.'
So how do you approach a quick clear up? Michelle suggests: 'Start by clearing away items like excessive small appliances, stacks of untouched mail, kitchen gadgets that don't serve a functional purpose, and knick-knacks that accumulate over time. By removing these items, you'll create more space and a cleaner, more streamlined look in your kitchen.'

She continues: 'Another surefire way to make your kitchen a warm and inviting space is to declutter the outside of your refrigerator. Your refrigerator doors are prime real estate, making it a catch-all for miscellaneous items like school work, photos, calendars, holiday cards, take-out menus, reminder notes, and an abundant amount of magnets.
'But all of this becomes visual clutter, and too much clutter over-stimulates our brains and can cause unwanted stress. So, instead of loading up your refrigerator doors, use that space thoughtfully and display only two to three items.'
2. Display some artwork
Art, whether it's hung on a wall or simply leaning up against the wall on a kitchen countertop or open shelving, can create a talking point and add character and personality to the space.
'Artwork in any space should be considered, but especially in kitchens,' says Linda Hayslett, of LH. Designs.
'Most people think of this space as for just meals and food, but it's the heart of the home and where most families and people spend their time in even when not eating,' Linda adds. 'So, bringing in large pieces of art for a wall that's not in use by appliances or displaying smaller art and leaning them on the countertop or open shelving with utensils in front of them gives a sense of warmth can comfort.
And Helen Parker, Creative Director of deVOL Kitchens, agrees kitchen wall decor. 'The art does not need to be valuable, just interesting, well-executed and in keeping with the style of the room and the rest of the house,' she says. 'Using art as decoration in a kitchen further confirms the notion that kitchens are for living in, not just for working in. They are places to entertain and socialize and therefore they should be decorated and accessorized in the same way as the other rooms in your home. Art adds a very personal touch to a home and can cause intrigue and atmosphere in a way nothing else can.'
3. Get creative with a wall display
It doesn't have to be just artwork that hangs on the walls... Why not get creative and display a favorite plate collection, decorating walls with baskets or even make a feature from your chopping boards or utensils?
'If you collect cutting boards, baskets, spoons, coffee mugs or special plates, it's a great way to display them as pieces of art to bring joy all the time, instead of some of the time,' says Linda.
If you don't have time to hang something, simply style your chopping boards out on the countertop to create an organic, lived-in scene.
4. Give your open shelving a refresh
If you've got open kitchen shelving, give it a mini makeover or a quick refresh to give the kitchen some life and interest.
'Open shelving can be both practical and aesthetically pleasing in a kitchen,' says Devon Wegman, Design Director and Founder of Devon Grace Interiors.
'We often like to use it by coffee stations or in butler's pantries to create a beautifully styled space that's also functional and allow easy access to everyday items like mugs.'
So how do you go about styling them? Devon says: 'It's very easy for open shelves to look cluttered, so it's important to have some rules for the items stored on them.
'Typically we like to simplify materials, colors and textures so that things feel cohesive and intentional. For example, if dishes are going to be displayed, make sure they're all from a matching set and organized neatly. Or if it's a coffee station, choose mugs that double as accessories and add a beautiful touch to the space.
'It's also nice to incorporate some styled accessories to make the space feel more curated. We love to layer in plants to soften the shelves and add some earthy texture. Consider canisters or storage containers if you are planning to store food, coffee or tea on open shelves. They'll instantly make the space feel more sophisticated, welcoming and intentional.'
5. Put out a platter
Creating a simple platter for your guests will instantly make them feel welcome in your kitchen.
A little cheese, bread and grapes gives you something to share and gather round, and the display itself can look pleasing to the eye. Devon Wegman, of Devon Grace Interiors, created the pretty platter in the kitchen above and shows how it immediately adds life to the space while also making your guest feel you've made an effort on their behalf. Having one of the best large serving platters in your kitchen cabinets close at hand is perfect when you've only got a few minutes spare.
Price: $48.99
Material: Teak
6. Bring the outside in
Whether it's a vase of wildflowers, a display of branches, or a potted plant, greenery will instantly lift the space and make your kitchen feel more welcoming.
'Foliage and florals can be a great way to add an inviting freshness, a burst of color and layering to your kitchen,' says Clara Jung of Banner Day Interiors .
'An easy trick is to use a trio of vases of varying heights. Also remember that additional height can be brought in by way of taller branches. Sticking to more plant-based greenery usually means that the foliage will be longer lasting than just flowers. And don't forget about dried flowers!'
A potted plant on the kitchen countertop or a simple kitchen island centerpiece will always add ambiance and warmth,.
The Livingetc newsletter is your shortcut to the now and the next in home design. Subscribe today to receive a stunning free 200-page book of the best homes from around the world.
Ruth Doherty is a lifestyle journalist based in London. An experienced freelance digital writer and editor, she is known for covering everything from travel and interiors to fashion and beauty. She regularly contributes to Livingetc, Ideal Home and Homes & Gardens, as well as titles like Prima and Red. Outside of work, her biggest loves are endless cups of tea, almond croissants, shopping for clothes she doesn't need, and booking holidays she does.