Tour an artistic, bright and quirky New York Art Deco apartment
This skyscraper home in a New York Art Deco apartment may be a calm retreat from the bustling New York streets down below, but it's also full of verve and excitement, thanks to a very quirky take on design ideas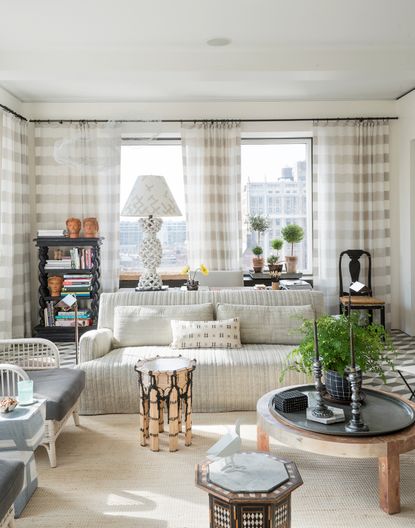 THE PROPERTY
An New York Art Deco apartment in a skyscraper, built in 1926, in Brooklyn Heights, New York. It has a hallway, open-plan kitchen-diner, living room/study area, utility room, master bedroom with en suite and walk-in closet, plus another bathroom.
See: More stunning modern homes for ultimate decor inspiration (opens in new tab)
LIVING ROOM
New York is a noisy city, but inside this 11th-floor Brooklyn apartment it's q-u-i-e-t. The sirens and cars below are silenced by the height and the views of Manhattan, New Jersey and the Statue of Liberty are spread in front of this living room like an estate agent's dream.
The home is filled with one-off pieces, such as these folding garden chairs (pictured below), which the home owner covered in yarn (each one has enough to stretch 45 miles and took two months to complete), and the steel table with shovels and a fork for legs.
A gem located in an Art Deco tower, the apartment had been converted from offices during the cowboy developing days of the Eighties, when logical layouts were an afterthought.To create a better sense of flow, architects MADE were hired, provided with just two references: a sample of a tessellated tile that was found in Miamiand images of glass walls. The tiles (opens in new tab) now cover the entire floor of the apartment and a glass wall has been added between the bedroom and dining room to bring in more light.
The interiors were done by Jane Schulak, founder of Culture Lab Detroit – a non-profit organisation that connects international designers with local talent in the city. She was able to help discover a mix of one-off pieces by makers from around the world, such as the console table with spades for legs, made in Paris. Her brief was that every room had to have something salvaged and something new.
It's this combination of quirky items and meticulous architecture that gives the apartment its sense of character and its sense of solidity. The renovation has given it new bones and a new heart.
The home owner created the oversized pencil (above) from a wood pole he found in the street and thencovered in 5,000 thumbtacks.
The TV is cleverly hidden inside a sliding bookcase – the bookcases slide away to reveal the wall-mounted TV hidden behind.
Meanwhile, the walls around the edge of the apartment have been thickened to create deep sills that can be used for display, turning what normally would be empty, unused space into something functional.
STUDY AREA
Located at the other end of the living room (opens in new tab) from the offbeat console table, this space has a bright, sunny aspect, ideal for domestic admin.
See Also: Striking Home Office Ideas
(opens in new tab)
DINING AREA
In the evenings, the sunsets are amazing. A pink haze comes all the way through and casts the whole place in golden light.
KITCHEN
The architects at MADE designed and built the kitchen cabinets (opens in new tab) and central island unit. The cabinets look like wood, but are, in fact, again made from the Richlite composite. It's really durable and has a beautiful softness. Black-painted wood just looks like black-painted wood, whereas this has a sense of mystery.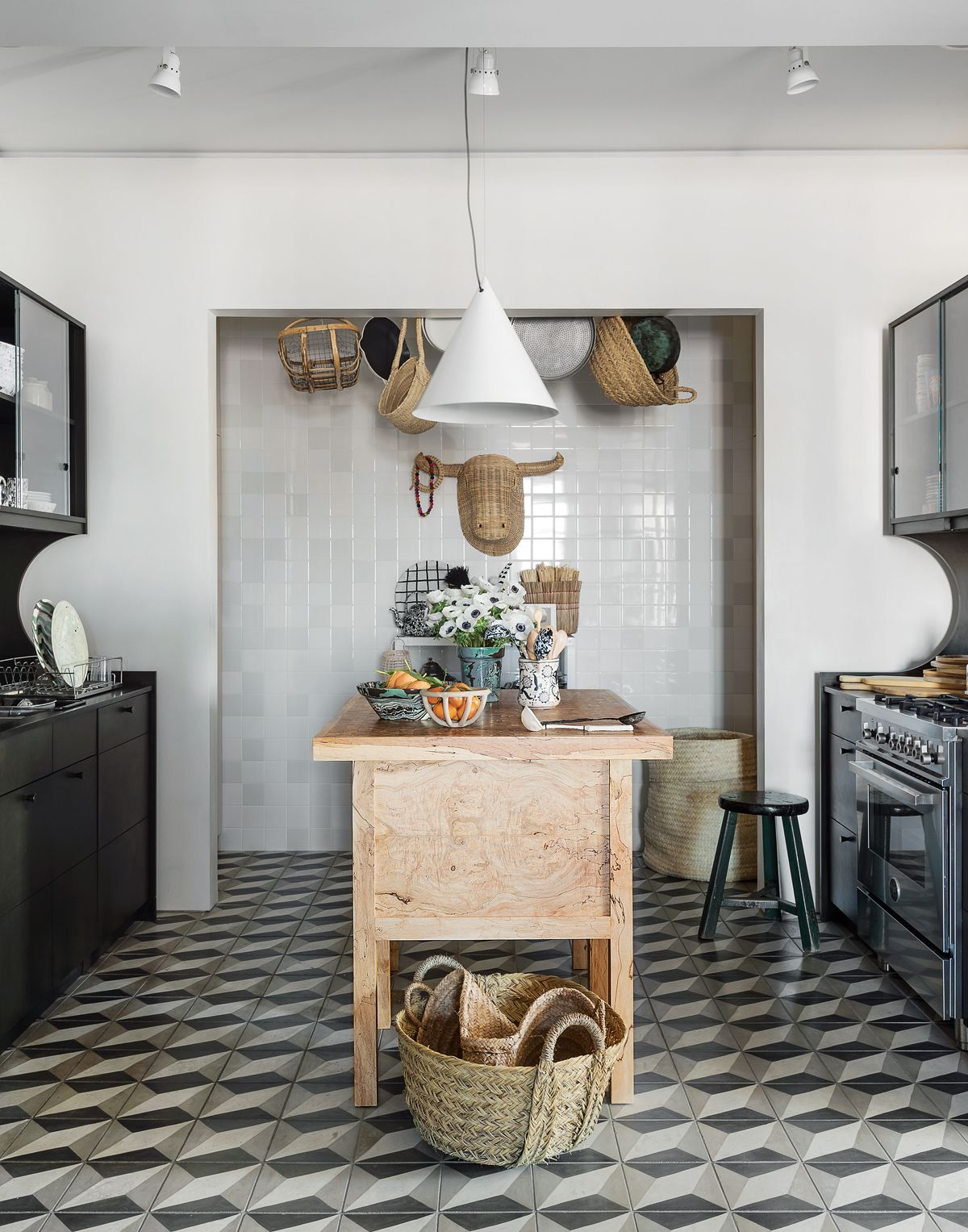 See Also: Modern kitchen cabinet ideas for a contemporary aesthetic
(opens in new tab)
BEDROOM
Jane Schulak found French artist Laurent Friesz of Farfelus Farfadets, who created this elegant cabinet using papier-mâché mouldings inspired by 18th-century interiors. The gessoed canvas on the wall is used to conceal the TV.
The Fifties chair in the bedroom came from a hotel in the Catskills.
The apartment is like the book in The NeverEnding Story. When you open it up, you discover all these beautiful things, like a fantasy. Some of this home's most eccentric pieces were created by the home owner, such as the matchstick chairs.
In a clever nod to the area, just beyond the glass partition, the shape of the pendant mirrors the look of the one above the dining table.
The glazed wall screens off both the en-suite bathroomand a dressing area beyond.
EN SUITE
Originally a cavernous room, this space has been transformed into a luxury walk-in bathroom with marble walls (opens in new tab) and a cast-cement basin.
See Also: Chic Marble Bathroom Ideas (opens in new tab)
View MADE's portfolio at made-nyc.com (opens in new tab); learn about Jane Schulak's design-advocacy group at culturelabdetroit.org (opens in new tab); discover David's events company at davidstarkdesign.com (opens in new tab); and find Migguel's artistic itinerary at migguelanggelo.com (opens in new tab)
Photography ⁄ Matthew Williams
Shining a spotlight on the now and the next in home design and decor, Livingetc is the UK's best selling high end and contemporary home design magazine. As a brand, Livingetc showcases the world's very best homes, breaks and makes the trends, and has access to leading international designers for insight and ideas. It was first published in 1998, and is currently edited by Pip Rich.