The Eames Lounge Chair: where to buy, how to style and all you need to know
The Eames Lounge chair design is a true mid-century masterpiece and interiors icon.We sit down and take a closer look at this cosseted design classic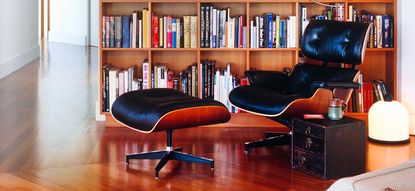 (Image credit: Alamy)
Conceived by legendary design power-couple Charles and Ray Eames, the Eames Lounge chair design is one of the most familiar pieces in modern design. It oozes 1960s James Bond chicness and raises the aesthetic of whichever room or space it graces.
THE EAMES LOUNGE CHAIR
Penned to be a modern take on the classic armchair concept, the Eames Lounge Chair was created to be, first and foremost, comfortable - and comfortable it certainly is.
With padded leather cushions and a curved plywood 'shell' it shot to stardom in the 1950s and 1960s as the item of furniture to recline in at home or, if you had one, in the office. A symbol of the era it was produced during, it is often associated with the James Bond style that was so awe-inspiring for people at the time.
Chic, suave and sophisticated; the Eames Lounge Chair is all of these things and more. The Eames Lounge Chair, a classic piece of mid-century modern furniture and also known by its product code 670, set new aesthetic and technical standards in the furniture industry. It was not only totally different looking to anything that had come before it, but it bounced into the spotlight as lighter and more modern than any other club chair design on offer at the time. Crucially it was also more relaxing to sit in and use. Thanks to these qualities it was warmly welcomed by design aficionados and those seeking a sleek new take on the traditional armchair.
Its popularity hasn't waned either, remaining a key bit of interiors kit for design fanatics and those that want to display inherently good taste with a design classic chair. Vitra, who now owns the rights to the design of the Eames Lounge Chair, has developed options on the plywood and leather colors available. With permission from the Eames Office you can now specify the leather seat cushions in a selection of colors, including: Black, Tan, White and Grey.
The bases and the outer plywood shell can be optioned differently too, if you want to deviate from the original Walnut shell and Black leather combination that the Eames Lounge Chair and Ottoman were first launched in. Additionally, there's a new larger version of the Eames Lounge Chair. Apparently we've been getting taller - humans that is - and the average human height has increased worldwide by nearly 10cm since Charles and Ray Eames first unveiled the Lounge Chair design. Same classic looks, just a bit larger. Both the classic and the slightly larger size are available to buy.
THE EAMES LOUNGE CHAIR AND OTTOMAN
Always sold separately, but recommended together, the Eames Lounge Chair 670 was partnered-up from day one of design with the Eames Ottoman, who's product code is somewhat unsurprisingly, code 671. The Eames Ottoman compliments the Eames Lounge Chair perfectly - ergonomically and stylistically.
WHEN WAS THE EAMES LOUNGE CHAIR AND OTTOMAN DESIGNED?
The Eames lounge chair and ottoman were designed in 1956 by Charles and Ray Eames, the duo behind such other iconic pieces as the Vitra Eames House Bird. The chair is said to be the first item of furniture they designed for the mid-to-higher end of the furniture market, having previously participated in the 1948 Low-Cost Furniture competition at MoMA.
WHAT THE EXPERTS SAY ABOUT THE EAMES LOUNGE CHAIR AND OTTOMAN
"Perhaps one of the most iconic mid-century pieces and certainly the most recognisable, we love pairing the Eames lounge chair with items spanning different centuries and styles for our interiors clients," says Juliet Owen, head of design at Pure White Lines. "Not only is it a design icon but it is extremely comfortable and perfect for a home office or a den. We have sold and provided many Vintage Eames chairs over the years and it is certainly a go-to piece for us and we always try to have vintage stock available for when we are working on client interior design projects."
"It is as much at home in a 5th Avenue apartment as it is in a retro-styled loft in Brooklyn," says Ludovic Aublanc, Creative Directive, Chaplins. "Its design language is one of comfort and classic materials — we think there's something so undeniably democratic in that! Better still, Vitra are always looking for ways to improve upon it. You can now shop the Eames Lounge Chair with olive-tanned leather — a process that saves tonnes of water and carbon compared to traditional modes of dying. If we had to sum it up in two quick sentences it's an icon that evolves and moves with the times. A classic you can feel confident that you'll love forever."
"The Eames Lounge chair is a stand-out classic design of the modern era, and using this design confers the values of modernity, credibility and quality on any interior. Often seen in modern interior design and warehouse conversions, the chair and matching footstool also suit more traditional architectural styles due to the rich materials used in its construction," says Daniel Aram, Managing Director, Aram. "Functionally, the angle of the sitting position offers excellent comfort making it ideal for hospitality settings such as club members' rooms, as well as corporate libraries for relaxed reading." -
HOW TO STYLE AN EAMES LOUNGE CHAIR
Style up your Eames Lounge Chair by creating a relaxing reading corner and placing a floor-standing reading lamp next to the chair. Contemporary reading lamps work particularly well and create an almost sanctuary-like scenario. The only issue will be staying awake.
Surround your Eames Chair with Scandi-style. The design looks great in a Scandinavian style interior with minimal fuss and clean lines.
Alternatively, draw upon the Eames Lounge Chair's mid-century roots and style with an uber-cool mid-century record player and stacks of records.
Is one even enough? Opt for double the dose of this design classic with two matching Eames Lounge Chairs side-by-side. Two Eames Lounge Chairs make a great alternative to a conventional two seater sofa. Think Joey and Chandler...but way more cool.
WHERE TO BUY AN EAMES LOUNGE CHAIR
Buy the Eames Lounge Chair from Chaplins from £5,165.00 here.
Buy the Eames Lounge Chair from Papillon from £4,770.00 here.
Buy the Eames Lounge Chair from Aram from £4,770.00 here.
The Livingetc newsletter is your shortcut to the now and the next in home design. Subscribe today to receive a stunning free 200-page book of the best homes from around the world.
Rory Alastair Robertson has a long-standing history working across the interiors industry. Raised in Morningside, Edinburgh, Rory grew up surrounded by classically grand Scottish Georgian and Victorian architecture.
His first appreciation for interior decoration sparked when his mother hired scaffolding and decorated their three-storey Victorian staircase in Farrow & Ball Picture Gallery Red, by herself. She then painstakingly gold leafed the drawing room - by hand - over a base coat of Sudbury Yellow. This was the era of Jocasta Innes and Kenneth Turner, when paint techniques and maximalist style were the decorating raison d'être.
With this inherited gene of creativity, Rory went on to study Interior Architecture at the University of Edinburgh, and later, Theatre Set Design and Architectural Illustration at The Rhode Island School of Design on America's East Coast.
Rory's foray with the editorial world started a decade ago at Livingetc magazine, a title which he regularly contributes to today. Specialising with a deep-seated appreciation for historical homes and interiors, Rory often travels far and wide to be inspired by unique properties with a fascinating history.
If he's not uncovering an unusual National Trust property in the UK, then he's seeking out a Neo-Classical clifftop villa in Capri or a Palazzo in Florence.
Based in London's Shoreditch, working as a Senior Interiors Editor and Consultant, Rory's portfolio of work is a creative melting pot of residential and commercial interior design projects and a plethora of editorial writing work. Rory is also Guest Interiors Lecturer at the prestigious KLC School of Interior Design in Chelsea, London. His most cosseted possession is a ramshackle Citroen Deux Chevaux, which he has reupholstered in Pierre Frey yellow and turquoise silk fabric.
Discover more at roryrobertson.co.uk and @rory_stylist.