Art Deco design - a complete guide to making this nostalgic look work for modern homes
Just as contemporary now as it was 100 years ago - Art Deco design is still infusing our interiors with it's joyful spirit. We breakdown how to get the look and make it work in your own home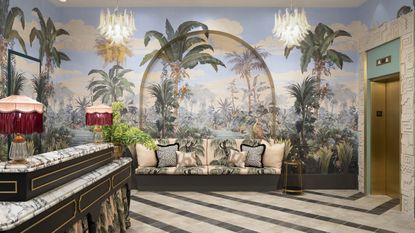 (Image credit: Good Time Miami)
Art Deco design is the perfect combination of modernism and fine craftsmanship. It is a style that came to flourish in the 1920s and is now taking precedence once again in the world of interiors. Inspired by the bold geometric forms of Cubism and the bright colors of the Fauves in Paris, Art Deco combines a sleek style with exquisite craftsmanship.
Given it's distinctive and bold aesthetic - exaggerated curves, playful forms and often sugary sweet pastel color palette it's a surprise Art Deco design has amassed such mainstream popularity in modern interior design - from 'serious' design aficionados to the more trend driven - its a design movement that is a leveller and appreciated by all in some form with influences that run a gamut of styles

A graceful detail on a contemporary armchair that catches our eye, a rippled surface on a glass cabinet that draws us in - or the ever popular crittal-style window or door, it is joyful but also serious - ornate but also minimal. So what are the cornerstones of art deco design and how can we get the look everyone is chasing?
What is Art Deco design?
1. A hedonistic approach
Perfectly summing up the spirit of Art Deco is the newly opened Good Time Hotel in Miami a collaboration between musician Pharell Williams and entrepreneur David Grutman. The hotel was designed to reflect the famed art deco architecture of the local area and "A reimagined art deco aesthetic to recall the opulence and nostalgia of a time gone by" says interior designer Ken Fulk.

In the hotel's restaurant and pool club Strawberry Moon rows of scalloped back chairs line a green bar with arched shelves and Art Deco pendant lights, echoing the thinking behind maximalism in interior design. Pastel tiling features throughout the hotel as well as pinstriped cabana's around the pool. Pale striped bedding and vintage drapes furnish the guest bedrooms alongside leopard-print benches and pink rotary dial phones.
2. Crittall Windows
The popularity of Crittall windows is modern interiors is undeniable - originally developed in 1884 by Essex ironmonger Francis Henry Crittall, they were first manufactured in the UK in 1889 and have been associated with Art Deco and Modernist movements in early 20th Century architecture. These delicate windows framed using steel which can be painted to stand out in beautiful hues have had a real resurgence in residential properties. They are used here to great effect as part of these modern kitchen ideas in deVOL's design, in an almost good enough to eat pistachio ice cream hue.
"Our windows have helped to define some of this country's best loved heritage buildings," says Russell Ager, Managing Director of Crittall Windows. "They are synonymous with the Art Deco period of the 1920s and 30s. Art Deco landmarks such as the Hoover Building and Battersea Power Station were designed with Crittall windows. In other projects such as Gateshead's Baltic Flour Mill, steel framed fenestration was added when the building was saved and sensitively re-designed as a major arts centre."


3. Exaggerated Curves
Once a trademark style in 1930's home - curved furniture is getting its second wind as we see defiantly Art- Deco shapes in exaggerated forms becoming a cornerstone of luxury in chic modern homes. Think plump ottomans and circular sofa backs and arms, coffee tables and bar carts with meandering lines and graceful silhouettes, being used in graceful living room ideas.
Curves imply relaxation, luxury and comfort and the contemporary version looks great in neutrals. Glorious in their graceful silhouettes the Hepworth collection of seating with beautiful rounded curves forms part of Living Etc's collaboration with Love Your Home. Perfect for nestling into on autumn evenings the design also delivers a strong, contemporary energy.
4. Mirrored Lighting
Art Deco lighting had its birthplace in Paris in the 1920s a period of great elegance, there was a feeling of prosperity and optimism and a huge demand for luxury items and home décor. The wealthy Parisians would engage the new professions of ensembliers, artists and interior decorators - and lighting began to become an important part of the complete design of a room. Mirrored lights embellished with geometric shapes and and clean symmetrical lines gave way to a bold new modern lighting look and became the the height of fashion - only to be seen again as one of the key lighting trends right now.

"When the First World War and flu pandemic ended, people took to the streets in conga lines, confetti was thrown and debutantes danced the Charleston," says Joanna Spindler from Graham and Green. "As we begin to emerge from Covid gloom, the spotlight is on razzle dazzle and all that glitters again. Think glitzy gold foil and brass finishes, strong architectural lines, soft velvet cocktail chairs and a barware collection fit for the 1920s jazz-filled clubs of Montmartre or the hedonistic nightclubs of Berlin."
5. Ornate Patterns
Art Deco patterns are characterised by trapezoidal, zigzagged and triangular shapes, chevron patterns, stepped forms, sweeping curves and sunburst motifs - all of which can be found in every form of Art Deco, from furniture and buildings to jewellery and fine art. These now appear regularly in wallpaper trends today.

"Art Deco was such an iconic period for design. Synonymous with glamour and luxury, one of the cornerstones of Art Deco design is bold geometrical pattern," says Jamie Watkins founder of Divine Savages. "When looking to add some 1920s flair to your home, focus on strong, symmetrical prints with vibrant, contrasting colours. Our Great Gatsby inspired Deco Martini wallpaper is our Divine Savages twist on the popular Art Deco fan motif, inspired by our favourite cocktail and perfect for adding a splash of the Roaring Twenties to your interior."
6. Nostalgic Pastel Hues
The economy was booming during the Roaring 20's and lively energetic colors began to symbolize the prosperity of the times. The Art Deco color palette spans deep greens and opulent purples with glints of gold - but one of the most recognizable color combinations are found in the sugary sweet palette that are front of mind in iconic pastel colored buildings with rounded edges seen in sunshine states from Miami to Mumbai - it's the art deco style that has helped us today to know the best colors to go with pink, for example.

Lick and Livingetc's Palette 01 Neo Deco paint collection brings a little of that warm and vibrant Miami mood into interiors with a color range that exudes excitement and joy. With a range of easy to use colours, the palette includes several blues with lovely pastel touches, a bright and bold yellow, and a grounding burgundy with depth and drama.
What Makes a Design Art Deco?
Art Deco, short for Arts Décoratifs, is characterized by rich colors, bold geometry, and decadent detail work. Having reached the height of its popularity in the 1920s, '30s, and '40s, the style still brings in glamour, luxury, and order with symmetrical designs in exuberant shapes.
How Would You Describe Art Deco?
The term Art Deco is used to describe a design style that originates around World War I, and runs through to World War II (c. 1915-1945). The style emphasizes surface embellishment, drawing heavily on the colors and styles of some of the early modern art movements, from Impressionism through Cubism.
The Livingetc newsletter is your shortcut to the now and the next in home design. Subscribe today to receive a stunning free 200-page book of the best homes from around the world.
Rohini Wahi is Content Editor for Livingetc Online. With a decade-long career in the interiors and design industry working as a journalist for premium lifestyle publications then delving deeper into the business as a trend forecaster, Rohini has amassed a wealth of global design knowledge that informs her work. She loves a period drama and keeps a tidy home.