Are wood burners bad for the environment?
Are wood burners bad for the environment? Experts look into their eco credentials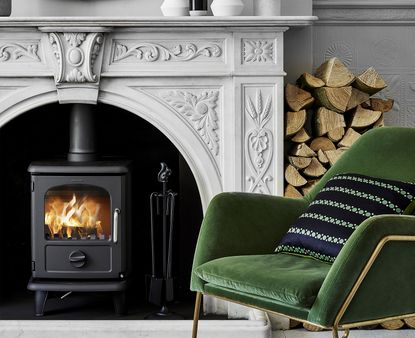 (Image credit: Morso)
Are wood burners bad for the environment? There has been a fair bit in the news recently about air quality, the environment and wood burning stoves, so to try and answer some of those questions, we have asked industry experts for their input.

When thinking about types of heating, it is important to say that some of the air pollution statistics that have been quoted in various articles are not only incorrect but they lump modern, clean burning stoves together with all sorts of domestic fuels, older appliances and open fires. With such a big subject to cover, it has become a bit of a minefield.
''The long and short of it is that some older wood-burning stoves and open fires are a contributing factor to poor air quality in cities and urban areas, particularly when burning coal and wet wood," says Cedric Wells of Charnwood Stoves. "Far from being the problem, modern Ecodesign-Ready stoves that carry the ClearSkies* mark (see below for further information) are a very different story and can actually be part of the solution."

Are wood burners bad for the environment?
Are wood burning stoves the biggest contributor of small particulate matter?
Wood burning stoves are not the biggest contributor of small particulate matter - this is a common misconception. At the root of this myth is a statement from DEFRA's Clean Air Strategy claiming that domestic combustion accounts for 38% of fine particulate matter. This number was based on a survey carried out by the UK government in 2015 which wrongly over-estimated the amount of wood being burnt in the UK in stoves and fireplaces.

A much bigger survey into sustainable living carried out in 2019 by the Stove Industry Alliance (SIA) showed the actual figure was less than a third of what the government quoted, making the percentage of PM.2.5 (Fine Particulate Matter) that could be attributed to domestic combustion closer to 13% and NOT 38%.

Subsequent figures recently published by DEFRA corollate with the SIA's findings, and if their new wood fuel volume figures were combined with the correct emission factors, the real percentage of PM2.5 attributable to domestic wood burning would be less than 10%.
In addition to this, the 38% figure was based on emissions from older stoves and open fires. It is proven that modern Ecodesign compliant wood-burning stoves produce 66% LESS emissions than these outdated appliances. Other sources of PM2.5 were also included in its overall estimation, including wildfires, bonfires, and incinerators which are unregulated sources of particulate matter and certainly not insignificant.
Do wood burning stoves create the same emissions as 18 diesel cars?
This misconception comes from test results interpreted by the Air Quality Expert Group (AQEG), but their comparison is extremely misleading and is similar to comparing apples with oranges.

Firstly, the comparison is between the appliances running at significantly different efficiency levels, measuring car exhaust emissions at an efficient run rate of 21mph and comparing them to all of the emissions at a full run rate for a stove. This completely ignores all the small particle emissions from the car's brakes and tyres, when frequently the emissions from a car's brakes and tyres are actually greater than the emissions from the exhaust pipe.
The difference in the dispersal point of particulate matter from wood burning stoves to cars is ignored completely. A car outputs its emissions at face level for a child and therefore there is very little dispersal before it is breathed in, whereas a wood burning stove sends its emissions out of the top of the chimney and there is considerable dispersal of emissions before they even reach human height - so no, wood burning stoves do not create the same emissions as 18 diesel cars.
Are wood burning stoves and fireplaces really bad for your health?
Chair of the Stove Industry Alliance (SIA), Morley Sage, explains why this is one of the more concerning misconceptions, and wood burning stoves and fireplaces are not all bad for your health. "This view fails to take into account the huge advances that have been made by the wood burning stove industry in recent years," Morley says. "Many critics of wood burning stoves base their assumptions on data linked to open fires, older stoves and poor-quality wood fuel. The SIA would be one of the first organisations to point out that burning wet wood on an open fire, a practice that is still very common today, is one of the least efficient and most highly polluting ways to heat your home. By stark contrast, a modern wood burning stove emits up to 90% less emissions than an open fire and up to 80% less than a stove that is 10 or more years old."
When considering wood burner ideas from 2022, all new wood-burning stoves must comply with the Clean Air Act no matter whether you live in the country or city. Also, the forthcoming 2022 Ecodesign Regulations (SIA Ecodesign Ready) has meant that for manufacturers to comply, they have to have developed ultra-clean burn technology in their appliances.
The SIA has also supported and initiated the launch of clearSkies*, an independent emissions and energy performance certification scheme for solid fuel stoves and fireplaces. Appliances that are certified under clearSkies will not only meet the performance levels set out under Ecodesign, but many also go a significant way beyond. Far from being the problem, modern wood burning stoves are actually the solution to a low carbon, sustainable future domestic heating strategy.
It's a similar situation in the USA with improved, safer and more efficient models being produced. To choose the best model you can, look for the EPA certification label on the back of the stove.
Can you install a wood burning stove yourself?
You should never attempt to install a wood burning stove yourself. You should always include a flue when the stove is installed for it to work at optimum levels and be safe. Davinder Sangha of Schiedel Chimney Systems explains 'If you haven't got a chimney, that's ok, but there must be an exit point. A safe termination point is 4.5m from the top of the appliance to the top of the chimney or flue. A flashing kit of wood, metal or brick should also be fitted at the exit point.
Scheidel offers two models, Celsius and Sirius, that have been produced by the same manufacturer as the chimney flue making them a perfect fit for each other. Sirius is a traditional steel stove but Celsius is formed from volcanic pumice, which is a natural insulator and allows the flue gases in the chimney to quickly reach peak temperature shortly after lighting, giving 84% more heat using less wood. Both stoves are DEFRA exempt and approved for use in Smoke Control Areas.
What is a DEFRA exempt stove?
These stoves offer controlled airflow and usually feature triple airflow systems that provide secondary burning of gas and smoke particles before these can go up the chimney.
'The result is not only a cleaner burn with clearer, barely visible smoke, but also much higher heating efficiency – requiring far less logs to heat the room,' says Michael Coke, Biomass Product Development Manager for Stovax & Gazco. 'As you would expect, these have been independently tested using the toughest methods to ensure soot and other particulate matter levels do not exceed the strictest limits.'
What can I do if I have an older stove?
Regular chimney sweeping is essential to keep any stove in good working order and to allow the free passage of dangerous combustion gases, and also to remove soot, bird's nests, cobwebs and any other blockages. It also removes creosote which will help prevent dangerous chimney fires. Make sure the fire is ventilated properly and invest in a carbon monoxide detector, and of course only burn seasoned or kiln-dried logs.
What wood burns best in a wood stove?
The best wood to burn in a wood stove is seasoned or kiln-dried wood. As we have already mentioned, wet or damp wood is dangerous for your health and releases damaging pollutants and particles into the air. The moisture content in wet wood also creates a lot of smoke and steam which means the wood burns at a much lower temperature and the fires often go out. It also produces tar and acidic residues which cause thick deposits to build up, making chimney fires a possibility.
Seasoned logs means they have had chance to dry out, or season, usually up to a year. Kiln-dried logs are just that, dried in a kiln, so they can be used straight away. Importantly, the lower the moisture content of your firewood, the more heat is produced as less energy is used to evaporate any remaining moisture. This means more heat for your room and less smoke and steam going up the chimney, which means cleaner air for everyone.
"Dry firewood is essential," says Declan Kingsley-Walsh of Morsø UK. "The logs should be cut to length appropriate to your stove size, split and stacked in a dry place, preferably undercover, but open on one side and raised from the ground, a pallet is a good base as it allows air to circulate. As a rule, firewood should sit for 1-2 years before being used. Ideally the wood you use should be kiln dried, however, any log used must have a maximum moisture content of 20%. The best wood for burning is Ash, Oak, Birch, Beech, Cherry and Sycamore."

How can I make a wood stove burn better?
Jon Butterworth of Arada Stoves suggests:
1. Make sure your stove is installed by a certified installer
2. Look for the Ready to Burn logo on log packaging and choose seasoned, dry wood
3. Choose sustainably sourced wood
4. Store logs in a dry area
5. Regularly clean and maintain your stove

6. Only open your stove door to restack your fire
7. Restack your fire with multiple logs to prevent multiple door openings
8. Burn at a high burn rate
9. Have your chimney swept every year

He continues 'you can burn fallen branches, felled trees or wood left from tree surgery work in your garden. However, store the wood until it is seasoned before burning. To check if it is seasoned, look for splits in the end grain, darkening colour and a hollow ring if banged together – these are all good indicators.
WOOD PELLET STOVES
Wood pellet stoves have become more popular in recent years as they convert biomass or wood pellet fuel, which is made up of recycled wood waste or sawdust, into heat, with very little smoke, helping the environment. When linked up to a biomass boiler, wood pellet stoves can be totally programmable and thermostatically controlled, unlike a wood burner. You can burn wood pellets in a standard wood-burning stove too.
A Renewable Heat Incentive (RHI) grant could be available to install a wood pellet stov, a bit like that available for air source heat pumps.
Alison Davidson is well-respected British interiors journalist, who has been the Homes Editor of Woman and Home magazine, and the Interiors Editor for House Beautiful. She regularly contributes to Livingetc, and many other titles, and often writes about kitchens, extensions, and decor ideas. She is the go-to for information about green energy, sustainable home improvement and eco design ideas.