Old meets new in this apartment in New York's East Village - a former community centre built in 1860
The owner of this loft-style apartment in New York's East Village mixes ancient and modern with timeworn pieces, design classics and his own abstract art...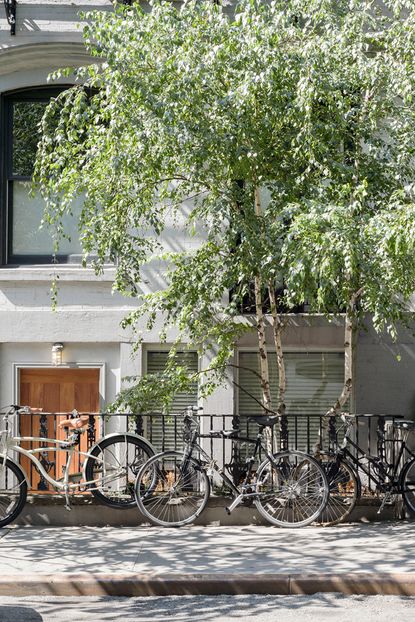 The property
A ground and basement level apartment in New York's East Village, part of a former community center, built circa 1860. The ground floor of this modern home has a kitchen-diner, living room, home office, studio, master bedroom with en suite and dressing room and two WCs. The basement has an atrium, library, TV area, viewing room, guest bedroom with en suite, utility room, shower room, WC and second office.
ATRIUM
When its artist owner bought it, this property was being used for storage. Thankfully he commissioned architect and friend, the late Nasser Ahari, to transform it into a home and art studio. Nasser opened up the main floor, anchoring the whole place around a central atrium.
Head down the stairs to the basement and the eight-meter-high atrium can be appreciated in all its grandeur. It took 'three very full years' for the project to be completed, during which time bricked-up windows were reopened and light wells sunk on the lower level. The ceiling was also lowered by 60cm to provide soundproofing and to house a complex lighting system.
The architecture is predominantly crisp and precise, but it's softened with rugged elements such as the cast-iron columns – painstakingly stripped of 20 layers of paint – exposed brick walls, original joists and the birch ply floor.
KITCHEN
The main living space on the ground floor, which includes the kitchen-diner, wraps around this well and offers tantalizing vistas of a cozy TV and library area below.
Exposed brick acts as a foil to the stainless-steel appliances and white cabinetry. The cedar island provides plenty of preparation space. From the kitchen, a pair of double doors leads to the owner's studio and office.
LIVING ROOM
Found objects make this place a home, such as the painted Afghani chest, which rub shoulders with heavyweight Danish designs.
Weathered timber pieces, such asthis bench, offset the pristine architecture. The art, which is mostly by the owner, echoes the predominantly monochrome theme.
On the floor are tribal rugs and cushions, which invite you to lounge and sprawl.
A low bookcase houses just part of the couple's vast book collection. On the wall hangs one of the owner's works, a complex painted collage.
Bathroom
The suite is clad in limestone slabs. The owners say it's like being in a boutique hotel.
Bedroom
The couple wanted this to be a sanctuary of stillness, so they didn't build any bookshelves. A weathered pot from New Mexico and a Ghanaian textile (on the bed) add a touch of color to the space.
See more of the owner's artwork at robertkellystudio.net (opens in new tab)
See Also: This modern Edwardian house in Melbourne is small but mighty
Shining a spotlight on the now and the next in home design and decor, Livingetc is the UK's best selling high end and contemporary home design magazine. As a brand, Livingetc showcases the world's very best homes, breaks and makes the trends, and has access to leading international designers for insight and ideas. It was first published in 1998, and is currently edited by Pip Rich.