Smart tech Christmas gifts: 23 ideas for the smart home enthusiast in your life
The best tech Christmas gifts to delight your loved one and upgrade your home all at once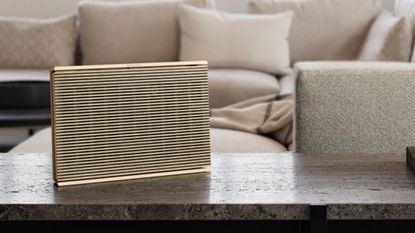 (Image credit: Bang & Olufsen)
It's almost gifting season and, if you're anything like us, you don't want to leave it to the last minute to think about what to buy for your loved ones. As smart speakers and other gadgets have become more and more popular present options every year, we have assembled what we think are the finest smart tech Christmas gifts to indulge in this year.
We've split the ideas below into handy categories based on budget, but our list includes everything from smart kitchen appliances and smart lighting, to home theatre must-haves and even some treats for your furry friends.
And we will be updating this list as the festive season gets underway, so check back when you're stuck for what to buy.
The best smart tech Christmas gifts in 2021
Tech Christmas gifts over £1,000
1. Samsung The Premiere 4K UHD Wireless Projector
Still not going to the cinema on date night like you used to? Well, if you fancy splashing out on bringing the big screen into your home, then the Samsung Premiere 4K projector is a great choice. It's pricey, but it offers up to a 120" screen, Ultra HD resolution, voice control and a super-bright 2,200-lumen picture. If you have a movie buff at home, this would make their year. And for more, you can check out our guide to the best projectors.
2. Bang & Olufsen BeoSound Level Portable Smart Speaker
A typically stylish speaker from Bang & Olufsen, the BeoSound Level adds Google Assistant to its list of features, packaged in a gorgeous gold (or grey) speaker that will look fantastic on a bookshelf, coffee table, or pretty much anywhere else.
3. Samsung The Frame Smart 4K LED TV
Despite more and more brands offering lifestyle TVs with features like Samsung's Ambient mode, The Frame is still arguably king of the concept. Available in a range of sizes between 43"-75", the 4K television is a brilliant addition to the home both when it's on and when it's off. Use it to display artwork from the Store, or family photos, when you're not watching.
Tech Christmas gifts under £1,000
4. Dyson Hot+Cool Formaldehyde HP09 Smart Air Purifier
This year's newest offering from Dyson, the HP09 Hot + Cool uses the same iconic design but with a few extra touches. Many will find the copper/gold metallic body more appealing than the traditional silver and, as well as working as a heater and fan, the air purification now covers formaldehyde. The ideal gift for when we're all more aware of what might be in our indoor air.
5. Sonos Arc soundbar
A top surround soundbar by any metric, the Sonos Arc is the ideal gift for those who wish their TV sound system was just a little bit (or a lot) better. With Dolby Atmos creating the illusion of a complete home theatre system, and both Google Assistant and Amazon Alexa built-in for voice control, you'll wonder how you lived without it. For more, take a look at our guide to the best soundbars.
Tech Christmas gifts under £300
6. Amazon Echo Studio smart speaker
Our choice for the best smart speaker available right now, we'd recommend the Amazon Echo Studio for those trying to decide which Alexa product to go for. That goes double if you don't want to sacrifice sound quality, with smart speakers gaining a reputation for lacking in this department, as the Studio sports Dolby Atmos and other audio-boosting tech for optimised listening.
7. Nanoleaf Elements Hexagon Starter Kit
The NanoLeaf Elements range allows you to get creative with your lighting, making a starter kit the perfect present. The set comes in the form of several panels that can be arranged however the user wants and mounted straight onto the wall for a striking art piece. The lights are also compatible with HomeKit, Alexa and Google Assistant.