12 best outdoor chaise lounges – and the best Memorial Day discounts on beautiful backyard loungers
When it comes to choosing an on-trend outdoor chaise lounge for 2023, take your pick from these modern, stylish designs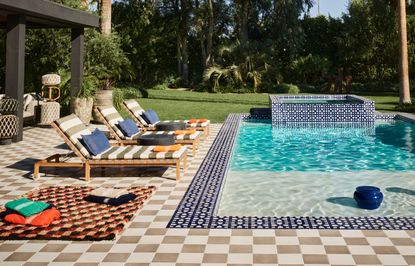 (Image credit: Lucas Interior)
If there's ever been a backyard design that's convinced me I need an outdoor chaise lounge, it's this one. This Palm Springs backyard, and former Livingetc magazine cover star, is a space that embraces color, pattern and texture in a unique and exciting way.
It also just so happens to encapsulate some of the biggest trends you'll find from the best outdoor furniture designers right now. Here's how to shop the look, and bring this joyful vibe to your own backyard by making a choice purchase of an outdoor chaise lounge.
Memorial Day deals
Save $135
Hearth & Hand outdoor chaise lounge
Save 35%
Pallisade outdoor chaise lounge
Save $50
Galpin Whisper Gray Lounger
Striped chaise lounges
$530
Blue stripes can sometimes read nautical - and a bit on the nose for an outdoor chaise lounge, given you often find them at the beach. This lounger's blue, bordering on teal, gives it a different feel, however.
$3,488
Newport outdoor wicker chaise lounge
While these loungers might blow your budget, there's no denying they'd bring some character to your backyard. With thick cushions and a sturdy frame, you just know this chaise is comfortable to use.
$724.97
This chaise lounge from CB2 might have retro-leanings, but it's a decidedly modern piece that will look at home in almost any type of backyard, even if you're considering a more minimalist style of design.
Colorful chaise lounges
$349.99
Lanai aqua outdoor chaise lounge
Bright blue and budget-friendly, this sun lounger combines an arched back with colorful mesh for a design that feels young, vibrant and fun, while ensuring it's comfortable to lie out on, too.
$760.75
Hay Pallisade lounge chair
Modern, minimalist, and with a carefully-considered and aesthetically-pleasing silhouette, this chaise longue design is an outdoor focal point rather than a lounger to wheel out of view when not in use.
$503.99 for two
Noble House Maddison outdoor chaise lounge
If you're going to embrace color in your backyard, you can't go wrong with orange. It's bright but has a natural quality, too, which will ensure it doesn't feel too alien. This burnt orange is a particularly stylish shade to try.
Bohemian chaise lounges
$171.34
Outsunny mesh outdoor lounger
Acacia is a go-to wood for outdoor furniture with character, and while it's often reserved for high-end backyards, this chaise lounge from Bed, Bath & Beyond means you can embrace this material even if you're on a budget.
$639.20
This teak chaise lounge may look like it has a stylish linen finish, but it's actually a clever polyester mesh that's quick to dry and breathable, helping you keep cooler when out in the sun.
$530
Amina acacia outdoor chaise lounge
Untreated timber will usually grey over time anyway, but this chaise lounge from Joss & Main has been white-washed already to tone down the orange-tone that acacia can often have.
What to look for in the best outdoor chaise lounges
Ensuring you source the best chaise lounges for your outdoor space depends a lot on how you plan to use your lounger:
Manoeuvrability: If you want the freedom to move your sun lounger around the pool or garden to follow the sun, then the best sun loungers for you are likely to be lightweight models with wheels for easy manoeuvring.
Storage: Despite being weather-resistant, you'll lengthen a sun lounger's longevity by storing it under cover during inclement weather. A wheeled sun lounger will make getting it to cover much easier, whilst stacking sun loungers can be placed one on top of the other to save on floor space and foldable sun loungers pack away neatly for the ultimate compact storage.
How low will you go: A true sun lounger will recline into a flat position so you can turn onto your front and catch the sun from all angles, but if you're not a sun-worshipper then some of the best-reclining chairs on our list can often be more versatile and comfortable for relaxing backwards.
After all, the optimal relaxation posture is suggested to be having your legs raised slightly above your heart, so a curved reclining seat or steamer chair can be an alternative well worth considering.
Poolside or garden: If you'll be using your sun lounger poolside where it's likely to get wet regularly, then the best sun loungers for you are likely to be models with plastic-coated fabric seating which offer the quickest-drying option.
A fabric seat will usually also have enough give in it to make it comfortable to lie on with just a towel rather than cushioned padding.
In the garden anything goes, but with most metal or wooden designs it's best to check if cushioned padding is included or available to buy separately for the maximum comfort.
Hugh is the Deputy Editor of Livingetc.com. From working on a number of home, design and property publications and websites, including Grand Designs, ICON and specialist kitchen and bathroom magazines, Hugh has developed a passion for modern architecture, impactful interiors and green homes. Whether moonlighting as an interior decorator for private clients or renovating the Victorian terrace in Essex where he lives (DIYing as much of the work as possible), you'll find that Hugh has an overarching fondness for luxurious minimalism, abstract shapes and all things beige. He's just finished a kitchen and garden renovation, and has eyes set on a bathroom makeover for 2023.