Best reed diffusers – 5 top buys for a fragranced home
The Livingetc guide on the best reed diffusers to buy in 2021. From Jo Malone to Noble Isle...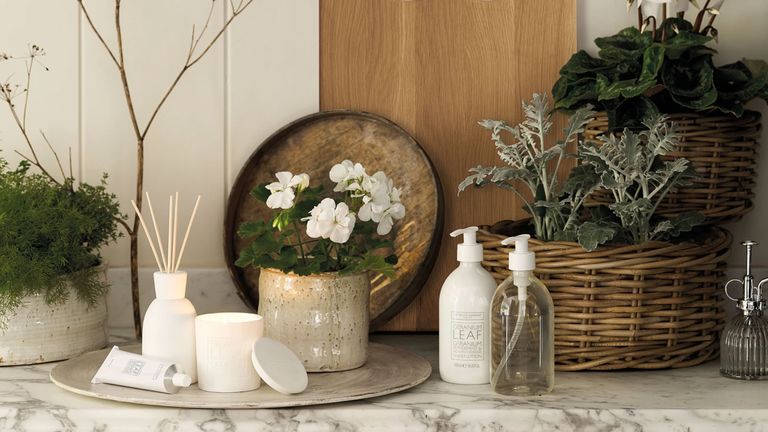 (Image credit: The White Company)
Searching for the best reed diffuser to display in your home, to flood your rooms with fragrance and create a sophisticated atmosphere? We have tried our fair share of reed diffusers and these five top picks below have been our favourites thus far – whether for masking smells, adding fragrance to the air or for display purposes. 
We've tried, tested and loved these reed diffusers everywhere including in a bedroom, inside a bathroom, in the living room and even in a hallway. It's safe to say that reed diffusers are impressive when it comes to emitting scent, and don't forget that you can control their strength to suit your preference or room size. Keep scrolling for our handpicked best reed diffusers guide for five sophisticated options.
Don't miss our best home fragrance guide for reed diffuser, candle, room spray and oil diffuser recommendations for a gorgeous scented home.
The best reed diffusers in 2021
1. Jo Malone Silk Blossom Reed Diffuser
The best floral reed diffuser
New in for spring 2021, Jo Malone's Silk Blossom diffuser is one that will definitely wow your senses. It will also be sure to look the part in your home, whether placed in a bedroom, living room or hallway. It should last for three to four months of use, requiring zero effort from your behalf except from occasional turning of the reeds.
This limited edition diffuser is wonderfully fragranced and is best for those who love floral scents – it has immediately strong notes of blossom. It's powerful but in a good sense, and it arrives housed in a classic Jo Malone glass vessel, with the unique addition of a translucent pink-tinted reed holder. This allows the reeds to sit elegantly in the vessel.
Jo Malone diffusers come with 10 rattan reeds – to allow scent to emit effortleessly. Use all of the reeds at once for optimal performance, though if you are planning on using this reed diffuser in a smaller space, or you prefer subtle smells, then definitely use fewer. We used this diffuser with just four reeds, which was plenty. This diffuser arrives beautifully packaged in a box so as to make a lovely gift.
2. Noble Isle Rhubarb Rhubarb! Fine Fragrance Reed Diffuser
The best sweet reed diffuser
This Noble Isle reed diffuser is definitely one of the best we've ever used – the scent completely fills a room, no matter its size. This reed diffuser has the power to mask smells and the scent is long lasting. 
With immediate notes of sweet rhubarb which is perfectly balanced with juniper berries and rosemary, this fragrance sits inside a sophisticated black glass vessel that you can display anywhere from a coffee table to a display shelf atop a desk.
This reed diffuser comes packaged inside a lovely gift box, and included you will also find 10 silk reeds. Use these accordingly, depending on the size of your space. What's more? This reed diffuser is also vegan and cruelty-free and it's made right here in the UK. 
3. Skandinavisk ØY Reed Diffuser
The best fresh reed diffuser
Specifications
Scent: Fresh
Size: 200ml
Longevity: Up to 12 weeks
If you are in search of a fresh smelling reed diffuser, perhaps for use in a kitchen, bathroom or a room in which is frequently used, then this Skandinavisk option would be our top pick. We own the matching candle and simply just cannot get enough of this scent. It should last for 12 weeks or longer, depending on how large the room it is placed in is.
Fresh smelling so as to rid your home of odours, the scent of this reed diffuser – ØY – is perfectly subtle while still managing to be noticeable. With notes of crabapple and dog rose, water mosses and green leaves. The word unique springs to mind. What else do we love when it comes to this reed diffuser? You can buy refills once it's finished, so you needn't buy the gorgeous blue glass vessel again.
The glass vessel the scent sits inside is made from partially recyclable materials and it's dishwasher-proof. Its wooden stopper is even FSC-certified and the packaging is eco-friendly and made from natural colour dyes. Included with this diffuser comes eight wooden scent sticks that are to be added or removed according to your room size – and how strong you like your home fragrance. 
4. The White Company Geranium Leaf Diffuser
The best herbal reed diffuser
This herbal reed diffuser from The White Company doesn't just look good, but it emits an impressive fragrance that's uplifting. It's a stylish way to scent your home, that's for sure. It will even last for three months (or more!) in your home, depending on how many reeds you use it along with.
The Geranium Leaf Diffuser obviously has notes of geranium, but also peppermint and Sicilian orange. The ultimate calm combination to add a little something different to the air in your home. It's also nice and subtle so it could be placed anywhere, from a bedroom to a kitchen. This fragrance is poured into a gorgeous white ceramic vessel, which is not only unobtrusive but it would look lovely on display.
This reed diffuser from The White Company arrives packaged inside a classic The White Company box, with five rattan reeds included. You can also buy a matching candle, hand wash, hand creme and more, should you be wowed by the blend of scents.
5. Anatomē Recovery + Sleep Reed Diffuser
The best reed diffuser for bedrooms
We use this reed diffuser in our bedroom, to lull us to sleep and create a calming atmosphere all day (and night) long. The scent is a blend of 22 essential oils and it's perfectly subtle so as not to disturb your snoozing – no matter how large or small your room is, it'll never come off as overpowering. Just don't place it too close to your bedside.
This Anatomē diffuser has notes of English Lavender, Somali Frankincense, Myrrh, Scots Pine and Sandalwood. You can also smell chamomile weaved in there, as well as a small amount of peppermint. It's certainly a unique blend that will leave you wanting more, and due to this fact – and its subtle nature – we suggest using it with all of the reeds that come included. Poured inside a glass vessel with black decals and blue labelling, there's no need to worry about it distracting eyes from the rest of your bedroom decor. 
Along with this, this fragrance is made from naturally sourced ingredients and it's vegan-friendly. It's also paraben and sulphate free. If it's a stronger scent you are after, turn the reeds weekly. It arrives inside a white box, ready to gift or unwrap yourself.
Why buy a reed diffuser?
A reed diffuser is a simple way to ensure your home smells nice all day every day – without any effort needed from you, that is. You can pop a reed diffuser inside any room of your home, whether that be a bathroom, a living room or a home office.
Unlike a candle or a room spray, reed diffusers do not require your help to emit fragrance, making them very convenient for busy homes. Pop the reeds in the fragrance and go about your day. If and when you would like a burst of scent, turn the reeds over. It's also worth remembering that a reed diffuser is much safer to use as oppose to a candle. Especially around children and pets if placed out of reach. You can also control how much fragrance is released from a reed diffuser, by adding or removing reeds, and the majority of reed diffusers are housed in beautiful vessels so as to make a design statement. Not just great smelling, clearly.
What to consider when buying a reed diffuser?
There are just a few things to consider when buying a reed diffuser for your home, beyond the scent and the look of the glass vessel. These are:
What size is your diffuser?
It goes without saying that the larger the reed diffuser, the longer it should last in your home. Anything over 100ml is sizeable, but obviously it's the bigger the better. 
What are the reeds made from?
We've found that wooden or thin reeds aren't the best option, as they prevent the diffuser from emitting as much fragrance. Opt for thicker reeds or ones that are made of rattan. This is also a sign of a high-quality reed diffuser.
How many reeds come included?
A reed diffuser that only comes with five reeds may not be the best for larger homes or rooms. With this in mind, it would be beneficial to opt for a diffuser with five or more reeds included, and you can always take some out should the fragrance be too strong. 
Can you buy refills?
This is important if you've set your eye on a diffuser that is a high price, as it means you need only buy the diffuser once and after it's finished, you can simply buy a (more affordable) refill. This also makes for less waste.
Annie is the UK Shopping Editor at Livingetc, with the majority of her time spent advising you on what to buy for your home – whatever the season, or the latest trend. Whether that be a design classic floor lamp for your cinema room, a comfortable new chair for your home office, or a high-quality exercise bike for your home gym. She's also our fitness guru, with hands-on experience with some of the best home gym equipment around. Otherwise, you can find her forever painting the walls and reorganising the furniture inside her modern London flat, or going on long walks with her pug.