Best reed diffusers – 8 scented buys for emanating fragrance
The Livingetc guide on the best reed diffusers to scent your home for autumn and winter 2021 – and beyond...
Included in this guide:
1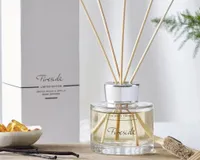 The
White Company's Fireside Diffuser
2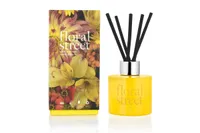 Floral
Street's Vanilla Bloom Reed Diffuser
3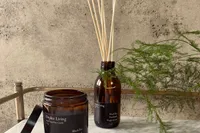 Orphic
Living's Black Tea, Patchouli, Peppercorn Scented Reed Diffuser
4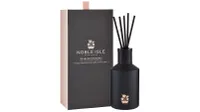 Noble
Isle's Rhubarb Rhubarb! Fine Fragrance Reed Diffuser
5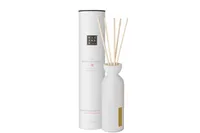 Rituals'
The Ritual of Sakura Mini Fragrance Sticks
6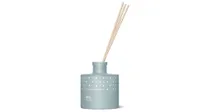 Skandinavisk's
ØY Reed Diffuser
7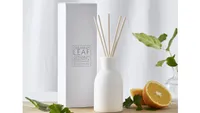 The
White Company's Geranium Leaf Diffuser
8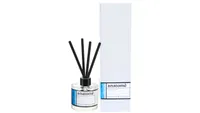 Anatomē's
Recovery + Sleep Reed Diffuser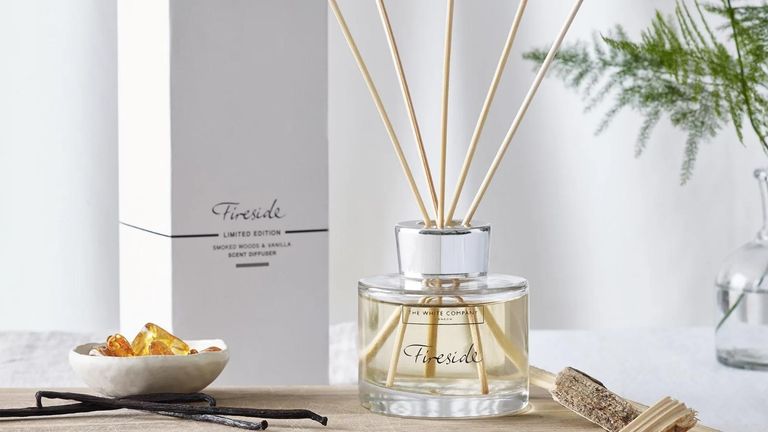 (Image credit: The White Company)
Searching for the best reed diffuser to emanate scent in your home – and to compliment your interiors? We've tried, tested and loved a range of reed diffusers, from classic floral scents to spicy fragrances for autumn and winter, plus fresh diffusers and more. The result? We've compiled a list of the very best buys on the market, which includes 8 handpicked buys from a myriad of brands, everywhere from Floral Street to Rituals, Noble Isle, Skandinavisk – plus more.
A reed diffuser is a safe way to permeate fragrance into the air inside your home. This method is preferred by many over candles, mostly because it doesn't require a strike of a match, but also because it is controllable. You can add and remove reeds to your fragrance so as to suit your room size, and flip these reeds for a scent boost before guests arrive – or post clean.
Reed diffusers are a testament of effortless home scenting since you need only place them on a surface and enjoy until empty. There's also no need to keep an eye on them whilst they are doing their job. Michelle Feeney, founder of Floral Street, says "Scenting your spaces can make you feel good about life, by creating the right atmosphere to reflect how you want to feel". And we couldn't agree more. Our penchant for reed diffusers also stems from the fact most fragrances arrive housed inside punchy, sumptuous vessels. Not only to flood your home with scent, but to make a design statement whilst doing so.
Find our best reed diffusers guide below, and get buying in time for autumn and winter. We've listed our most warming and comforting recommendations first, so as to ensure the scent of your home matches the season.
Don't miss our best home fragrance guide for reed diffuser, candle, room spray and oil diffuser recommendations for a gorgeous scented home.
How to get the most out of your reed diffuser?
Before we begin rounding up the best reed diffuser out there, there are a few things you'll need to take note of, for when it comes to looking after your reed diffuser.
Firstly, you'll want to start with fewer sticks, and add them as you require. Don't pop all of the reeds in that come with the fragrance at once, or you might end up with a very overpowering fragrance. The amount of reeds you will want to use will depend on the size of the room it will sit inside, as well as how airy said room is.
Reed diffusers usually prefer to sit in the middle of a room. Selected reed diffusers can be placed pretty much anywhere, although we always recommend placing a reed diffuser as close to the centre of a room that you can. This way, the scent will aim to wane its fragrance around the entire room, without missing a corner.
You'll want to flip the reeds in your diffuser once every three or four days, depending on how fragranced it is. Otherwise, as a rule, you can just flip them every time they begin to stop smelling.
Last but not least, selected reed diffusers prefer warmer rooms. So, if yours isn't doing its job and you can't smell it, then try moving it around your home until you find somewhere it works. Don't give up as it'll be worth it in the end.
The best reed diffusers in 2021
The best reed diffuser for autumn
The White Company's Fireside Diffuser
Searching for a warming reed diffuser to see you into autumn? Add The White Company's Fireside scent to your basket and thank us later. This fragrance will conjure up a welcoming atmosphere in your home, to take your interior from feeling happy and warm from summer, to cosy and welcoming – ready for autumn and winter 2021. Emanating an immediate scent as soon as the reeds touch the fragrance liquid, this diffuser is irresistibly impressive.
No fireplace? No problem thanks to Fireside, AKA The White Company's gorgeous autumnal reed diffuser. With woody and warm notes of birch and amber, place this alluring scent inside your most cosiest room – a bedroom or living room – and wait for it to waft under your nose. It'll have you thinking a roaring fire is beside you, without the bother to light or the need to sweep twice a year. Plus, it's a lot safer than a fireplace – and a tad smaller. This fragrance has the ability to flood a room, no matter its size, and we obviously recommend flipping your reeds regularly.
Sitting inside a classic The White Company glass vessel, Fireside comes in a 150ml size – to last approximately 3 months. Rattan reeds come included and it arrives in a gorgeous box making it gift-worthy. We recommend moving this reed diffuser around a room during the day, to ensure it permeates its to-die-for scent in each and every corner of your room. Otherwise, the centre of the room is always the best place to perch a reed diffuser.
The best uplifting reed diffuser
Floral Street's Vanilla Bloom Reed Diffuser
Specifications
Scent: Vanilla
Size: 100ml
The uplifting aroma of Floral Street's Vanilla Bloom reed diffuser is one that has the power to turn a room from drab-looking to fab smelling. It can immediately lighten an otherwise tired looking space, whether that be a bathroom that's in need of some new tiles, a bedroom that needs a fresh lick of paint or an overused living room. Plus, its bright yellow design ought to add a happy pop of colour to a console table or surface.
Scented with vanilla beans, liquid musks and crisp amber for warmth, and balanced with juicy plums for good measure, this scent is undeniably delicate. It also emanates a distinctive scent your nose will enjoy – and your guests will comment on.
Housed inside a bright yellow vessel as a sign for what's to come from this fragrance, it scents the air with its thick black reeds. Five reeds come included, but add as you wish to suit your room size. This reed diffuser is also cruelty-free and created using sustainably sourced ingredients – plus, it comes in gorgeous recyclable packaging. An important bonus!
The best spicy reed diffuser
Orphic Living's Black Tea, Patchouli, Peppercorn Scented Reed Diffuser
This handmade reed diffuser from small business Orphic Living is the perfect spicy scent to see you through autumn and winter. It's super fragranced yet comforting, and it also makes a lovely gift idea. It's definitely best for smaller rooms – a bathroom, hallway or spare bedroom.
The scent of this reed diffuser is certainly punchy – black tea, patchouli and peppercorn mix together to create a unique fragrance. It's an alluring blend of fresh and spicy, with a definite nod to the colder months in the year. We think it's perfect for use in your home from October onwards.
Housed inside a gorgeous amber glass bottle and adorned with rattan reeds, this sumptuous reed diffuser arrives inside an on-brand box, ready to gift. We recommend flipping the reeds in this diffuser quite frequently, to emit a scent and flood your rooms with its gorgeous scent. Also, its fragrance lasts a surprisingly long time.
The best sweet reed diffuser
Noble Isle's Rhubarb Rhubarb! Fine Fragrance Reed Diffuser
This Noble Isle reed diffuser is definitely one of the best we've ever used – the scent completely fills a room, no matter its size. This reed diffuser has the power to mask smells and the scent is long lasting.
With immediate notes of sweet rhubarb which is perfectly balanced with juniper berries and rosemary, this fragrance sits inside a sophisticated black glass vessel that you can display anywhere from a coffee table to a display shelf atop a desk.
This reed diffuser comes packaged inside a lovely gift box, and included you will also find 10 silk reeds. Use these accordingly, depending on the size of your space. What's more? This reed diffuser is also vegan and cruelty-free and it's made right here in the UK.
The best oriental reed diffuser
Rituals' The Ritual of Sakura Mini Fragrance Sticks
Specifications
Scent: Floral/Oriental
Size: 70ml
Rituals' Sakura reed diffuser is understated and eccentric, with sweet and creamy notes. It might be small in size (70ml) but rest assured it makes up for it in fragrance power. It can scent a large room, plus it looks the part in an elegant white vessel.
The Rituals Sakura scent is made using a blend of rice milk and cherry blossom – its creamy at first whiff, but with a sweet aftermath. It's undoubtedly a happy scent, but also nice and subtle at the same time so as not to overpower a room. We say to place this diffuser in the middle of a living room, or in a hallway to flood your rooms subtly with scent. Alternatively, it works well in a toilet.
This fragrance lives inside the new-look Rituals reed diffuser vessel, which is white, ribbed and constructed of recyclable glass. With it comes a number of reeds so that you can tailor this fragrance's vibrancy to suit your room size. They say that Rituals' reed diffusers are made so that you needn't spin the reeds, and although it's fragranced, we do recommend flipping them before guests are coming over – or whenever want a boost. Once this reed diffuser becomes empty, you can buy a large refill bottle to top it up whenever is needed. Sorted.
The best fresh reed diffuser
Skandinavisk's ØY Reed Diffuser
If you are in search of a fresh smelling reed diffuser, perhaps for use in a kitchen, bathroom or a room in which is frequently used, then this Skandinavisk option would be our top pick. We own the matching candle and simply just cannot get enough of this scent. It should last for 12 weeks or longer, depending on how large the room it is placed in is.
Fresh smelling so as to rid your home of odours, the scent of this reed diffuser – ØY – is perfectly subtle while still managing to be noticeable. With notes of crabapple and dog rose, water mosses and green leaves. The word unique springs to mind. What else do we love when it comes to this reed diffuser? You can buy refills once it's finished, so you needn't buy the gorgeous blue glass vessel again.
The glass vessel the scent sits inside is made from partially recyclable materials and it's dishwasher-proof. Its wooden stopper is even FSC-certified and the packaging is eco-friendly and made from natural colour dyes. Included with this diffuser comes eight wooden scent sticks that are to be added or removed according to your room size – and how strong you like your home fragrance.
The best herbal reed diffuser
The White Company's Geranium Leaf Diffuser
The best herbal reed diffuser
This herbal reed diffuser from The White Company doesn't just look good, but it emits an impressive fragrance that's uplifting. It's a stylish way to scent your home, that's for sure. It will even last for three months (or more!) in your home, depending on how many reeds you use it along with.
The Geranium Leaf Diffuser obviously has notes of geranium, but also peppermint and Sicilian orange. The ultimate calm combination to add a little something different to the air in your home. It's also nice and subtle so it could be placed anywhere, from a bedroom to a kitchen. This fragrance is poured into a gorgeous white ceramic vessel, which is not only unobtrusive but it would look lovely on display.
This reed diffuser from The White Company arrives packaged inside a classic The White Company box, with five rattan reeds included. You can also buy a matching candle, hand wash, hand creme and more, should you be wowed by the blend of scents.
The best reed diffuser for bedrooms
Anatomē's Recovery + Sleep Reed Diffuser
We use this reed diffuser in our bedroom, to lull us to sleep and create a calming atmosphere all day (and night) long. The scent is a blend of 22 essential oils and it's perfectly subtle so as not to disturb your snoozing – no matter how large or small your room is, it'll never come off as overpowering. Just don't place it too close to your bedside.
This Anatomē diffuser has notes of English Lavender, Somali Frankincense, Myrrh, Scots Pine and Sandalwood. You can also smell chamomile weaved in there, as well as a small amount of peppermint. It's certainly a unique blend that will leave you wanting more, and due to this fact – and its subtle nature – we suggest using it with all of the reeds that come included. Poured inside a glass vessel with black decals and blue labelling, there's no need to worry about it distracting eyes from the rest of your bedroom decor.
Along with this, this fragrance is made from naturally sourced ingredients and it's vegan-friendly. It's also paraben and sulphate free. If it's a stronger scent you are after, turn the reeds weekly. It arrives inside a white box, ready to gift or unwrap yourself.
---
What to consider when buying a reed diffuser?
There are just a few things to consider when buying a reed diffuser for your home, beyond the scent and the look of the glass vessel. These are:
What size is your diffuser?
It goes without saying that the larger the reed diffuser, the longer it should last in your home. Anything over 100ml is sizeable, but obviously it's the bigger the better.
What are the reeds made from?
We've found that wooden or thin reeds aren't the best option, as they prevent the diffuser from emitting as much fragrance. Opt for thicker reeds or ones that are made of rattan. This is also a sign of a high-quality reed diffuser.
How many reeds come included?
A reed diffuser that only comes with five reeds may not be the best for larger homes or rooms. With this in mind, it would be beneficial to opt for a diffuser with five or more reeds included, and you can always take some out should the fragrance be too strong.
Can you buy refills?
This is important if you've set your eye on a diffuser that is a high price, as it means you need only buy the diffuser once and after it's finished, you can simply buy a (more affordable) refill. This also makes for less waste.
Annie is the UK Shopping Editor at Livingetc, with the majority of her time spent advising you on what to buy for your home – whatever the season, or the latest trend. Whether that be a design classic floor lamp for your cinema room, a comfortable new chair for your home office, or a high-quality exercise bike for your home gym. She's also our fitness guru, with hands-on experience with some of the best home gym equipment around. Otherwise, you can find her forever painting the walls and reorganising the furniture inside her modern London flat, or going on long walks with her pug.