The best kitchen knives: 6 kitchen knives to sharpen your cooking skills
The best kitchen knives will slice and dice all your ingredients in less time, making food-prep and cooking a breeze. See our pick of the best for carving and paring, in all types and sizes.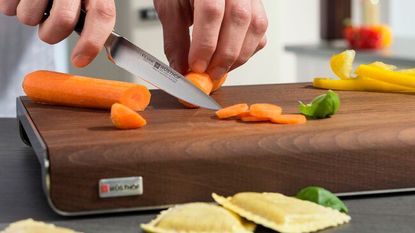 (Image credit: Wusthof)
Whether you're an amateur or seasoned cook, the best kitchen knives are a trusted essential to transform the way you prepare food at mealtimes. The best knife will be sharp so it can easily tackle specific cooking needs. In addition, quality kitchen knives can seriously reduce the amount of prepping-time, making slicing and dicing foods quick and easy. Which also means you will no longer have the hassle of using and sharpening blunt knives.
Far from being a basic tool, kitchen knives have evolved to become much more versatile. Nowadays, they come in different shapes, sizes and styles, and all serve a different purpose. The best knives also vary in price and can be expensive, so it's important to find the right one to suit your lifestyle and get value for money.
We've found some great knives that are best for carving, bread or everyday tasks.
Read our useful guide to find the best kitchen knife for all your culinary needs.
The best kitchen knives
Why you can trust Livingetc Our expert reviewers spend hours testing and comparing products and services so you can choose the best for you. Find out more about how we test.
1. VICTORINOX FIBROX PRO CHEF'S KNIFE
Best for home chefs: designed to handle everyday tasks in the kitchen
Specifications
Type: : Chef's knife
Dimesnions: 8-inch
Material: Stainless steel
Sizes available:: 5
Reasons to buy
+
Fit for all tasks
+
Swiss-quality
+
Laser-tested blade
+
Dishwasher safe
If you're after a versatile knife that you can use on a day-to-day basis with professional results, the Victorinox Fibrox Pro Chef's Knife is a great pick. Here's everything you need to know:
Laser-tested blade
Whether it's for big or small chopping tasks, this is a versatile knife with a professional finish. It's razor sharp, laser-tested blade forms an exacting angle, which is ideal for mincing, slicing, and dicing ingredients in minutes.
Easy handling
This features an ergonomic handle made from thermoplastic Elastomer (TPE), designed to provide a more secure grip for easy handling. This is also non-slip which is convenient for when your hands are wet.
2. Wusthof CLASSIC Paring Knife
Best mini knife: this mini cook's knife makes light work of chopping those smaller ingredients and vegetables
Specifications
Type: : Paring knife
Dimensions:: 4-inch
Material: : High carbon stainless steel
Sizes available:: 1
Reasons to buy
+
Blade is 20% sharper than other models
+
Easy to use
+
Looks attractive
If you spend your time in the kitchen chopping vegetables or mincing those smaller ingredients, the Wusthof CLASSIC Paring Knife is sharp enough to do the job in no time. Here's why we love it:
Rounded and straight-edge precision blade
This knife is designed with both a rounded and straight-edge blade surface. Making it the ideal tool for crushing garlic, slicing vegetables and easily scooping up to transfer to a bowl or pot.
Light to use
Unlike most quality knives that are heavy to handle, this knife is light and comfortable to use. Plus, don't be fooled by its small stature too, as it is strong and durable.
3. SHUN UTILITY KNIFE CLASSIC SERIES
Best multi-purpose knife: for tackling just about any cooking task and cutting down on prepping time
Specifications
Type: : Utility knife
Dimensions: 6-inch
Material: : Damascus Clad ebony/stainless steel
Sizes available:: 1
Reasons to buy
+
Great for slicing a variety of things
+
Faster prep time
If you don't mind spending a bit more for convenience, the Shun Utility Knife Classic can tackle just about every cooking task, making this a good investment. Here's why we love it:
Multi-purpose blade
With its razor-sharp blade, this makes it great for slicing through a variety of things with more precision. From meats and cheeses to fruits and vegetables, this will give a clean slice without unsightly tearing.
Easy grip d-shaped handle
Being able to handle a knife with ease and without hassle is a key factor. Designed with a special d-shaped handle, this knife fits more comfortably in the hand. This also affects the quality of your slice.
4. HENCKELS CLASSIC BREAD KNIFE
Best for cutting bread: perfect for slicing through homemade bread or bakery delights in less time
Specifications
Type: : Bread knife
Dimensions:: 7-inch
Material:: Stainless steel
Sizes available:: 1
Reasons to buy
+
Great for slicing sandwiches
+
Ergonomic triple-rivet handle
+
Reasonable price
+
Dishwasher safe
If you prefer crusty bread or homemade loaves, and need a sharp and reliable knife, the Henckels Classic bread knife is the ideal choice. Here's why we love it:
Serrated-edge blade
This comes with a very sharp, serrated blade that can slice through the toughest of breads easily. You no longer have to put in the effort or risk ruining the shape and texture. Plus, it won't leave messy crumbs everywhere.
Ergonomic handle
Bread knives usually have larger and cumbersome handles for better grip. But this bread knife has a traditional triple-rivet handle that makes it easier to hold with more balance.
5. KAI WASABI BLACK SANTOKU KNIFE
Best for slicing finer cuts: a great knife designed to cut thin slices of food to perfection
Specifications
Type: : Santoku
Dimensions:: 6.5-inch
Material: : High carbon stainless steel
Sizes available:: 1
Reasons to buy
+
Lightweight
+
Waterproof and rust-resistant
+
Sleek design
A combination of style and substance, this Wasabi Black Santoku knife has it all. A great choice for slicing finer cuts, without effort. Here's why we love it:
Double-beveled blade
This Wasabi Black knife features a double-beveled blade that has been hand sharpened for extra precision. This makes it great for cutting thin slices of meat, seafood and other culinary delights with less effort.
Modern design
Santoku originates from Japan, which is why the Wasabi Black has style as well as substance. With its sleek design, it makes an attractive addition to any kitchen.
6. KYOCERA ADVANCED CERAMIC REVOLUTION SERIES 6-INCH, CHEF'S SANTOKU KNIFE, BLACK BLADE
Best ceramic knife: for sharp, consistent results, this is also super light to handle
Specifications
Type: : Santoku knife
Dimensions:: 6-inch
Material:: Black ceramic
Sizes available: : 9
Reasons to buy
+
High-performance ceramic blade
+
Ultralight
+
Dishwasher safe
Reasons to avoid
-
Expensive
-
Doesn't come with protective sheath
Flexible ceramic blade
It comes with an extremely sharp ceramic blade that allows quick, precise cuts. Not only is the blade sharp, but it's flexible, which makes it more resistant to damage. What's more, this will probably last longer than traditional knives.
Ultralight weight
Ceramic is much lighter than stainless steel, and this knife is super-lightweight to handle and use. This makes all the difference when slicing and dicing foods on a daily basis.
HOW TO CHOOSE THE BEST KITCHEN KNIFE
Besides sharpness being an inevitable key factor, there are a few other things to consider before buying a kitchen knife. Especially if you want your knives to last long and provide value for money. These include:
Type
Depending on what you need it for, it's important to find out what specific purpose it serves. Popular types include the chef's (cook's) knife, which is multi-purpose, a paring (vegetable) knife which is smaller and ideal for peeling fruit, and the Santoku knife is suited for slicing meat, fish and vegetables.
Size of handle
Just like the blade, handles can come in all shapes and sizes. Considering you will be using it frequently, it's best to find one that is ergonomic, easy to handle and lightweight. Once you find one suited to your needs, this will make prepping more enjoyable.
WHAT IS THE BEST KITCHEN KNIFE?
With all of these in mind, if you want the best kitchen knife that is multi-functional, the Victorinox Fibrox Pro Chef's Knife is a great all-rounder. It's convenient and versatile to tackle just about any culinary need - big or small. It also features a razor sharp, laser-tested blade for better angling and precision. Best of all, it's easy to use and dishwasher safe.