The best juicers: 6 juicers for the home
The best juicers will be able to squeeze all the goodness out of your fruit and veggies for a healthier lifestyle. See our pick of the best for making fresh juice, in all shapes, sizes and budgets.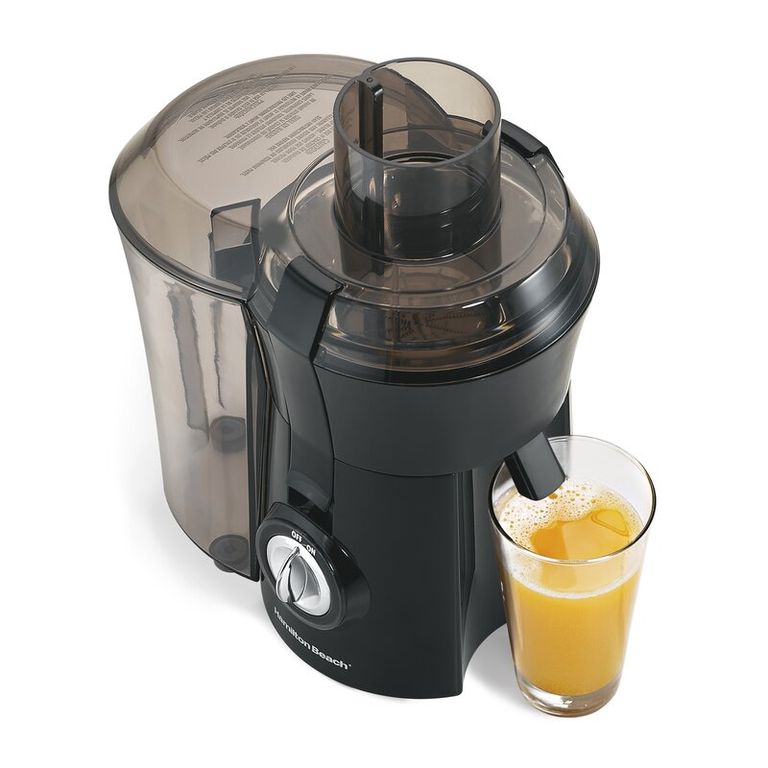 (Image credit: Hamilton)
Check out the best juicers - it's the perfect kitchen essential, whether you want a healthy detox or prefer a freshly-pressed juice to kick-start your day. Juicers are not only quick and convenient, they are a great way to intake your 'five-a-day' fruit and veg, especially if you're always on the move. From apples, berries and kale to even nuts, the best juicers will efficiently extract all the good nutrients and vitamins you'll need in just minutes. Best of all, it's entirely natural, free from the preservatives you'd find in store-bought juices. Plus, it will save you money on your shopping bill!
There are many types of best juicers, that come in different shapes, sizes and price range. You can choose between the high-speed juicers (centrifugal) or the gentle process of slow juicers (masticators). We've found some great models that are best for juicing whole foods, compact-sized ones or those for juicing refreshing citrus.
So, if you fancy super healthy juices, here are the best juicers for all your needs.
Want to make smoothies and soups too? Take a look at our guide to the best blenders on the market and get creative in the kitchen.
The best juicers
1. HAMILTON BEACH BIG MOUTH JUICER
Best for whole foods: a convenient and quick juicer that does all the hard work for you
Specifications
Type: : Centrifugal juicer
Number of speeds: : 1
Pitcher capacity (oz): : 10 fluid ounces
Reasons to buy
+Fits whole foods+Affordable price+High juice spout
Reasons to avoid
-Very loud
If you're after a great juicer but don't want to spend time chopping ingredients, the Hamilton Beach Big Mouth Juicer is ideal. Here's everything you need to know:
What can it do?
This is a powerful yet affordable juicer, that can juice whole foods in minutes. It also has a high juice spout that funnels directly into any sized glass to avoid any messy spillages.
Juice whole foods
If you're short on prepping time, the Hamilton Beach Big Mouth Juicer has an extra-wide, feed chute to fit whole fruit and vegetables in nicely. From apples to leafy greens, this will give you the full flavor and of course, the convenience.
2. NUTRICHEF ELECTRIC JUICE PRESS – ORANGE JUICE/CITRUS SQUEEZER
Best for making orange juice: this manual press citrus squeezer makes fresh orange juice to start your morning
Specifications
Type: : Citrus juicer
Number of speeds:: 1
Capacity: : 1 cup
Reasons to buy
+Easy to use+Practical to clean+Looks modern and attractive
Reasons to avoid
-Small-Only makes one serving
If you're a fan of orange or citrus juice, the NutriChef Juice Press is ideal for those quick refreshing juices. Here's why we love it:
What can it do?
This electric press juicer can produce fresh citrus fruit juice instantly and without the annoying pips. It looks sleek and modern with a convenient spout tip for easy pouring.
Simple to assemble and clean
Most juicers are complicated and time consuming to put together and take apart. But this has easy-to assemble parts which makes it simple to use and make cleaning a breeze.
3. HUROM H101 EASY CLEAN MASTICATING SLOW JUICER - MATTE SILVER
Best slow juicer: for the best tasting and quality homemade juices
Specifications
Type: : Slow juicer
Number of speeds: 1
Capacity: : 16.9 oz
Reasons to buy
+Pulp outlet+Easy cleaning+Quiet
Reasons to avoid
-Expensive-Doesn't do well with berries
If you don't mind spending a bit more, this is the best slow juicer for all your delicious juices without the time consuming clean-ups. Here's why we love it:
What can it do?
Equipped with a 'slow squeeze technology' it mimics the motion of hand squeezing at a rotation speed of just 43 revolutions per minute. This extracts juices in their most natural state, resulting in more nutrients, flavor and less pulp.
Pulp outlet for easy clean
If you don't want the hassle of scrubbing out pulp residue after use, this is ideal. This juicer has a convenient pulp outlet that opens up at 180-degrees to easily flush out stubborn pulp inside the chamber.
Taste and Pulp Control lever
Depending on your preference, the control lever and fine and coarse strainer enables you to control the amount of pulp you want in your juice.
4. BREVILLE JUICE FOUNTAIN® COLD ELECTRIC JUICER
Best for longer lasting filter: with a long lasting filter of up to six months, this makes it a more convenient and cost-effective choice
Specifications
Type: : Cold press juicer
Number of speeds:: 2
Capacity: : 70oz
Reasons to buy
+Huge capacity+Good price+Powerful and sturdy
Reasons to avoid
-Expensive-Design is quite big
If you prefer to make jugs of fresh juice at home or have a big family, this is great choice. Here's why we love it:
What can it do?
The Breville Juice Fountain has a Cold Spin Technology and mesh filter that can avoid any damage to healthy vitamins and minerals from high heat processing.
Large capacity and jug
For those who like to make batch quantities of fresh juice to store in the fridge, the Breville Juice fountain comes with a 2-liter juice jug that holds enough juice for a round of servings.
5. CUISINART 36-OZ BLACK/STAINLESS CITRUS JUICER
Best value juicer: a great budget-friendly juicer that gets the job done
Specifications
Type: : Citrus juicer
Number of speeds:: 1
Capacity: : 36oz
Reasons to buy
+Affordable price+Auto-reversing reamer to extract more juice
Reasons to avoid
-Small capacity for limited servings
If you want a great citrus juicer that doesn't cost a small fortune, this is ideal. Here's why we love it:
What can it do?
Whether it be oranges or lemons, this juicer uses a final-spin feature that works to extract more juice from each piece of fruit. This way nothing gets wasted!
Adjustable auto-reversing reamer
It has an adjustable, auto-reversing reamer that features "custom" pulp control settings. So you can simply choose from low, medium and high depending on your preference.
6. OMEGA COLD PRESS 365 SLOW MASTICATING JUICER - BLACK
Best for juicing green vegetables: for getting the most out of your five-a-day nutrients
Specifications
Type: : Slow juicer
Number of speeds: 1
Capacity: : 26oz
Reasons to buy
+ More healthy way to extract nutritious enzymes+Sleek design
Reasons to avoid
-Smaller chute so you'd need to chop smaller pieces
If you favor more healthy greens in your diet, this option from Omega is a great choice. Here's why we love it:
What can it do?
Not only is this juicer great for extracting fruit juice but even better for vegetables and leafy greens. This slow juicer also ensures minimal oxidation, heat build-up, and foaming.
Easy to use and clean
Cleaning juicers can be a hassle. But for this juicer, all parts can come apart for easy cleaning. They can either be rinsed quickly or placed in the dishwasher.
HOW TO CHOOSE THE BEST JUICER
With a wide range of juicers on the market, it can be tricky to know which one will suit your needs and lifestyle. So before you buy, here are a few things to consider before making a purchase. These include:
Type
There are three main types of juicer with different benefits. The slow (or masticating) juicers typically work by a slow, gentle process to extract and preserve nutrients better, with less heat. Centrifugal juicers are much faster, and able to extract whole foods at a higher speed, while citrus juicers are designed for smooth and hassle-free citrus drinks.
Size and storage
Consider how much space you have and whether you can accommodate a juicer. A quality juicer and attachments can take up space on your countertop. So if you have limited space, it's best to opt for a compact juicer.
Care
Cleaning a juicer can be a messy job, so it's worthwhile looking at how easy the unit is to clean. Most juicers have detachable parts that can be easily rinsed or placed in the dishwasher.
WHAT IS THE BEST JUICER?
With all of these in mind, if you want the best juicer that has everything you would need, the Hamilton Beach Big Mouth Juicer is a great pick. It can extract juice from whole foods in just minutes, saving you on prepping time. This is the best juicer for convenience, it's easy to clean and affordable, which makes it value for money. Handy for someone who wants to rustle up a quick, refreshing juice on the go.