The best bookshelf speakers can give you stereo sound without cluttering up your living room - here are our top picks
The best bookshelf speakers to take your home audio system to the next level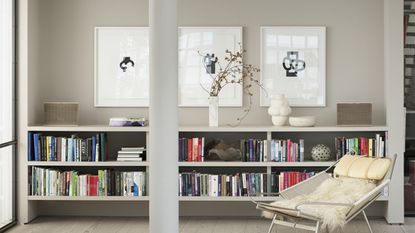 (Image credit: Bang & Olufsen)
The best bookshelf speakers are a fantastic first step towards getting amazing sound at home. Traditionally part of wider home theater systems, bookshelf speakers are becoming cheaper and easier to use, and so many people are choosing to purchase them as standalone audio devices.
Now that you can connect to many of them over Bluetooth and WiFi as well as with physical wires, bookshelf speakers are far less tricky to set up and use. You can even find portable options, and a few of them are included on this list. These speakers can be expensive, but there are also plenty of budget models available.
If you're interested in getting the finest sound right in your living room, take a look at our guide to the best surround sound systems for more expansive setups. For now, keep reading to see which speaker pairs we would choose.
The best bookshelf speakers in 2023
Why you can trust Livingetc Our expert reviewers spend hours testing and comparing products and services so you can choose the best for you. Find out more about how we test.
1. Wharfedale Linton
Best bookshelf speakers overall
Specifications
Wireless?: No
Finish: Red Mahogany
Dimensions: H18.1 x W27.5 x D16.9in
Weight: 21.4lbs
Reasons to buy
+
Big, classic sound output
+
Come with speaker stands
+
Old-fashioned (in a good way!) design
Reasons to avoid
-
Expensive
-
Very large
-
Needs AV receiver
When it comes to the best bookshelf speakers, size does, in fact, sometimes matter. Though the modern trend is for home audio devices to be as small and portable as possible, older-style speakers were heftier and produced the sound to match. The Wharfedale Linton speakers may not be the best choice for small spaces, but they're perfect for those who want a classic look and sound.
The pair are designed to sit on the stands pictured and come in a gorgeous red mahogany wood. As they stand shorter than floor-standing speakers but are designed to be placed independently, the set would look and sound just as good hooked up to the best record players as it would a wider sound system.
2. Elac Debut B5.2
Best budget bookshelf speakers
Specifications
Wireless?: No
Finish: Black
Dimensions: 9.3 x 7.1 x 13.5in
Weight: 13lbs
Reasons to buy
+
Good price
+
Great sound
+
Updated design for better performance
Another example of stand-mounted speakers providing excellent sound, but for a much lower price, the Elac Debut B5.2 pair is much more accessible for those who don't have the space for an enormous sound system. Front-firing ports mean you have greater freedom in where you place them, and the thick MDF material and internal bracing mean you won't get any annoying vibrations.
The Debut B5.2 don't have Bluetooth or other wireless connectivity. Still, they are compatible with most AV receivers and could be the ideal choice for classic surround sound system fans looking for an excellent budget option.
3. Bowers & Wilkins Formation Duo
Best powered bookshelf speakers
Specifications
Wireless?: Yes
Connectivity: WiFi, Bluetooth, AirPlay 2, Alexa
Finish: Black; White
Dimensions: H15.6 x W7.8 x D12in
Weight: 23.4lbs
Reasons to buy
+
Works with Alexa
+
Stylish and compact design
+
Multi-room connectivity
The first powered bookshelf speakers on this list, the Formation Duo come from Bowers & Wilkins and are predictably stylish. At around $5,000, they're also predictably pricey but will please those who like their technology to be style-first at the same time as delivering top-notch performance.
Promising the audio quality of a wired system, the Formation Duo speakers are self-powered and completely compatible with streaming services, including Spotify and Roon. They also work with Alexa and Apple AirPlay 2, and you can use the Formation app to play with EQ levels or pair the speakers with another speaker in the range.
Best bookshelf speakers for music
Specifications
Wireless?: Yes
Connectivity: Bluetooth
Finish: Light wood
Dimensions: 5.1 x 4.1 x 7.9in
Weight: 1.5lbs
Reasons to buy
+
Great price
+
Portable right speaker with 20 hours of battery life
+
Made from sustainable materials
Our top pick for the best bookshelf speakers for music, the House of Marley Get Together pair performed well during our tests and provided a great wireless option that is both affordable and sustainably made. There may be better audio available at higher price points, but House of Marley is a trusted brand and perfect for those who want to use their speakers to boost their music listening.
We also loved the design, with a simple but beautiful light wood casing that matches the corresponding House of Marley record player. It's also a great quirk for one of the speakers to be portable, even if it's a little strange to leave one behind. Then again, carrying one out to the balcony or kitchen is pretty convenient.
Livingetc rating: 4 out of 5 stars | read our full review of the House of Marley Get Together Duo
5. Bang & Olufsen Beosound Level Stereo Set
Best portable bookshelf speakers
Specifications
Wireless?: Yes
Connectivity: Bluetooth, WiFi, AirPlay 2, Chromecast
Finish: Gold and light oak; dark grey
Dimensions: H9 x W13.7 x D2.2in
Weight: 7.2lbs
Reasons to buy
+
Available with Google Assistant built-in
+
Wall-mountable
+
Portable with 16 hours of battery life
+
Stylish design
A different type of speaker set, the Beosound Level Stereo pair from Bang & Olufsen beautifully match audio power with a luxe design that comes with tons of wireless connectivity options, including in-built Google Assistant smarts. The speakers are designed to be paired using the B&O app, and they're even portable.
We absolutely love the look of these speakers, but the flexibility they offer is second to none. Though they're pretty expensive, once in your home, you can choose to place them on a bookshelf or sideboard, mount them to the wall, or even move them from room to room for outstanding sound while you're cooking dinner.
6. Edifier R1280DBs Active Bluetooth Bookshelf Speakers
Best small bookshelf speakers
Specifications
Wireless?: Yes
Connectivity: Bluetooth
Finish: Black
Dimensions: H5.7 x W6.5 x D9.5in
Weight: 14lbs
Reasons to buy
+
Great price
+
Compact design
+
No need for an AV receiver
Reasons to avoid
-
Capable, but not high-end, sound
The most compact entry on this list, the Edifier R1280DBs are active speakers that also happen to be the most affordable we've ranked. The wood grain finish is both attractive and practical for creating the best sound, even at this budget price, and the physical dials on the speakers help you get your ideal audio levels.
You can use Bluetooth to connect the speakers to a mobile device or connect the active speaker via cable to your TV, HiFi set-up, or record player. There are, in general, a good number of ports here, making the Edifier speakers a good choice if you want multi-purpose speakers that don't take up too much space.
A music journalist, freelance writer, and radio presenter, Jen has far too many records and spends an unreasonable amount of time listening to music. With décor that veers from red and black with leopard print to a pink and jade-green jungle bedroom, she is always keen to find items that fit in with both styles.
Choosing the best bookshelf speakers for your home
Are expensive bookshelf speakers worth it?
The price of the best bookshelf speakers on this list varies wildly, so you may be wondering whether it's worth spending $1,000s on a pair when there are options available for a couple of $100. The answer to this question isn't simple and will depend on how much you care about getting the very best audio at home.
For those who view music and audio as a passion and want speakers that will match their trained ears, spending more on your equipment will always get you closer to your dream sound system. However, to most people, the upgrade provided even by the cheapest bookshelf speakers will be enough and could make some higher-end models an unnecessary expense.
Smart Homes Ecommerce Editor
Caroline is the smart home ecommerce editor for Livingetc, covering everything tech for the home, from smart speakers to air purifiers and everything in between. She is passionate about the role that technology and smart devices can play in daily life, enhancing the home without sacrificing personal style and carefully chosen interiors. In her spare time, she can be found tinkering with bulbs, soundbars, and video doorbells in an effort to automate every part of her small home. Previously, she lent her expertise to the likes of Expert Reviews, IT Pro, Coach, The Week, and more.