Best Alexa speakers - and the best Cyber Monday deals. For music, voice control, and much more
In our edit of the best Alexa speakers, we have selected styles to suit every household's taste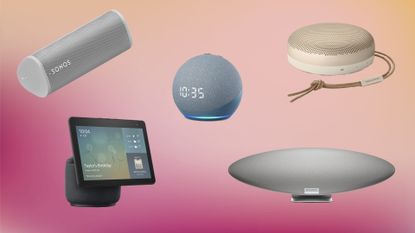 (Image credit: Sonosl Amazon; Bowers & Wilkins; Bang & Olufsen)
The best Alexa speakers allow you to listen to podcasts and audiobooks, and you can pick up where you left off at any time. They're also a great way to get some assistance around the house.
The possibilities don't stop there, though. For example, if you have Alexa-compatible devices at home, such as a video doorbell, smart light bulb, or smart alarm, you can use your voice to control those devices rather than using separate apps. As a result, you can easily create a smart home network where all your fittings and fixtures work in harmony from one central location. That's what we all dream about, isn't it?
You can also find our guide to the best smart speakers from all smart assistants if you don't want to limit your options to just Alexa. So how do you choose the best Alexa speaker for your home? Here are some of our favorites. We've included Alexa speakers from Amazon as well as third-party options like Bang & Olufsen.
Bang & Olufsen Beosound A1
Price: $179
Was: $279
Saving: 36%
As our review points out below, this is super lightweight and good on the go. We're thinking picnics, or just to move around the house wherever the mood takes you. A really good deal at 36% down.
Price: $134
Was: $179.99
Saving: $25%
This might not be the biggest price drop but the Sonos Roam is a statement piece of kit, the equivalent of a tech designer label. It's smart in all senses of the word - looks good, works good - and this is probably the most affordable it'll be this week.
Echo Show 10 bundle with Ring A19 Smart LED Bulb
Price: $159.99
Was: $264.98
Saving: 39%
The Amazon Echo continues to be one of the easiest speakers to pair with Alexa, and do a host of other smart home tricks, too. Coming with a Ring light bulb, this bundle means you can essentially turn your house into a home of the future in seconds.
The best Alexa speakers in 2023
Best Alexa speaker overall
Best Alexa speaker overall
Specifications
Dimensions: H6.1 x W2.3 x D2.4in
Weight: 0.93lbs
Reasons to buy
+
Solid battery life with a portable and waterproof design
+
High-quality audio
+
Also includes Google Assistant
+
Trueplay tuning
+
Easily connects to other Sonos products
Reasons to avoid
-
Wi-Fi is required for stereo pairing
-
Expensive
With its small size, rugged construction, and sleek design, Sonos' Roam portable smart speaker is perfect for any home. It supports Amazon Alexa and Google Assistant, and can be set up with the Sonos or Google Home apps. It is a smaller version of the Move portable speaker, and fits easily into a handbag or backpack.
The Roam comes with quite a few customization options, as well as TruePlay tuning, which adapts the sound to the environment in which the speaker is located. With the minimalist design and Bluetooth and Wi-Fi connectivity, the portable speaker is easy to grip and store in a pocket. It is also weatherproof, dustproof, and resistant to rain, dust, and other outdoor elements.
Livingetc rating: 5 out of 5 stars | read our full Sonos Roam review
Best Echo speaker
Best Echo speaker
Specifications
Dimensions: 3.9 x 3.9 x 3.5in
Weight: 0.75lbs
Reasons to buy
+
Audio quality is improved over previous versions
+
Temperature sensor
+
Reasonable price
Reasons to avoid
-
Although the audio has been boosted, it is still not as impressive as other speakers
Amazon Echo Dot with Clock (5th Gen) is a great-sounding, character-rich smart speaker that won't break the bank and works flawlessly at the same time. In addition to controlling smart appliances, listening to music, reading the time, and a host of other tasks, onboard Alexa is impressively fast at answering queries, and the responses are often right on target.
The funky LED strip around the speaker base and the cyber-chic LED clock display were particularly impressive. The voice commands can also be heard from a distance, and other voices are available in the app.
The Action button is accompanied by a volume up, volume down, and microphone mute button, though voice commands work so well that you rarely need them. Echo Dot with Clock's audio quality compares favorably with other affordable smart speakers, but it's not as good as more expensive ones.
Livingetc rating: 5 out of 5 stars | read our full Echo Dot with Clock (5th Gen) review
Best portable Alexa speaker
Best portable Alexa speaker
Specifications
Dimensions : 1.8 x 5.2 x 5.2in
Weight : 1.2lbs
Reasons to buy
+
Lightweight and great for on the go
+
Good sound quality
+
Beautiful, well-built design
+
True360 sound
Reasons to avoid
-
Patchy Alexa integration
-
Pricey
In addition to its gorgeous pearly casing and leather strap, the Bang & Olufsen A1 (2nd Gen) works well as an additional speaker or for people who want solid audio when listening to music, podcasts, or making calls. In short, the A1 is a beautiful speaker that can be moved around easily.
Using the B&O and Alexa apps, setting up the Beoplay A1 is easy, but getting the speaker to listen to commands without first opening the app was very difficult. Still, with Bluetooth 5.1 and three microphones, the Beoplay A1 is an Alexa speaker that plays nicely with other smart speakers around the home.
There are five colors to choose from: black, grey mist, green, gold, pink, 'sport', and a limited edition Berluti version.
Livingetc rating: 4.5 out of 5 stars | read our full Bang & Olufsen A1 (2nd Gen) review
Best Alexa speaker for keen chefs
Best Alexa speaker for keen chefs
Specifications
Dimensions: H9 x W6.7 x D5.6in
Weight: 5.6lbs
Reasons to buy
+
10.1" HD display that moves with you
+
Suitable for use as a security camera
+
Screen movement motor is quiet
Reasons to avoid
-
Expensive
-
Quite large and bulky
This Amazon Echo Show 10 (3rd generation) is one of our favorite Alexa speakers to have around because of its inbuilt connection to cooking sites and suggestions or hands-free recipe walk-throughs. You can also watch Prime Video, Netflix, or Hulu on the screen, and use the touch controls to navigate playlists or TV shows using the smart speaker.
The Echo Show 10 has a silent motor that responds to your movements. Alexa works with recipe sites such as Food Network and Tasty, as well as Amazon Fresh and Domino's to deliver food. Using the recipe function made our lives so much easier. However, cooking and music cannot be used at the same time, so we often had to choose between them.
Livingetc rating: 4 out of 5 stars | read our full Amazon Echo Show 10 review
Best high-end Alexa speaker
Best high-end Alexa speaker
Specifications
Dimensions: H11.8 x W6.5 x D8.1in
Weight: 10.4lbs
Reasons to buy
+
Beautiful design with a unique, striking appearance
+
Deep, bass-heavy sound
Reasons to avoid
-
Expensive
-
Customization options are limited
-
Finding a good place for it in the house is difficult
With its built-in Alexa, the Bowers & Wilkins Zeppelin is an excellent smart speaker that will make a great addition to your home. While Amazon, Google, and Apple maintain relatively safe in the designs for their smart speakers, it's nice to see a brand take aesthetics more seriously. This Alexa speaker looks distinctive and adds a modern twist to your home audio.
The Zeppelin has a unique design, but its size can be problematic. Although we tested it on our TV stand, we were unable to use both devices at the same time. Still, in spite of having a limited number of physical controls and settings, the speaker is easy to use and set up.
Despite its excellent performance, the Zeppelin will likely frustrate those who have limited space or wish to use analog controls to guide their tech.
Livingetc rating: 4 out of 5 stars | read our full Bowers & Wilkins Zeppelin review
Best Echo speaker for audio
Best Echo speaker for audio
Specifications
Dimensions: H8.1 x D6.9in
Weight: 7.7lbs
Reasons to buy
+
Comparatively good sound quality to other Amazon speakers
+
Spatial audio processing and Dolby Atmos
+
Several good options for connectivity
Reasons to avoid
-
Sound can become overbearing
-
Rather large and bulky
In terms of audio quality, the Amazon Echo Studio is an upgrade from the Amazon Echo smart speakers, although its powerful bass can sound overpowering, and its size and design may make fitting it into interior design difficult for some buyers.
Still, if you want to adjust the sound quality to the acoustics in your room, we recommend put it on a coffee table, kitchen island, or deep shelf in an alcove that's spacious. Although it looks and sounds like a Sonos speaker, the Echo Studio takes up quite a bit of space.
It does take a while to configure the Alexa smart assistant's different features, even though the Amazon Echo Studio is easy to set up overall. As well as being powerful and clear, its audio output makes different instruments stand out in songs. With its 3D spatial audio, it creates a sound that fills any room. The speaker comes with both wired and optical inputs for music to be played from any compatible source.
Livingetc rating: 3.5 out of 5 stars | read our full Echo Studio review
What is the best Alexa speaker?
There are a number of Alexa speakers to choose from, each with its own unique features, including design, sound quality, and useful features. Our top pick is the Sonos Roam, which works with Google Assistant as well, but the Echo Dot with Clock is our top-rated Amazon-branded Alexa speaker.
The Echo Show 10 is a great example of a multi-purpose smart speaker with a display, and the Bang & Olufsen Beoplay A1 or Bowers & Wilkins Zeppelin will look great in any home.
About this guide
This list was compiled based on our own experience and independent reviews. For all of our guides, we also use Livingetc's breadth of knowledge, looking at the specs and design elements of the most popular models across a range of price points. We will update this guide regularly as new releases and industry changes occur, as well as when we test and judge the best Alexa speakers in person.
If you would like to learn more about our testing process, visit our dedicated page.
With her lifelong passion for gadgets, Caroline lends her expertise to everything from reviews to news to buying guides at Livingetc, where she specializes in all things smart home. She and contributors tested some of the best smart speakers in this guide. Devices are selected based on how well they integrate with our everyday lives, how attractive they look, and whether they are worth the price.