9 stylish and functional laundry baskets to elevate your laundry room
The best laundry baskets to refresh your bathroom, bedroom or laundry room—and to store your laundry out of sight (and mind)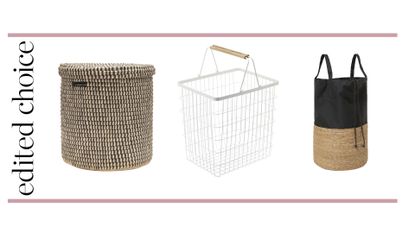 (Image credit: Future)
Pick one of the best laundry baskets for your home and wave goodbye to valuable time lost to sorting and rearranging your clothes. Instead, with help from a stylish laundry hamper, you'll breeze through laundry day and find an easy way to prevent messy clothes from being on show in your home. Though they might not be the most enticing item to buy for your home, there are picks out there that combine practical features and chic designs, and these should be the ones that earn a spot in your laundry room.
Depending on how you like to sort your laundry, you might be on the lookout for multiple laundry baskets to add to your house, which is why it's great that there are plenty of different styles on the market. If you don't mind your basket being seen, then a woven, wire or bamboo hamper can be styled to fit particular rooms or decor. If you would prefer to stash your laundry away, then there are also stackable and rolling baskets that save you space and time, without interfering with your overall aesthetic.
Regardless of your final pick, these laundry baskets will go a long way to make your life a little easier when you're faced with a mountain of dirty clothes. To streamline the process even further, you might even want to opt for separate baskets for whites, darks, and colors, meaning all you have to do is load your machine and press the button. For more inspiration, check out our laundry room ideas guide.
---
The best stylish laundry baskets to buy now
1. Amara Yule Hand Woven Laundry Basket
For hiding your dirty clothes in style—and it's complete with handles and a lid
Reasons to buy
+
Ethically made
+
Use for storage or laundry
+
A statement piece
Reasons to avoid
-
No organizational features
Making a statement with your laundry basket is simple with this Amara pick. Handwoven by women in Turkana, North-Western Kenya, you're not just investing in a laundry basket, but a piece of art. No two of these baskets are the same thanks to the authentic way they're made, ensuring a one-of-a-kind addition to your laundry room.
This is a stylish basket with ethical standards to match and the generous proportions and a sturdy design make it pragmatic too. Switch up your laundry day with this hamper and you'll never look back.
2. Wireworks Cage Laundry Basket
A sustainable choice for the most stylish of bathrooms
Reasons to buy
+
3 colorways
+
Water-resistant
+
Handles and drawstring closure
+
Fits nicely in a corner
Reasons to avoid
-
Quite rigid due to its caged design
To carry your laundry and add style to your bathroom, this caged laundry basket hides everything from your socks to your pants and your linens. It comes in three colorways including white and soft white, with a FSC sustainably harvested solid American oak cage surrounding its waterproof drawstring bag. Complete with handles for ease of use, this striking laundry hamper is the epitome of luxury material meeting practical design.
3. The Container Store Round Cotton Rope Laundry Basket
Simple yet effective, practical meets pretty with this wide rope basket
Reasons to buy
+
Handles for easy carrying
+
Durable rope construction
+
Nice and wide
Reasons to avoid
-
No lid
-
Your laundry is slightly visible
This understated laundry basket from The Container Store may leave your laundry slightly on show, but what it lacks in privacy it makes up for in durability. Constructed of rope, it would make the perfect sizeable addition to a master bath in which guests rarely visit. Buy more than one to separate your colors and make laundry day a breeze.
4. Rockett St George Black & White Woven Laundry Baskets
A sturdy woven laundry basket for chic storing
Reasons to buy
+
Matching set of baskets
+
Chic woven design
+
Sturdy material and handles
If you don't have the space to hide your laundry basket away, then this set from Rockett St George is a perfect choice. The careful black and white woven design adds a touch of elegance while the two sizes allow you to still separate out your colors or provide for two rooms. On a practical note, these baskets are light, durable, and also wipe clean. Make a statement with these woven baskets and commit yourself to adding something beautiful to every corner of your home.
5. Yamazaki Tosca Laundry Basket
The best laundry basket for industrial-style homes
Reasons to buy
+
Practical and durable
+
Suits an industrial look
Reasons to avoid
-
Keeps dirty laundry in sight
-
No lids
Avoid any notion of cheap plastic laundry baskets with this wire selection from Yamazaki. With a simple metal and wood design, this white basket is a minimalist dream, and won't disrupt your vision in either your bedroom or your bathroom. If you don't like the idea of your dirty laundry being on display when guests are present, then they would make a great addition to a hidden away inside your laundry room.
6. The Laundress Collapsible Hamper
This collapsible laundry basket can match your detergent
Reasons to buy
+
Collapsible
+
Handles
+
To match The Laundress detergent
+
Available in white or black
Reasons to avoid
-
Not the best size for families
-
Basic design
Big fan of The Laundress detergent? Why not match your detergent to your basket with this simple—yet practical—buy. It's collapsible and compact, making it a great addition to a laundry room for hiding away from guests. Invest in a few and use them to separate your colors from your whites. Once laundry day is over, collapse them and slot them down the side of your washer and no one will ever know. Smart! Oh, and you can choose from white or black.
Buy your The Laundress detergent at their online store.
7. Amara AquaNova Jada Laundry Basket
The best practical laundry basket
Reasons to buy
+
Handles for ease
+
Black faux leather design
+
Large capacity
The simple practicality and unique design of this Amara laundry basket make a winning combination. For all those who prefer handles for easy retrieval when going to and from your laundry room, then this bag is one you should pick up.
8. H&M Cotton Twill Laundry Bag
A cotton and seagrass blend that ought to impress
Reasons to buy
+
100% cotton material
+
Drawstring closing top
This cotton laundry bag is a simple purchase that can go a long way to help you tidy up areas of your home, without damaging your precious clothes inside. Available in both white and black, it's a staple for bathrooms or bedrooms, with a braided seagrass base. The drawstring top is a simple way to keep your laundry from view and makes transportation that little bit easier too. We think it would be ideal for a teens' bedroom.
9. Oceanstar 3-Bag Laundry Sorter
Divide your clothes and wheel this laundry hamper around your home for ease
Reasons to buy
+
Perfect for stashing away
+
3 separate compartments
+
Unobtrusive design
Reasons to avoid
-
Requires quite a bit of space to store
This metal-framed laundry sorter from Bed, Bath and Beyond is ideal for minimalist laundry rooms, allowing you to stash away your whole washing system. With wheels, removable bags, handles and hooks, this basket is an organizational dream, and either hidden inside a cabinet or in the corner of your room will make the laundry element of your day a breeze. A standout feature of this basket is also the hanging rack over the top, which can be adjusted in height, so you can leave items out to dry.
---
Where to buy a new laundry basket?
If you're not quite sold on any of those options, then there are still plenty of places to browse until you find your favorite. Here's where else to look for baskets to change your laundry room look:
Otherwise, if it's a storage solution for toys, throws, and more to live, then see our edit on the most stylish storage baskets to buy for your home.
The Livingetc newsletter is your shortcut to the now and the next in home design. Subscribe today to receive a stunning free 200-page book of the best homes from around the world.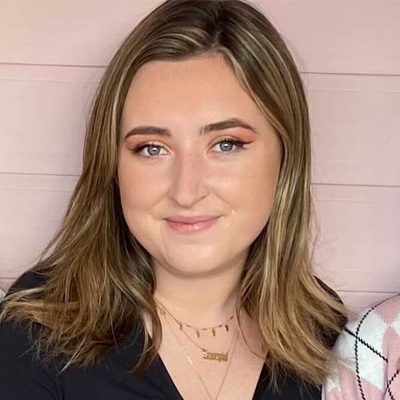 Molly is the Ecommerce Writer for Livingetc and spends her time searching the internet for the next best thing for your home as an expert in lifestyle shopping and consumer trends. When she's not writing, she would most like to be swimming in the nearest sea/ocean or getting through her never-ending pile of novels.