What does a round rug do to a room? 5 reasons designers believe your home would benefit from one
What does a round rug do to a room? Designers share why every home should invest in a round rug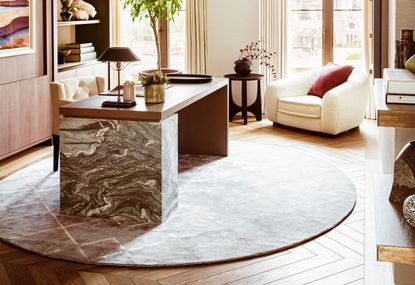 (Image credit: Patrick Williamson. Design: Elicyon)
I am an ardent believer in the power of a rug. So much so, that I can't help but feel a room without a rug underfoot feels somewhat unfinished, spartan, and even unwelcoming.
The perfect rug is an elegant finishing touch and a clever design tool. But not all rugs need to take the same boxy, rectangular shape, and round rugs hold power within their curves that a rectangular rug can never bring to a space.
So what exactly does a round rug do to a room? I've spoken to the interior designers - and those who have worked with round rugs in their own designs, to find out what the best round rugs will do to any room in your home.
1. Curves help soften the space
A round rug goes so far as to really soften a space, ridding the room of any harsh or sharp edges, and breaking up straight lines with soft curves. 'Using a round rug can help to break up an otherwise rigid space,' says architect Charu Gandhi, founder and director at Elicyon.
The result of this, according to the founder and principal of the Houstan-based Nina Magon Studio, Nina Magon is a seamless and serene scheme that feels cozier and more welcoming. 'A round rug and its curves can help bring a sense of balance and harmony to a space,' she says.
2. Use it to anchor curved furniture
If you have also been swept up in the interior design trend for sweeping curves over the last year or so, you might find yourself with a round dining table, beautifully arched sofa, or round coffee table. The problem with these pieces is that while they look fabulous in the showroom, your new curved piece of furniture might look at odds with your furniture at home. By dint of having a rounded form, their softness can really exaggerate the sharp edges in your space. You want your curved furniture to be mirrored by the rug underneath, helping to relax the look as a whole. This scheme from designer Nina does just that, with the curves of the furniture mirrored in the round rug underfoot.
'A round rug is perfect to anchor furniture with curves such as a curved sofa, round dining table or highlighting a little nook,' says Richard Misso, director of The Stylesmiths. While a round piece of furniture can work in conjunction with other shapes, there is a certain special harmony that comes when a round piece of furniture sits atop a round rug.
Just make sure that you get the sizing of your rug right - a round coffee table will want a larger surface area rug underneath, and a round dining table will want a rug underfoot that is large enough so dining table chairs still fit when you pull them out to take your place at dinner.
$199
I like the colorway of this round rug. Light blue with touches of yellow, the design has drawn inspiration from the color wheel for a complementary look. Its faded and slightly distressed look is subtle and might look nice in a bedroom.
$995
This isn't exactly round, with an undulating wave pattern, but this hand-tufted rug will help introduce curves into your room in a subtle way. I love the neutral colors too, with beige and black borders accentuating the shape.
From $49.99
If you're looking for something subtle and simple, but want to introduce a little coziness underfoot, this round area rug is available in cream from Wayfair. It's a budget-friendly piece that is available in a variety of sizes.
3. It can help create a focal point
A round rug can really help to draw the visitor's eye to the center of the room and work as a wow-factor item. 'A round rug can be a great way to create a focal point in a room - almost like a target saying this is where you sit, convene, relax...have a conversation with friends,' says Caroline Cockerham, founder of sustainable rug brand, CICIL. 'Round rugs can be a soft yet modern and clean alternative to rectangles.
Architect Charu firmly agrees that a round rug has the power to create a focal point. 'If you have a box-like entryway for example, placing a round rug and circular center table are great ways to soften the space. We are currently designing a space with a mezzanine gallery space and we are placing a round rug below to give the seating area a sculptural look when viewed from above.'
If you're looking to make a statement with your round rug, think about the color you pick too. Don't go too off the wall and pick something that will work with the color scheme of the room. You might want to use your rug to introduce a new color, just be sure to take the color and use it in decorative accents around the room to make sure it blends in harmoniously.
4. A round rug might be the zoning device you need
Round rugs can come in the form of larger area rugs, but so often tend to be smaller, and so can be a budget-friendly purchase to give a specific area its own designated zone.
It might be that your round dining table that needs a bit more emphasis, or maybe it's that working-from-home area that needs its own dedicated area - like this example from Elicyon. It helps you set the stage and enforces the idea that this part of the home has a separate activity attached to it.
Using a round rug as a zoning device is a great idea if you have one room that doubles up on functions. An open-plan kitchen and living area for example could benefit from a round rug placed under furniture in the living space to really distinguish between the two zones.
5. A round rug is perfect for small spaces
Finally, I think a round rug can work wonders for a small space. In a small bedroom or living room, it's hard not to feel restricted by lack of room, but you don't have to limit your design and you can still put your stamp on it. It's about taking smaller elements and introducing them in a more subtle dose, and this is where a small round rug might just be the ticket.
A small, round high pile shag rug can bring that cozy feel, while a simple round jute rug might be that decorative finishing touch to emphasize a minimalist mood. It's about getting the mood of your interior design style in smaller doses.
The Livingetc newsletter is your shortcut to the now and the next in home design. Subscribe today to receive a stunning free 200-page book of the best homes from around the world.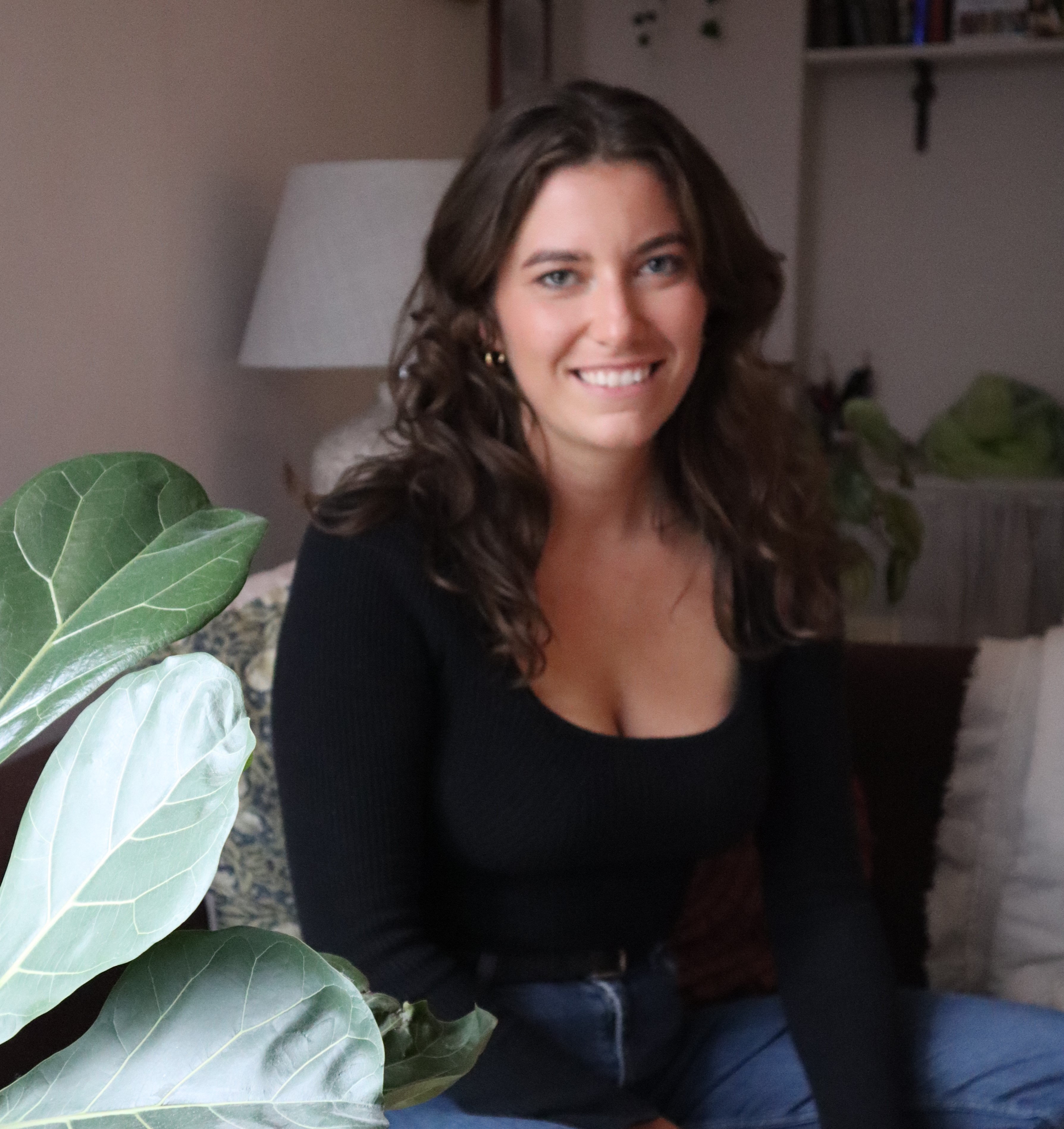 Livingetc content editor and design expert
Oonagh is a content editor at Livingetc.com and an expert at spotting the interior trends that are making waves in the design world. Writing a mix of everything and everything from home tours to news, long-form features to design idea pieces on the website, as well as frequently featured in the monthly print magazine, she's the go-to for design advice in the home. Previously, she worked on a London property title, producing long-read interiors features, style pages and conducting interviews with a range of famous faces from the UK interiors scene, from Kit Kemp to Robert Kime. In doing so, she has developed a keen interest in London's historical architecture and the city's distinct tastemakers paving the way in the world of interiors.