The small kitchen essentials list - expert advice for what you need and how to fit it all in
With this small kitchen essentials list you'll be able to fit everything in and not lose out on style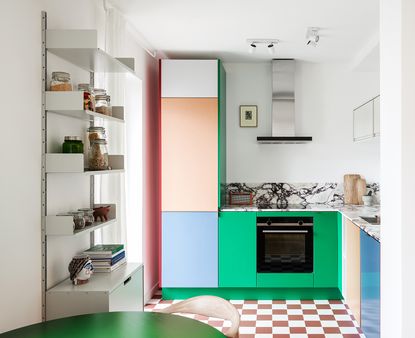 (Image credit: Reform CPH)
The Livingetc Newsletter
For style leaders and design lovers.
Thank you for signing up to LivingEtc. You will receive a verification email shortly.
There was a problem. Please refresh the page and try again.
Oven, fridge, sink, work surface – there are a few items on the small kitchen essentials list you just can't go without, and that all small kitchen ideas need to incorporate. But when space is tight every square centimeter counts, so we asked the experts what can be considered surplus to requirements in small kitchens, and which pieces are absolute must haves.
'For many people, me included, the kitchen is the heart of the home, we spend so much of our time there so it's important that it's an inviting and cozy space that you want to be in, says Jeppe Christensen, Founder and CEO of Reform. 'Think about this when renovating and that the kitchen design should also reflect the time you spend there throughout the day, week and year.'
'Whatever your personal style or interior design likes, dislikes and preferences, your kitchen should be a space you want to be in either by yourself or with other people,' agrees Georgia Clark, Senior Designer at Devol. 'The kitchen should feel welcoming, homely and functional in equal measure!'
'Designing a kitchen is the fusion of mathematics and creativity,' explains Tom Howley. 'It's all about scale, color and balance. The most elegant kitchens simply look right in the space. There is a lot to be said for bearing simplicity in mind when designing a kitchen, so keep it classic.'
'The ultimate goal of kitchen design, no matter how small the space, is that it should be comfortable to use, whatever task it is being used for and whoever it is being used by' finishes Daniel Bowler, Director of Eggersmann UK.
What can a small kitchen not function without?
What really needs to be squeezed onto the small kitchen essentials list, and what can be sacrificed to save space?
'How a kitchen is used is very personal and specific to the person or people using it, and everyone has different 'essential' items, but a kitchen can't be a kitchen without a sink, some form of cooking appliance and a fridge/freezer,' says Georgia Clark, Senior Designer at Devol. 'Somewhere to store crockery, glasses, pots and pans, utensils and cutlery is also important – anything additional is a bonus!'
'Small kitchen storage ideas have to be on the 'essential' list, as any clutter will make the room appear much smaller than it actually is,' says Daniel Bowler of Eggersmann. 'Free up worktop space by including a good amount of internal cupboard and drawer organizers that will really help achieve a sense of order, and consider hiding appliances in a breakfast cupboard to keep the space looking streamlined.'
'Dishwashers are an easy item to go without, especially if there are only two people in the household. Large ovens and hobs are another element that can be disregarded – reduce the size of these by opting for a single oven and a domino hob. Or completely remove the oven and go with a combination microwave instead,' advises Rebecca Nokes, Head of Creative Design at John Lewis of Hungerford (john-lewis.co.uk). 'Losing the freezer and opting for an icebox instead can work really well, and a kettle is a really easy item to go without, thanks to hot water taps.'
'A really wonderful option for all small kitchens is to use an integrated extraction hob such as those by Bora,' advises Jayne Everett, Design Director at Naked Kitchens (nakedkitchens.com). 'They negate the need for a separate extractor or extraction ducting as the recirculation is very efficient.'
'Specifying appliances for a small kitchen requires careful thought. Remember that when open, oven or fridge doors can cut into a considerable portion of space,' says Tom Howley, Design Director at bespoke kitchen company Tom Howley (tomhowley.co.uk). 'As a general rule, don't sacrifice worktop space for a huge American-style fridge-freezer or tall pantry, it's not worth it.'
'Apart from the obvious kitchen essentials, light and lighting is super important in even the smallest kitchen space,' adds Reform's Jeppe Christensen. 'Don't forget a good knife and one of the best coffee machines!' smiles Monica Born, Founder and CEO of Superfront.
Unnecessary design details in small kitchens
Ok, so we definitely need some kind of cooker, and some storage. But surely there are some smaller elements of the kitchen that can be crossed off the list?
'There's no need for a double bowl sink, especially if you have a dishwasher, there's no real need for a wash bowl and a rinse bowl,' advises Superfront's Monica Born. 'A wider sink where you can fit larger pots and oven plates might be more useful.'
'You don't really need draining boards, as you can get drainers which balance across the sink to free up additional worktop space,' says John Lewis of Hungerford's Rebecca Nokes. 'Also opt for a smaller undermounted fridge/freezer rather than a full height design.'
'Many of us may dream of large island units, peninsulas with bar stools and walk-in pantries, but really these are the nice-to-haves, and a small kitchen actually works better with less in it, rather than more,' says Eggersmann's Daniel Bowler. 'As long as the essentials are covered!'
How to make the most of every centimeter in a small kitchen
There are some elements to kitchen planning that only the experts will know. Here they share a few insider tips so you can make sure all areas are covered.
'It's essential to squeeze integrated bins into the design, which is often be overlooked, shares John Lewis of Hungerford's Rebecca Nokes. 'Although smaller than a freestanding bin in order to fit into the space, they're far more practical and space-saving compared to having a bulky bin on the end of a run.'
'Built-under draw fridges and dishwashers work brilliantly, as well as ovens with doors that slip underneath the oven itself, and for the wine connoisseurs, built-under wine temperature regulators look incredibly sleek,' Tom Howley tells us. 'Another innovative way to keep your kitchen looking spacious is to do away with the (very popular) industrial-style extractor units. Hobs with integrated extraction leave space above your hob for extra storage, a beautiful splashback or even a piece of art.'
'Smart storage inserts increase capacity in cabinets and make it easier to find what you are looking for,' says Superfront's Monica Born. 'Ikea – which our kitchen elements are is designed to be used with – offers a lot of clever storage solutions, such as dividers for drawers, shelves and modular recycling bins in different sizes to create a kitchen that is tidy and organized on the inside as well as on the outside.'
'Narrow pull out storage solutions which offer tremendous storage space for slim cabinets are really great,' adds Naked Kitchens's Jayne Everett.
'Look for solutions that cater specifically for small kitchens such as internal storage ideas and cabinets with reduced projection,' says Eggersmann's Daniel Bowler. 'If you shop around and seek expert advice and you won't feel limited at all.'
Are there any kitchen elements which are made in small sizes?
Certain elements of the kitchen are designed especially for small rooms, and embracing options suitable to your compact space can free up precious centimeters.
'If you don't have space for all of your equipment and you're not willing to compromise on one over the other, can you find small and alternative versions,' advises Reform's Jeppe Christensen. 'Research small fridges, narrow dishwashers, combined oven and microwaves and a combined extractor induction.'
'A slimline dishwasher can be your salvation,' agrees Superfront's Monica Born. 'If you use an integrated machine with a front cover, it will blend in and create a calm and coherent overall look for your kitchen.'
'For very small kitchens it can sometimes be worth considering if a dishwasher or bin cabinet, for example, are too much of a compromise over storage,' adds Devol's Georgia Clark. 'While it's possible to source slimline versions, in some cases losing a dishwasher altogether for the sake of storage space is often worth consideration. In some small spaces you just can't have everything and compromises are key!'
'When there's not enough room for a kitchen island, consider opting for a smaller chef's table, perhaps even on wheels, making a portable and practical solution,' tips Eggersmann's Daniel Bower. 'Also try swapping a dining table for a breakfast bar.'
Expert tips and trick for small kitchens
The experts share their last small kitchen design secrets, to ease planning, maximize space, ensure organization and make the kitchen function smoothly.
'If your space is already built, a great way to visualize how the space will function and whether it will work with your needs is to use masking tape to plot your proposed layout on the floor, or use boxes to build a mock up' advises Rebecca Nokes of John Lewis of Hungerford.
'A great way to save space is to fit pocket doors at the entrance to the kitchen (which slide into the wall) so you don't have to worry about a full, traditional door obscuring cabinetry within the kitchen when it's open,' advises Tom Howley. 'In terms of space saving with cabinetry, the rule is pull-out. Fit deep cabinetry and pull-out drawers or a cage system for a multi-layered, discrete and effective storage system.'
'Use a combination of tall and base kitchen cabinets, thinking through appliances, says Naked Kitchen's Jayne Everett. 'Keep any high-level wall cabinets light colored so the space doesn't feel too enclosed – perhaps painted them the same color as the wall.'
'Use the height of the room! It can be easy to fit a lot of storage on a fairly small wall surface simply by stacking several cabinet frames on top of each other,' agrees Superfront's Monica Born. 'In the top cabinets, you can store kitchen gear and homeware that you rarely use.'
'One of my best and most efficient tips when trying to optimize space in a small kitchen is using doors with drawers inside instead of having drawers separated. By doing this, it allows you to have more storage space than you would by installing drawers as separate fronts,' explains Jeppe Christensen of Reform. 'Another tip would be to go for a folding table, which is also useful as it creates a flexible dining or working space, as well as a nice Aperitivo station when having friends over for dinner.'
'My key tips for small kitchen design are; go with appliances appropriately sized for the space and amount of people using it day-to-day, don't overfill the space with furniture and if you can cope without lots of wall cupboards, wall space and shelving really open up a room,' finishes Devol's Georgia Clark. 'Designing a new kitchen is often a great time to go through all of your kitchen 'things' and work out what you do and don't use. It's the perfect opportunity to have a clear out and just hold onto the most important, functional and precious bits and pieces you have!'
For style leaders and design lovers.
Amy Moorea Wong is a freelance interior design journalist with a decade of experience in contemporary print and digital editorial, previously News Editor at Livingetc. She writes on a broad range of modern design topics from news and interior zeitgeist to houses, architecture, travel and wider culture. She has a penchant for natural materials, surprising pops of colour and pattern and design with an eco edge.