5 plants that actually thrive during fall – gorgeous flowers to plant now that will keep your garden colorful
There are plenty of brilliantly colored flowers that will continue to bloom right up to the first frost - and the good news is you can plant them now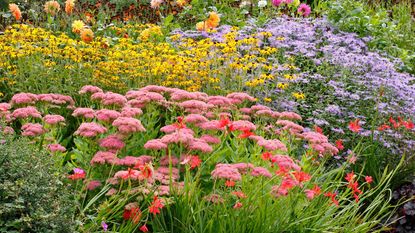 (Image credit: Deborah Vernon/Alamy Stock Photo)
As the soft days of fall roll gently on there is still plenty to enjoy in the flower garden if you choose plants that love the cooler weather. How long this extended growing season lasts will depend on whether you're gardening in the cooler North or warm Southern states. Either way, there is something to suit all.
Generally, fall-flowering plants can handle cooler temperatures and may even prefer them, whether planted in the ground or in containers. They will add blooms in a rich autumnal color palette that perfectly complements the red, orange and gold foliage of the season.
Visiting nurseries and garden centers at this time of year can result in some colorful seasonal finds, and the good news is any fall plants you find can go straight into your modern garden now. If you choose perennial varieties they will come back year after year too.
Here are our favorite 5 plants that actually thrive during fall to fill your garden with late season color.
1. Black-eyed Susan
USDA zone: 3-8
Height: 2-3 feet
Botanical name: Rudbeckia
With its large, daisy-like yellow flowers black-eyed Susan is a reliable perennial or annual depending on your growing zone. It blooms from summer right through until first frost. In the wild this plant grows in prairies, and is native to the eastern two-thirds of North America.
'Black-eyed Susan grows wild in the wide open spaces of the American prairies, but they perform well in small gardens, too,' according to the plant experts at Nature Hills nursery. 'Tuck a few into matching outdoor containers as an easy decoration for your sun-soaked balcony or deck.'
They like full sun, are a good choice for drought-tolerant planting ideas, and don't mind dry soil as long as it's well-drained. As part of your landscaping, black-eyed Susan looks particularly lovely when planted in drifts through ornamental grasses. If you're interested in plants for pollinators they're a must too.
A tried and tested variety is 'Goldsturm'. It blooms for months in massed plantings or containers, is hardy and adaptable, and makes a great cut flower too. It will come back year after year and is a good choice for beginners.
2. Coral bells
USDA zone: 3 to 8
Height: 1-2 feet
Botanical name: Heuchera
There's so much in favor of adding a heuchera (Coral Bells) plant or two to the fall garden. These leafy hardy perennials are virtually evergreen and come in a huge range of foliage colors in shades like coral red, purple and lemon that will really lift your autumn garden.
They look good year-round, not just in fall, and are easy to care for, so perfect for a low maintenance garden. In addition to their pretty ruffled leaves that come in many colors they are prolific from spring to the first hard freeze. They produce lovely pink or white flower spikes throughout the season too.
Ideal for filling out gaps in flower beds, they make a great container plant too, either on their own or as part of a mix. Try 'Berry Smoothie' if you want a pretty deep pink variety, 'Lemon Surprise' for some citrus zing or 'Plum Royale' for an inky gothic touch.
3. Bee balm
USDA zone: 4-9
Height: 1-4 feet
Botanical name: Monarda didyma
Flamboyant bee balm is a late-summer bloomer with vibrant flowers that's well worth adding to your yard in fall as they're best planted in the cool weather. Use in flowerbeds to create a soft, lush look or pot them up in oversized patio containers.
'A favorite of pollinators, Monarda displays the most delightful whorl of disc-shaped flowers with thin, tubular petals that spider out,' says horticulturalist Jac Semmler, author of Super Bloom, available from Amazon. 'The bract highlights the pincushion pad of the flower. The flowers sit on top of long thin stems that rise from a clump, and when planted in a mass offer a sea of scented blooms.'
Available in shades of red, pink, purple and white, they're one of the best flowers for hummingbirds too so even more of a reason to feature them as plants that actually thrive during fall.
Plant bee balm in rich, well-drained soil in a sunny spot where they'll get at least four hours of sunlight a day. In early spring, trim the dried stems and foliage back to the ground and soon you'll see green shoots forming for the new season.
4. Hylotelephium 'Autumn Joy'
USDA zone: 3 to 9
Height: 2-3 feet
Common name: sedum
One of the very best plants to add end-of-season interest to the yard are the tall border forms of sedum now known as Hylotelephium. The blooms on these fall perennials are made up of multiple little flowers that last for weeks, and pollinators love them, so make them a go-to for your fall planting mix.
'The flat-topped flower heads appear in late summer in shades of dusky pink, maroon, white and green,' says horticulturalist Jenny Rose Carey, author of The Ultimate Flower Gardener's Guide. 'They change color as they age, sometimes becoming darker, adding interest to the fall garden. 'Autumn Joy' is a tall tried-and-true cultivar that looks good in the mid-front of the border.'
It's also one of the hardiest plants you can add to the garden right now, as well as being long-blooming and easy to care for. It's a sun-loving, drought-tolerant plant as the leaves are succulent-like, and it needs very little water. So it definitely makes it on to our list of plants that actually thrive during fall and the best plants for dry gardens.
5. Symphyotrichum
USDA zone: 3 to 8
Height: 2-6 feet
Common names: asters, Michaelmas daisies
If you want an interesting pop of color during the fall months, look out for different varieties of aster, which are one of our favorite plants that actually thrive during fall. One important point to mention is that these delightful daisy-shaped flowers have had a name change and are now known as symphyotrichum.
They are late bloomers that will help your garden shift smoothly from summer to fall. They are an easy to grow perennial, and bloom when other summer flowers have faded. These native plants have long been associated with color in the fall garden, and come in shades of blue, purple, red, pink and white. Bees and butterflies love them too as a late-season source of nectar, so they're perfect for you if wildlife gardening is on the agenda.
Look out for the giant New England asters such as the clusters of soft pink flowers offered by the variety 'Harrington's Pink'. These magnificent blooms light up the late season landscape and can grow to 6 feet tall. Plant in a sunny, airy position to ensure maximum flowering, then cut back hard once the blooms have finished.
What is the easiest plant to grow in the fall?
Tall and graceful Japanese anemones add beautiful long-lasting pink or white flowers to late fall flower beds. They are so easy to grow, quickly filling any gaps with their lovely floaty flowers shooting up on long stems.
Try a favorite cultivar like elegant white 'Honorine Jobert', which is fabulous for brightening up the garden in fall and best planted in partial shade.
If you only have one or two Japanese anemone plants the easiest way to get more quickly is to divide clumps in early spring or fall. Simply dig up the plant and use a sharp spade to divide the rootball into sections. Then replant and water well.
When they're growing in a spot they like Japanese anemones will spread easily and may even eventually outgrow the space you intended for them. As well as self-seeding, they also send out spreading roots that develop into new plants. So there are lots of ways to increase your stock making Japanese anemones one of the best plants that actually thrive during fall.
The Livingetc newsletter is your shortcut to the now and the next in home design. Subscribe today to receive a stunning free 200-page book of the best homes from around the world.
Lifestyle journalist Sarah Wilson has been writing about flowers, plants, and garden design and trends since 2015. Having already studied introductory garden and landscape design as well as a course in floristry she is currently adding to her list of qualifications with an RHS Level 2 course in the Principles of Plant Growth and Development. In addition to livingetc.com, she's also written for homesandgardens.com, gardeningetc.com, Modern Gardens and Country Homes & Interiors magazines.