Best plants for a dry garden – 10 easy-to-grow varieties that are drought tolerant and low maintenance
Pick from our mix of the best plants for a dry garden including a selection of all-time expert favorites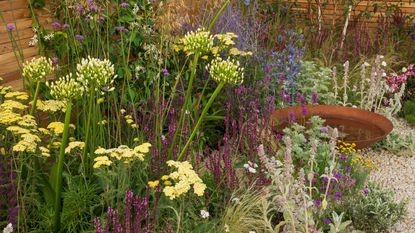 (Image credit: Ellen Rooney/Alamy Stock Photo)
The Livingetc Newsletter
For style leaders and design lovers.
Thank you for signing up to LivingEtc. You will receive a verification email shortly.
There was a problem. Please refresh the page and try again.
When it comes to choosing the best plants for a dry garden, a good place to start is by selecting varieties that are drought tolerant and suit Mediterranean-style planting. Choose ones with silver and grey-green foliage that grow together naturally in hot, dry climates and you have an easy formula to follow to get the right look.
The best plants for dry gardens are the very definition of low maintenance. They grow in gravel or dry, sandy soil, need very little water, and are independent sorts - once established you really can leave them to get on with it.
10 of the best dry garden plants
When building layers of planting in a dry garden first make sure the background structure is right, perhaps with an olive or eucalyptus tree, and one or two evergreen shrubs to add some height.
Next layer up plants like lavender, santolina and euphorbia in hazy drifts, then dot around tall plants with shapely outlines like verbena bonariensis and sea holly to break things up in an interesting way.
Finally weave in swathes of soft ornamental grasses like Stipa gigantea and Stipa tenuissima for texture, and let ground cover plants like thyme and Stachys byzantina roam free to do their work.
1. Sea holly (Eryngium)
A popular choice for dry gardens and native to the southeastern part of North America, the spiky bracts and thistle-like 'cones' of sea holly add texture and structure to the middle of your flower bed borders, where the architectural qualities of this plant provide a defined silhouette amongst the soft and hazy planting.
Depending on the variety eryngium can grow up to 48 inches tall. Available in purple, blue, silver and white varieties, my favorite is Eryngium x zabelii 'Big Blue', a dense blue with gray-green leaves. I like this one as it's such an intense blue.
This plant copes easily in dry sandy soils and gravel gardens that are well-drained, and needs full sun to reach its potential. It is nectar/pollen rich and a big hit with bees, butterflies and other pollinators.
2. Euphorbia
The green bracts of exotic looking euphorbia are usually the first fresh growth of the new season when they push up in spring. Euphorbia's distinctive spires add a striking architectural note to the middle of the border in a dry landscaping scheme, and they come in all sizes from dainty to towering. Most varieties will happily spread around to fill the space.
One of the easiest plants to grow, euphorbia do best in free-draining sandy soil and gravel gardens, and thrive in hot summers. Some euphorbia are honey-scented too, which makes them a real draw for butterflies and bees.
Probably the best-known variety, Euphorbia characias has huge wands of chartreuse-green flowers speckled with bronze 'eyes' and grows up to 5 feet tall. It loves baking in a sun-drenched spot.
'The perky Gopher plant (Euphorbia biglandulosa) is one of my favorites as it needs very little water and can do well in areas without irrigation,' says Amy Hovis, co-owner of Austin-based Barton Springs Nursery. 'It's got pretty little yellow blooms and pairs well with other drought-tolerant plants.'
For a smaller variety, Euphorbia amygdaloides 'Purpurea' grows up to 3 feet. It has deep purple stems and leaves, and contrasting acid green flower plumes. It will thrive pretty much anywhere.
$6.49
3. Lavender
A staple of the dry garden, add scent and color by using lavender in a sunny spot, weaving it in among other drought-resistant summer flowers for the best result. For impact position it near doors and garden paths to get the full benefits of the fragrance.
'My garden paths are lined with English lavender,' says Ben Hilton, founder of The Yard and Garden. 'A truly stunning plant that thrives in poor dry, stony soil, it gives a sensational display of fragrant purple flowers that last all summer. Lavender is also a wonderful plant for pollinating insects, attracting all types of bees and butterflies.'
Lavender always looks pretty planted among other Mediterranean herbs like rosemary and thyme for drifts of naturalistic softly colored planting.
$21.43
4. Santolina (lavender cotton)
With its pale lemon-colored flowers and aromatic feathery foliage, santolina is a mainstay of dry, Mediterranean-style gardens. It's easy to grow for container gardening, gravel gardens and borders, and reaches a height of up to 19 inches. It works really well in a planting scheme with sea holly, the pale yellow and blue combining to make a pleasing color palette.
'These are classic plants for dry soils in a sunny location,' says Jenny Rose Carey, plant expert and author of The Ultimate Flower Gardener's Guide. 'Choose from silvery-leaved Santolina chamaecyparissus, or the green-leaved Santolina rosmarinfolia. Both plants have cute yellow button-shaped flowers in summer. The leaves are an important evergreen, or evergrey, addition to a bed.'
$6.49
5. Nolina texana (Texas sacahuista)
Nolina texana, also known as Texas beargrass or Texas sacahuista is a great evergreen, drought-resistant plant. This clump forming member of the lily family grows to about 2.5 feet tall. It likes full sun but will work in partially shady gardens, too. It does best with dry conditions and good drainage, but give it some water if the summer is totally hot and dry.
'Nolina texana is wonderful when planting on a dry slope as it cascades over, doing its job to retain the earth while giving the garden a luxurious look at the same time,' says Amy Hovis. 'It needs very little water or care, and is one of my very favorite plants for any landscape.'
Flowering from late spring to summer, the blooms are clustered at the heart of the plant. You'll need to cut back the flowering stalk as close to the base as possible once the flowers are spent.
6. Verbena bonariensis
Tall airy perennials like verbena bonariensis add a dynamic change in height to dry garden borders, where they can grow up to 6 feet tall. They can be used here and there in the gaps to give vertical accents. Their branching stems provide swaying movement in the breeze too, and look particularly fine when running through swathes of ornamental grasses.
They like to be planted in full sun and well-drained soil, and given the right conditions will self-seed freely to become a main attraction in dry gardens from late spring right into fall. They come in a choice of rich shades too including purple, mauve, ruby, pink and white so there's a color that will work for every planting scheme. This makes them one of the best plants for a dry garden you can opt for.
7. Echium pininana (bugloss)
This is a true sun lover with its preferred location baking heat in a southern climate. These beauties are natives of the Azores, Madeira and the Canary Islands, where they thrive on volcanic soil so they're not fussy about putting their roots down in the driest of conditions.
With giant ornamental spikes that can grow to nearly 6 feet, the flowers can be rose-pink, purple-blue or white, and bees and butterflies will smother them.
I love these dramatic towering spikes. It doesn't matter how hot and dry it is they still don't need watering and continue to look good for months right through even the hottest, driest summer. They simply thrive on neglect, so you can't beat them for a low maintenance garden.
In yet more good news, they self-seed prolifically. Once the flowers have faded, shake the seeds around the garden to get more plants.
For best results, I found Echium pininana 'Snow Tower' ticks all the boxes. Bees love the white blooms, it self-seeds well so you get more plants the following year, and its pale flowers slot into any planting scheme beautifully.
8. Achillea (yarrow)
These drought tolerant perennials thrive in a hot dry spot in the garden and do well in free-draining soil. They are reliable too, flowering from midsummer until fall, and are a great candidate for the best plants for a dry garden list as they can be divided up after a few years to fill any gaps.
Clusters of large, flat flowerheads in yellow, off-white, pink, purple and orange appear on gently branching stems above grey-green leaves in summer and fall. These long-flowering perennials are the star of natural planting schemes, and are a wildlife gardening magnet for butterflies and bees, and grow up to 24 inches tall.
'Look for the lofty 'Gold Plate', suggests Jenny Rose Carey. 'Other good yarrow cultivars for the garden include 'Coronation Gold', a well-loved variety with gray-green foliage and very flat yellow flowers, and 'Pink Grapefruit', which flowers in shades of pink.'
9. Echinops
Another real favorite with beneficial garden insects like bees and butterflies, this architecturally striking globe thistle plant works best in a dry or gravel garden especially in a sunny border among other plants that also love parched conditions. It grows almost anywhere in even the thinnest of soils, as long as there's some sun. It's a must if you want to attract more pollinators to your garden.
It has pin-cushion globes of dark blue or white flowers in summer, and the silvery stems and spiny grey-green leaves add interest too. It grows up to 3 feet in height.
My favorite variety is 'Veitch's Blue'. It has deep purple-blue flowers, and rarely self-seeds, which is great if you have a compact garden like mine and don't want your space taken over. It doesn't grow too tall either (around 12 inches).
10. Agapanthus
Big clumps of these showy pompom blooms make a bold addition to dry garden planting either in borders or potted up and slotted in to fill any gaps. Apart from a few white-flowered forms they come mostly in shades of blue, from the palest powder hue to dark midnight shades, so fit well with the dry garden standard color palette of soft mauve, grey and cream.
Choose the sunniest spot possible to get the most flowers as these plants love being bathed in sunshine. They thrive in well-drained soil or planted in pots with plenty of added grit. Deciduous varieties of agapanthus are the hardiest, and are often the most prolific flowerers with 15-20 blooms per clump.
The ornamental seed heads look stunning too, particularly against a backdrop of grasses in fall.
What are the best succulents for dry gardens?
Originating from dry and arid regions, succulents are always a good choice for dry gardens. Being drought tolerant and slow growing, succulents don't need the same level of care as other plants.
'Succulents are an excellent choice for dry gardens as they store water in their leaves, stems, and roots,' says David Angelov, CEO and founder of Massachusetts-based PlantParenthood. 'They come in a variety of colors and shapes and are low-maintenance to upkeep.'
David recommends choosing a yucca as they are tough and can thrive in hot, dry conditions, or an agave as they are low maintenance and can tolerate drought, making them perfect for dry gardens.
Sedum is popular as one of the best plants for a dry garden. Few plants are as well matched to dry soil and sunbaked conditions as sedum, a succulent that comes in a variety of shapes, sizes, and colors. It's low-maintenance and hardy, adding structure and interest with white, pink or red flowers throughout summer. It stores water in its leaves, meaning it's drought-tolerant.
'My favorite is Sedum telephium 'Purple Emperor', an unusual claret-colored plant with striking blooms that attract butterflies,' says Ben Hilton of The Yard and Garden.
Meanwhile some plants trick us into thinking they're succulents when they're not. 'Dyckia are one of my favorites for dry gardens. Not only do they do well with little water, they seem to thrive when neglected,' says Amy Hovis of Barton Springs Nursery. 'They add a sculptural element to any garden and come in different colors with various patterns.' Dyckia is actually a member of the bromeliad family.
For style leaders and design lovers.
Lifestyle journalist Sarah Wilson has been writing about gardens since 2015. She's written for Gardeningetc.com, Livingetc, Homes & Gardens, Easy Gardens and Modern Gardens magazines. Her first job on glossy magazines was at Elle, during which time a visit to the legendary La Colombe d'Or in St-Paul-de-Vence led to an interest in all things gardening. Later as lifestyle editor at Country Homes & Interiors magazine the real pull was the run of captivating country gardens that were featured. Having studied introductory garden and landscape design as well as a course in floristry she is currently putting the skills learned to good use in her own garden where the dream is establishing a cutting garden.