5 life lessons I learned from several stressful moves as a renter - and the mistakes I've learned to avoid
As a renter, I've made plenty of moves in my time - even across continents. Want to know what I've learned in the process?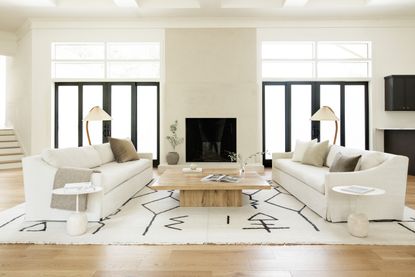 (Image credit: Madeline Harper. Studio credit Emily Lauren Interiors)
The Livingetc Newsletter
For style leaders and design lovers.
Thank you for signing up to LivingEtc. You will receive a verification email shortly.
There was a problem. Please refresh the page and try again.
Living in different homes and moving apartments is, quite frankly, a bittersweet experience. On one hand, you get to try out new neighborhoods, cities, and spaces. On the other hand, there's that big headache of packing, unpacking, and making a completely new house, your home.
All in all, renting isn't everyone's bag, and for years, it wasn't mine either. Until one day and I sat down and analyzed ways to make it less painful, and a more considered, planned, and well-executed affair. I've been able to pinpoint some major pain points of moving, and how these can be averted with a few lifestyle and planning changes.
While the list is long, I do have a few lessons that may be common to most of you and could help move and convert a home into your own. Take a look at these interior design and planning ideas, and hopefully make the next move a little easier.
1. Categorize your possessions before packing them
Packing is a big headache but packing haphazardly and in an inorderly manner is a bigger headache. Usually, people tend to wrap and pack anything, but it's only when you reach your new place and start unpacking is when you realize that you have no clue where you've packed all the essentials.
If you're getting professionals in, perhaps stack all the similar items, or things specific to rooms in one place. Ensure that you label the boxes such that they all end up together. For instance, all the modern bedroom furniture, decoratives, and furnishings should be clubbed together. You could even pack items that belong in one cupboard, in one big box.
You could also pack things by category: clothes, books, tools, games, and toys, etc. You could print out a list of everything the box contains and paste it on the outside if you're planning a big, quick, and massive unpacking day, and need your home to be in order immediately.
Type: Portable Bluetooth device
Price: $36
Make your packing easy with this easy-to-use label maker that doesn't require ink, toner, or ribbons.
2. Give importance to the layout and not just square footage
I know this may sound like a debatable topic but I have learned a great deal about how important your big or small living room layout or bedroom layout is. A well-designed, spaced-out room can be a breeze to live in but an awkward layout will not only pose issues when it comes to placing furniture but also in your day-to-day functioning.
The size of your rental is a big consideration but it needs to be comfortable to live in. A long, narrow room, an awkward alcove, an impractical niche, a tiny extension and more will not only be tough to use, but it's a dead space you're paying rent for. If you can't fit any functionality into it, it truly doesn't help your case.
Try to imagine the flow of the layout, and the organization of your furniture and belongings when you go apartment hunting. In a standard layout, you should be able to fit in a regular-sized couch, a bed, and chairs. A roughly symmetrical layout should be ideal to accommodate your possessions.
3. Don't buy furniture specific to each apartment
The trend of bespoke is big in today's times and for the right reasons. Everyone wants their homes to be unique, stand-alone, and one-of-a-kind that generate awe. But if you are a renter, jumping on this trend may be a little tricky, especially if you wish to get a specific item made for a specific space. Your current home's layout, corners, and measurements won't be the same as the next. Plus, all these items will have to be packed one day and shipped across towns and countries. Are you okay with them chipping, denting, or breaking in transit? How will you fit the piece into your next home which may not be the right style at all?
Having said that, I do believe that you deserve beautiful things (even if you don't own a home). Just be clever about it. If you want something bespoke, you could perhaps choose to get a smaller item designed specially for you, that you can be sure will fit into any space or type of interior. Perhaps look at a coffee table trend that works but in a more standard size and a super sturdy material (like teak or stone). Maybe a side table would work as well. Ensure you do not indulge too much or get too carried away.
4. Don't give up on personalizing your space
Do not paint, do not wallpaper, and do not drill into the walls – words that make every renter cringe. But that shouldn't stop you from making the rented space your own. Think of clever tricks to convert walls and corners into the most design-savvy spots.
Consider decals or peel-and-stick bedroom or living room wallpapers that are as easy to install as they are to take out. Similarly, want to hang your favorite artwork but can't drill holes in the walls? Consider the 3M hooks and double stick tapes that can take up to 3-4 kg of weight and help you hang your favorite works. What's better – these don't leave a mark on the walls!
Sometimes a floor-to-ceiling artwork, positioned on the floor too can create an impact, giving the feeling of casual, artistic elegance. A floor-standing, ornate mirror can do the same job. If you're unsure of dressing up the walls at all, unleash your creativity on your furniture and soft furnishings. Bring in color, pattern, and texture to elevate your interiors and add that much-needed layering.
Garden Party Peel and stick wallpaper
Material: Vinyl
Price: $1/ sq ft
Add a bright burst of color to your powder bathroom or study with this floral peel-and-stick wallpaper that can be installed and taken down easily.
5. Consider a yearly purge of possessions
And finally, do yourself a favor and Marie Kondo your home at least once a year. Yes, this means getting rid of all things that serve no purpose, are broken, are off-trend or just do not serve your decor needs anymore. Hoarding can be the biggest enemy you will have to tackle as you pack up your home for the big move, and have to decide between that lamp and the candle stand. Make that decision now and lighten the load you have to pack later on.
It might be a good idea to start a 'trash' and 'donate' box for the household. Whether you purge your living room, master bedroom, guest bedroom, or bathrooms weekly, monthly, or once a year, you can be sure where each item goes. As a renter, the most helpful trait would be to not get too attached to your possessions. After all, your life is about constant change, new chapters, and fresh things. Let the winds of change blow over your home, and make moving a light, breezy and easy experience.
For style leaders and design lovers.
Aditi Sharma Maheshwari is an architecture and design journalist with over 10 years of experience. She's worked at some of the leading media houses in India such as Elle Decor, Houzz and Architectural Digest (Condé Nast). Till recently, she was a freelance writer for publications such as Architectural Digest US, House Beautiful, Stir World, Beautiful Homes India among others. In her spare time, she volunteers at animal shelters and other rescue organizations.