Is your outdoor dining table in the right place? Designers on the secret formula to the most elevated alfresco setup
Knowing if your outdoor dining table in the right place means you can live alfresco in style, entertaining and relaxing to your heart's content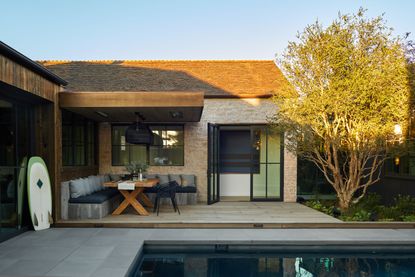 (Image credit: David Tsay)
The Livingetc Newsletter
For style leaders and design lovers.
Thank you for signing up to LivingEtc. You will receive a verification email shortly.
There was a problem. Please refresh the page and try again.
Creating a space to enjoy eating, drinking, and entertaining outdoors is always a joy. Maybe we are speaking just for those of us who are subjected to northern hemisphere seasons, but the novelty of being able to spend long evenings sat outdoors, never wears off. And alfresco dining areas are such an asset and really come into their own in the summer months when they become an extension of your home. You can often end up using this space more than your indoor dining room, especially if you're celebrating July 4.
Now, if you are designing an outdoor dining space, the biggest and first decision to make is where to position it in your backyard, as this can make or break the look and (more importantly) the functionality of the space. But where is the best spot for your outdoor dining table? Do you keep it near the house for convenience or create a secluded, separate spot that feels more natural and intimate? Do you position it under some kind of shelter, or out in the open?
How to pick the best position for an outdoor table
We asked designers and landscapers for their advice on where's the perfect place to create your alfresco dining set up.
1. Look at the orientation of your yard
When choosing the best position for an outdoor dining table the first thing to look at is the orientation of your yard. Note where gets the sun and at what times of day – and also be considering at what times of day the outdoor dining space will be used. Do you want your table to be positioned in the spot that gets the most sun throughout the day, or will it mostly be a space you use in the evenings so would benefit from getting sun later in the day? Or perhaps you want to avoid the sun altogether and pick a shady, cool spot in the yard so it can be used for entertaining even when the day is at the hottest points.
'First, consider the orientation and climatic conditions of the garden,' suggests Anthony Wyer, founder, and creative director, Wyer & Co. 'And at the same time, consider how you intend to use the space, how it might complement your lifestyle and the flow inside and out to create spaces that engage and entertain.'
'In this front garden faces north and is flooded with sun year-round. It is quiet and intimate and features a paved private courtyard, having an afternoon drink here in the summer or the option to warm up throughout the winter months is joyful. The backyard faces south and connects generously with the kitchen and informal living/dining area. This zone is playful and relaxed, designed as areas to congregate and entertain.'
2. Consider how much of a feature you want your outdoor dining space to be
Do you want your outdoor dining space to be the focal point of your garden, or blend more seamlessly into the space? When deciding on this consider the size of your garden too, if you are dealing with a small backyard we'd recommend going with the former, use your outdoor dining area to ground the garden, make it the focus of the space rather than try and squeeze it into one corner. In larger yards you can be more flexible and often the nicest alfresco dining spaces are ones that are more integrated with the natural surroundings or share the space with a more relaxed outdoor living room.
'The best place to position an outdoor table often depends on the size of your space, and whether you're placing the table on a patio, on a porch or deck, or under an outdoor structure like a palapa or modern gazebo,' suggests designer Kathy Kuo. 'For smaller spaces, I love the look of the table being the central point in the space, with other elements arranged around it. For larger spaces, especially bigger decks, it's often nice to have the table off to one side, and then have a little seating area or grill area on the opposite side.'
3. Choose a spot that's easily accessible from the kitchen
If you use your outdoor dining area more than your indoor one during the summer months it makes sense to position it close to the kitchen so you aren't trekking across the whole garden to serve up. You get more of that indoor/outdoor flow this way too, and the outdoor dining space feels like an extension of your room – an extra room rather than a totally separate area.
'When we design an outdoor space to include a dining table, we consider the structure of the space and the optimal view. Dining tables are best placed in an area that is somewhat adjacent to the indoor or outdoor kitchen, and have a natural spot, aligning with the structure of the home, creating a "nook" of sorts where it makes sense and feels grounded,' suggests designer Susan Skornicka. 'And whenever possible, it's strategically placed to take in the view. This particular table at our project in Stinson Beach, CA, is aligned with the wall and window to take in the ocean view on one side, and the mountain view on the other. We added tall potted plants around to keep it held with natural beauty.'
4. Think about how to shelter your dining area
This is a key thing to consider when deciding on where to place an outdoor dining table. Does it need to be sheltered (even with the best outdoor furniture, usually the answer is yes) and what are you going to use to shelter it if so?
'The best position for an outdoor dining table is in the shade so you can be more comfortable and it helps the food stay fresh. You also want to be in an area where you can enjoy the views of your space,' suggests Gonzalo Bueno, co-founder of Ten Plus Three.
'It is important for the space to have the ability to be shaded from midday/western sun, particularly during the summer months. On the flip side, you want the ability to let in winter light. Also, it's important to be sheltered from the wind,' says Henry Chapple-Cox, design manager at Secret Gardens. 'Deciduous trees or retractable umbrellas or awnings can provide this flexibility.'
Designer Marie Flanigan agrees, 'Always consider how to maximize shade. Guests are always apt to linger longer when they're cool and comfortable. When working with an exterior space that has a large tree, I try to position the dining table underneath to maximize shade, while allowing guests to enjoy the natural splendor. Further, when there's a covered area like a pergola or patio with sufficient space for a table underneath, I'll always opt utilize that space as well. And if there's a branch that allows for hanging a chandelier or outdoor pendant lighting, placing a table below the lighting sets a gorgeous vibe.'
5. Add an outdoor dining nook
Adding a nook, rather than a table and chairs can be a lovely way to create a more relaxed dining space and give more of that indoors but outdoors feel. It can also be a great solution for adding a dining area to a small patio as you can hug the edges of the space, and still fit in plenty of seating. Plus, if you move the table out you can switch it from dining space, to outdoor living room.
'In many of our projects we will do an outdoor dining nook where we can incorporate a fun printed cushion to give the cool factor. A dining nook idea us to mix up the seating rather than uniform chairs. Another great place for an outdoor dining table is below a pergola as this separated area feels like its own space.' suggests Raili Clasen, founder of Raili Ca.
6. Ensure there's enough space to move around easily
'When looking to position your outdoor table, make sure you've got enough space to sit comfortably with remaining space to move around the table. Also, it's always optimal to have some sort of foundation below the table, as opposed to placing directly on grass. Pavers can be a great option if you aren't pouring a slab,' advises Marie Flanigan.
Henry Chapple-Cox agrees that, 'You want to have enough space to be able to get up and move around, without bumping into a wall or closing off access. Think about not only the dimensions of the table and chairs themselves but how they are used when they are out. Often is it good to get out some masking tape or old newspaper to map out a space with the correct dimensions before deciding on outdoor furniture.'
'When choosing where to place your outdoor dining table, you'll want to consider the overall size of your outdoor dining area, as well as any features like doorways, steps, railings, and the placement of an outdoor umbrella if you have one. There's no hard and fast rule here but you want to make sure there's room to maneuver around and feel relaxed and not too cramped,' adds Kathy Kuo.
The best outdoor tables in the July 4th sales
For style leaders and design lovers.
Hebe is the Digital Editor of Livingetc; she has a background in lifestyle and interior journalism and a passion for renovating small spaces. You'll usually find her attempting DIY, whether it's spray painting her whole kitchen, don't try that at home, or ever changing the wallpaper in her hallway. Livingetc has been such a huge inspiration and has influenced Hebe's style since she moved into her first rental and finally had a small amount of control over the decor and now loves being able to help others make decisions when decorating their own homes. Last year she moved from renting to owning her first teeny tiny Edwardian flat in London with her whippet Willow (who yes she chose to match her interiors...) and is already on the lookout for her next project.