How can I create privacy with my garden planting? 7 tricks to solve your overlooked-backyard woes
From choosing the best hedges and trees to perfecting positioning, this is how to use landscaping to create a more private backyard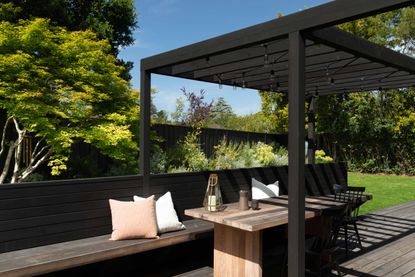 (Image credit: Bess Friday. Design: SAW)
For a backyard you can relax in, creating privacy is important. After all, whether you're wanting to catch some rays out on your deck or have an intimate dinner party al fresco, neighbors overlooking your outdoor space is far from ideal. And while you can opt for fences, shelters and shades to provide privacy, hard landscaping can make your space feel a little claustrophobic. Sometimes the answer lies in what you plant.
Of course, it's not as simple as picking a tree, hedge or shrub, randomly planting it and hoping for the best. In fact, there are approaches that the best landscape designers take to ensure backyards are screened from neighbors, roads and more, without compromising your outdoor space in other ways. 'Trees are great for creating privacy and screening unwanted views,' says landscape designer Patricia Benner of Benner Landscape Design. 'However, there are times when hedges are a better option because of space constraints and a desire to avoid too much shade in an area.'
To get to grips with how planting can better help to create privacy for your backyard space, we asked designers for their top landscaping tricks. Here's what they said.
1. Opt for evergreen for year round privacy
So when it comes to choosing a type of tree or shrub, which is best? 'Obviously evergreen are the best trees for privacy, better than deciduous trees,' says Patricia Benner.
Evergreens, as the name suggests, keep their leaves all year around, something that's an important consideration for privacy trees to provide a thick, natural barrier between you and your neighbors. After all, if you choose a deciduous tree that drops its leaves in winter, your backyard will be on view again during the colder months.
'Some of my favorite evergreens include various oaks as well as magnolias, both Southern Magnolias and the smaller Little Gem variety,' Patricia suggests.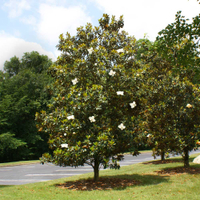 2. Or deciduous to steal back some winter sun
However, there's another important consideration when choosing between evergreen and deciduous trees - they don't just block out nosy neighbours.
'I typically don't want to block out the sun with evergreen trees if I don't have to,' says Mike Lucas of landscape architecture studio Lucas & Lucas, 'so I always pay attention to where south is and use deciduous trees for winter sun.'
After all, consider the fact the the sun will be lower in the sky during winter, so while a screening evergreen may not be a problem during the warmer months, it might block valuable daylight for the rest of the year. If your tree landscaping is only creating privacy for an area of your backyard and not your house itself, it may not be an important factor during winter if you live in a climate where rain and cold renders outdoor spaces largely unusable anyway.
Opening yourself up to deciduous trees also means you can increase seasonal interest, whether that's flowering blossom trees in spring or red-leafed maples in fall.

3. Make a container garden work
You might think that privacy planting is reserved for large flowerbeds at the peripheries of your garden, but there are plenty of practical ways to introduce privacy through container gardening, whether you have a small backyard to work with, or you want to screen a deck or patio.
'For narrow planting zones, bamboo in a planter or enclosed in a secure root barrier can be a nice option as it can grow in very narrow spaces while still reaching high,' suggests Megumi Aihara, founder partner and principal of multidisciplinary studio SAW. 'And, if you have no ground to plant in, vines grown in pots can be trained up any size or shape of trellis to green up even the tightest of spaces.'
4. Select dwarf varieties for small gardens
Talking of small backyards, if you're looking for a significant tree or shrub to create privacy, it can be tempting to specify a larger variety of tree to screen neighbors from view instantly, however you do risk problems later down the line.
'Think about the mature size of the trees you're considering,' Jennifer Schutter, a certified master gardener from Kansas City and writer for Plant Carefully. 'I often see people underestimate just how large a tree will be once it's fully grown. You'll really want to choose a species that won't outgrow the space you're planting it in, and make sure to pay attention to nearby structures and utility lines.'
For smaller backyards, you can choose dwarf varieties of your garden favorites - and while they might not offer the same instant gratification, they'll max out at a certain height, ensuring they won't grow too large for your outdoor space.
5. Pleach trees for the perfect screening
For her native California, Patricia loves all kinds of evergreen oaks for screening, but holly oaks create some interesting opportunities in particular for screening a backyard. 'Holly oaks work well in both casual drought-tolerant gardens and more formal gardens,' Patricia tells us.
'In a casual garden they can develop into a beautifully structured specimen tree,' Patricia adds, 'while in a formal garden they can be pleached and used as a formal allee, as often seen in French parks.'
Pleaching is a landscaping technique where branches are manipulated to create a thick, dense foliage, and are often used to supplement privacy fences or garden walls to make them taller without the more claustrophobic nature of hard landscaping. Lime trees are the most commonly pleached trees, while other great privacy tree options include maple, Magnolia grandiflora and many evergreen trees, too. For a more traditional idea with a fuller look, research the best fast-growing hedges for an alternative screening idea.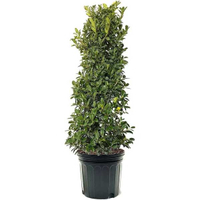 Patricia's favorite, the holly oak tree, is also a good pick for compact backyards. 'They're a great option for smaller gardens because their size is more easily managed with pruning,' Patricia says.
6. Be wary of fast-growing planting
There's a temptation to opt for fast-growing trees when you want to bring privacy to your garden. After all, if privacy is your big concern, it's unlikely you'll want to wait years for trees to grow in, while mature trees can be expensive. However, there are some drawbacks to be aware of, especially if you want a low maintenance garden.
'Rate of growth is always going to be a trade-off,' master gardener Jennifer Schutter explains. 'Faster-growing trees do provide privacy a lot quicker, but they also require more frequent pruning and upkeep. Slower-growing trees might take a bit longer to establish, but they'll be a lot easier to take care of in the long run.'
Trees like Thuja and Cypress are both relatively fast-growing and hardy, so meeting in the middle is often a popular approach to choosing privacy trees.
7. Make planting work with your fence
When it comes to privacy planting, the most effective landscape designs often complement garden fencing, rather than taking its place. 'Most times, when we use plants for screening, we are planting hedge screens in front of a fence,' agrees Megumi Aihara. 'They can go in as large trees, but they can also go in as tiny shrubs. Sometimes we alternate tree and shrub forms of the same plant for a faster way to get a green wall.'
'We select species through leaf color, leaf size, and adaptability to the existing sun, shade, and space requirements,' Megumi adds, 'and the fence should also be considered in the design. A fresh coat of paint can make a big difference to a backyard garden and even highlight the plantings in front.'
The Livingetc newsletter is your shortcut to the now and the next in home design. Subscribe today to receive a stunning free 200-page book of the best homes from around the world.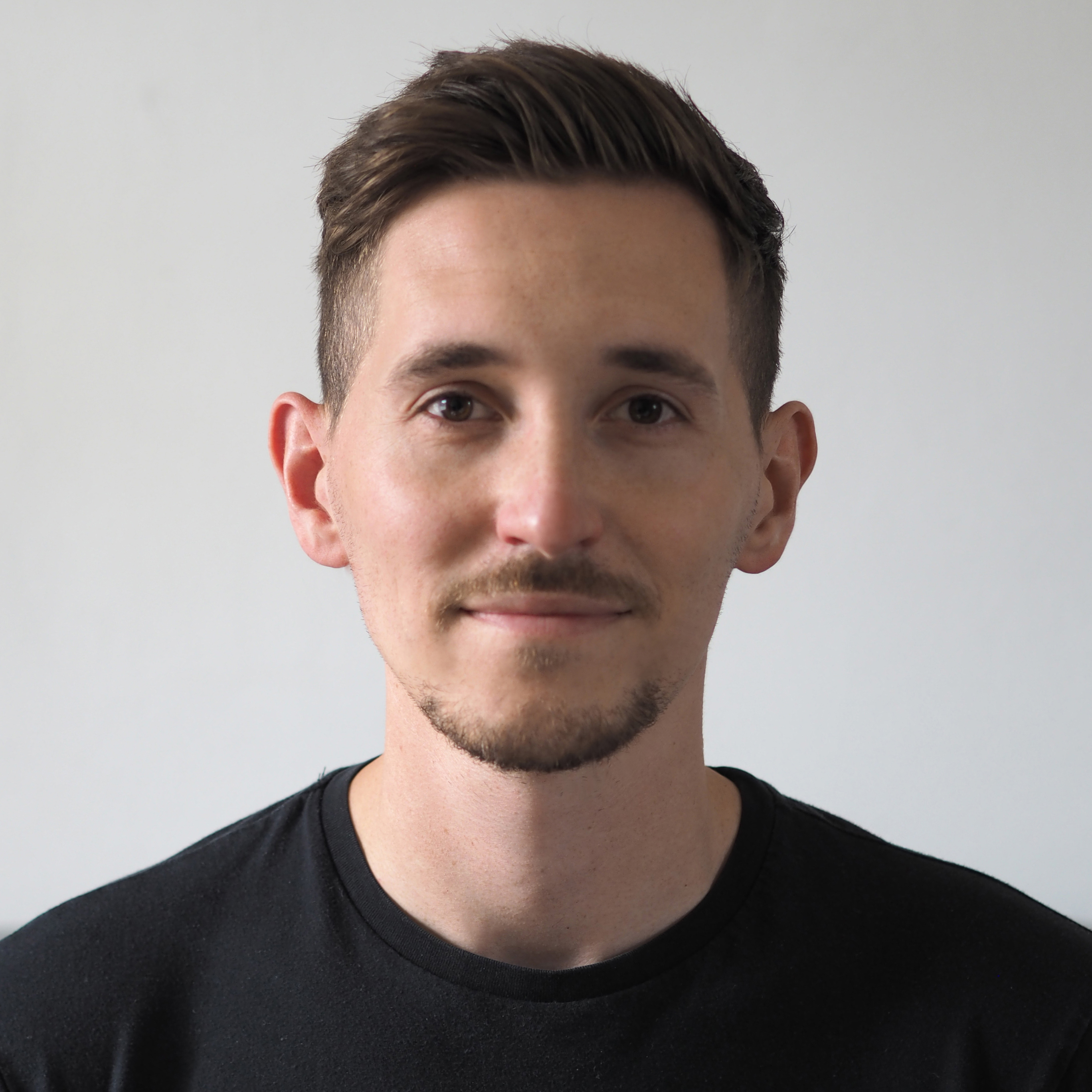 Hugh is the Editor of Livingetc.com. From working on a number of home, design and property publications and websites, including Grand Designs, ICON and specialist kitchen and bathroom magazines, Hugh has developed a passion for modern architecture, impactful interiors and green homes. Whether moonlighting as an interior decorator for private clients or renovating the Victorian terrace in Essex where he lives (DIYing as much of the work as possible), you'll find that Hugh has an overarching fondness for luxurious minimalism, abstract shapes and all things beige. He's just finished a kitchen and garden renovation, and has eyes set on a bathroom makeover for 2023.