How can I mix and match outdoor furniture? 5 easy tricks to make your backyard feel eclectic and beautiful
It's possible to mix and match outdoor furniture as long as you can strike the right balance. We asked the experts how to get it right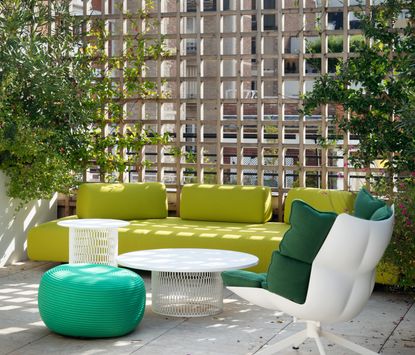 (Image credit: Denilson Machado. Studio credit NJ+ Arquitetura)
The Livingetc Newsletter
For style leaders and design lovers.
Thank you for signing up to LivingEtc. You will receive a verification email shortly.
There was a problem. Please refresh the page and try again.
Want to give your outdoor space a fresh, new look? Consider mixing and matching the furniture, instead of buying ready sets from retailers. This will give your porch or patio a layered look, and create a more inviting vibe.
What's more, it'll also encourage you to add your personal design touch to the outdoors – an area where we're less prone to think decoratively, even when choosing modern outdoor furniture.
To help you through the process, we decided to ask top designers on how to get the mix-and-match look right. Pros offer advice on blending elements in the same open-air space, making each piece stand out yet look cohesive. It's time to transform your backyard!
1. Mix furniture materials
Get into the mind of a designer and think of how you can make your modern outdoor furniture look like a well-curated and conceptualized set. Give the materials some thought and consider mixing them in three different finishes. For instance, woven materials such as rattan work great with teak and even concrete finishes. A woven sofa, lounge chairs, and teak table can give the outdoors a cohesive look while refraining from looking too matchy.
'The plastic chairs and table are from Vondom,' says David Marlatt, founder of DNM Architecture. 'We chose these pieces because they were distinctly modern, light and very practical. They fit the indoor/outdoor fireplace perfectly. I designed/built the wood benches and table from Fir 6x6 posts and planks recovered from my previous house about 25 years ago. It is a straightforward and solid expression of its materials, and also practical and comfortable for four people.'
'Lightweight modern metal frame lounge furniture mixes nicely with a more traditional and heavy wood frame dining table and chairs,' says Julia Mack, founder of Julia Mack Design.
'Your table and chairs do not have to be from the same collection; we love mixing up the styles of the tables in comparison to the chairs,' adds Shona McElroy, principal at Smac Studio. 'For example, a rustic farm table with French steel chairs with fun seat cushions.'
2. Limit the colors
'A key consideration for your outdoor entertainment area is to coordinate colors and patterns so the space looks organized and cohesive, just like indoors,' says Jane Lockhart, founder of Jane Lockhart Design. 'If you want to accent with a color or two, carry those throughout the outdoor living room and don't change to another color part way through: commit.'
Waterproof outdoor upholstery
Material:100% Polyester
Price: $15.95
Give your outdoors a fresh new update with this colorful outdoor fabric, made in canvas Cordura. The material is water-repellant and has a PVC backing.
3. Consider mixing different patterns
To mix and match patterns in outdoor seating, think about prints if different sizes. Large-scale pattern styles can be the dominant pattern, used on large sofas and loungers, and medium or smaller-scale patterns can be used as accents on pillows. For instance, chevron or herringbone patterns are versatile but can be overwhelming in large quantities, so use these on throws or ottomans.
'In terms of pattern, you really can go for anything; it depends on the vibe you want,' says Shona. 'For example if want the south of France to look perhaps go for one large color and white stripe, and keep the rest tonal with the color or the white. If you want a Moroccan look, chuck in as many patterns as you want, if you want modern black can be a great base. I'd also encourage really to play with external upholstered cushions and large tablecloths that you can put away and bring out for occasions, go for fringing and piping and pattern.'
Material: Cotton-blend bouclé
Price: $375
Add a lovely pattern play to your outdoor seating with this pillow made from a soft cotton blend with fuzzy stripes in bouclé stitching.
4. Add in varied accessories
Make your big or small backyard a well-decorated and designed space with the inclusion of accessories. These tiny yet effective elements can add a lovely mix-and-match dose to the area, and enrich it with color and material. A great alternative when you aren't looking to create a mix-and-match look with larger furniture pieces.
Think of copper or glass candle stands, rattan floor lamps, bright flowers, stone plant pots, and interesting table settings – all working to highlight accents and draw distinct pieces together.
'It's oftentimes nice to mix and match different furniture and decorative accessory styles, giving your space a unique and personal touch,' says Julia. 'Consider adding vintage cast iron or terracotta planters, urns or plant stands to your space. They will add an eclectic vibe and give you a variety of sizes and shapes to show off your seasonal potted plants.'
'Though some outdoor furniture comes in sets, you can always mix and match them with other items to make it feel like you didn't just run to the store and just get whatever was there,' says Linda Hayslett, founder of LH.Designs. 'Getting separate pieces such as side tables in different materials than the furniture pieces bought, adding in accessories such as an outdoor rug or ottomans, can help a space look curated and not store bought for the season.'
5. Play with shapes
Finishes, colors, and patterns aside, another way to add a subtle yet unique touch to the terrace, porch, or backyard deck is with furniture in different shapes. The interplay of interesting shapes will not only add interest to the area but also layering and depth. Think of a long curving chaise paired with a straight-lined chair. An oval, low table paired with tall stools.
'If your space is vast and you're using a lot of different shapes, then to break your space into a series of smaller 'rooms' is advisable,' says Julia. 'This can easily be accomplished by strategically placing furniture into groupings of like-minded activities. Dining for four is nice at a rectangular table and dining for five or more works well at a small round table. Casual dining and socializing for a crowd are nice when there is a variety of seating options. Consider an outdoor sofa and lounge chairs plus a nearby, more formal dining table and chairs. Bring in different shapes like a curving seater for lounging and high back chairs for dining, so you have an interesting yet coordinated outdoor area.'
For style leaders and design lovers.
Aditi Sharma Maheshwari is an architecture and design journalist with over 10 years of experience. She's worked at some of the leading media houses in India such as Elle Decor, Houzz and Architectural Digest (Condé Nast). Till recently, she was a freelance writer for publications such as Architectural Digest US, House Beautiful, Stir World, Beautiful Homes India among others. In her spare time, she volunteers at animal shelters and other rescue organizations.