These simple setting changes will make your iPhone's speaker louder – the ideal tweak for listening to music outdoors
Bluetooth speaker out of juice? Here's how to make your iPhone a bit louder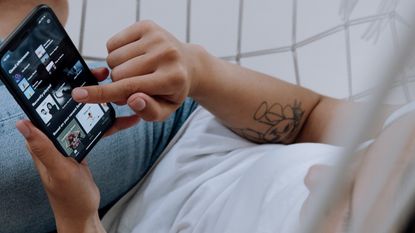 (Image credit: Cottonbro Studio / Pexels)
Picture the scene. You're all set to enjoy the sun in the garden, but you go to pick up your Bluetooth speaker and find it won't turn on. It's out of battery. You've tried using your iPhone's built-in speaker outside before and it's not been great — it's simply too quiet.
Help is at hand. There are ways to make your iPhone louder, and while they're ultimately no substitute for an outdoor speaker, these iPhone tricks will certainly do in a pinch.
Here's how to make an iPhone's speaker louder.
How to make an iPhone speaker louder
First things first, if you're going to be using the iPhone's speaker, you need to know where it's located.
It's on the bottom of the phone, which means if you're got it balanced facing up in portrait mode, you're already at a disadvantage. Place the phone upside down with the bottom of the device facing into the air. If you use a case and the speakers are blocked, remove it.
If you're carrying it around with you, make sure your hands aren't blocking the speaker grilles. In fact, you may want to cup your hands around it so that the sound is guided towards your ears.
How to make an iPhone's speaker louder for Apple Music
Even if you've already maxed out volume via the buttons on the side of your iPhone, there are still a couple of extra things you can do to give it a bigger boost.
Firstly, you can make music louder in the app of your choice. This will vary from app to app, so we're just going to cover two of the most popular options: Apple Music vs Spotify.
Apple Music is done via the iPhones Settings app.
- Tap the cog icon to enter iPhone settings.
- Scroll down to 'Music' and tap it.
- Uncheck 'Sound Check' if enabled.
- Tap 'EQ'.
- Scroll down to 'Late Night' and select it.
How to make an iPhone's speaker louder on Spotify?
In Spotify, there used to be an option to set audio to 'Quiet', 'Normal' or 'Loud', but that seems to have vanished from the latest version of the app. Instead, you just have to adjust the equaliser manually.
- Open Spotify.
- Tap the cog in the top-right-hand corner.
- Tap 'Playback'.
- Tap 'Equalizer'.
- Drag all the frequencies on the visual equalizer to the highest point on the graph, so it looks like this.
How else can I increase my iPhone's speaker volume?
There is one more thing that may or may not make a difference, but it's worth a go while you're tinkering. There's a headphone safety feature called 'Reduce Loud Sounds' that may be enabled. It's not clear if it has any impact while not listening via headphones, but just in case…
- Open the Settings app.
- Tap 'Sound & Haptics'.
- Tap 'Headphone Safety'.
- Make sure the 'Reduce Loud Sounds' toggle is disabled.
Bear in mind that feature is there for the sake of your hearing, so probably best to re-enable it if you're reverting to headphones.
If you've fiddled with the settings, have the speakers facing in the air and it's still not loud enough, there is one last trick to try. Weird as it sounds, all you need is your iPhone and a bowl.
Get your bowl and place your iPhone inside, angled so that the speakers are facing downwards, but not covered. Play a track and you'll find it sounds a bit louder. That's because the sound waves are now bouncing off the bottom and sides of the bowl, making it act a bit like the horn on an old-school gramophone.
Obviously there is only so much these tweaks can do, but they should give you a bit of a boost in a pinch. If that's not enough, you might want to consider which AirPods to buy instead…
The Livingetc newsletter is your shortcut to the now and the next in home design. Subscribe today to receive a stunning free 200-page book of the best homes from around the world.
Freelance contributor Alan has been writing about tech for over a decade, covering phones, drones and everything in between. Previously Deputy Editor of tech site Alphr, his words are found all over the web and in the occasional magazine too. He often writes for T3 and Tom's Guide. When not weighing up the pros and cons of the latest smartwatch, you'll probably find him tackling his ever-growing games backlog. Or, more likely, playing Spelunky for the millionth time.