How do you stream movies together online? These clever features make your home entertainment so much more social
Some streaming services let you watch with friends and family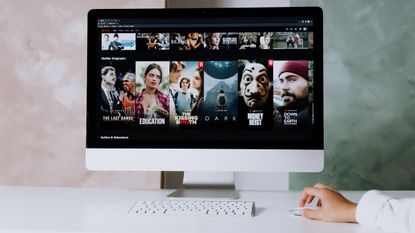 (Image credit: cottonbro studio / Pexels)
The Livingetc Newsletter
For style leaders and design lovers.
Thank you for signing up to LivingEtc. You will receive a verification email shortly.
There was a problem. Please refresh the page and try again.
There's nothing quite like watching a TV show or movie with friends, but sometimes you can't all make it to the movie theater together.
Fortunately, some of the biggest streaming platforms have an option to show multiple accounts the same content at the same time. So now you can enjoy a show or movie together from the comfort of your own home on the best streaming devices, even when geographically apart.
Hulu, Amazon Prime Video and Disney Plus all have built-in group-watching functionality, making it easy to watch while apart.
And if the show you want to watch is on Netflix, HBO Max or Apple TV Plus, there's a workaround that I'll get to at the end.
How to stream movies online together
1. Disney Plus
Disney's streaming service has a function called GroupWatch which does exactly what it suggests.
Up to seven people can watch the same thing at once (four from the same account) with the footage synced: anybody can pause, fast forward or rewind as they wish, with everyone seeing the same thing.
There's no chat, but users can respond to the on-screen action with a set of emoji.
Simply head to DisneyPlus.com or open the mobile app, search for the title you want to watch and select the GroupWatch icon underneath the play button. Then use the 'plus' icon to get an invite link to share with others.
Although this is done via a browser or the app, you can switch to a connected TV for the big-screen experience once everything is set up.
2. Hulu
Hulu's version of this is the Hulu Watch Party, and once again it synchronizes video playback for everyone in the group — up to eight people — with full chat, so you can have a group commentary between friends.
Do note that the feature is rated 18+, so only adults will be able to participate, and it's only available in web browsers "at this time". This makes sense given the text chat option, but still a pain for those who would prefer not to watch on their laptop or desktop.
Hulu says that "thousands" of movies and shows are available. You just need to find one with the Watch Party icon, which is three silhouetted figures with a play button in the middle.
Just visit Hulu.com in a web browser, find a programme with the Watch Party icon and click it. Then click "Start the Party" and get a link to share with your friends via the chain icon.
3. Amazon Prime Video
With support for up to 100 people and text chat, Amazon Prime Video's Watch Party is by far the most flexible of the official options, even if it could get a bit noisy in the accompanying group chat if you decide to hit that number.
It's available in browser, on Fire TV, Android, iOS and certain 'connected devices'. Not every show is supported, but Amazon lets you filter out the ones that aren't by following this link, which should help narrow it down.
To start, simply select the Watch Party icon (it's like the emoji with a party hat and confetti) on the home page of the movie or show you want to watch. Type in the name you'd like for the accompanying chat, and then copy the link to send to friends and family.
What about Netflix, Apple TV Plus and HBO Max?
Those are the official solutions, but what if the movie you want isn't on any of them?
The good news is that there are third-party browser plug-ins which give the same functionality to the likes of Netflix, Apple TV Plus, HBO Max and Paramount Plus. Like the official solutions, they sync playback and allow group chat to commentate on the action as it happens.
The big options are Teleparty (Netflix, Disney Plus, YouTube, Hulu, HBO Max and Amazon Prime Video) and Scener (YouTube, Vimeo, Netflix, Disney Plus, Amazon Prime Video, HBO Max, Hotstar, Alamo on Demand, Shudder, Hulu and Funimation).
Apple TV Plus is missing from the above, but is supported by twoseven. Alternatively, if you want to watch Severence or Ted Lasso with other iPhone, Mac or iPad users, Apple does let you watch together over FaceTime for a more intimate experience.
For style leaders and design lovers.
Freelance contributor Alan has been writing about tech for over a decade, covering phones, drones and everything in between. Previously Deputy Editor of tech site Alphr, his words are found all over the web and in the occasional magazine too. He often writes for T3 and Tom's Guide. When not weighing up the pros and cons of the latest smartwatch, you'll probably find him tackling his ever-growing games backlog. Or, more likely, playing Spelunky for the millionth time.